REI Quarter Dome T1

The Quarter Dome T1 has been discontinued. If you're looking for something new, check out the best three-season tents for 2020.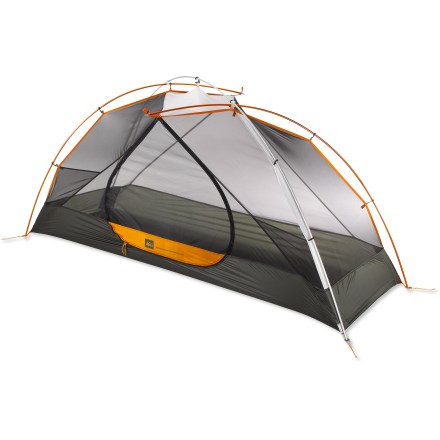 Specs
Price
Historic Range: $149.93-$169.73
Reviewers Paid: $100.00-$179.00

Reviews
5

reviews

5-star:

0

4-star:

2

3-star:

1

2-star:

1

1-star:

1
Great solo tent for the price!
Pros
Lightweight
Large vestibule
Ventilates well
Subtle coloring
Bathtub design floor, seam sealed and waterproof
Cons
Awkward design requires preplanning setup
One pole is 2-3 inches longer than the others and may poke through other items in backpack
I bought the tent on clearance after researching other solo tents. For the price it is hard to beat. The tent is super light and the vestibule is big enough to house my 55L backpack.
It stood up well to light rain but feel that it would bow in heavy winds on the left side. If you anticipate any winds, recommend angling it on the axis (like a tunnel tent). It has an awkward design; however, it is supremely roomy and can even fit a 40L at the feet (i am 5'7").
Overall, duly impressed with this tent.
Source: bought it new
Price Paid: $164

I purchased this tent at an REI scratch and dent sale sight unseen...lesson learned!
The specs say the tent is 81 x 26 which would be tight but workable for me. I'm 6'1" and 175 pounds. I knew the tent would be tight lengthwise but I felt the 26" should work for width. The tent is actually 22" wall to wall in width which put my shoulders on top of the lower wall causing the tent to flex. The pole measured 25" apart outside the tent. When I laid down my head and feet both touched and when I sat up my head brushed the ceiling.
Other than being so small it looks like a good tent...if you're a midget...and a narrow one at that. The reviews I've read puzzle me because some people seem to be okay with the size...I don't see how.
Price Paid: $100

I could not be any more  pleased. When I decided to upgrade to a "solo" tent I decided I wanted a bug free, dry, lightweight tent. The dimensions of the tent sort of scared me a little bit. But when I got in the tent (I'm 5'-10" 190 lbs) I was surprised how roomy it felt. I believe it's because of all the mesh .It gives the illusion of being larger. I did not feel chloustraphobic.Also I might add, I am not a "thrasher" usually I am glad to lay down and crash.If you want to thrash around, do not buy this tent.I did consider the Seedhouse SL1, but friends have it and always complain about the door being in the front, and rain getting in when opening. Therefore the side entry door is nice.I have laid in the Quarterdome T1 during rain and made coffee in the vestibule, very nice ! And the color is just perfect, I am not a "stealth" fanatic but it is nice not having a blazzing red or orange shelter in the mountains.
Price Paid: $199.00

I'm shopping for a new backpacking tent and anything made by REI is usually top on my list. (I've had a Half Dome for several years and would buy another one in a heartbeat.)
Today I stopped into my local REI and tried out the Quarterdome T1 - and immediately scratched it off my list. I'm 5'3" so the 81" length was generous and would allow me room for gear at the foot. The pole design keeps the mesh sides vertical and taut, although it was a little confusing to set up the first time, but this wouldn't have deterred me from buying it.
The 'no sale' flag went up when I laid down - my shoulders were literally touching both sides of the tent - and this was without a sleeping bag. This could have been a slick little tent if they would have made it about 10 inches wider than the current 26 inches. (I decided on a Seedhouse SL1.)

Design: three season freestanding
Sleeps: 1
Ease of Setup: Single-hubbed pole - practice required
Weight: 2 lbs 12 oz
Price Paid: $0

An Ultralight Headache.
A note to the reader: Through a very odd series of events I bought the t2 version of this tent off of Ebay, but had a problem with it and due to the t2 being from an "Used Gear Sale" was only able to return it for the T1 version as I was strapped for cash.
If you are looking for the "Super Ultra Uber" light tent, then look no further, however though the design is innovative and the tent does indeed keep the rain off your back, I feel that it is a very limiting purchase for the almost $200 retail value of the tent.
Let me first off start by stating that the actual footprint of the tent is very small, and at my height of 6 feet even, I could barely fit myself and a full-length Therm-a-rest into the tent without bowling out at the sides. The construction seems up to par with the majority of the REI gear, and the lifetime warranty is nice, but that doesn't make up for the fact that this tent is to small for most backpacking uses.
I use a 4000CU pack for my backpacking, and while squished into the tent its-self, have not yet been able to find a good way to get myself, and my pack under the rain fly. The Vestibule is simply too small to accommodate any pack sizes over 1500CU (this also depends on your other "ultralight" gear and what you carry with you). I ended up settling for having the bottom of my pack stick out of the vestibule and get wet, while keeping my clothes dry in the top part of my pack.
Overall, the tent is well made, but designed for a VERY specific use with not a lot of lee-way for those who are carrying medium to heavy loads of gear. While its design fits its purpose, I feel that it could be slightly larger (not a 2person, but at least a wider footprint with adequate vestibule space) and still fit the bill of an ultralight without the pitfalls of actually being to small to be practical.
Design: Three Season Ultra-Light
Sleeps: 1
Ease of Setup: Extremely Easy
Weight: 2Lbs 12oz
Price Paid: $179

You May Like
Recently on Trailspace