REI Quarter Dome T3

The Quarter Dome T3 has been discontinued. If you're looking for something new, check out the best three-season tents for 2023.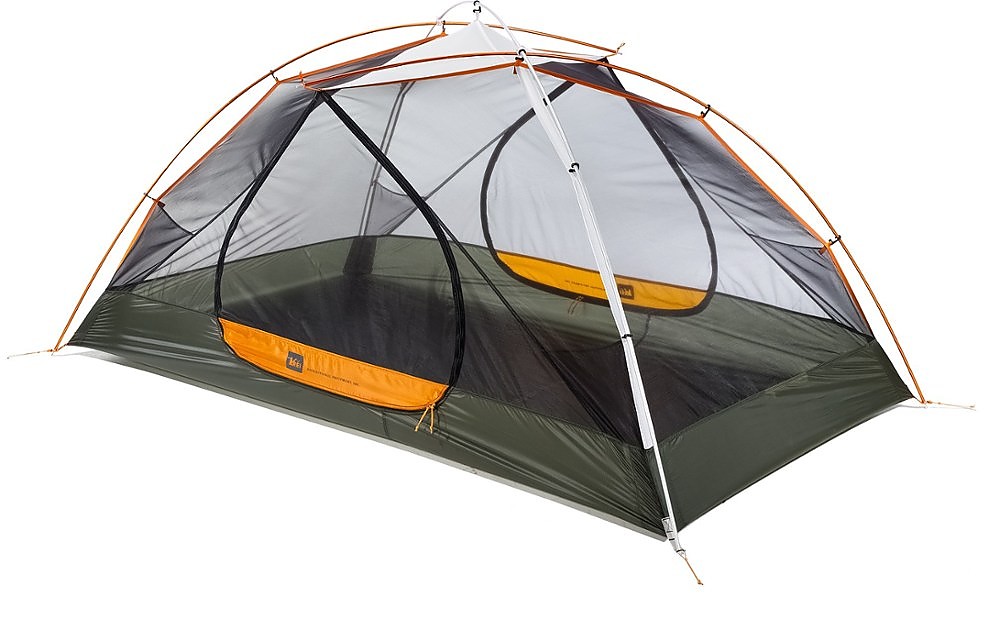 The Quarter Dome T3 was marketed as a dome tent for backpackers. Unfortunately, it has proven to be poorly designed executed. While this tent is still usable for car camping, it is by no means a backpacking tent.
Pros
Roomy enough for 1-2 people diagonally
Two doors
Two vestibules
Two apex vents for foul weather ventilation
Cons
Too short for anyone over 6' 2"
If opened for entrance / exit, vestibule funnels rain into tent floor
Confusing setup
Materials feel bulky and cheaply made
Heavy
Large when packed
I bought the Quarter Dome T3 about 3 or 4 years ago, but to be honest, I don't remember why I bought it. I certainly have no shortage of tents, but somehow this one got added to my collection.
When I first bought it, I took it out on a 5-day long trek around the Presidentials. That was enough time for me to decide that it was absolutely not the tent for me and put it on a shelf. In the years since, this tent has only come out for car camping and as a loaner.
The reason I am giving this tent a bad overall rating is primarily because it was marketed as a backpacking tent by REI. Based on this description, I tested this tent while backpacking and found it to be woefully inferior to just about every other backpacking tent I have ever carried. It is heavier, bulkier, and less weather resistant.
Finally, once I had it out on the trail, I realized that my head and feet touched the walls unless I slept diagonally. This isn't an issue in good weather or if you have a synthetic / weather resistant bag. However, for many ultralight backpackers, this could cause issues as you want to keep down quilts away from moisture wherever possible.
Despite REI's claims, this is not a backpacking tent by any stretch of the imagination. However, that doesn't make it a bad tent in general. The Quarter Dome T3 would make a good car camping tent, canoe camping tent, etc. for 2 people (3 if all are under 6' tall).
MATERIALS:  The materials used in the Quarter Dome T3 don't feel like top-shelf or even middle-of-the-range materials. The rain fly feels stiff and heavy (as does the optional footprint). The bathtub floor of the tent itself feels fine at first, but even after just a few days of being exposed to the elements, it began to feel sticky and clammy.  
As for the no-see-um mesh used, it does keep the bugs out, but mine had several small "runs" in the mesh. While I did end up with a few mosquitos in my tent, I have no reason to suspect they made it in through these runs. Instead, I think they followed me in when I opened the door to get in.
Even the guylines show a lack of care on this tent. Rather than the spectra lines I have grown accustomed to over the years, the guylines included with (but not attached to) this tent are woven nylon and feel like someone removed the inner strands from a piece of 550 paracord.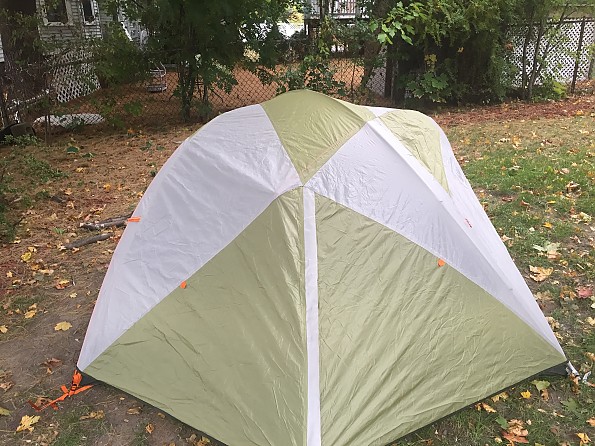 DESIGN:  The Quarter Dome T3 uses a rather complicated take on the traditional dome tent. Instead of using 3x or 4x poles of the same length that each arches over the tent, there is only a single pole (sort of) which is actually 1x full sized pole and 2x 3/4 length poles all of which are connected using 2x plastic barrel joints. The full length pole attaches to two corners of the tent and arches over the tent just as you would see in a regular dome tent.
The 2x 3/4 length poles each connect to a single corner, arch partway over the tent, and connect to two new attachment points near the top of the tent and two more inside the rain fly. However, this only works if you have correctly oriented the whole setup so that the barrel joints bulge into the tent instead of outward toward the rain fly.
Being designed for 3 people, the Quarter Dome T3 features dual doors and dual vestibules. This is a very nice feature when you have 1 or 2 people (I would say 3, but being in the middle in this tent is a bit like being in the middle in a car).
The tent itself is comprised of a bathtub floor and a mesh upper. In good weather, you can either roll back the vestibules and allow a breeze to waft through the tent, or even remove the rain fly altogether for a clear view of the night sky.
SETUP:  The setup for this tent is surprisingly difficult for a dome tent. As with many dome tents, its difficult to set the Quarter Dome T3 up with the rain fly on. If you get caught in a rainstorm, you'll want to be able to get this one assembled quickly.
In my case, a rainstorm hit on my first night and I had only set this tent up twice prior to this trip. I unrolled the tent and placed the fly over it to help keep rain out while I sorted out the poles. Thankfully, the poles are color-coded, so I was quickly able to get the full length pole (silver) into the silver grommets and arched over the tent.
I then looked at the two 3/4 length orange poles and realized that they were pointed the wrong direction. I had pointed the barrel connectors the wrong way. I had to remove the silver pole and reverse it to correct this.
Once I had the poles in the correct grommets at the corners of the tent, I still then had to remove the rainfly from the tent in order to find the remaining two orange grommets (hear the apex of each door) in order to attach the other end of each of my 3/4 length poles. This left the tent exposed to the elements while I fished for grommets. It was then a quick matter of attaching a few plastic snaps and the tent took on a relatively familiar dome...ish shape.
Once all the grommets and clips were attached, the tent looked almost like a dome. I threw the rain fly over the tent, attached it to each of the four corners, and staked out the vestibules. It was only then that I realized that the fly was inside out. It turns out that the REI logo was printed on the inside of the tent (albeit backwards) rather than the outside. Why they chose to do this is beyond me.  
I reversed the rain fly (exposing my tent to even more water) and re-attached it. Most dome tents I have used in the past have rain-fly attachment points at the corners and possibly a rain-fly pole. The Quarter Dome T3 does away with the extra pole by having the rain fly attach to each of the two 3/4 length orange poles. This, however, means that you need to open the vestibules and fish around for grommets on the underside of your rain fly. Once again, my tent was exposed to the rain.
WEATHER RESISTANCE:  This is a tough one. This tent is great if you are judging it with the doors closed. It does a great job at keeping the rain out. However, if you ever have to open the door to get in or out of this tent, the zipper placement on the vestibule funnels water directly into the tent's bathtub floor. After getting out just once for dinner and once again for the bathroom, I found myself sleeping next to a small pond.  
In an attempt to keep out any more rainwater, I did something I have never before done and started using a water bottle (one that was thrown away immediately after this trip, I might add) to avoid future bathroom breaks.
Strictly speaking, this tent keeps the rain out and it stays comfortably warm in chilly weather thanks to the thick rain fly. However, people need to enter and exit tents. The fact that the vestibule VERY slightly overhangs the bathtub floor and has a door that channels water into said bathtub floor makes this one a loser in my book.
VENTILATION:  This is one area where the Quarter Dome T3 shines. There were two nights when the temperature dropped into the 30s and I thought for certain that I would wake up covered in condensation. Somehow the T3 stayed bone dry (assuming it wasn't raining outside, as mentioned above).
If you need more ventilation during bad weather, there are two apex vents that can be opened from the outside of the tent. During nicer weather, the ability to roll back the vestibule doors for additional ventilation has proven to be quite nice as well.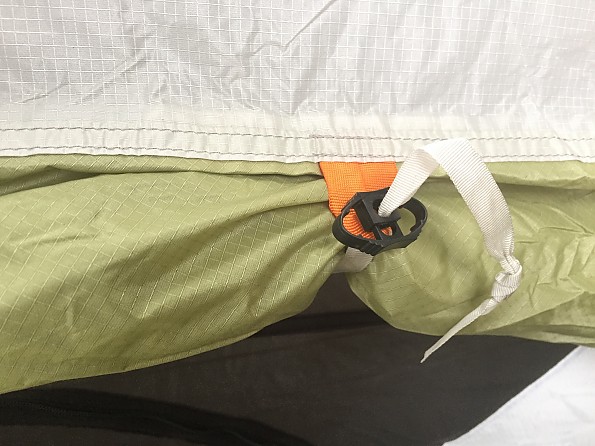 ROOM / STORAGE:  I have never had storage issues with the Quarter Dome T3. However, I have never used it with more than two people. Each vestibule is large enough for one 40L backpack (I was able to fit a 60L Osprey pack once, but it did get a bit damp) and a pair of shoes / boots. There are also a few gear pockets and two "door pockets" (pockets at the top of the tent used to store the mesh doors if you want to be completely open to the elements).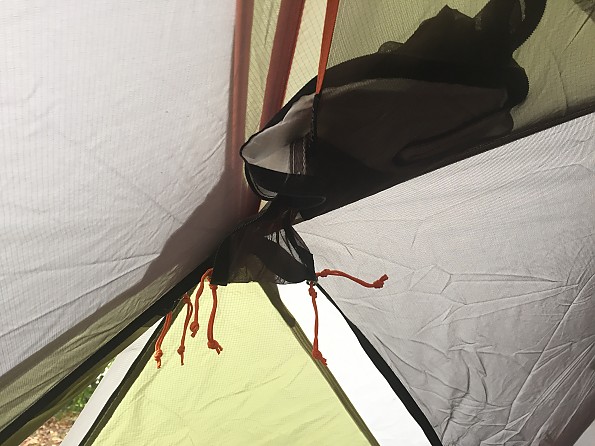 Once again, if you intend to use the Quarter Dome T3, it helps to be either very flexible or shorter than 6' tall. At 6'2", I can barely get out of the doorway of this tent - something I hadn't anticipated with a 3-person dome tent.
PACKABILITY:  REI touted this tent as a dome tent for backpackers. This would imply to me that it should be lightweight. However, my Quarter Dome T3 comes in at 96.9 oz (this is after I swapped the included stakes for MSR groundhog minis). By comparison, my EMS Velocity 2 comes in at 69.07 oz, my Tarptent Rainbow came (it was sadly destroyed by me...) at 35.8 oz, and my zPacks Triplex comes in at 22.8 oz.  
The Quarter Dome T3 doesn't pack down very small either. At 24" by 8", this tent is absolutely monstrous when packed.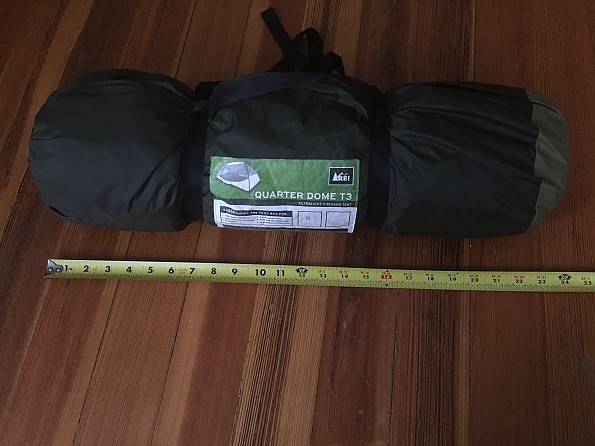 Source: bought it new

We were planning a trip from the Great Lakes to the Grand Canyon and back hitting 10 states along the way. We have two other tents but our Apex is getting to small for the kids and is now serving as a one peson tent. We have a Sierra Designs 2 person tent which is sized perfectly for my boys. We wanted something that was comfortable for myself and my wife with a little extra room.
I shopped local outfitters, online and local Cabela's before choosing the REI QD3.
We started out using commercial camp sites for our quick overnight stops. This tent went up quickly in the dark and down quickly in the morning. We were on the road again quickly in the mornings. Second night out...RAIN AND THUNDER AND WIND...We were dry as a bone.
We spent a few days in Mesa Verde and the tent was large enough for gear and plenty of room for two average adults to roll over and toss and turn.
At National Park camp grounds in Grand Canyon we were worried about the tent floor (thin modern materials) and the rocky tent area. But with a visquine ground cloth taking some tears there was no damage at all on the tent.
As we have one younger boy and a skinny teen we decided to take one tent only on our 2 nights in the canyon. Wanting to carry as light as we could. We were a little tight but all 4 of us fit and slept like a rock.( 5'8" 190#, 5'8"150#, 5'6" 110# and 5'2 90#)
On return trip we had good rains in Missouri. Again the tent was bone dry.
We noted that the design of the tent for ventilation was great. We never had condensation build up.
I did find that when we were zipping the doors and/ or fly that the zippers would catch the flaps.
Design: Three season free standing dome
Sleeps: 3
Ease of Setup: A breeze to set up
Weight: 4#-7oz
Price Paid: $220

Superb tent for two larger guys. Bit too tight for three grown men.
Pros
Sturdy in wind
Waterproof
Lightweight
Easy to pitch
Good room for 2 grown men
Easy to pitch when you follow the color coordination system. Can pitch in the dark in minutes.
It pitches very taut. Stable in wind when pegged down. Sheds water very well.
I bought this tent for when another guy and myself go out on a trip.  I don't like sleeping such that I cuddle with another dude. The Hubba Hubba design is a great design with 2 doors and 2 vestibules, but it's too narrow for me to sleep comfortably with another guy. With my wife it is fine, since i don't mind rubbing up against her.
So that's why I bought T3... to give some space between 2 users. Also, it works when I take out my 2 daughters.  They're in grade school, and the 3 of us fit just fine in there. Three adults would be too tight to sleep comfortably.
I really like this tent for what it is.  A roomy 2-person tent. The weight is acceptable at 4lbs 7 oz. It is a good dependable shelter in inclement weather. I've been in some downpours and it's kept me dry and allowed me to sleep easy. When staked out properly it'll handle some very nasty winds too.
I've not had any major condensation problems or dripping.  The vents on the fly help greatly in this regard.
I recommend this tent for anyone who wants a bit more room than what a standard tiny 2 person tent allows, but who still wants to keep weight as low as possible.
Source: bought it new
Price Paid: $200 off ebay

I took advantage of the REI 20% off discount available right now to members and managed to save a bit on this great tent. I've only had it out once so far, on the first day of spring, but I loved it. It was a fairly cold night, so I used the fly with its delightful vents and vestibules on both sides.
Despite the fact that the tent itself is almost entirely mesh, the low lying fly appeared to keep in a fair amount of the body heat I was generating (which I thought was a good thing at the time). I've gotten used to tarp camping in the last couple of years because my last tent was a piece of crap, so I wasn't entirely familiar with the guyline setup and the vent idea. I didn't guy out the fly enough so that it was completely off the mesh and only opened one vent, and the result was some condensation on the fly. I fully attribute that to my own mistakes though.
The vestibules were fairly spacious, the pockets on the inside corners of the tent were very handy, and having two doors was great when my friend had to get out in the wee hours of morning. I got the three person design because it's the same weight as most two person tents, and I wouldn't really recommend this tent for three unless you were close friends, but it was spacious enough for two people and a banjo.
It took my friend and I no more than 5 or 7 minutes to assemble the tent and fly, which was good as it was getting dark fast. All in all this is a fantastic tent for the price. I would highly recommend it.
Design: three-season freestanding dome
Sleeps: 3
Ease of Setup: Totally Easy
Weight: 5 Pounds Packed
Price Paid: $251

Outstanding! This tent was great! Our first use was for my 7-year-old son's first camping trip (with Cub Scouts) It rained... HARD ...ALL NIGHT.. And we (and our stuff) stayed bone dry.
I highly recommend the footprint as well. The vents were great to get the condensation out of there as well. Super easy to set up!
The only con is size. But for 2 personnel and their gear, we were good to go. If it were dry, we would've used the vestibules, but we wanted to keep everything dry inside. I would say snug for 3, perfect for 2, a palace for 1. Very light.
I intend to use it when I do the Appalachian Trail, it is my intent to carry it. Great Backpacking Tent!
Design: three-season freestanding dome
Sleeps: 3
Ease of Setup: Very Easy
Weight: See product specs
Price Paid: REI member price

This tent is great. I have used it in England and Switzerland in both the rain and cold. Set up is easy and using the foot print and fly only, it makes a great shelter. The only down side is there is little vestibule space compared to some other designs. But all in all it is great.
Update: May 2, 2010
This tent is great! I bought it for a trip to Switzerland and it performed really well. I set it up at home once or twice to get used to it and now it goes up in a flash. I have also used it in the UK several times. It stays remarkably dry.
The only thing that wasn't great is in Switzerland I used it as a 1 person, not as warm as I would have liked. But then again the weather did drop to 31 F and it's a 3-man tent. Go buy one! Make sure you get the footprint.
Design: Three-Season freestanding dome
Sleeps: 3
Ease of Setup: Color coded, extremely easy
Price Paid: $199

Awesome tent. Have used it on 2 trips thus far.
Excellent meshing, no bugs. Solid rainfly, no condensation in moderate rain over the weekend. I'm 6'0" and had to return a Big Agnes Seedhouse SL1 for something more accommodating yet light. It's just right for up to 6'0"/6'1" but I could see it getting cramped if you are taller.
Listed as a 3-person, as usual more like a 2-person, and since I'm a hog for space it's a palace as a 1-person. Plenty of room to sit up, pretty much all across the tent. Great pole system and very quick, strong pitch. Fits in my Kelty Redwing 3100 daypack along with my pad, pillow, etc, very light.
Single negative: small vestibules.
The T-3 is basically a pretty good tent. The color coded parts make setup relatively easy to set it up once you get past the weird asymmetry of the pole system.  
Good ventilation and no condensation on my trips. Having 2 doors is a luxury that's valuable when using it with two people. 
The real problem with this tent is that after a couple of years the fly got REAL sticky! I had it stored in my attic in Florida so that may have had something to do with it. Hated to ship it back to REI but they refunded the entire amount with no problems.
Kevco of Lake Worth
Price Paid: $189

Near vertical walls, which I like. Easy set up, and tons of room. Weighs what most tiny 2-man tents weigh.
Design: 3-season freestanding dome
Sleeps: 3
Ease of Setup: Easy
Weight: 4# 7 oz.
Price Paid: $220

I read all the reviews elsewhere for this tent and other similar tents and decided on this one based on specs, availability and COLOR. I even lucked out and got it brand new on ebay for $180 shipped. Then spent $30 for the footprint at REI.
The tent is really light and sets up REALLY quickly. Showed up for a camping trip at 9 pm and literally set it up in 4-5 minutes using truck headlights.
What IS LAME about this tent are the fake specs REI puts up. 84x68? Right, and I'm 7 feet tall. There is no way this tent has those dimensions.
Sleeps: 2
Ease of Setup: easy.
Price Paid: $180

Your Review
You May Like
Specs
Price
Historic Range: $122.83-$269.73
Reviewers Paid: $180.00-$251.00

Recently on Trailspace