REI Table Top French Coffee Press

Top 25 in Coffee Presses and Filters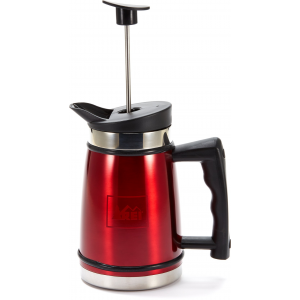 A French press coffee maker perfectly suited for car-camping or even everyday home use. Easy to use and even easier to clean. Does a great job keeping grounds out of your mug with a built-in double filter. One pot provides a full cup of morning delight to 5-6 folks. This can also be used for loose-leaf tea.
Pros
Double fine-mesh filter: one on the press, one on the spot
Rubber bottom: keeps it from sliding on uneven surfaces
Stainless steel: much more durable than the common glass French presses
5-6 cups of coffee per pot (nearly 1.5L)
Cons
Traps the last half cup of coffee. Requires tinkering to get it in the mug. Read description below.
Plastic pieces: handle, lid and filter frame
Bulky and heavy at 2lbs.+ (approx. 1 kilo)
No measurement lines
Conditions: I've had this for 18 months now. It was originally bought strictly for car-camping purposes with friends, but it quickly turned into our everyday coffee-making method. A safe estimate would be 350-450 times used, mostly in the home, but it's seen five or six campsites, both in warm conditions when drinking coffee out of habit and in cold conditions when drinking coffee out of necessity. 
Ease of Use: I'm assuming the reader knows how to use a French press (ie. grounds, hot water, wait, plunge, pour, enjoy). The plunger is the most important part of a French press. If it's too tight, it will be hard to submerge, often causing a spill because you had to put excessive amounts of weight on it. If it's too loose, the grounds will find their way into your mug. This French press is manufactured just right. The plunger has a tight seal keeping grounds or tea leaves out of your mug, but it also submerges with absolute ease. It has plunged the same great way since day one. 
One of the highlights from me is how easy it is to clean and dry. The plunger/filter does not have any tiny, uncleanable or hard to reach parts, which I despise. The pot is wide and easy to clean.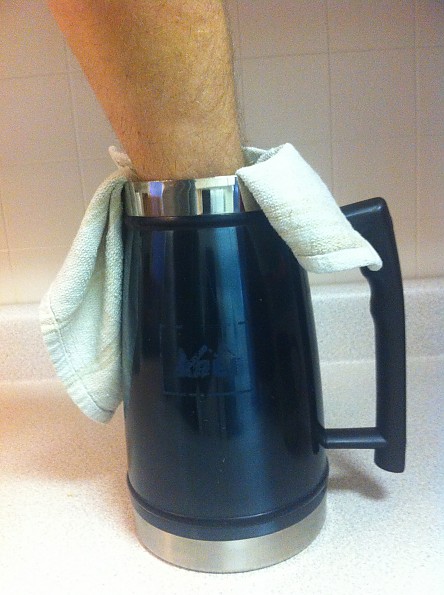 Notice my whole hand can reach down into the pot in order to wash/dry it. My last glass French press was just wide enough for my hand to get stuck in. No more of that. 
This also features a rubber bottom, which is surprisingly useful when camping. It grips well to whatever it's sitting on. You don't have to worry about a wet or uneven table causing your coffee to spill.
The thing that makes this French press so convenient is when you're trying to make coffee for a group. This was purchased when my wife and I were camping with another couple. Only making one pot of coffee was such a breeze. Sure, there are other easy ways to make coffee, like the AeroPress, but I'm not sure there is an easier way for one person to please a small group of half-awake people all at once. 
Construction, Durability and Features: 
This product was designed by Planetary Design of Missoula, MT. It is sold in lots of places online and in stores, with various logos on it. For example, Bed, Bath and Beyond has the same product for sale, but it's $5 more than REI's version. I haven't found a retailer who sells it for a lower price than REI. 
At more than 2 lbs. (approx. 1 kilo) this is car-camping piece of equipment, not something you'd want to hit the trail with. REI also sells smaller versions in 12oz. and 32oz. that have similar components as far as I can tell.
The only feature that it doesn't have that I wish it did, is some sort of internal measurement line so you could get an idea of your grounds to water ratio. This would be especially useful for first time users or when a friend thinks he's doing you a favor and tries to make coffee for the group in the morning and it turns out he uses way to many (or too few) grounds. Not that I'm speaking from experience or anything. 
Stainless Steel: This press is 18/8 stainless steel (meaning 18% chromium and 8% nickel), which is pretty typical restaurant-grade stainless steel. It's been dropped more than once and other than some scuff marks on the outside, it has held up well. The REI logo has nearly worn off from being scrubbed so many times, but that's not an issue.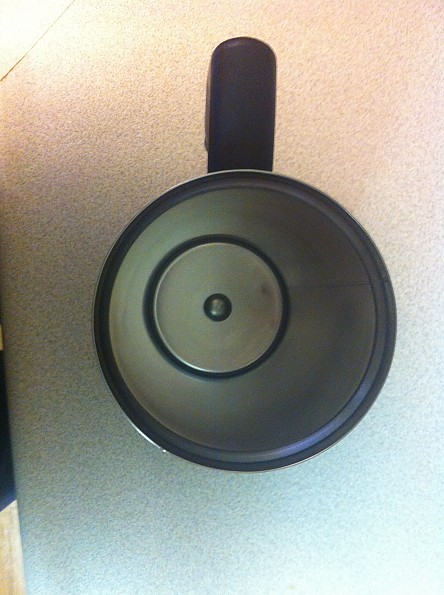 View from above. This French press is made with 18/8 stainless steel, which is a standard restaurant-grade quality. Far more durable than my old glass one.
Insulation: Double-wall vacuum insulated, keeps liquid between hot and generously warm for 3+ hours. The silicon ring at the top of the plunger does a good job keeping heat in and keeping liquid from exiting other places than the spout.
Plunger: This is a combination of plastic, wire mesh and a couple metal pieces (metal rod and spring). From first glance, nothing about the plunger part screams durable, but it has held up well. I assume it would be replaceable either through REI or Planetary Designs if need be, but I don't know that for sure and I'll cross that bridge only if I get to it.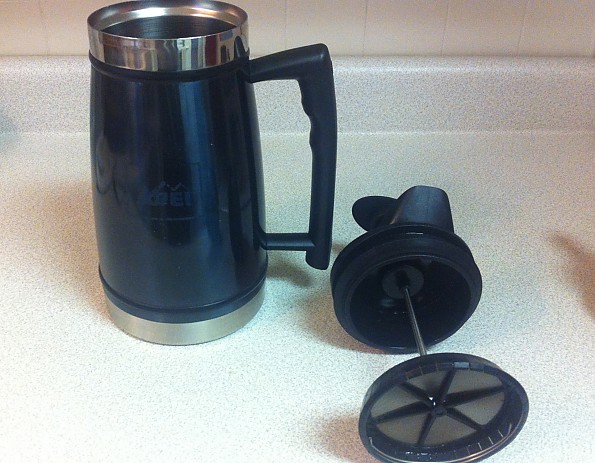 Handle: Before I bought this, I read a review about the poor quality of the handle and how the reviewer had to have it replaced. This had me a bit worried, since it is a plastic handle. I didn't know how it would hold up while camping. So far, no issues. It hasn't loosened a bit, not even a wiggle even though it's been dropped a few times. Also, I like the fact that the handle is very big and has an ergonomic feature near the top. The handle aids in an easy pour.
And now for the issue with the last 1/2 cup of coffee getting trapped in the bottom: 
At first, this was a frustration as it seemed wasteful to dump a perfectly good 1/2 cup of coffee. I found by repeating a shaking, pouring, shaking, pouring motion, this would free the last 1/2 cup of liquid, albeit in very small quantities each pour. 
A better solution I have found to get that last 1/2 cup of liquid has been to simply pop the lid off and pull the plunger out only partway and then pour the remaining liquid out of the pot. This means the liquid will not go through the lid's spout, thus only going through the initial filter, but I've never had an issue with grounds in my coffee doing it this way. See photos below for a visual representation of this process.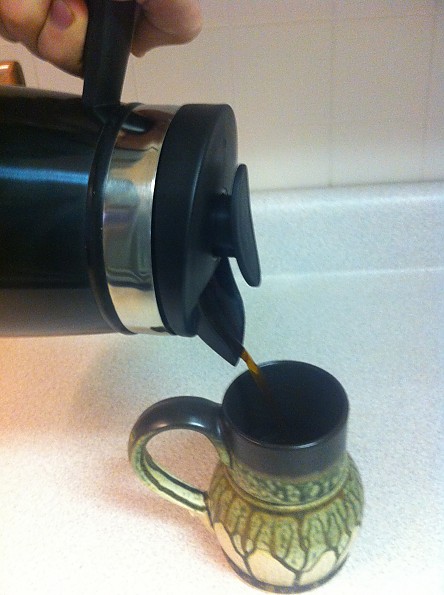 This is a normal pour with the lid on.
This is the best way I found to get the last 1/2 cup of coffee. Notice the lid is off and the liquid is coming directly out of the pot. The liquid still gets filtered because the main filter remains in the pot.

In all, this is a great big French press that works just as good or better than any other French press I've used and even some of my coffee snob friends have been impressed by how well it works. (Note: I lived in the Pacific NW for a while, so I did acquire some legitimate coffee-snob friends) The coffee is always free of grounds and tastes good, but that I suspect has more to do with the coffee beans, roast style and grinder than it does the process by which it is brewed.
Source: bought it new
Price Paid: $45 USD

Your Review
Where to Buy
Help support this site by making your next gear purchase through one of the links above. Click a link, buy what you need, and the seller will contribute a portion of the purchase price to support Trailspace's independent gear reviews.
You May Like
Specs
Price
MSRP: $54.95
Historic Range: $27.93-$54.95
Reviewers Paid: $45.00

Recently on Trailspace