The RovR RollR 60 cooler is a rotomolded cooler with wheels, a pull handle, and some clever features and attachments.
Pros
Well built
Unique design
Great feature and functions
All terrain tires and pull handle make for easy use.
Cons
Heavy to lift
White tote can show dirt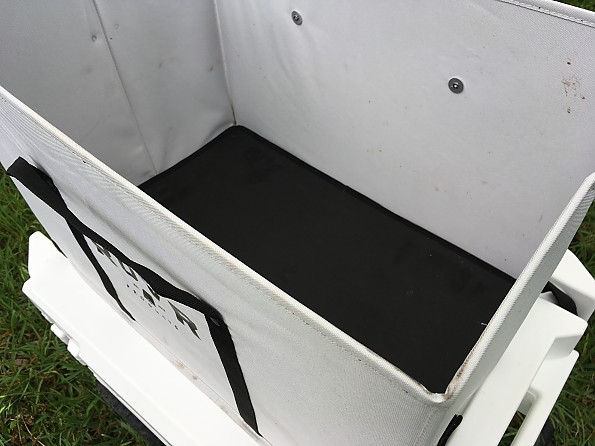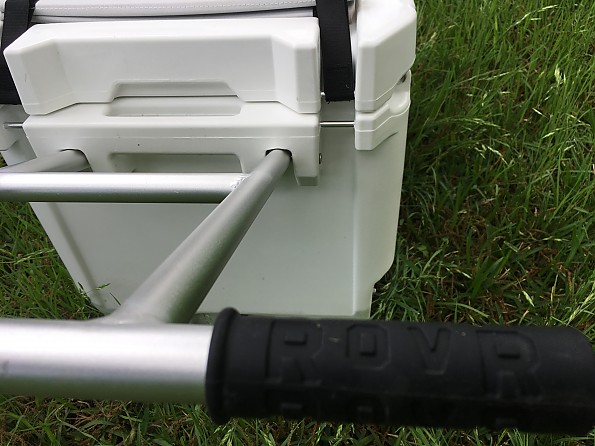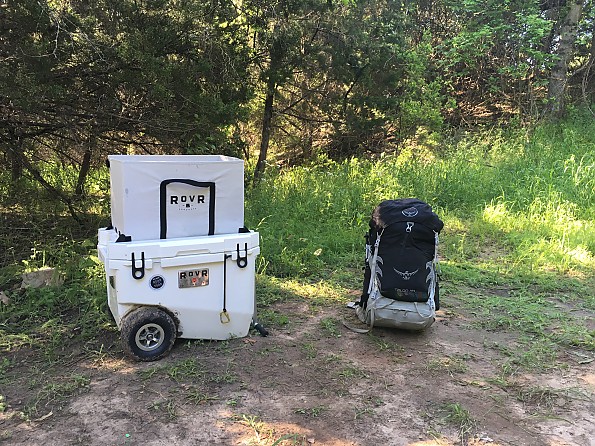 The RovR RollR 60 cooler is a rotomolded cooler with wheels, a pull handle, and some cleaver attachments. The RollR 60 model holds 60 quarts of content. The company also sells 45 and 80 quart models. Like other rotomolded coolers the walls are thick, insulated, and offer great cold storage capability. RovR says that their coolers can hold ice for up to 10 days. We were just camping for a couple of days and it certainly kept our items nice and cold.
What really separates this cooler from other coolers are some of the unique features. First, the cooler has rugged wheels and a pull handle. For this trip I knew that we had to hike to our campsite for a little under a mile. Under no circumstances would I ever carry a cooler into a backcountry site. However, the RovR RollR worked out perfectly and we were able to haul the cooler with our food and drinks over some pretty rough terrain. The wheels were large enough to roll over rocks, roots, and uneven surfaces.
The pull handle extends to a convenient height which allows a person to pull it comfortably without bending over. The pull handle also has grips on each side which allows one person to pull the cooler solo or two people to pull the cooler in tandem. This feature was key and we used two people to pull our cooler over some hills and through some muck.
Inside the cooler there is a special bin that can hold items that may not need to be chilled like bread, towels, or utensils. This feature is so important to keep items separate and dry when moisture develops or the ice starts to melt. The bin itself has an internal divider which further aids with organization. I put my spices and condiments on one side and cooking and cleaning utensils on the other side. I then place my bread on top. The bin is shaped perfectly to hold a full loaf of bread across the bin where it will not get squished.
The floor of the cooler is gradually sloped so that when ice does start to melt the resulting water will easily run out of the drain hole. I was so impressed with the overall design of the cooler and the thought that must have gone into the design. I can tell that the designer was a user of coolers with all of the thoughtful touches.
On the outside of the cooler there are a few really unique design features. The cooler comes with a folding tote container which is attached to the top with velcro straps. When not in use the tote folds completely flat, lays on the top and can serve as a cushion for sitting. When needed, the tote can be unfolded and it becomes an additional container which can hold extra gear like a stove, pots and pans, camp chair, or paper towels. Brilliant!
In addition, the tote can be removed entirely from the top and placed to the side or moved to a picnic table. This is great feature—it is like have two carrying containers in one. There are additional fixtures on the cooler which are designed to attached auxiliary items like a cutting board or drink holders. There is even a fixture which allows one to attach an extension that can be attached to a bicycle. Thus, one can pull the cooler behind a bicycle like a trailer. Ingenious!
I think that these are just some of the unique features and functions of the RovR RollR cooler. I'm sure that after additional use I will discover other cleaver features that the designers incorporated into this cooler.
I will say that I accidentally and unintentionally abused this cooler on this trip more than I anticipated. We pulled it over rough terrain, up a hill, through muddy water, and let it sit outside all day. After I got home I washed and cleaned it and to my amazement it did clean up easily. The only thing that I did notice was that the tote on top is a light colored silver. Since I dragged the cooler through the mud, some dirt stains showed up easily on the tote. I would probably recommend choosing one of the other tote designs with a darker color to avoid this issue.
However, I use my coolers for their functionality and I'm not too concerned that it might look well used. I see myself getting many uses and many years out of this awesome little cooler. I'm thinking about buying the bicycle attachment arm to increase my options even more.
Experience
Overall I'm pretty impressed by this cooler because of the build quality, design, and features. I used and pulled this cooler down a rough, muddy, hilly trail and it performed better than I expected.
Source: tested or reviewed it for the manufacturer (kept it)

The author of this review received the product from the brand or its representatives in exchange for a review.
This cooler is really durable and grizzly proof. Downside, it is REALLY heavy and can't be lifted alone.
Pros
Durable
Ice retention
Grizzly proof
Wheels,
Storage bin
Dry Bin
Lots of accessories
Cons
Heavy
No locking panel
Storage bin gets dirty
Drain plug isn't attached and can get lost
As a member of another website, I get products to test from time to time in exchange for a review. Today I am testing the RovR RollR 60.
This cooler definitely has some cool features that help it stand out. The first thing is the all-terrain puncture resistant rubber tires. I was able to roll this thing through camp and over rocks about the size of baseballs with no issues. If for some reason you do manage to damage the tires they are replaceable! The RollR 60 was very easy to pull. They have a dual sided aluminum handle with rubber grips. The design was made specifically with your heels in mind. You actually pull the cooler off to the side so it isn't constantly bumping into your heels.
The RollR 60 is certified grizzly bear resistant. It has a rotomolded foam insulated lid and body which helps the ice retention (up to 10 days with proper use) as well as making it super durable. We used it for three days and had very little ice melt even with the cooler sitting in the warm mid-day sun. The lid seals with an airtight gasket and I can confirm when it is latched it is leakproof. The cooler has a removable dry bin inside which is one of my favorite parts. This bin attaches to the inside with a removable screw and it keeps all of the water out so no more soggy bags or cardboard! The center divider of the dry bin is cut out and it works great to fit a full size loaf of bread or carton of eggs.
On top of the RollR 60 is a removable canvas storage bin. The one it comes with is almost an off white color and does show dirt fairly easily so if you are going to be getting filty you may want to upgrade to the designer tote. Even though the tote is collaspsible it is very sturdy when it is set up and can handle a lot of stuff inside. Our fold up camp chairs were hanging out the top and still didn't topple the tote. When the tote is folded down it velcros to the lid for easy storage and then doubles as a makeshift padded seat.
RovR has gone above and beyond with the accessories available for this cooler. They have a prepping board that can attach to the side (perfect for sandwiches, cheese boards, or cutting limes). There is an optional umbrella/rod holder. Again, you could carry the rods or umbrella in the storage tote but this would keep the rod from getting banged up with the other items in there over rough terrain. There is a cup holder because sometimes a flat surface can be hard to find and setting things on the ground can always be risky.
There is also a BikR kit you can use to attach it to a bike for easy towing. The accessory I was able to demo was the stash bag. It was a fleece lines drawstring bag with two zippered pockets on the outside. It was perfect for putting in my keys, phone, and wallet for easy access and to keep them off the ground and prevent them from getting lost.
As with all things there are bound to be features that you aren't in love with. When it comes to the RollR 60 these features aren't deal breakers for me but worth calling out. The RollR 60's handle is not adjustable. I'm 5ft 7in and it worked well for me as well as a few other people that tried it all in the 5-6ft height range. However, I could see it being difficult for someone a bit shorter than that (for example a child). When my son was rolling it around he managed to tip it backwards and because it wasn't latched there was ice everywhere.
We played around with it and figured out that if you lifted it much beyond 45 degrees it would roll backwards since the handle doesn't lock open. This could be problematic if you were dragging it up a steep incline. The handle is also just about the same height as the cooler and when it hangs down it often hit the ground and did get pretty dirty.
The cooler doesn't have a specific lock location. It does have the metal bars where you attach the accessories that you could use a larger padlock on but not a standard sized lock. The drain plug is not attached to the cooler in any way so be sure when you are draining it that you don't set it down and lose it. My biggest peeve was the weight of the cooler. I literally could not lift it by myself when it was loaded so getting it in and out of the truck was a two-person job. (thankfully, because of the wheels I was able to move it around camp by myself without any issues)
Overall I really liked the RovR RollR 60. If you like to bike to the beach and take a cooler or to do walk-in campsites this is the way to go. It was so nice to have the additional storage bin on to to help minimize the amounts of trips we needed to make back and forth and it was so easy to pull. Make sure you are either super strong or plan to have help loading and unloading the cooler from a vehicle (again, this would be a great reason to just tow it behind a bike).
Experience
I've had this for about a month and used it a few times camping and at a large school carnival as well as random testing at home. We have another rotomolded cooler and have camped with at least three other styles of coolers.
Source: tested or reviewed it for the manufacturer (I kept the product after testing.)

The author of this review received the product from the brand or its representatives in exchange for a review.
Your Review
Where to Buy
Help support this site by making your next gear purchase through one of the links above. Click a link, buy what you need, and the seller will contribute a portion of the purchase price to support Trailspace's independent gear reviews.
You May Like
Specs
Price
MSRP: $399.00
Current Retail: $393.99-$494.99
Historic Range: $205.40-$494.99

Recently on Trailspace