Royal Robbins Bug Barrier Convertible Sun Hat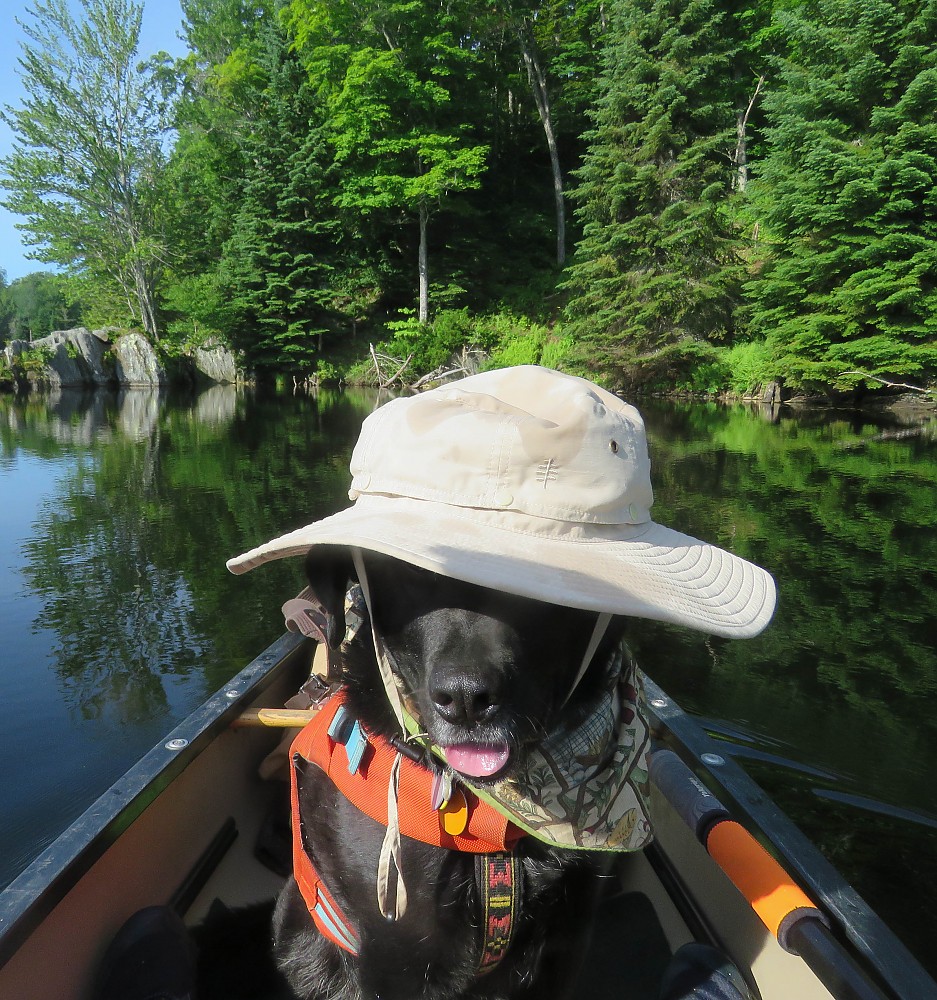 The Bug Barrier Convertible Sun Hat is a unisex sun hat, designed for outdoor activities where bug and sun protection are desired. It is a comfortable and lightweight hat that I have worn canoeing, camping, and hiking. It has a wide 4" brim, and is treated for insect repellency, and also has a 50+ UV sun protection value. A very positive feature is an integrated head net that can be tucked away alongside the crown when not in use. I have enjoyed using this hat, a change from my usual ball cap style, and feel it can be recommended for those looking for good sun protection while engaged in many different activities.
Pros
Very comfortable and lightweight
Integrated bug head net
Good sun and bug protection (50+ UV protection)
Available in dark or light color
Cons
Can catch quite a bit of wind
Website does not provide sizing information
Introduction: The past six weeks have been the perfect time to test out this Royal Robbins Convertible Sun Hat! I have encountered record-breaking heat while camping, canoeing, and bird watching at home in Vermont and while visiting Colorado.
The sun protection afforded by the large 4-inch brim has been appreciated, and on some of my buggier camping and paddling outings, I have relied on the integrated insect head net to protect me from carnivorous bugs.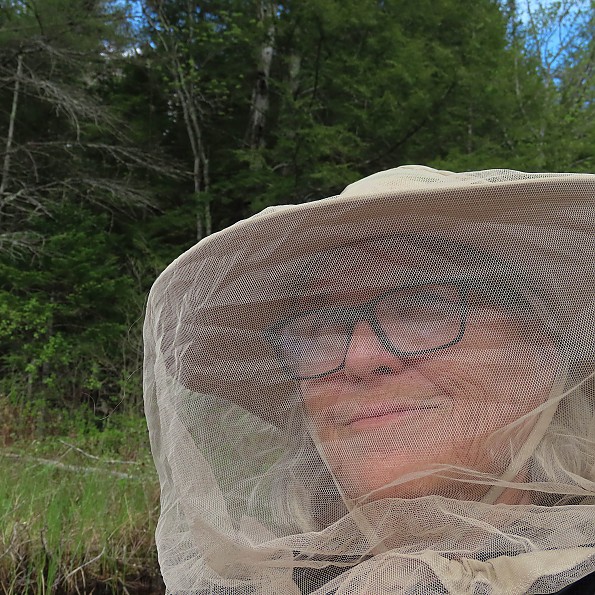 Though I am a long-time aficionado of wearing ball caps while canoeing, hiking, and engaged in other outdoor pursuits, I am convinced that this Bug Barrier hat is well made, comfortable, and can be recommended for those seeking to avoid uncontrolled exposure to sun or bugs.
Hat Design and Features: This is described as a unisex sun hat, part of the family of "Bug Barrier" accessories in the Royal Robbins line. It is listed under men's hats, as well as under women's hats on the website. It is available in two colors 1. Sandstone (light tan) or 2. Fiddlehead, an olive green color. It is listed on the website as available in size S (small) or M (medium). More on sizing to follow!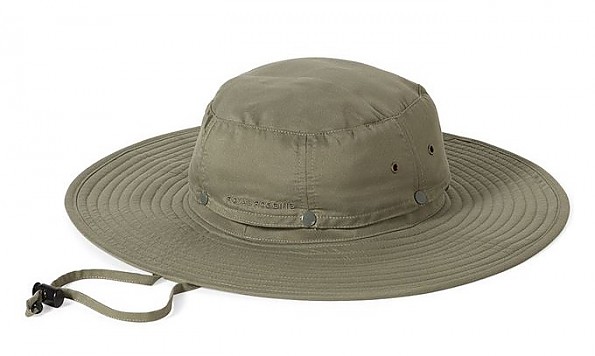 (In addition to Bug Barrier pants, shirts, and socks, Royal Robbins also offers a Bug Barrier Convertible Sun Cap, Bug Barrier Snap Brim Sun Hat, and Bug Barrier Sun Halo Hat.)
The Bug Barrier Convertible Sun Hat has a wide 4-inch brim, providing protection from sun exposure, and even from rain if necessary. The hat is rated as having a 50+ UV protection level and is made from 100% polyester. This lightweight fabric is reported to be breathable, wick moisture, and dry quickly.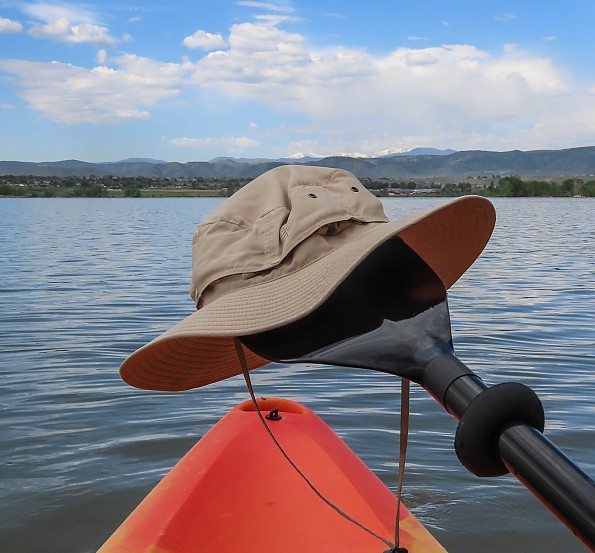 There is also an integrated head net, also made of 100% polyester, with a fine grade mesh to keep insects away from your face. The netting tucks away into the crown when not needed, held within the hat by 6 plastic snaps.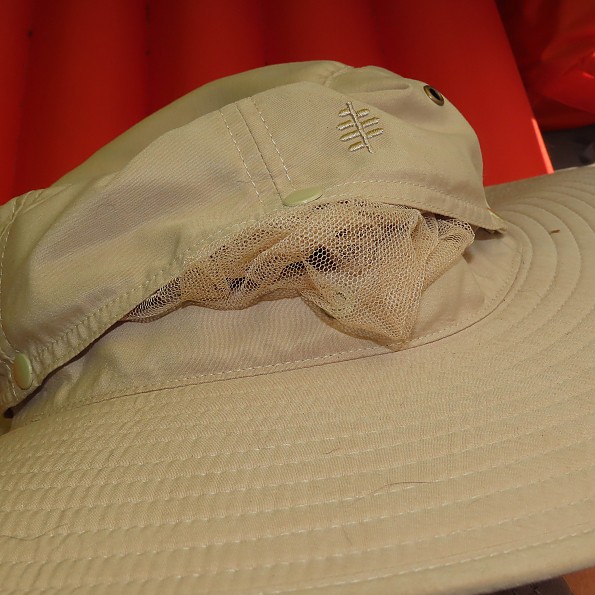 The hat is treated with Permethrin, under the name "Insect Shield," designed to repel mosquitoes, ticks, ants, flies, and other biting insects.
On the inside of the hat (at the top of crown), there is a small open-fold pocket, designed to keep a few cards of cash.
The hat has an adjustable drawstring strap with cord lock to secure the hat in place if needed; the head-net also has a drawstring strap at its base, allowing you to tighten or loosen the head-net as desired.
The hat's reported weight is 3.5 ounces. It is made in China. Washing instructions indicate hand wash in cold water. Insect Shield items are said to maintain insect repellent capabilities for 70 washings.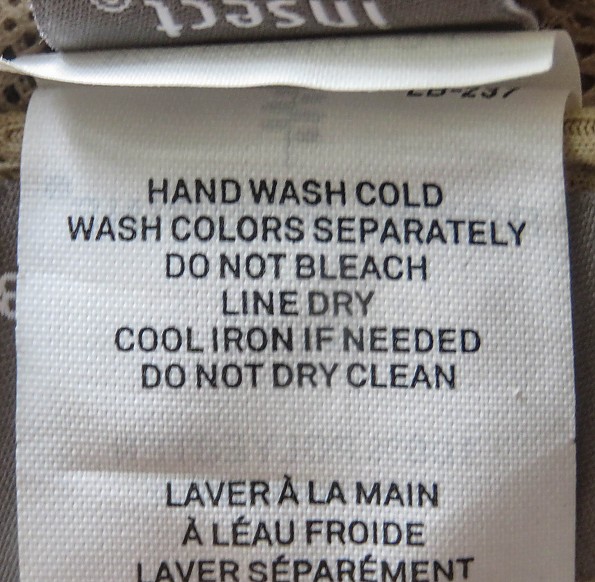 Size Options: I am testing out a size M/L, as indicated on the SKU tag, and in the interior label of the hat. I have a head circumference of approximately 22 inches. I cannot wear tight hats, and this fits me just fine.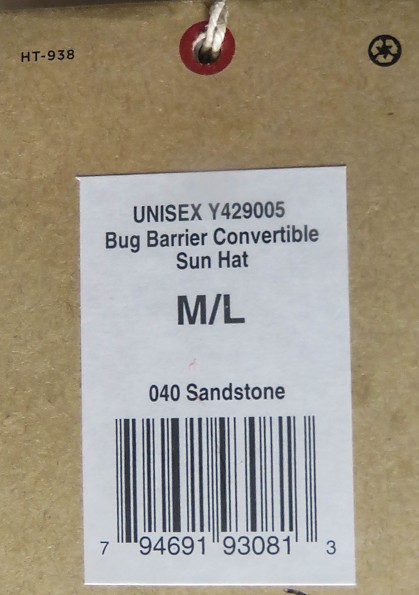 However, on the website I was unable to determine the head measurement specifications for that sizing. I searched the website and ended up on a live chat before getting an answer. I was advised that Royal Robbins does not have a headgear size chart available on the site; they referred me to the Fjallraven (a sister company) sizing chart, which is only in international measurements, and it does not show the M/L option that I have.

My Use of the Hat: This hat goes with me on every canoe outing now, depending on conditions, I may use it in lieu of my usual ball cap. It can fold and pack small, in either my canoe bag or carry-on luggage while traveling. I primarily use this Royal Robbins hat when the sun is shining brightly, as protection from the harmful rays on my face or neck. I also have used it when the sprinkles begin, as the wide brim prevents rain from dripping down the back of my neck.
I used to carry a head bug net in my canoe gear bag, for when the mosquitoes, no-see-ums, or mayflies are getting pervasive. Now I can just use this hat, drop the net over my head, and secure it as loose or tight as need be. If bug level decreases, it is easy to tuck the netting back up into the crown of the hat and snap it out of sight.
I have found that I can each up and unsnap the head-net, while still wearing the hat, and drape it over my head.

However, to return the net to its tucked-away position, I really need to remove the hat and neatly tuck the net into place before securing it with the snaps. 

Since I often paddle marshy (and hence buggy) and wet areas, the availability of a large, dependable head net is invaluable. It got quite a test while canoeing a bog in New Hampshire in early May, but the net saved the day and allowed me to continue padding amongst the swarms.
Anecdotally, based in my experience with this hat and other clothing items I have treated with Permethrin, bugs do tend to stay away from such items more than from non-treated items. Just about every outdoors person I know relies on Permethrin as the strongest available textile anti-insect treatment.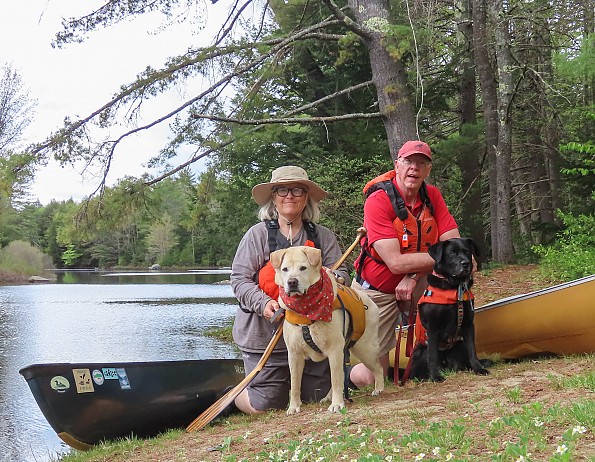 I find the hat to be lightweight, and it has been cool even when worn in temperatures over 90 degrees, as I encountered canoeing in Colorado.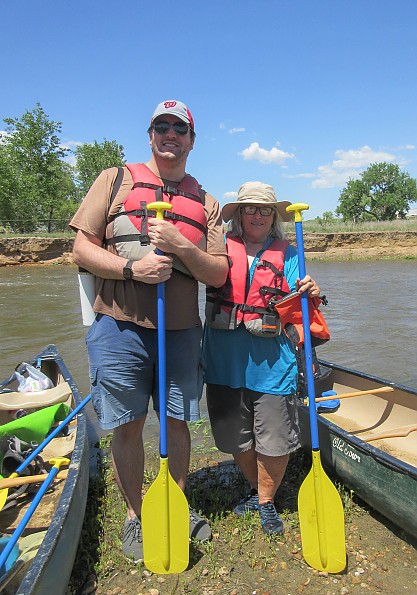 I feared that the net being tucked away might create bulk that would hinder comfort, but I have not found that to be the case. I have found the hat to be quite cool, and it does wick away head sweat.
I have not used the hidden pocket in the crown; I usually keep valuables in a dry bag while canoeing and think I would probably forget if I put some cash up there. On the next really hot steamy day, I may try putting a small cold pack up there, as an added way to cool off my head.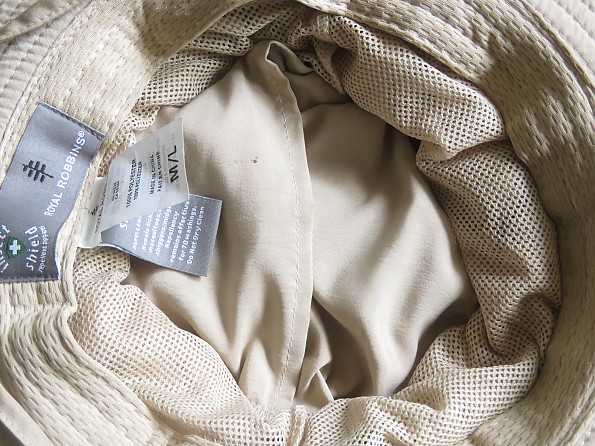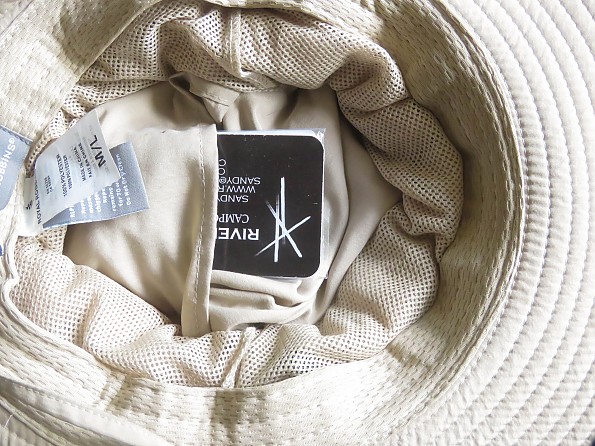 I have also used the hat for bird walks and local hiking and find that it is very suitable for those activities.
I have encountered a few issues with the hat, based more on my uses than the hat's design. Am I dating myself if I ask if you remember Sister Bertrille? Well, when the wind is really blowing across the lakes, I can feel a bit like the Flying Nun, as the large brim of the hat really catches the wind! I can adjust the drawstring neck-strap tightly, but that is not comfortable. So, on really windy conditions, I do tend to stick to a lower profile ball cap.
I also take many photographs while canoeing, birding, camping, and hiking.  I have found that often the camera strap around my neck gets caught up with the long drawstring of the hat when I raise the camera to shoot. This can create a bit of entanglement, so I often put the hat's drawstring behind my head.
Also, if the bug net is being used, I need to lift it to use the viewfinder of my camera. I could trust the auto-focus of the camera, but I need to stabilize the camera against my face while shooting. This is a small issue and does not detract from the hat's performance.
The sandstone color is very light, and probably the best for cooling performance, but I anticipate it will get dirty, especially since I take it camping a few times a month and canoeing nearly daily.
In conclusion, I really like the Bug Barrier Convertible Sun Hat. It is a change of style for me, but it has performed well and is well-suited for my outdoor pursuits. It appears very well made, and I anticipate using it for many years. I can recommend it for its sun protection qualities, comfort, and its ability to provide a quick and easy bug head-net. It is not an inexpensive hat ($58 msrp), but its quality and performance seem to make it worth the investment.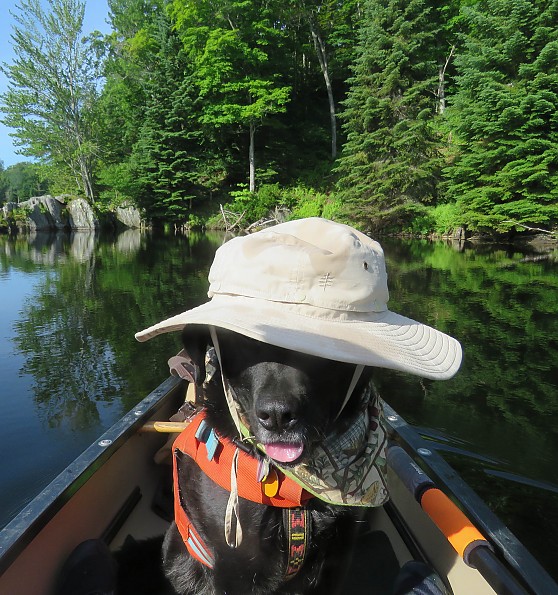 Experience
I get outdoors every day, and always wear a hat. The hat I choose is obviously dependent upon the weather conditions, but in the summer I especially like to keep the sun off my head and out of my eyes. This style hat is somewhat new to me, but my canoeing, camping, hiking, and bird walking activities have given me the perfect opportunity to test it. I also go out in all weather conditions, so the hat is being tested in a variety of situations.
Source: received for testing via the Trailspace Review Corps (Sample for testing and review provided by Royal Robbins)

Your Review
Where to Buy
Help support this site by making your next gear purchase through one of the links above. Click a link, buy what you need, and the seller will contribute a portion of the purchase price to support Trailspace's independent gear reviews.
You May Like
Specs
Price
MSRP: $58.00
Current Retail: $58.00

Material
100% polyester

Webbing
100% polyester

Weight
3.5 oz

Fit
Standard fit

Features
Bug protection, Convertible

Recently on Trailspace