Ruffwear Approach Pack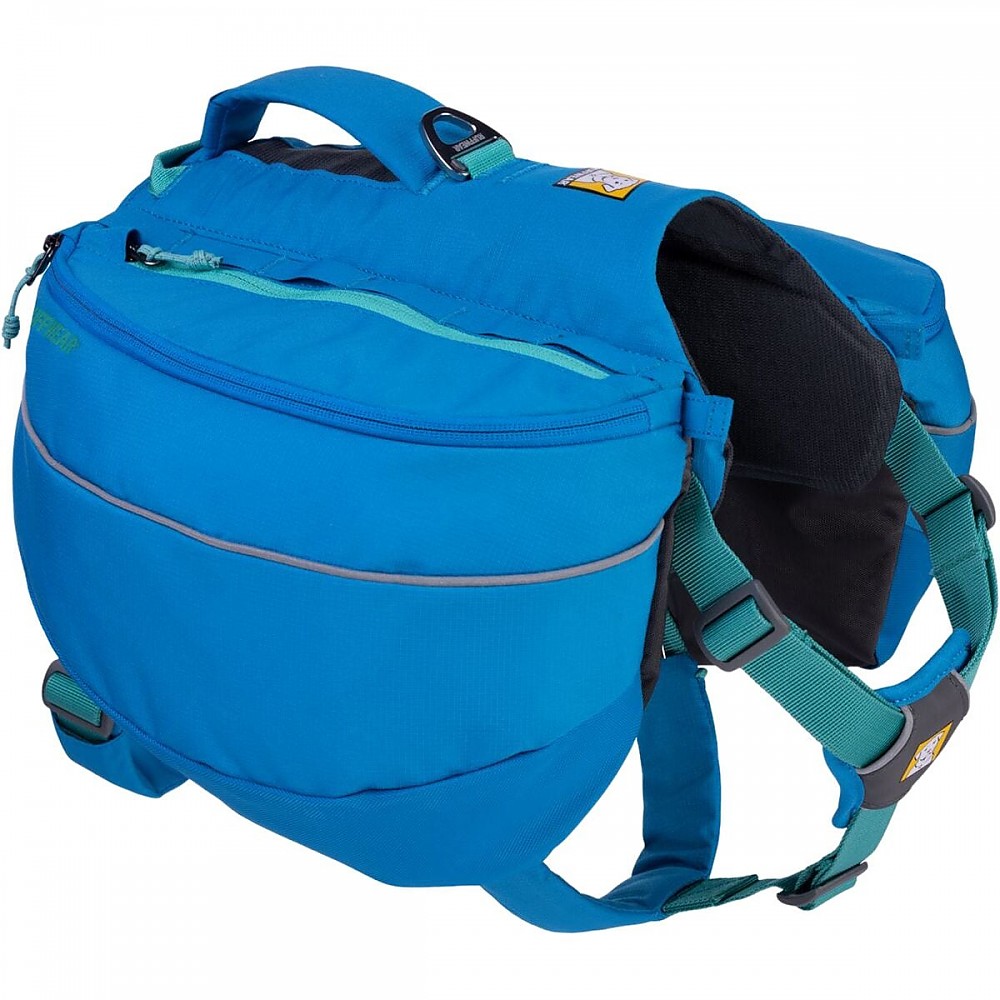 So far so good. It's worth the extra money.
Pros
Durable
Comfortable
Fits snuggly
Design
I have had this pack for a year and a half now, but we have not done a year and a half worth of hiking so I will update you guys if anything changes. So far it has been outstanding. I bought it new at Cabelas because I had a $50 gift card there. I have the blue, size lg, for my 90lb mutt Ellie.
Durability:
We have done 15 or so day hikes, and one or two overnights and the pack has held up great. After being banged and brushed by rocks, bushes, and trees the material has not ripped. It has even been through streams, and while its not water proof, its still in one very whole piece.
The harness portion feels extremely well made, and all the seems are still in perfect shape. the zippers are also extremely high quality, there is not any danger of them breaking or coming undone. The bags feel a little more flimsy, but so far that has not been the case zero rips or holes to date. 
Comfort and Features:
The buckles and straps are all padded so Elle does not get blisters or hotspots, and it fits very snuggly. There is tons of room in the pockets (maybe a little too much room). It easily fits 7 days worth of dog food (at 2c a meal) and some treats.
The harness portion of the pack has a handle that you can easily grab (my brother lifted Elle right of the ground by it and the pack did not break!!) and a sturdy ring to attach a leash. there are also loops on either side for err storage ? And the pack has some reflective portions which is a nice touch. The bags are not boxy either, they contour to the body fairly nicely. 
Sizing:
As the other reviews were saying, sizing runs large. Ellie fits in a large but there is plenty of leftover room in both torso straps, and the chest straps are as small as they will go.
Conclusion:
My brother has a small pitbull (45 lb) and opted for the Mountainsmith bag. We did the CT section of the AT in 5 days; by day 2 poor Holly had been rubbed raw by the straps, and my brother had to carry her bag. Ellie has had no raw spots from this pack as of yet.
I highly recommend this pack , you won't be sorry you spent the extra money.    
Source: bought it new
Price Paid: $79.99

Great pack, dog doesn't mind it and it stays put.
Pros
Fits well
Stays put
Rugged
Comfortable for dog
Cons
The coverage of the harness on my dogs back gets hot
Doesn't drain water well
This pack is highly adjustable and fits my dog great. It has never chafed him or irritated his skin, granted it is adjusted properly. I have however seen a couple dogs wearing this harness where the chest strap is rubbing on the back of their legs and the pack is almost completely sideways on their backs, so proper adjustment is key, just like on our packs.
I have him carry his own food and a lightweight bowl, with his foam pad rolled up on top. He often comes with me in the winter while skinning and tends to bomb through the woods on the decent, and this thing has seen some serious bushwacking haha.
The handle is great for helping him over icey surfaces or wet rock. It is rugged, doesn't get snagged on things easily, and has tons of loops for hanging/rigging gear to the pack.  
One thing I may do is punch holes in the bottom of the side bags to allow for water to drain. They are pretty water resistant and rain rarely makes the contents wet, but, if your dog decides he wants to go for a swim, the bags will saturate and if water gets inside, they don't drain well at all, and the only way to get the water out effectively (other than flipping your dog over and shaking him, which never goes over well) is to remove the pack, unzip the bags, and dump it.
The only other thing I would maybe change would be to have cutout sections in the top of the harness for breathability, or even a perforated material would be adequate.  It doesn't breath at all, and with the material being black it gets really hot on a warm summer day.  I may take it to a seamstress/tailor and have the harness back modified to allow for some breathability.  I feel like the design lends itself very well to distributing weight across the dogs back, but the top of the harness is definitely overkill for the 14lb carrying limit of my 70lb dog.
Source: bought it new
Price Paid: $75

My dog is a gear testing monster. His first sleeping bag was shredded on its first trip out (while I was still asleep). His packs go bushwhacking and squirrel chasing, not to mention swimming and puddle stomping. He is an active boy.
This is the 4th pack my dog has had - not counting a weekend with the Kelty that got sold shortly afterwards. He has worn out one Approach and one Palisades. Now he has a well worn Palisades and a 6-month-old Approach.
The older model Palisades has held up very well due to the materials that was used back in 05/06 by Ruff Wear. The new Approach is made from a material that may not be as durable but the design is top of the line. I can't imagine how it could be improved. A lot of thought went into this pack. It stays in place all day long and is not hard to balance the dogs load - what else is there to say. (If you do much dog packing you know that a shifting pack is a contant bother.)
Anyways I'm gonna keep it short on detail and just say that, although pricey, I would highly recommend this pack and the Ruff Wear Warranty was top notch the two times I have used it. They would (I'm sure) replace a worn out pack, but that does not seem fair so I just tossed the old one and got a new one.
Good work, Ruff Wear. 5 stars all the way.
Price Paid: retail

Of course, as I often am w/ K9 products, I was skeptical at first. My concerns were soon gone. This pack fits well on my medium sized terrier mix. She seemed comfortable wearing this pack even after her first 5-miler in it. It holds a lot of stuff, but unless you are asking your pooch to carry some of YOUR things, the bags may be a bit larger than needed.
Sizes listed by the manufacturer are a bit on the large size. Based on weight and girth on the size chart, I chose the small pack for my 13" beagle. I should have chosen a smaller size for her. Luckily, I have another dog that is a bit larger - now she wears this pack.
The harness is easy to figure out and adjust although one buckle on the chest strap ends up under the bag on one side, making it a bit difficult to close if the pack is loaded.
Pack quality is first rate with taped seams and heavy duty construction. The harness is strong, padded, and seems to be comfortable. When adjusted properly, it doesn't rub or chafe.
Price Paid: Won it!

The pack is better than I expected, the material is durable and the adjusting straps make fitting it for the dog's comfort very easy.
Pros
Well-made, durable
Strong handle
Many compartments
Clips won't get damaged in rough terrain or the bush.
I am disabled and walk with service dogs. The pack is made with a strong handle just where I need it.
It has plenty of storage room for at least two days of walking and carrying the collapsible dishes for food and water. It also has room for any other equipment for the dogs and for their paperwork, an unfortunate necessity, but the compartments are well constructed and deep for mobile living.
I have two dogs, purchased one pack and am getting another one for my smaller dog. The measurement guidelines are accurate, the clips strong and well protected within the material of the pack and adjustable, so that my pack for my 80-pound dog, almost fits my smaller, 50-pound dog. But I thought I would see with the larger dog how they fit. 
I am glad I invested the money as the product is well worth it.
Source: bought it new
Price Paid: $80

As sturdy as my Puggle!
Pros
Rugged construction
Large pocket capacity
Practical for long hikes/backpacking
Cons
Hot for hairy beasts on warm days
I hiked and camped the length of the I&M Canal Trail with my Puggle. This pack was perfect for him to carry his own food and squishy food dish (by Guyot Designs).
I agree that this pack is on the warm side, so I use that fact to my dog's advantage and use it expressly on cold and cool days to help him stay warmer. I don't even attempt it on days that I wouldn't be willing to wear several layers, myself.
Source: bought it new

This has been a great pack. It's very durable and sturdy, while comfortable for the dog. Would recommend over any other I have tried.
Source: bought it new
Price Paid: $30

Your Review
Where to Buy
Help support this site by making your next gear purchase through one of the links above. Click a link, buy what you need, and the seller will contribute a portion of the purchase price to support Trailspace's independent gear reviews.
You May Like
Specs
Price
MSRP: $79.95
Current Retail: $79.95-$109.95
Historic Range: $26.00-$109.95
Reviewers Paid: $30.00-$80.00