Ruffwear Kibble Kaddie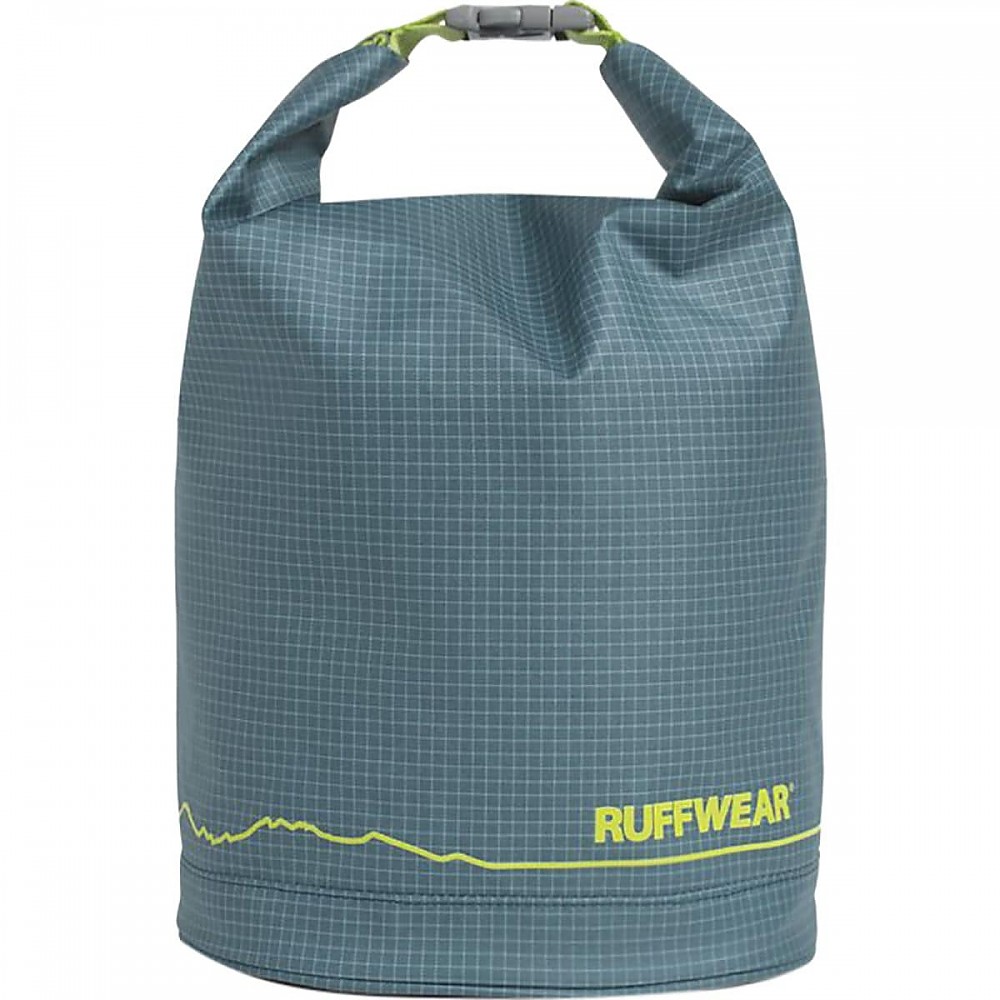 The Ruffwear Kibble Kaddie is a waterproof, durable, and convenient way to carry your dog's kibble while traveling or camping. We have used it for winter hut camping, canoe camping, and car camping. I can recommend this bag to those looking for a way to securely transport their dog's kibble, keeping it dry and fresh.
Pros
Good capacity
Solid construction
Interior pocket compartment
Waterproof
Cons
Double webbing handles at base would make it easier to attach to companion Ruffwear Haul Bag
With our two active adventure dogs, my husband and I are frequently traveling for car camping, pop-up trailer camping, winter hut camping, and back-country canoe camping. These trips require organization and planning, as they may last three days for a local camping trip, or up to three weeks for a cross-country trip.
One of the keys to the success of our trips is keeping the dogs happy...a happy traveling dog makes life easier and more enjoyable for all. Since our dogs are rather food-oriented, and pretty obsessive about feeding times, the ability to have fresh, easily accessible, and dry (!) food for them is essential.
Prior to testing out the Ruffwear Kibble Kaddie, their food was carried in a small doggie food storage bag that we learned on one trip was NOT waterproof. After dealing with that soggy mess of kibble, from then on we had to place the kibble in a plastic bag that was then put inside the storage bag, or for canoe camping, we had to dedicate an extra dry bag for the dog food. This system was not entirely reassuring, and not the best way to keep the food dry and fresh for the dogs.
This winter, we have been fortunate to test the Ruffwear Kibble Kaddie, a dog food storage system that has worked great for us on a few hut camping trips. The Kibble Kaddie is a well-designed system to store and transport dry dog food, dispense the food, secure the food from curious sniffers, protect the food from the elements, and carry collapsible bowls, scoops, or other items such as dog biscuits. We have been impressed with this carrier, and anticipate it will get lots of use on our future road trips and camping adventures. For those of us who are often traveling with our dogs, it is also a great companion piece to the Ruffwear Haul Bag.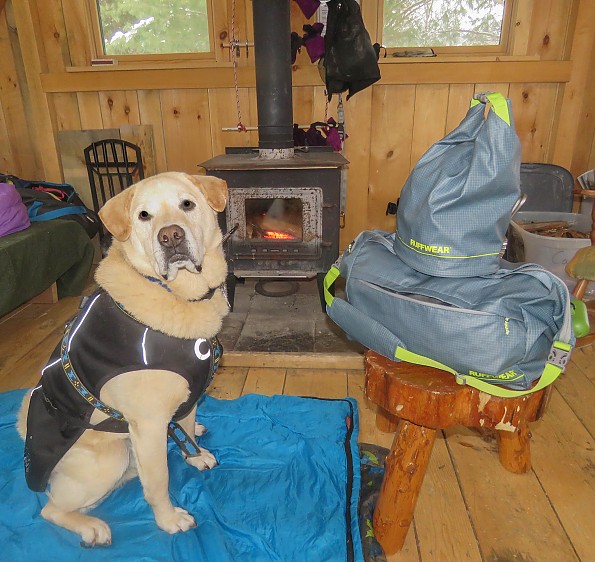 Ruffwear Kibble Kaddie on top of Ruffwear Haul Bag, at Nulhegan Hut in Vermont


Design and Construction:
The Kibble Kaddie is a top loading bag, with a secure roll-down top closing system, that has a carrying capacity of 10L (42 cups) of dog kibble. The bag when empty stands 16.9 inches (43 cm) tall, and has a stable circular base of 9.4 inches (24 cm) diameter. The design of the roll top closure allows the bags size to be adjusted down as the volume of food decreases. The securing webbing of this top roll system are made of polypropylene, with ITW Nexus Airloc side-release buckles.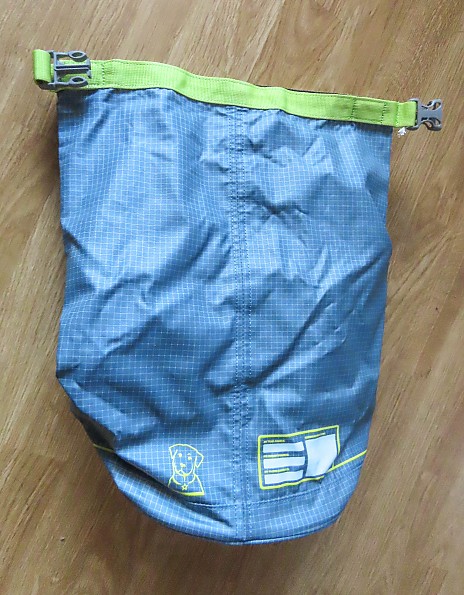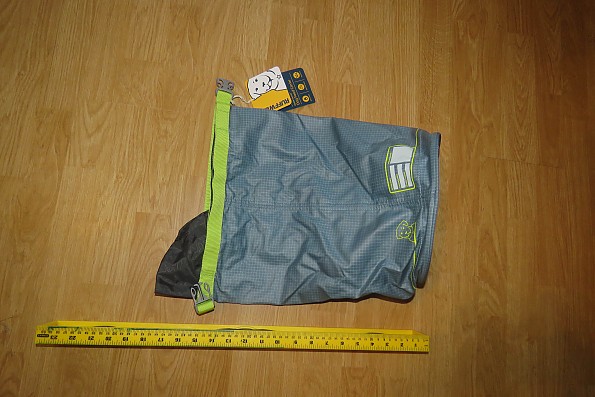 The bag is made of an exterior waterproof 420 denier nylon with TPU finish, in slate blue/grey color that Ruffwear describes as "food-grade material that is oil-resistant and seals off odor." It has an interior lining made of 210 denier nylon taffeta with waterproof finish rated at 4,000 mm.
We have not had to wash the bag yet, but the instructions are simple for cleaning; Hand wash, use mild detergent, and air dry.
The Kibble Kaddie is designed with an integrated pour spout for dispensing the kibble. The pour spout system works well with a full bag, or when nearly empty.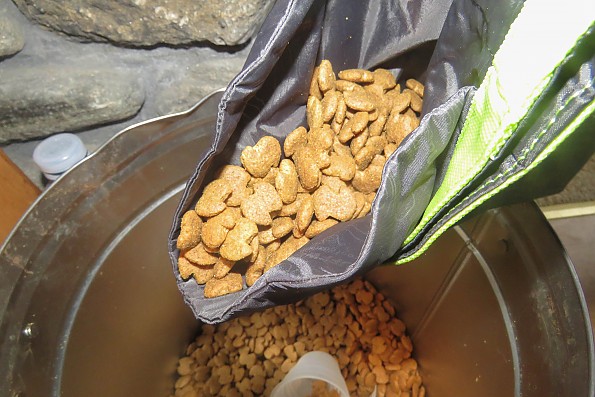 There is also a large interior pocket where we can store two collapsible dog bowls, as well as a bag of treats and medications. The amount of space within this permits such storage even when the bag is full.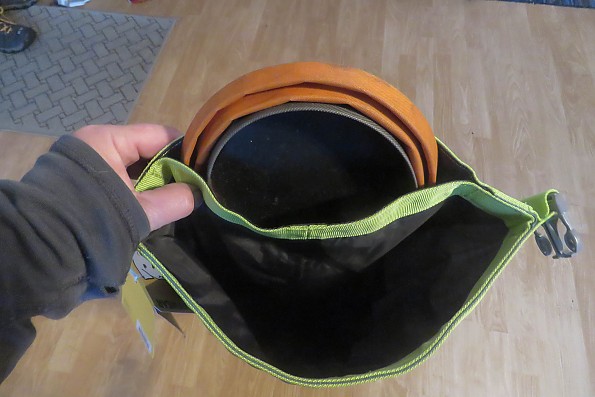 Lots of room in the interior pocket


There is a webbing handle at the base of the Kaddie that can be used to hold the bag while pouring, or to hang the bag when not in use. A nameplate area is located near the base of the bag, where you can write your contact information.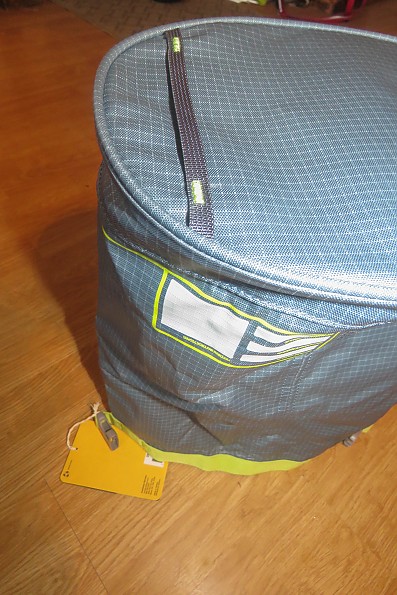 The base of the Kibble Kaddie (upside down)
Performance:
Most of our dog adventures that require travel happen from spring into fall; however, we were able to try out this Kibble Kaddie on a few of our winter hut camping adventures first. These trips require us to pull our gear packed onto pulks, across snowy and often wet trails; the waterproof nature of this bag make it ideal for such activities. During our spring car camping and early summer canoe camping, the Kaddie has been reliable in providing our dogs with safe, dry, fresh food.
For pulk transport, we attached the Kibble Kaddie to the companion piece Haul Bag; it would be a more secure attachment if there were two webbing straps at the base of the Kibble Kaddie.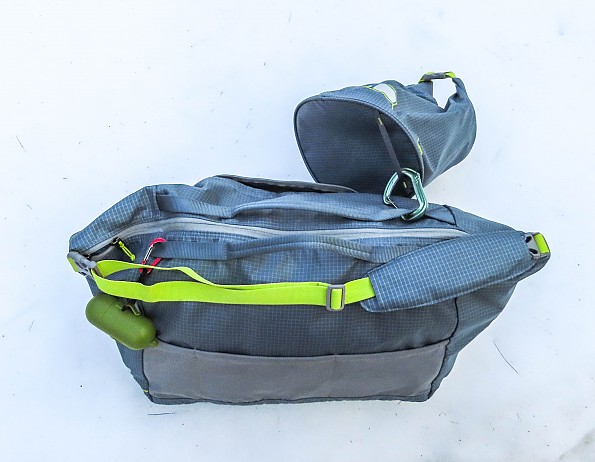 The single handle strap secured to the accessory straps of the Haul Bag...the Kibble Kaddie would remain more securely attached, and on the top of the Haul Bag, if a second attachment point could be used.


The capacity of the Kibble Kaddie is reported to be 10 liters, or 42 cups. We verified that is the amount of kibble it can hold; it actually appears that it could hold a bit more, but additional volume would impair the roll-down top system. There is also room to keep a measuring cup in with the kibble, helpful for those of us who have to keep our dogs on strict portion control.
When full with our dogs' kibble (Eukanuba Large Breed Fit Body), the bag weighed 8 pounds. Each of our dogs eats two cups of kibble/day, so the Kibble Kaddie can hold up to 10 days of food supply for our two dogs.  Since most of our trips are fewer than 10 days, it certainly has adequate capacity for our needs.
The weight of the full bag (approx. 8 lbs/3.6kg ), and its size when full (circumference approx. 29 inches/73cm and height approx. 16 inches/40cm) may make it problematic for fitting into a backpack. We are using this bag while canoe camping this summer, and have found that it is best carried within the companion Ruffwear Haul Bag, which fits nicely into a loaded canoe.
Our winter trips involve snow, slush, and sometimes rain, and our summer trips often are on the water, the bag's reported waterproofness is a critical factor for us. Before our first trip, I put kibble in the bag, and hung it outside for 24 hours during a torrential rain and wind event; yes, the kibble inside remained perfectly dry.  This is very reassuring, since it is tough to restock dog kibble while camping on a remote lake in Canada!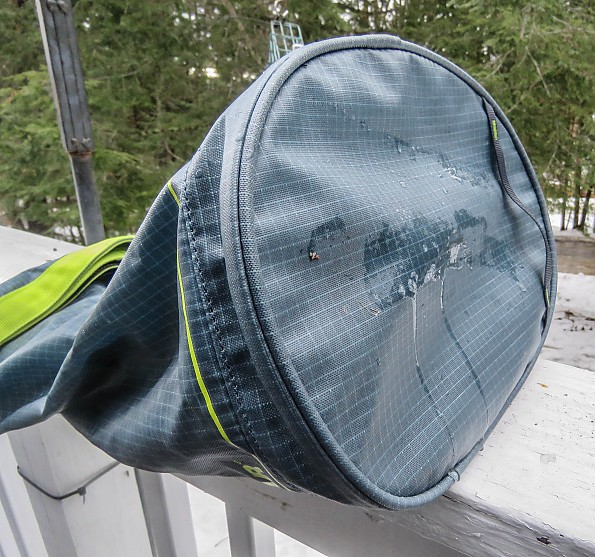 After 24 hours in rain and wind storm....kibble inside perfectly dry!
Each of our dogs is a certified super-sniffer...leave a treat or cookie crumb anywhere in the house, and they will find it. However, they have each ignored the Kibble Kaddie, left within nose reach in the kitchen, while having remnant kibble stored inside. I feel comfortable verifying the "seals off odor claim," at least in a controlled environment.
However, while remote canoe camping, where food odors can attract critters, I take the same precaution with this Kibble Kaddie bag of dog food that we do with our other foods; that is, use a bear canister, hang line, or bear locker. I do not want to test the bag's odor resistance against a hungry black bear!
Summary
The Ruffwear Kibble Kaddie is a well-designed bag for carrying your dog's kibble while traveling or camping. It has served us, and our dogs, well over the past winter and spring's outings. It is waterproof, well made, and easy to use. We will continue to use it for various camping activities which involve packing the bag inside a backpack, canoe, portage bag, and popup trailer storage tub. The dogs are happy, since their meals can be served without issue...and anyone who camps with dogs knows that a happy, well fed dog makes for much more enjoyable outings!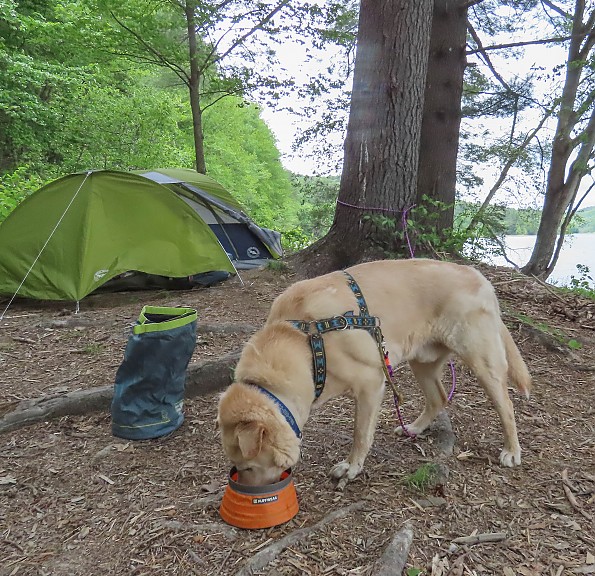 Experience
The Kibble Kaddie has left me impressed with its design, solid construction, and proven waterproof capabilities. As an experienced winter camper and canoe camper who has taken our dogs on adventures in all conditions, I value dog gear that helps keep our dogs happy and safe. I anticipate many more trips in which I utilize the convenient and easy to use Kibble Kaddie, while keeping the dogs' dry food truly dry!
Source: received for testing via the Trailspace Review Corps (Sample for testing and review provided by Ruffwear)

Your Review
Where to Buy
Help support this site by making your next gear purchase through one of the links above. Click a link, buy what you need, and the seller will contribute a portion of the purchase price to support Trailspace's independent gear reviews.
You May Like
Specs
Price
MSRP: $39.95
Current Retail: $39.95-$44.95
Historic Range: $39.95-$44.95

Volume
10 L / 42 cups

Height
16.9 in / 43 cm

Width
9.4 in / 24 cm

Material
420 denier nylon with TPU finish / 210 denier nylon taffeta with waterproof finish rated at 4,000 mm

Waterproof, food-grade material is oil-resistant and seals off odor