Salomon S-Lab X Alp Carbon GTX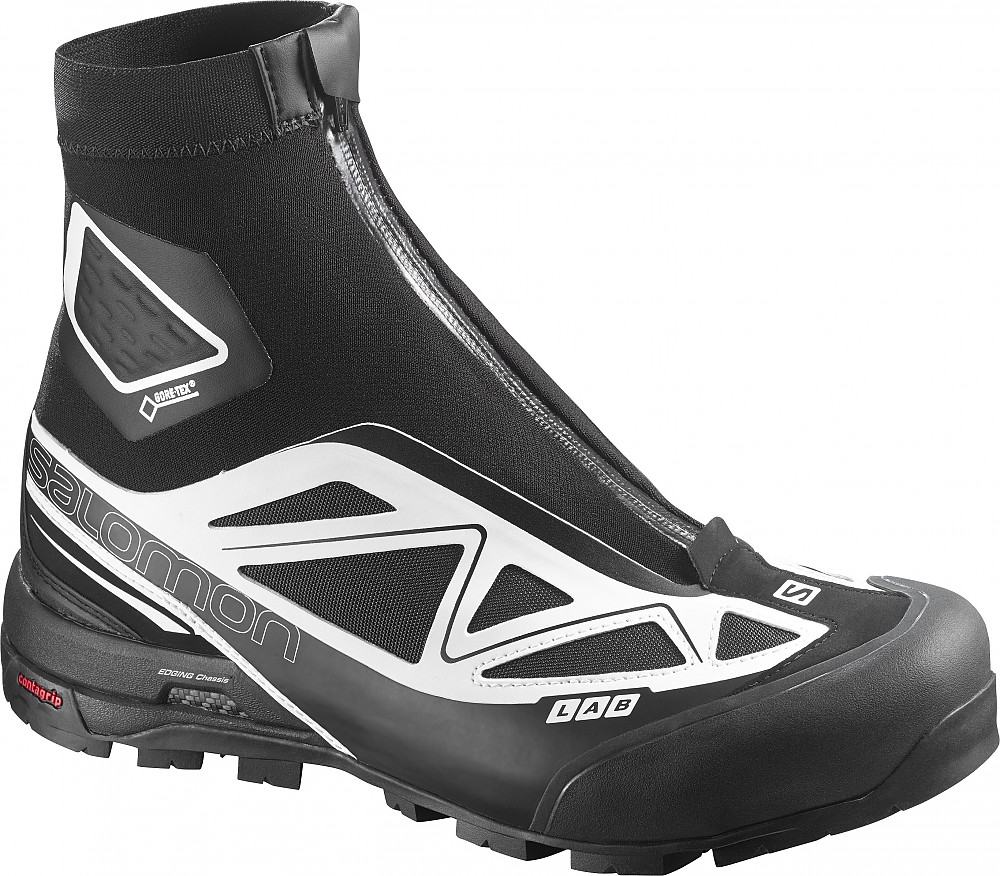 Good for three-season mountaineering from trail head to summit. Now you don't need approach shoes any more. Light is fast and fast is safer.
Pros
Lightweight (1000g/pair)
Fantastic sole grip
Sole flex
Increased agility and flexibility over other mountaineering boots
Good footbed protection
Cons
Strap-on crampon compatible only
No D-ring to hook gaiters on to
Review
The weight and stiffness of mountaineering boots make them something I put on with reluctance and only when absolutely needed. For instance, to avoid wearing the big boots I hiked to Camp Muir on Mt. Rainier in Gore-Tex trail runners before donning the big boots to finish the trip. Conventional mountaineering boots are big, clunky and too stiff for trail hiking, making approach shoes a must.
Salomon has created a boot with the edging rigidity to work with crampons, the flexibility to take on approach hikes, and the lightness to get you to the top faster.
I am of the opinion that, the less time you spend exposed to hazards the safer you are so faster equals safer. I also like the fact that I don't need to carry another pair of approach shoes just to get to the place I can wear my big boots. 
Testing conditions

My favorite testing day we hiked up Tumwater Mountain, outside Leavenworth, Wash., while it was 22 degrees F or so, in knee-ish deep snow and dumping more every minute. I took a day to scramble some unnamed cliffy-peaks in the mountains above Chelan, Wash., in temps right around freezing. I also got to test them on Snoqualmie Pass climbing snow banks with crampons but the driving rain keep my intrepid photographer car-bound, preventing some decent picture-ops.
It has been hard work to find deep snow here this winter ("look snow, let's hike over there"), so I have had lots of opportunity to wear them on rocky peak hikes with temps in the high 30s to 40 F. 

The biggest surprise was how these boots edge so well. On the scrambling day there were several times I expected to need to turn back or face a day-ending slip and tumble but the soft rubber held on to the rocks. 
I'd hesitate to wear these in the teens or colder just because they are so lightweight. 
Fit
I know that to me, Salomon shoes generally run a little narrow and these do as well so I ordered a half size bigger and just got a little extra toe room along with my fit. The heel stayed with my foot and didn't slide around, making it better for those who tend to get blisters easily. 
Features
The lacing system is a single-pull style to tighten the boots. The only problems with this come from what you are supposed to do if a lace breaks or is cut; you can't go to Wal-Mart for a new set. Still, the laces work well and do not create pressure points like round, thick laces can.
The other issue with the lace system is that you cannot tighten one area more than the rest, again, not an issue for me but it's there. 
The boots have an integral gaiter to keep water out and a storm cover to keep the zipper itself ice free. 
The soles feature a carbon chassis to allow flex but also protect your feet from the fatigue of rocks pressing through. I found this to work especially well, they armored my soles but let them flex too. 
I wish these had a D-ring to attach the hook of gaiters to. I also wore them without gaiters; just pants with cuff cinches, and had no issues.
I'd really like to wear these in a few months on Mount Saint Helens or this summer on Mt. Baker. 
Comfort
I really like the feeling of these boots compared to my full size mountaineering boots, which always leave my feet tired and slightly sore. After hiking in these through snow and over rocks I forgot they were there. Though they are stiffer than approach shoes they give the same feeling of safety and flexibility that I love from hiking in approach shoes. Ankle support is all on your own because these are essentially low top boots.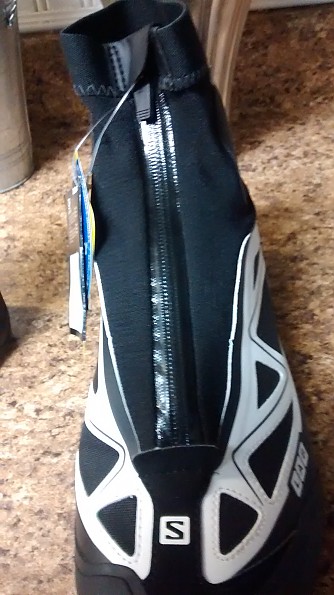 The zipper is protected from freezing.
Weight
These are advertised at 1 kg (2.2lbs) and weigh much less than my other "lightweight" mountaineering boots weigh (1000g compared to 1720g). Plastic mountaineering boots weigh over 2000g. If you are carrying less weight you can hike longer, faster and less tired, increasing your fun and safety.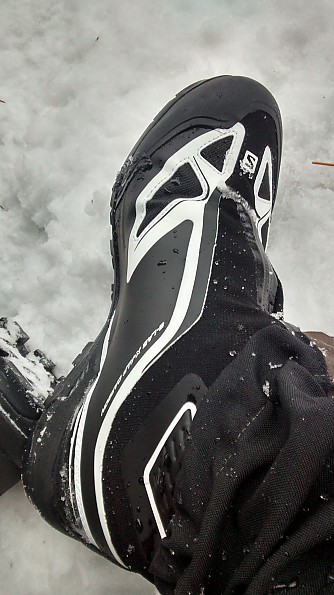 Dry after knee-deep soft snow.
Waterproof
Though the zip-up soft shell cover is only water resistant, the Gore-Tex lining in the boot liner does its job. I never experienced any wetness after a day in heavy, wet snow. My feet were dry and warm.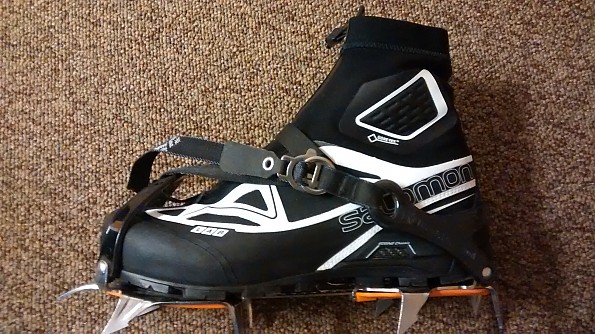 Strap-ons worked great, no heel lip though :(
Crampon compatibility
I had expected a lip on the heel so I could wear them with my crampons with a heel catch but no dice. Would it have killed them to mold a lip on the heel? Either way I have strap on crampons too which fit and work great with these boots. These are NOT designed for times you may have to do any front pointing so just keep that in mind. Flexible, strap-on crampons only. 
Tread grip
My girlfriend was wearing double plastic boots and I was wearing these one day in the snow and hers kept accumulating snow in the tread, making her really fun to watch. The Salomon boots shed snow easily and provided excellent grip. On rock they are very sticky which may sacrifice a little durability but that's how it goes.  The soles have a slight amount of antifreeze in the compound to prevent cracking at really cold temperatures, the kind of cold where you will probably choose a warmer boot.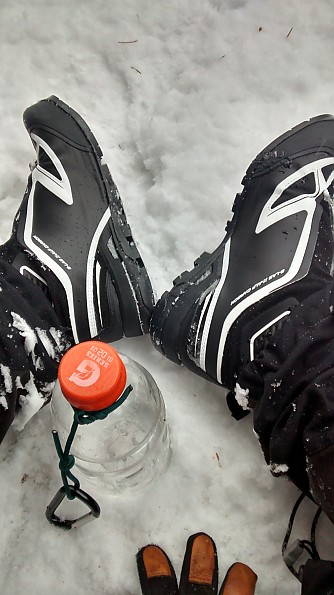 No gaiters today and my feet were still happy.
Protection
Being lightweight I fully expected to feel every rock I stepped on and to hate my feet by day end. The carbon chassis underfoot however does what it is supposed to and provides great foot bed protection and edging stability. Full size mountaineering boots are much better at protecting your toes from crampons, ice axes, and rock impact, but they also weigh twice as much.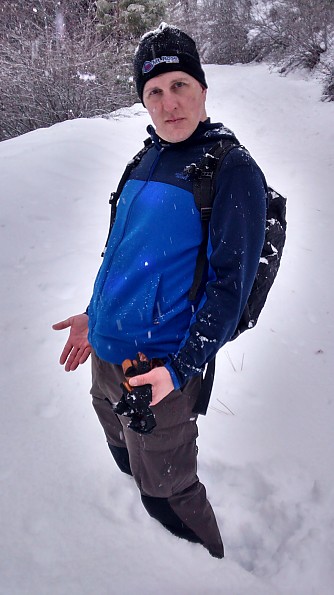 Tumwater Mountain, Leavenworth, Wash. Immersed in snow without gaiters and still happy. It was puking snow like a college freshman pukes cheap beer this day.

Warmth
When boots weigh just 1000g you don't expect them to be very warm, at least not as warm as full size mountaineering boots and that is the case. Though I stayed warm enough in them I was moving during the entire test period and temps were only in the mid 20s, which is what these are designed for. 
IF YOU ARE STANDING STILL YOU DEFEAT THE WHOLE PURPOSE OF THESE BOOTS, so keep moving.  You will not climb Denali or Everest in these, but that's not their purpose. Salomon rates them to about 19 degrees F, which seems about right.

Great grip on rock and when edging is required.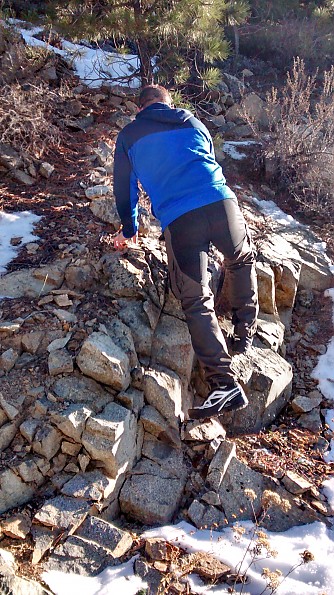 The flex is SO much nicer over rock and mixed terrain.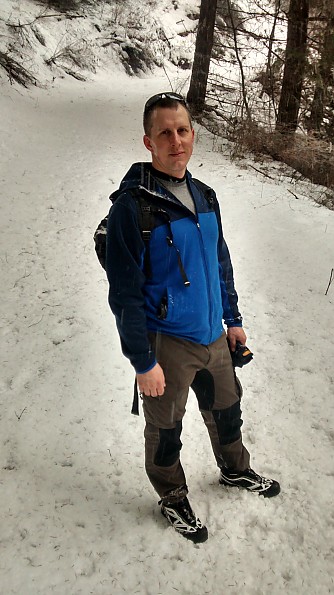 On the move in temps in the low 20s (F) is where these boots belong.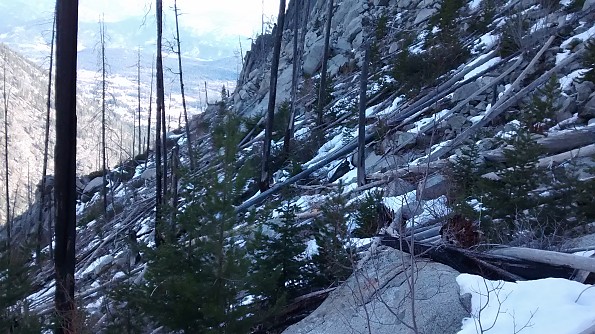 This day was at just below freezing in mixed terrain, perfect for these shoes. My feet were dry and comfy all day. Updated 03/09/15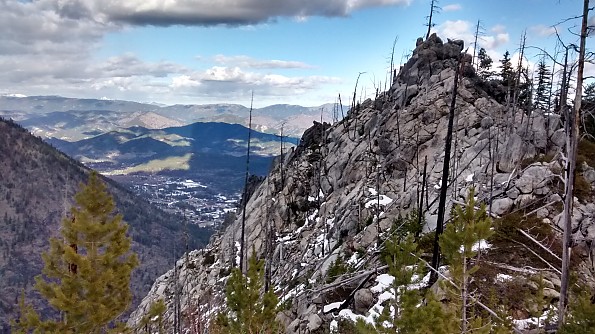 I scrambled this little peak in them. Their edging abilities are fantastic.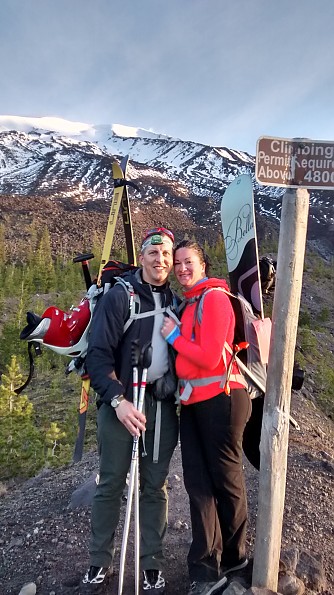 Update 03/30/15: I used these boots on my ascent/ski of Mount Saint Helens and loved them. Temps were in the low 30s. The light weight made the trip up nice and they stowed well for the ski down.

Update 07/07/15: I summitted Rainier (14,400+ feet) in these boots and while they are not super warm I was the only one without blisters that day! Still loving them.
Trip Report: https://www.trailspace.com/forums/trip-reports/topics/169812.html#169812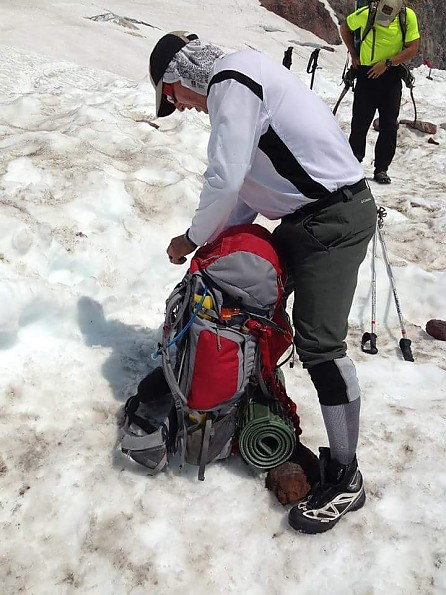 Wearing them unzipped helps with ventilation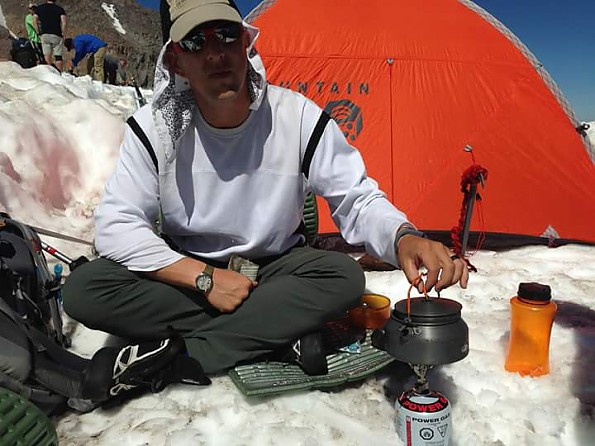 No need for camp shoes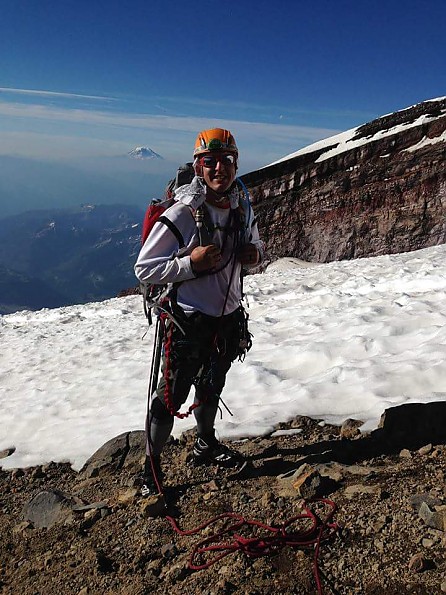 Comfy is not a word anyone ever uses for mountaineering boots except with these


Conclusion
I love the idea of faster and lighter. I wish there was a heel lip, but I can live without one. For weekend warriors who are poaching summits, trying to save weight and get there before rock fall becomes a hazard, these should be seriously considered. No doubt we will see these on elite mountaineers who are looking to set speed records and such, but I think they have a place for us mortals as well.
You probably will regret it if you try front pointing in these, but why would you do that with strap-on crampons anyway? Three-season glaciated volcanoes, traditional mountaineering, and fast and light snow climbs seem to be where these boots will shine from trailhead to summit.
Source: received for testing via the Trailspace Review Corps (Sample provided by Salomon for testing and review)

Your Review
Where to Buy
Help support this site by making your next gear purchase through one of the links above. Click a link, buy what you need, and the seller will contribute a portion of the purchase price to support Trailspace's independent gear reviews.
You May Like
Specs
Price
MSRP: $300.00
Historic Range: $95.97-$299.95

Weight
500 g / 17.64 oz