Salomon SpeedCross 3

The SpeedCross 3 has been discontinued. It was replaced by the Salomon Speedcross 5.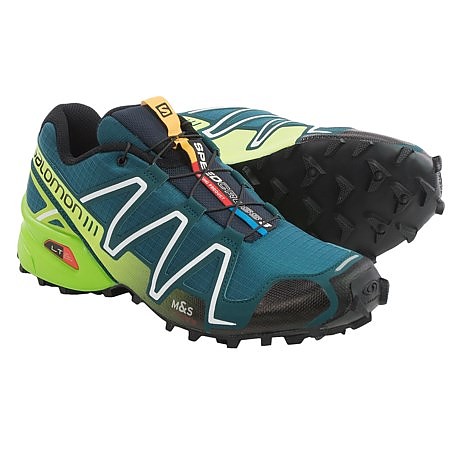 If you are in the market for a shoe that can conquer technical trails and rough terrain, this is the shoe for you. I wouldn't recommend this shoe for those who are planning on running on mostly soft gravel, smooth trails.

The tread is long lasting and keeps my feet comfortable for mid-range distances (up to 15 miles). Perfect for rocky climbs and downhills. Highly recommended for those adventure seekers who want aggressive tread for aggressive trails.
Pros
Quicklaces
Lugs make for confident footing
Quality of materials used
Cons
If worn on road or other surfaces that is not trail, lugs wear down quickly
Narrow toe box
Overview
When I first saw the SpeedCross 3 shoes by Salomon, I knew I had to give them a try. You see, I have been looking for a shoe that could handle the most technical trails. The lugs on the bottom of the shoe are very pronounced and aggressive looking. I wanted to prepare for my first mountain race, and these are the first shoes I wanted to test.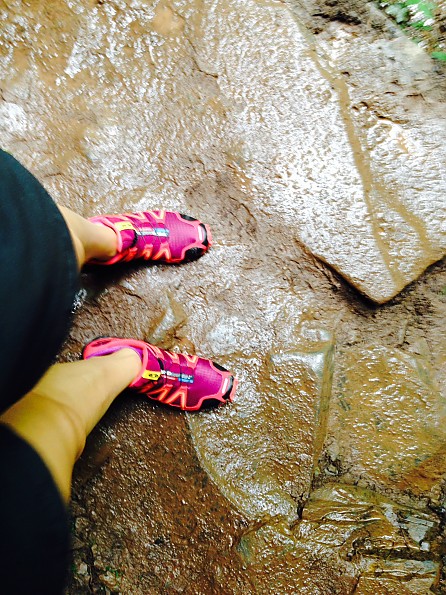 Fit
I ordered a half size larger as per the description on the store's website. I am glad I did, even with the bigger size, the shoes fit snug on my foot. I have a wider foot and have dealt with bunions and the SpeedCross 3 does not immediately cause irritation, though for runs longer than 15 miles I noticed a slight burning sensation. You *may* not experience this if you have a more narrow foot.
The quick lace system is easily one of my favorite features of the shoe and it comes with a pocket on the tongue so you can tuck the laces in there when you are finished tightening them. This provides a secure fit and I have never experience my shoelaces slipping or have ever had to tighten them during a run. I ran in all elements with these and they certainly do well in all weather, especially rain because of the breathable material: compared to other shoes, I found that my foot did not get waterlogged.
I have to admit, transitioning from a stability shoe to a shoe like the speed cross was difficult on my feet at first, and the firm ride was something I had to get used to, but I think that it helped strengthen the muscles in my feet because I am lower to the ground and can really feel the trail (I don't mean rocks, just the surface of the trail--the rock plate offers tremendous protection).
Running Experience
When I first got the shoes, I tested them out on a technical, steep, rocky, and wet trail. I felt almost too confident running up slick rock steps and up and down hilly, rocky sections. The only time the shoe slipped was on completely saturated, mossy rocks and wet tree trunks/branches so please use caution when running on slippery objects.
Other than that, the SpeedCross outperformed my previous trail shoes by a mile (pun intended). I have since ran a number of trail races in them and they have kept me ahead of the pack due to its aggressive tread. 
I've since logged about 200 miles on the SpeedCross 3 and see minimal wear in the lugs. I can easily see these lasting another 200 miles, maybe even more. I quickly noticed how, if running on paved trails/roads, the lugs seem to wear much faster. Also, my feet were sore after long runs in these shoes and I am considering trying a more cushioned shoe for distances over 15 miles.
The SpeedCross 3 is a very well made shoe that I would highly recommend to anyone who is looking for a durable shoe that can perform well on the most technical terrain. The shoe is offered in a range of cool colors and the rugged and eye catching appearance of the shoe is a definite bonus.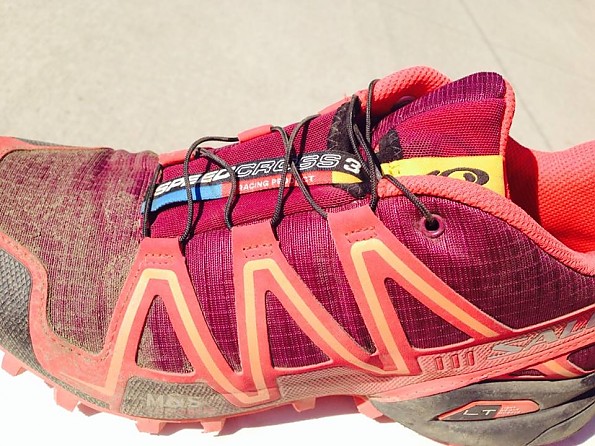 This was taken after my first mountain half. It is the shoe for climbing and descending mountainous terrain!
Source: bought it new
Price Paid: $90

Comfort out of the box, ultralight and feel amazing. The forward traction is second to none in snow, on dry and wet dirt, sand etc. Breathable and speedlace is awesome.
Pros
Traction
Lightweight
Comfortable
Breathable
Speedlacing is epic
Cushioning
Cons
Downhill traction
Snow is a problem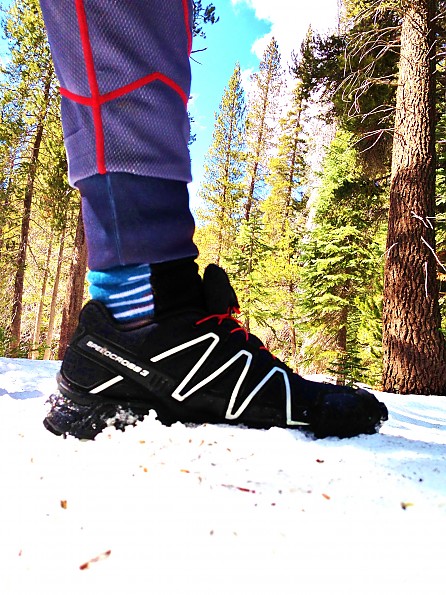 I was replacing my worn trail runners which I use mainly for backpacking trips with maybe 200 miles on them. The Speedcross 3 looked too low profile, like there wasn't enough cushioning, but looks are deceiving. They felt better than most of the bulkier style shoes on the shelf.
I add Superfeet footbeds to all my hikers and the standard footbed was so thin and smooth, I actually threw it on top of my SF because it just felt so good. lol. It also helps air out soles when needed since you have a spare set.
That takes me to the recent trip in Sequoia where I ended up for 5 days in the snow racking in 30 miles with 45lb. pack. Wishing I had waterproof boots or gaiters, but ya. The forward traction was like velcro. Watched two others with trail runners sliding here and there and I was walking up walls. Snow, dirt, rock, granite, mud, ice all handled with ease. A little slick on wet smooth rock and wet barkless tree crossings, but that's it.
The lacing is awesome, and even when loose all the way, the laces never touch the ground keeping them clean and dry. No loose dangling laces ever again. There's a little tab that allows you to use as a one finger handle to open the small pocket that houses the toggle and lace itself when tightened. Fast and easy, and never had laces loosen like some claimed.
Being in snow, I wish I had a waterproof version, but they aren't made for snow and I rarely backpack in it anyways. They do dry fast because of the same breathability that allows moisture in so that's a plus. The downhill traction is not as good as uphill, and I think they need to throw a few reverse chevron lugs into the front 60% of the bottom to fix this. 
Overall the best trail running shoe I've found and I would highly, and I mean highly recommend for your dirt hikes or backpacking adventures.
Source: bought it new
Price Paid: $108

This shoe is well designed, comfortable, and tough! The colors are garish but soon get covered by mud.
Pros
The quick lace system can eliminate tight spots and is self correcting for the most part.
The tread has performed well on all sorts of central KY surfaces
The overall design and materials are of high quality
Cons
The shoe is a tad narrow (or my feet are a tad wide)
The colors can be outlandish
I personally don't like the arch inserts
So I've had these shoes for about two months and put ~40 miles on them. So far they are faring very well! I had some concerns about the stretchy material used for the upper but it is holding up much better than previous shoes of the same construction. I used Trailspace to find a discounted pair, and I found the ugliest color pattern for a whole $60 below zappos prices!
The first step (for me with wide feet and high arches) was to replace the insoles with my own, with higher arches.  After that they were good to hit the dirt! I was transitioning from a Salomon XA 3D Ultra 2 CS (mouthful!) and the speedcross took some getting used to. The soles aren't as rigid as the XA 3D, and the heel drop feels lower promoting a midfoot stride.  
The first run gave me a slight toe pain, but nothing after the first run. So far they are incredibly comfortable, with very few long distance pains (no numbness or heel rub). I swear the quiklace system is self-correcting. Thus far the shoes have had to perform over mud, hills, forest detritus, and now grass as it grows. The lugs keep good traction in all but the sloppiest mud and even do well on stones when I hop the creeks.
I haven't had any extremely hot weather yet and when there's snow I use my XA 3d's still, so no report yet on breathability. The laces are a cinch to use and a great advantage to the shoe, I wish all brands used them! So far all the seams and sole are holding fast, nothing looks like it's degrading.  This is good since I run through horse pastures and there's the inevitable excrement, which I've heard is tough on the glue used in shoes.  
All in all I'd recommend the shoe, especially at the prices Trailspace has listed!
Source: bought it new
Price Paid: ~$80

These shoes are ridiculous! I have run on snow and ice, mud, gravel and even felt secure on slippery rock. I love the speed laces. My only regret with my purchase was I didn't buy more than one pair. Excellent trail runner.
Pros
Speed laces
Superior traction
Look really badass
Cons
The soles seemed to wear faster than I would have liked, but I have worn them at least 5 times a week for 2 years.
I bought these for trail running, and I got so much more. These are my go-to all around outdoor shoe. They are super light, extremely comfortable and the traction is Spiderman like. They have excellent room in the toe box, perfect arch support and look...well, they scream "look, I'm badass."
I seriously love these shoes. I am debating on what color my next Salomon Speedcross 3's will be.
Source: bought it new
Price Paid: $110

These shoes are just above crap. Cheaply made. Sole wears out fast. Customer service bad. US sizing is not correct, sized .5 too small actual.
Cons
Everything else. Not stable and really just cheaply made.
Buy at your own peril. 
Background
Worst shoe I have had. Someone compared these to Merrell, lol. Not even close.
Source: bought it new
Price Paid: $60

Your Review
You May Like
Specs
Men's
Price
Historic Range: $59.98-$144.95
Reviewers Paid: $60.00-$108.00

Women's
Price
Historic Range: $51.07-$130.00
Reviewers Paid: $90.00-$110.00

Recently on Trailspace