Salomon Super Mountain 9 Guide

The Super Mountain 9 Guide has been discontinued. If you're looking for something new, check out the best mountaineering boots for 2023.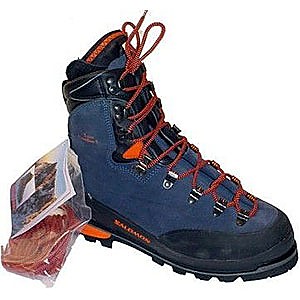 I recently purchased a pair of Salomon Super Mountain 9 Guide boots. I intend to use these boots primarily for extended winter outings with 70 lb. packs and mountaineering. I also plan to explore the boots compatibility with randonnee bindings for backcountry transportation and fun.
I have not had a chance to put the boots through their paces in the field. However, I can say that I am very impressed with their feel, workmanship and innovation. This initial opinion helped forge my decision to purchase the boots.
The boot gives good, overall support without creating pressure points on the ankle. The heel is held in place without the usual, annoying hugging abound the Achilles tendon that I have found on many other mountaineering boots, such as the Vasque Alpine.
Salomon employs a double lacing system enabling one to tweak and customize the degree of pressure around the foot. The inner boot automatically cinches when the tongue is pulled into place by gently pulling on a tab-loop on the boot's tongue. The greater the pull, the greater the tightening action on the inner boot. However, not much tightening is required, as the outer boot lacing system augments the inner boot's pressure. The outer lacing system provides uniform support around the entire ankle, without yanking the laces. ......just a slight tug is all that is needed for the desired effect.
I was impressed with the cushioning/dampening effect of the boot while walking on smooth, rough and jagged surfaces. The outer sole provides a feeling of an air cushion, and the inner foot bed re-affirms this cushioning sensation as well. However, never was the cushioning so great that I lost feeling for nuances of the underlying terrain. I was particularly impressed with the lively character of the boot when walking. Although the sole does not appear to be rockered nearly as much as other boots, I was bewildered how Salomon was able to achieve such a lively characteristic without a more extreme rocker. None-the-less, it works well and walking in them is a cinch. While the boot seems bulky in appearance, they in fact feel light on the foot. I also found the sole material to be very "grippy" on dry and wet rock.
Since I just purchased the boots, I cannot attest to the their durability and usability under all conditions, However, my initial reaction is very positive, as I think this boot may prove to be the all-around, all-purpose mountaineering boot we dream about, assuming the boot's last design works well for one's foot shape. I recently heard from someone who just returned from Chamonix this summer, and he told me that many of the guides there are using the boot....a fairly good endorsement.
Materials: Double, leather and man made
Use: heavy pack, off trail, alpine, ice
Break-in Period: nominal
Price Paid: $325

A fantastic boot that still works well into the future of mountaineering, ice climbing and mixed climbing..etc. The SM 8 and 9 boots are good all-around climbing boots with versatility and comfort. I wear a size 11 or 11 1/2 US street shoe. For mountaineering boots, I size up by 1/2 size up or a full size up. These boots I'm reviewing are size 12.
Pros
Good build qulaity (Italian made)
Comfortable
Break-in time is easy
Cons
Plastic/rubber material around lower portion of boot tends to mar and scratch up easily
Every time I see a pair of these boots for sale somewhere, I buy them to save as another spare set because I like them so much. I have regular to semi-wide feet and the Super Mountain 8 and 9 series boots tend to have the room my feet need for good fitment and circulation during extended climbing trips.
These have worked fantastic as all-around mountaineering and mixed climbing boot. The shank is stiff enough for vertical ice...they have front and rear welts for step-in technical crampons (work great with BD SS Cyborgs), enough insulation to wear just with a liner sock and a Smartwool Mountaineer sock for 14'ers in spring, summer and light winter months. Add a Superfeet or other brand footbed to get more comfort.
Source: bought it used
Price Paid: $85

Having used my Super 9 Guides for about 6 months, I've got a few observations I haven't seen in other reviews: of these boots:
- It takes me a whole lot longer to break in boots than others. Could be the shape of my foot, but I would not take these on a trip without having worn them for a month and gotten all of the fiddling out of the way.
- The soft, sticky sole is great on Alpine rock. The toe areas also don't have the big gaps common on the vibram soled boots. This is also a big help on rock. The down side to soft sole is wear -- mine are going to need to be resoled soon. Also, due to the lack of "gaps" in the toe, these boots don't kick steps quite as well as vibram soled boots.
- Although quite stiff out of the box, the soles are developing some flexibility. I have big feet (size 12) so perhaps this has something to do with it.
- I've bent the lace rollers/eyelets grovelling around on mixed climbs, but they haven't broken yet. Still, I'm a little concerned about them.
Overall these are excellent boots. The uppers are hardly marked, they have stayed dry on prolonged use on glaciers and they climb rock and ice well. I like em.
Materials: leather
Use: mountaineering
Break-in Period: 3 weeks
Weight: 6 lbs
Price Paid: $325 US

A superb ice climbing single boot for a day out on the ice.
Pros
Super supportive for hours on your frontpoints
Relatively warm for most cold temps
Durable, reliable, and made extremely well
Relatively light (even to today's standards)
Cons
Discontinued (can still find used)
Not for super cold days (-0°...)
A bit stiff to hike in, but not bad for most approaches
Not as light as some of the newer boots.
I have climbed in these boots for the past five years. They fit my feet perfectly but did take quite a bit of break in on the heels. They have held up incredibly well. Have added a Super Gaiter for added warm in the very cold White Mountains of NH. 
These continue to be my go-to pure ice climbing boots. Not too bad to hike in (approach on snow to climbs) but not hiking boots. These boots are made for ice climbing. Super stiff with great ankle support. Can spend hours on my frontpoints.   
Source: bought it used

I really dislike heavy, clunky plastic boots, but want a boot that can handle technical stuff. This boot held up to the test for almost a week on Mt. Rainier. It's a comfortable boot, and comes with gizmos that allow you to vary the lace tensions on different parts of the boot (which is helpful, although actually stopping to adjust the tensions during a climb is something I rarely take the time to stop and do).
The boot behaves well on all surfaces up to and including verticle ice. Although it's about as stiff as leather boots come, it's still not quite stiff enough to perform as well as the high-end plastics on the verticle stuff (though using rigid crampons would certainly enhance performance).
After five days in wet snow, the boots got a bit wet, but the plastics did, too. Overall, a great boot that I'd recommend highly. My only problem so far is that it eats through laces like mad (including 4mm spectra).
Materials: leather/plastic hybrid
Use: technical snow & ice
Break-in Period: 10-20 mi.
Weight: roughly 4 1/2 lbs.
Price Paid: apx $350

Excellent boot. If you can get them they are worth it.
Pros
Rugged/ long lasting
Warm in cool temps
Once broke in they fit like a glove
Cons
No longer available
Long break in time
I have used these boots in all conditions for the last 20 years and find them to be a very rugged boot.
I am trying to find another pair as I have worn mine out. If anyone has a pair they are willing to part with in a size 11 or 12 let me know.
Love them! I've used them for glacier travel, low angle ice, rock, snowshoeing, and hiking. Rainier in summer and several Colorado 14ers in winter and my feet have always been comfy and warm. My feet have never blistered in these boots and have never been wet. Salomon's water proofing is exceptional.
I have slightly wide and very flat feet. The factory soles work fine and the internal lacing system locks my feet in snug.
The only wierd thing about these boots is that the tungs are different lengths!? They don't effect fit or comfort, but the left tung is about an inch longer than the right - no big deal I guess (just a factory mess-up).
Materials: Plastic bottom/leather upper
Use: Mountaineering w/ heavy pack
Break-in Period: one week
Price Paid: $325

I purchased these boots for an Expedition Seminar on Mount Rainier and have thus far been very pleased. It took a couple of weeks to get them broken in but they were comfortable from the start. The lacing system is outstanding as it allows the inner liner of the boot to wrap around your foot. They are not as warm as I would have liked but for relatively warm weather climbs they perform great. They kept my feet dry through several days of walking through slush and performed well on vertical ice. It is a great boot if you are not planning on very cold conditions.
Materials: Combination
Use: Mountaineering
Break-in Period: About 2 weeks
Weight: just under 6 pounds
Price Paid: $350

Pleased with the overall workmanship of the boot inside and out. Typical high-quality Salomon product as is to be expected. My only concern thus far is the fit in the heel area. I am finding that there is minimal cushioning behind the heel (between your foot and the hard plastic counter). As a result my heels are feeling alot of pressure while going up steep inclines... This has resulted in blisters each time I have used them (even with moleskin...). I like the rest of boot so much I have not given up and will attempt a few more hikes to loosen them up.
Materials: Leather with plastic rand and heel counter
Use: heavy hiking, mountaineering
Break-in Period: not done yet, have 15+ miles on them
Weight: +/- 6lbs
Price Paid: $269

These boots rule. I had some 101s (plastic) and these are SO much more comfortable and preform better. I have climbed hard on these for a season and a half and they are holding up great. They are warmer than Nepal Tops and work just as well on mixed stuff -- much more sensitive and flexible than plastic. Completly waterproof. I'll use these for all ice unless it's way below zero. (most, if not all, people climbing steep ice/mixed are using rigid crampons)
Materials: Leather
Use: Steep ice, mixed routes, long ass approaches
Break-in Period: none, great out of the box
Weight: 4.5
Price Paid: $350

I just got these boots, and used them for a few days of ice recently. They are a great ice climbing boot. Very stiff (much more so than my old Nepal Tops). This means that they are less comfortable for walking in, but better for climbing. Despite their stiffness and being out of the box, they were quite comfortable and I'm sure with a few more trips will be very comfy. The inside is quite cushy. The quality appears to be quite good.
Materials: Leather w/plastic
Use: Ice/mixed climbing
Break-in Period: several days
Weight: 6lbs/pair?
Price Paid: $450 CDN

This boot is the shit for steep Ouray Ice. Good ankle roll for French technique. Plenty stiff for frontpointing. Warm enough for Canada but probably not Denali. Holds the heel well on long approaches. It does have a lot larger footprint than the Nepal Tops for an equal size, but I love the way it climbs. If you're not an ice climber buy the one step down Super Mtn. 9's. They are a better all around boot.
Materials: Leather
Use: Vertical Ice, Mixed Climbing
Break-in Period: Comfy out of the box, but not for hiking
Weight: 5 lbs.
Price Paid: $375

Your Review
You May Like
Specs
| | |
| --- | --- |
| Price | Reviewers Paid: $85.00-$375.00 |