Salomon Techamphibian

Top 25 in Water Shoes
The Techamphibian has been discontinued. If you're looking for something new, check out the best water shoes for 2023.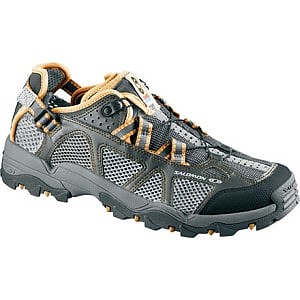 I bought these for biking in the summer. They feel great and are very cool and light. I haven't tried the fold down heel, but I plan to do that when the need arises.
Pros
Lightweight
Good ventilation
Quick adjustable lacing
Lace pocket
Reinforced lace loops
I bought these on eBay. The shoe fits my foot well. I wear a size 7.5 in regular shoes, so the 7 fit perfect and there is room for a sock. I love the easy adjustment with the lacing and the reinforced lace loops look like they'll last forever.
I got them mainly for biking and hiking in the warmer months and they are great for that. I have not worn them in the water yet. They are cool, as the air can breeze through the mesh and cool the foot.
Source: bought it used
Price Paid: $40

Tough, dry quickly.
Pros
Long lasting
Wide fit
Very lightweight
I bought a pair of these a few years ago to teach aquafit classes in. That meant standing on deck and jumping around for an hour at a time, three or four days a week, but also hopping in and out of the water.
Because of the high impact and very big movements of the foot within the shoes, I've worn low socks inside them. Even if my feet get wet, there's still enough padding to prevent a blister.
I have no idea how they'd work for hiking in, but the Techamphibians would certainly work well for canoeing and they're light enough for fording a stream.
Source: bought it new

Can't live without these!
Cons
The mesh will tear over 5 years! :P
Love these shoes! I'm a canoeing/portageing guide and I couldn't live without these shoes! I've worn mine for 5 years now and the mesh is completely gone on them, but I still wear them for their comfort and for how fast they dry.
They give me the support I need for portaging and hiking. Every now and then I get a blister from them, but lets face it, if you're hiking with wet feet 24/7 any shoes you wear will give you a blister no mater how much you've broken them in. It's part of being outside!
Source: bought it new
Price Paid: 120$

I was pretty excited to get these in the mail, as I did some research and wanted to use these for the summer season both as casual sneakers and to wear camping.
I was somewhat disappointed in them though. They're not that comfortable. Hopefully I can wear them in, but I feel a few spots where they will definitely rub against my foot even with socks on.
I like that they're lightweight and mesh-y. Not interested in the foldaway heel, although maybe I will be someday. They look decent, the rubber sole is pretty chunky, like a hiking sneaker. My feet are border lining on the wide side, and these shoes feel slightly narrow even when I take the (very thin and probably easy to break) shoelace system and loosen it the entire way.
Overall I would say to try these in a store before you buy them. Had I been in a store, I probably would have decided against these.
Materials: synthetic upper
Use: camping, casual wearing
Break-in Period: dont know yet!
Weight: light, less than a pound
Price Paid: $55

I purchased these shoes to use in a top-to-bottom through hike (16 miles) of the Zion Narrows in Utah and they performed like champs. I am an avid hiker and carried 10-15 lbs of gear in small backpack.
I bought the shoes a week prior to the trip and wore them every day to help break them in, though it wasn't needed; the shoes are very malleable. On the day of the hike I put on my thin base layer socks and a pair of neoprene dive socks, and then the Techamphibians.
For the next 16 miles I hiked on muddy marshes, sandy beaches, uneven slippery rocks, fallen trees, steep banks, and through fast flowing water that ranged from ankle height to over my head with the riverbed ranging from sand to large boulders.
The soles were grippy and even in thick mud / sand I never felt like the shoe was going to be pulled off my foot (I had them on pretty tight). The mesh drained the water our very quickly and the toe protection was adequate. I did find that the heel closure needed to be tightened every 4-5 miles, but it was a quick adjustment and did not impair my ability to negotiate the trail.
At the end of the hike I only had 2 blisters (as compared to my hiking partners who had upwards of 4 or 5 wearing plain sneakers) which I thought was pretty good for a 16 mile water hike in relatively new shoes.
I find them equally comfortable for driving or wearing out on errands around the town as they're lightweight and let my feet breathe.
Materials: synthetic, mesh
Use: Canyoneering (long day hike)
Break-in Period: none
Price Paid: $75

Here's the run down. They are lightweight which I love
Lots of ventilation, water drainage which is great!
The insoles are not attached very well, mine come out every time I take them off I need some tape or something.
They SMELL. I used them in a lake kayaking and they some how got REALLY funky. I've never had a pair of shoes that smelled that bad, after cleaning they're ok.
I love the way that they can just be slipped on and off. Also you can leave the straps loose, when you want more security they cinch up tight. I love them for traveling because they are easy to take off when going through security at the airport and are quite comfortable.
The fabric on the sides can get torn up if used for more serious hiking. Also shortly after I got the shoes there was some unraveling of thread on the tongue.
Materials: mesh, rubber, plastic stuff
Use: boating, kayaking, hiking, everyday
Break-in Period: 0
Weight: almost nothing
Price Paid: $20

These shoes have been great for me. I have hiked miles at a time in them and also used them for boating. They dry out very quickly and I have never had any trouble with blisters. Doesn't matter if you are in a river or on wet rocks these shoes won't let you down.
Price Paid: $60

I bought these shoes for canoeing. I've enjoyed these a lot. I'm not sure what the first lady is talking about with the shoes being slippery on rocks... They're fine for the rare hiking I've done in them. I found mine on sale and have been a fan ever since. Salomon makes great gear when you can get your hands on it.
Use: SHORT hikes/canoeing
Break-in Period: none
Weight: VERY LIGHT (don't have specific weight)
Price Paid: $54.93 (on sale)

Very disappointed in these shoes. They rubbed the back of my ankle and slipped very easily on wet rocks. My husband also bought a pair and was disappointed. His $15 sandals were less slippery on the wet rocks then the Salomon shoes. I do not recommend these. However, they do look pretty cool and were lightweight, but I don't think that outweighs the negatives.
Use: Short dayhikes with water crossings
Break-in Period: Never broke them in due to unsatifaction.
Weight: Feel light
Price Paid: $68

It's a great all around shoe. Very rugged. I have two pairs of 'em. Very comfortable. You can walk miles in them and your feet will be perfectly fine. They say it has some micro-bile stuff in them that cuts odor but that's a bunch of crap. But a great shoe for the water or land. Definitely a must buy.
Use: Approachs, water, hiking, anything....
Break-in Period: none

Your Review
You May Like
Specs
Men's
Price
Historic Range: $32.00-$80.00
Reviewers Paid: $20.00-$75.00

Women's
Price
Historic Range: $24.00-$80.00
Reviewers Paid: $40.00-$120.00

Kids'
Price
Historic Range: $13.49-$24.97

Recently on Trailspace