Salomon X Ultra Mid 2 GTX

The X Ultra Mid 2 GTX has been discontinued. It was replaced by the Salomon X Ultra 4 Mid GTX.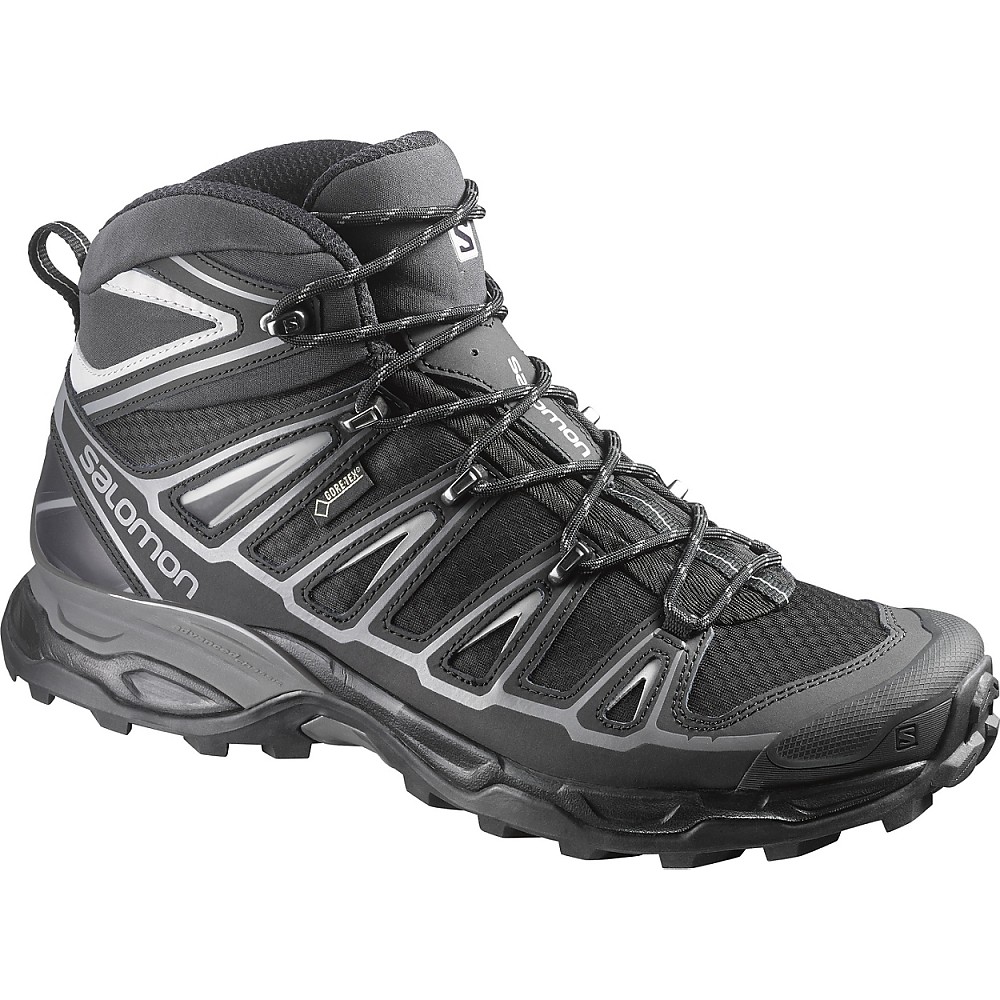 Fit and wearability: Very good.
Pros
Fit
Comfort
Traction
Lightweight
i have owned three pairs of these boots. I have backpacked and hiked fairly extensively in them. Because I live in PA, my boots see a lot of diverse weather. I have worn these shoes in the Allegheny, Elk, Susquehannock, and Tioga forestlands in PA, but mostly through Moraine State Park. They have also been on hikes through Pisgah, DuPont forests along with woodlands in Tennessee. I don't try to quantify my mileage because I simply love to hike. These are my everyday boots. I even jog in them.
My point in telling you all of this is these boots see a lot of dampness, rain, snow, and mud. That being said, the soles will tend to delaminate in less than two years..out comes the Shoe Goo. I tend to get two years of wear out these boots. I have been know to destroy boots in three months though, so I am not dissatisfied.
They are not the best at keeping moisture out. I wear wool socks all of the time though. I don't suffer discomfort from wet cold feet most of the time. By the way, I have hiked in these shoes at temperatures around 0 degrees.
I discovered these boots because they fit my narrower feet well. No heel slippage or toe discomfort.
Background
Positive
Source: bought it new

Great long distance hiking shoes. Perfect for any thru-hiker on most any trail.
Pros
Wide comfortable stance
Water resistant
Cushioned feel
Company backs defects well
I personally can't remember getting any blisters in these shoes even during a 14-mile break-in hike
Cons
Spoke with a few hikers that had small leaks at stitching
I was introduced to these shoes through Andrew Skurka. He mentioned he had used these and with his recommendation I tried them out. First, on the roller coaster in Northern Virginia on the Appalachian Trail where I experienced the best two days hiking in a pair of shoes for which I can recall.
Then I hiked 80 miles in the High Sierras up to Mount Whitney. The weather was hot and clear and the negatives people said about these shoes didn't really pan out. I think any shoes in the Sierras could get hot mid summer.
I also took these on the Vermont Long Trail and they performed admirably.
5 stars for a great shoe. 
Very comfortable, quite stable and light, but a bit thin underfoot protection. Not something you notice when walking light, but with heavy pack you will get sore feet.
Pros
Light
Very comfortable
Great weather protection
Cons
Thin underfoot protection
Sore feet when packing heavy
Shoelaces can untie while walking
I bought these as my first pair of hiking boots, as I could get them at a very good price, considering the praise I'd read about. They fit very nicely and it only took me about a week of daily use to break them in.
The comfort is simply fantastic. You will feel the ground you are walking on however, but unless you are packing heavy, it won't be too big of a problem. The ankle support is just about the only "big" problem I have, but I wouldn't expect them to have superb ankle support, considering their height.
The stability is however more than good enough to prevent sprains. I've twisted around more than a couple of times, but these boots ensured that I didn't get strains. They have excellent traction on all the surfaces I've used them on, except maybe metal surfaces.
I've used them in both hot and colder weather, and they work just fine in both conditions, and the Gore-Tex also works as advertised. Walking in smaller streams has posed no problems at all, neither has rain. At this point I've had them for just about five months, and with a bit of cleaning they would look almost new, so the construction and quality is definitely on point, and I expect to use them well into the future.
Source: bought it new
Price Paid: 799DKK, about 108€

Your Review
You May Like
Specs
Men's
Price
Historic Range: $57.73-$165.00

Women's
Price
Historic Range: $57.49-$165.00

Recently on Trailspace