Salomon Men's XA Pro 3D Ultra GTX

Top 50 in men's Trail Running Shoes
The Men's XA Pro 3D Ultra GTX has been discontinued. It was replaced by the Salomon XA Pro 3D Ultra 2 GTX.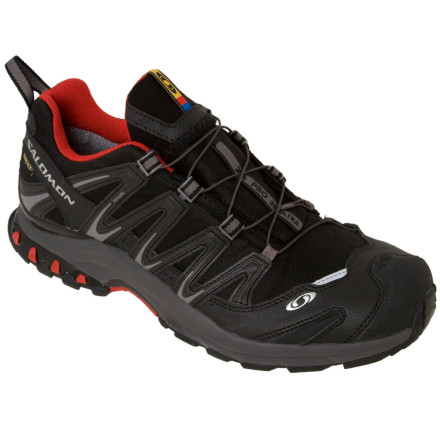 Specs
Price
Historic Range: $69.98-$144.95
Reviewers Paid: $70.00-$160.00

Reviews
6

reviews

5-star:

5

4-star:

1

3-star:

0

2-star:

0

1-star:

0
Great hiking shoe. Lightweight, waterproof and comfortable. Great support on varied terrain.
Pros
Comfortable
Lightweight
Waterproof
Cons
Great for hiking, probably a little heavy for any long duration trail-running.
The Salomon XA PRO 3D Ultra 2 GTX fits true to size.  Great lacing system that helps the shoe accommodate multiple pairs/thicker socks in colder weather.  Very comforable shoe. 
I broke these in slowly with moderate walking 3-4 weeks prior to a 70+ mile hiking trip. The break- in was easy, no blisters, no chaffing and the shoes held up great on the hiking trip with no problems. Support on the  XA Pro 3D Ultra GTX was great, although they do not offer any ankle support as they are a standard trail running shoe. 
I cant say enough about the water resistance of these shoes.  Hiked 70 + miles in wet climate and these shoes held up great.  The only problem I encountered was when I stepped in water up to my shins.  The shoes filled up from the ankle.  Quickly got the shoes off, changed socks and dried out the insole.  I was able to continue on with the hike and did not have any problem with blisters, chaffing, or discomfort. 
Salomon is great on traction.  Hiked over varied terrain on wet surfaces no trouble with traction or slipping.  I was hiking in mild climate 40-60F in a some-what wet climate and the shoes keep my feet comfortable at all times.  One of the features I liked the most on the shoe was the re-enforced rubber toe.  Great protection for rocks and roots along the trail. 
I hiked for 8 days, over 70 miles with a heavy (55#) pack on a wet trail. I was very impressed with the Salomon XA Pro 3D Ultra 2 GTX (so much so, that I'm writing a review).  After every hike I pulled the insoles out, placed them in the sun and they were ready to go the next day.  Great shoes for hiking.  Never had any feet problems on this trip.  I owe that, I feel, to the Salomon XA Pro 3D Ultra 2 GTX. 
I would highly recommend these shoes to anyone that is looking for a light-weight, water-proof hiking shoe with great traction and durability.
Source: bought it new
Price Paid: $160

I just bought these, and they already feel great. I've heard that there is no breaking-in period, and it might actually be true! They feel great on my feet with no uncomfortable spots.

I've read some great reviews about these shoes, and I intend to put them through some long walks and hikes (and some runs when my knee gets better) through mud and sand and snow. I'll update this review as I work these shoes over.

Pros
Comfy
Light
Nice tread!
Waterproof
They look badass!
***NEW 2/13/14***
I've been wearing these all winter, and they are awesome! I've worn them to clear snow, to walk, and to go snowshoeing. They are super comfortable and my feet have been staying dry AND warm. I wear them with a pair of wool socks and even after a couple of hours outside in frigid temperatures (I live 5 minutes east of the city of Winnipeg (Note: Winnipeg temperatures were colder than Mars lately).
*****
I tried on a couple different sizes of these shoes, and when I hit the right size, I knew it instantly. They hug your foot like a new pair of socks.
These aren't the lightest shoe in their category, but they are still very light. They are by no means 'heavy'.
The tread is very aggressive. I prefer climbing over to going around, and I can't wait to hit the bush with these babies. They have Salomon's trademarked 'Contagrip', which is supposed to be a fancy schmancy multi-type of rubber sole. I haven't really put these shoes to the test yet, but I'll update this review after I've hiked through some mud and rocks and snow.
The quick lace system is great. No more pulling each lace through each eye to get a snug and uniform fit. With these, you just pull up on the tab, reposition the tongue, and pull a bit more on the tab. Then stow the tab, and that's it. Easy on, and laced to run, quick and easy every time. I have wide feet, and I found that these can be laced up snug and there is still a bit of room in the toe box.
These are Gortex shoes, and are waterproof. I use to laugh at waterproof shoes, because I thought 'what's the point, any puddle over your ankles is going to swamp them and they won't help you when you get a booter". I'm looking forward to trying these out. In the past I really didn't care how wet my feet got, but I'm really looking forward to walking through some snow and not getting cold and soaked feet.
Source: bought it new
Price Paid: $108 (on sale)

Extremely durable and comfortable trail running shoe that really makes you feel like you have control on the trail. Lightweight keeps you running.
Pros
Comfort
Ridiculously durable
Cons
Wire drawstring is not replaceable like laces
This is a really durable and comfortable shoe for aggressive trail runners. The wire drawsting will eventually break and it sucks when it happens when you're on a trail. Hard to even do a temporary tie off to allow for a jog back home. But I wouldn't let that deter you from a purchase because this is a great shoe.
Source: bought it new
Price Paid: $70 Bought at cost as employee of store

Fantastic.
I bought these more for camping adventures more than for trail running. The color from REI is a little more Green (Khaki), Grey and Black than the picture pasted for this review. I am guessing there may be several colors.
Plus's
waterproof
rugged
lightish
full rubber area around toe area,  i.e. no stitching to wear and breaks
upper fast lacing system
+/- (i.e. undecided for Plus / Minus ),
reasonably quick drying
inner sole, as usual with a lot of shoes they are very simple.  I may add a gel.
Minus's
not as breathable as I think they are advertised to be, make sure you wear extreme wicking socks, maybe a little on the thicker side of your choices.  My feet have gotten cold in these because of perspiration not escaping.
Be very careful of fireplace ashes, or someone near by to your letting of fireworks, as the upper melts easily.
Definitely would recommend and buy myself again from REI
Price Paid: $140

Great shoes. A bit narrow at first. I am used to a wider fit using past shoes from Brooks, North Face, and Asics.
After a short break in I have been pleasantly pleased. Good fit. The lacing system is superior. Great traction on wet, icy, and snowy surfaces. Very waterproof, even through water.
Materials: gore-tex
Break-in Period: 6 hours
Weight: 158
Price Paid: $112

This shoe was my first trail running specific shoe. Making the transition from my favorite pair of Brooks to these Salomon's had me a bit nervous as the Brooks have been the only shoe I've worn and not have foot problems.
When first putting this shoes on I was a bit concerned with what felt like a rather narrow fit. However after having them on for only about an hour the fit felt perfect and I was beginning to really like the feel and ride.
Immediately took the shoes out for a 10 mile trail run on a nice 20 degree day with lots of snow and ice on the trails. I was very impressed with the overall stability of the shoe and the traction that they provided on technical sections all the way to the wide scree access paths.
Since first purchasing the shoe I have logged several hundred miles on these shoes and they have continued to provide a great ride and kept my feet in healthy condition. The Gore-tex has held up well and my feet stay dry and warm on those cold days in the woods while running through deep snow and stream crossings. I've learned to love these shoes so much that I wear them nearly all the time as they make great everyday winter shoes.
Overall I've been very impressed with these shoes and would highly recommend them to anyone running trails or just looking for a nice pair of everyday shoes in winter or wet weather.
Materials: Quick Drying Breathable Mesh with Gore-Tex
Use: Trail running, trekking, adventure racing.
Break-in Period: None
Weight: 28.5 ounces
Price Paid: $103


All XA Pro 3D Ultra GTX versions
In addition to the 6 men's reviews above, there are 2 reviews for other versions of the XA Pro 3D Ultra GTX. Read all reviews »
You May Like
Recently on Trailspace