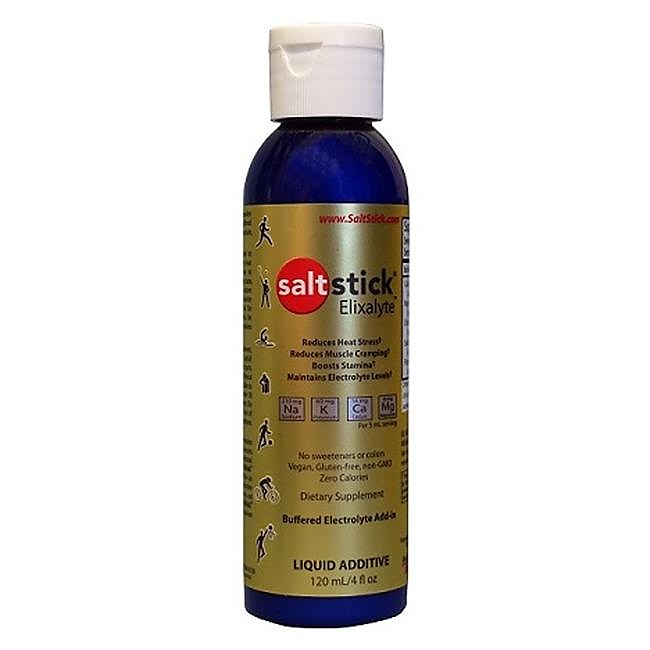 Specs
| | |
| --- | --- |
| Price | Historic Range: $11.99-$19.95 |
| Each serving contains | 210 mg sodium, 60 mg potassium, 16 mg calcium, 8 mg magnesium |
Reviews
1

review

5-star:

0

4-star:

0

3-star:

1

2-star:

0

1-star:

0
SaltStick's Elixalyte electrolytes make the hydration process simple and easy. Rather than running into issues with cramping and heat stress, you can incorporate a few drops of this concoction into your fluids to prevent these issues.
Pros
Easy to use
Reliable
Doesn't contain added sugars
Made in the USA
Affordable
Barely noticeable flavor
No calories
Quality packaging
Cons
Not the most lightweight electrolyte option
Nobody likes their hike to be interrupted by heat stress and cramps. But finding ways to incorporate electrolytes into your day can help reduce these issues. Luckily, SaltStick's Elixalyte gives athletes easy access to a clean and balanced electrolyte formula during times of need.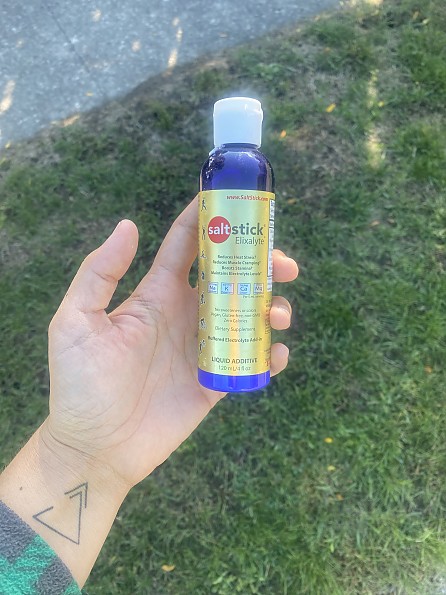 Preparing the Elixalyte Solution
In order to prepare your Elixalyte solution for consumption, you'll just mix a capful (or 1 tsp) of this product into your beverage. Each container has 24 servings of electrolytes, which is nearly double the amount of servings of competitive products. 
In each bottle of Elixalyte, you'll find 4 ounces of liquid electrolytes. The formula, itself, contains essential ingredients like Calcium, Magnesium, Chloride, Sodium and Potassium.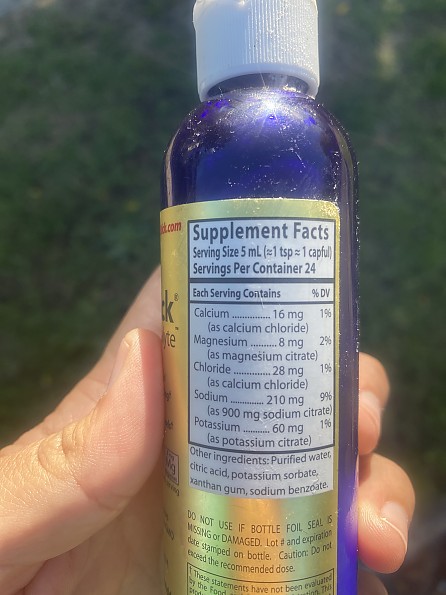 Together, these components are known to prevent cramping and heat stress. But they also boost stamina and allow athletes to compete more efficiently. 
Compared to other electrolyte formulas, the Elixalyte solution is a much cleaner product. It doesn't contain sweeteners or colors. And it's also Vegan, Gluten-Free, non-GMO and contains zero calories.  Since many athletes are bombarded by sugar-heavy products, finding a solution without those additives is refreshing. 
SaltStick Elixalyte Flavor
When mixed with water, the flavor of the Elixalyte is nearly unnoticeable. If, however, you do notice a change in your water, it'll taste slightly like lime. 
Elixalyte Packaging
I kept the SaltStick Elixalyte solution in my car for about a month while I was driving across the country. Despite plenty of jostling and varying temperatures, the bottle never leaked or exploded. My only caveat is that it's heavier than other SaltStick products. And, ordinarily, this isn't an issue. But I'd probably select SaltStick chews for a long hike instead of carrying this bottle.
About SaltStick
You shouldn't be surprised to see SaltStick products in the aisles of your local REI or Moosejaw. Dr. Johnathan Toker originally developed SaltStick products for triathletes in 2002. And the brand has only continued to gain traction over the past 18 years. Today, you'll find SaltStick caps, chews, and electrolyte solutions that are designed to support athletes during their journeys. And they're unbeatable in terms of cost, efficiency and reliability. 
Final Thoughts about the Elixalyte Solution 
Overall, the SaltStick Elixalyte solution is affordable, costing just $20 per bottle. And the product is great because of its quality ingredients. It's easy to add to any liquid. The bottle is portable. And you can take it nearly anywhere.
Experience
As a long-distance backpacker, I often find myself testing various electrolyte powders and chews. This isn't my first SaltStick product, and it won't be my last. I tested the Elixalyte all summer long in Colorado's arid mountains and North Carolina's humid forests. It's a must-have product no matter where you are.
Source: tested or reviewed it for the manufacturer (Kept it)

Disclosure: The author of this review received a sample of the product from the brand or its representative in exchange for a review.
You May Like
Recently on Trailspace