Sawyer Cleaning Coupling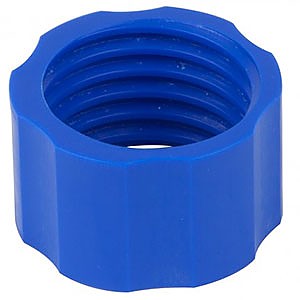 Version reviewed: SP150
A simple and brilliant accessory for the Sawyer Squeeze filter that allows one to improve back-flushing success with a device that is smaller and weighs less than the syringe provided for this purpose with this filter. At a price just south of USD $9, it's doubtless overpriced but still well worth it for any Squeeze users.
Pros
Small in size
Light in weight
Highly effective
Cons
Overpriced for a small piece of plastic
Sometimes less is more, and sometimes experience allows one to "smooth it" in the woods, to borrow a phrase from nineteenth century outdoorsman and conservationist George Washington Sears.
My long quest for the perfect water filtration device has led me through many devices and brands over the years in search of a fast, reliable, and simple water purification solution. At present I carry a Sawyer Squeeze filter attached to a dirty water bag with a hose. This allows the Squeeze to be used as a gravity filter. I simply fill the dirty water bag, hang it on a tree, and relax—smoothing it!—while gravity does the work of pulling water through the filter.
Since I carry my water in recyclable 1L plastic bottles, I tell myself the weight I save from not carrying a Nalgene evens out with the modestly greater weight of this filter as opposed to other, lighter options. In any case, it works for me at present.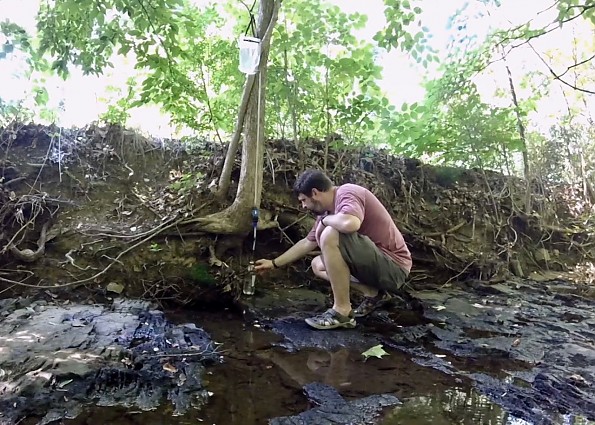 Until it doesn't work, or more accurately, until the water filtration rate slows due to a buildup of contaminants in the filter. However, as this filter comes with Sawyer's "Lifetime Warranty and is allegedly capable of filtering thousands of gallons of water in its lifetime, this slowdown is just a momentary obstacle. It can be resolved by simply back-flushing the filter with clean water to remove the buildup.

Provided with the Squeeze is a fat syringe that stretches 6 in/15.24 cm in length, has a girth of 1.25 in/3.18 cm, and a weight of 1.06 oz/30 g. This filter can be filled with clean water and used to back-flush the Squeeze. The syringe isn't exactly a huge burden, but it is bulky and a little finicky to use: one must draw clean water into the syringe, then align it with the filter's clean water outlet, inject it through the filter, and then repeat until the Squeeze runs clean.
Sawyer's new offering—shown below, compared to the syringe—replaces the back-flush syringe with a lighter, smaller, and better functioning device.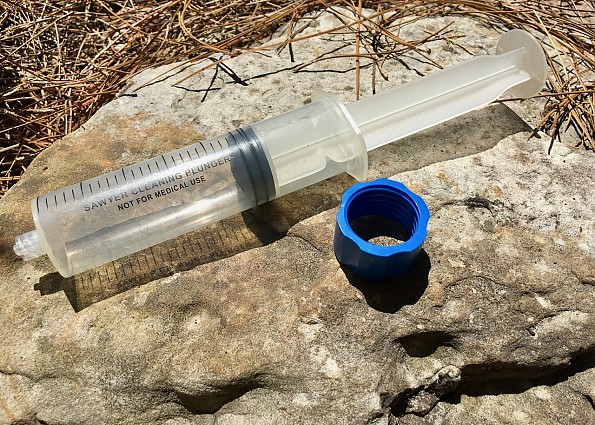 Cleaning Coupling Explained
Less is definitely more with the Sawyer Cleaning Coupling (SP150), a small, innocuous-looking blue plastic ring with knurled exterior and threaded interior. This tiny piece of kit—3/4 in/1.9 cm long, 1.25 in/3.18 cm in diameter, and a mere .22 oz/ 30g—attaches in place of the clean water tip of the Squeeze when one needs to back-flush the filter. In my case, it replaces the short piece of hose with a hose clamp that allows me to control the flow of clean water from the filter.
Directions for use are simple.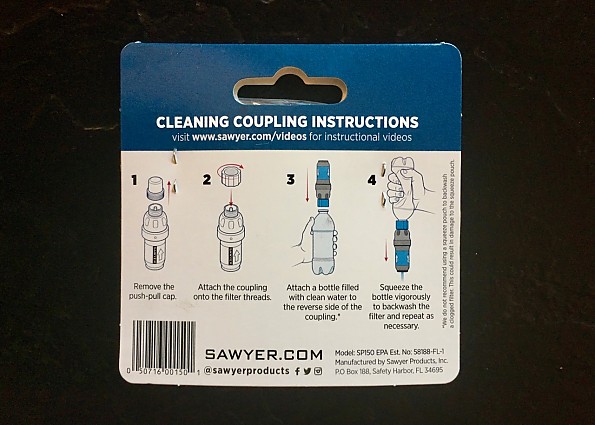 Screwing the coupling device onto the filter uses exactly half of the threads provided; the remaining threads allow one to attach a standard drink bottle filled with clean water to the filter. In other words, one can use one's regular water bottle to back-flush the Squeeze without having to carry the syringe.

Use
In use, I found the SP150 to work simply and flawlessly. The plastic itself seems durable. The knurled exterior allowed me to twist the cleaning coupling on securely, and the threaded interior gripped both filter and water bottle securely without leakage. Indeed, I had to loosen the fittings periodically to let air back into the bottle to continue the flushing.
Moreover, the back-flushing system created by this device is more secure than poking the syringe onto the outlet of the Squeeze. This greater security translates into one being able to exert more pressure when back-flushing, and that in turn means one can remove more matter from the filter during a back-flush.
This point was driven home to me when I first used the cleaning coupling. I generally back-flush the Squeeze after each outing prior to storage. When I used the cleaning coupling for the first time, I thought I was using a "clean" filter since I had assiduously back-flushed it with the syringe previously. However, after filtering only a liter of water, I back-flushed the filter with the cleaning coupling and was surprised to see how much dirt came out, much more than had been in the unfiltered liter I had just passed through the filter.
Obviously, my ability to force a higher volume of water through the filter at a higher pressure than before when I had used the syringe meant that I was better able to clean the filter using the smaller and lighter cleaning coupling. Bye bye, syringe!
Recommendation
If you use the Sawyer Squeeze, you will want this.
It is the ultimate sort of upgrade—simple in design, easy to use, and an improvement in functionality—all for less than USD $10.
Let me set my enthusiasm aside for a moment: at USD $8.61, this mere piece of plastic is doubtless overpriced. I imagine an enterprising DIYer could locate a PVC coupling or some such tubing and cut a length that might serve in the same capacity for less money. I can't give this product an unreserved 5 stars because yes, it is a bit pricy for a piece of threaded plastic.
For me, though, I was happy to pay the price, especially when I saw how well it worked and how much of an improvement it was over the syringe. Sometimes simpler is better, too.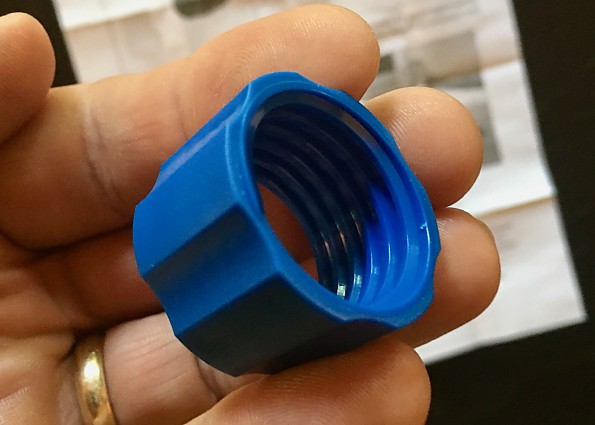 Source: bought it new
Price Paid: USD $8.61

Your Review
Where to Buy
Help support this site by making your next gear purchase through one of the links above. Click a link, buy what you need, and the seller will contribute a portion of the purchase price to support Trailspace's independent gear reviews.
You May Like
Specs
Price
MSRP: $8.61
Reviewers Paid: $8.61

Weight
0.2 oz

Recently on Trailspace