Scarpa Escape GTX

The Escape GTX has been discontinued. If you're looking for something new, check out the best backpacking boots for 2023.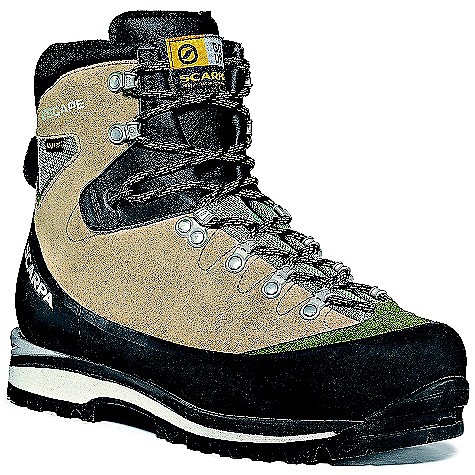 I have found these boots to VERY durable in comparison to other backpacking/light mountaineering boots. They took about six months to break in, longer than others of its type. But I've worn them almost 150 days per year for about 7 years, and finally need to resole them.

Summitted Rainier in a single push and the aid of some toe warmers in these boots. I've also used them for technical ice climbing in which they worked better than expected for a leather boot with semi rigid sole. They stay warm in cold, dry snow. And can get cold in wet, corn, glacier snow.
Pros
Very comfortable and compatible with crampons and snow travel for a non-plastic boot
Cons
Toes can get cold during extended glacier travel
Source: bought it new

I've tried just about all the major brands. These run extremely narrow and small to size and the return policy is horrible. Remove them from the box, save your money.
Cons
Narrow fit, small fit
Creates hot spots
Horrible return policy
I bought these boots in a euro 43. I'm regular a size 9 US. So I bought on the bigger side. I literally have tried Salomon, Lowa, La Sportiva, and others and these were the second worst fit.
I've been through the ringer on boots. I took the boots out the box and wore them around my block no more than .5 mile. Narrow fit killed my feet so I knock the dust off with a rag and sent them back. Boots are in mint condition. Literally didn't leave the sidewalk.
Scarpa said they "tried" to return the boots to new condition and they couldn't they were used. So now I'm stuck with the second worst fit boot I've ever purchased. Sad experience, I really wanted to like them. Save your money.
Source: bought it new
Price Paid: $240

These are great boots. But they have a major design flaw, and Scarpa has been totally unresponsive in my request for a re-sole. 
There is a slot on the front sole of the boot which is supposed to be used for some sort of custom auto crampon. It's worthless: I have semi-auto crampons that work fine on these boots. And these boots are not meant for serious crampon work in the first place.
The problem is that once the sole wears down a bit, the lip tears on rocks, and then you're done as the sole quickly comes apart. After two seasons of Sierra hiking I had plenty of sole left, but the whole front of my boot was destroyed. The metal crampon adapter was showing and would click on the ground even on pavement. Major portions of the rand had ripped off, exposing a leather seem which quickly tore. This was after the 2nd season of reasonable use in the Sierra. 
My previous pair of boots were Italian-made Vasque Sundowner II's that generally gave me 5-6 seasons on a sole. And when the sole wore down, it didn't result on the boot coming apart.
I'm not a professional guide or anything and expect boots this expensive to last longer than these did. I had to pay $100 for Dave Page to fix the sole and rand (he did a great job). I sent an email to Scrapa but they never even replied. 
Stitching elsewhere on the boot has also come apart. I will think twice before I purchase a Scarpa product again. These seem to be of poor quality. 
Price Paid: about $300

I purchased my boots in early 2008 to use for my work season, I used them maybe for 2 months of that year doing very easy trek terrain ( trail quality). Consisting of grasslands, marshes heavily treed areas and including some minor rocky outcrops.
They were excellent for repelling water and keeping my feet dry fantastic fit and very comfortable. The rivets however tend to damage your laces very easily also the rivets being rather thin are easy to wear.
During my summer 2009 field period I had more intense hiking tours including summit accents and decent with no trials in heavy bush and plenty of scree and rocky outcrops. That Summer field period consisted of 7 weeks, The tread on the boots are none existent my middle right rivet on my right boot bent off within the first week. There is a large 1cmx2cm wide gash in my left boot near the front, unsure how this happened ( only the leather is damaged). Feet started to get soaked within the 2nd week before the gash happened.
All in all it's decent boot for a short period of use or strictly trails, after that its not very good. Granted I used it in harsh terrain, but that doesn't mean I should require to buy new boots after a seven week period... Which I have to do.
Main Note: Scarpa Needs to improve their rivets. (Yes I know my grammar isn't up to par, my apologies).
Materials: Gore-tex
Use: Rough terrain w/ heavy pack
Break-in Period: Was great
Weight: Light-moderate. You can look online at Scarpa's website for specific weight.
Price Paid: $250

First, let me qualify my *early* review by saying, I am still breaking them in. These are first impressions.
The quality (stitching, seal, design, and easy lacing system) are the best I have ever experienced. The footbed is terrible; a flimsy 2mm insert. But that is that case with almost any footwear these days. I wanted to replace mine with Superfeet, but I have rigid, flat-feet. Any aggressive artificial arch will not correct/create my arch. It will just bruise it.
I chose a heat-molded, "Sofsole Adapt". It has a moldable arch and maximum cushioning (max for that particular brand). It is not Dr. Scholls "gellin'" but it is both supportive and reasonably comfortable. My feet are low volume as well. This insole really helps.
These boots feel nice out of the box, but I can tell they will require significant break-in. That is the nature of a heavy hiker/light mountaineering boot. I do not have any experience with true mountaineering boots. I wanted a heavy hiker that was crampon compatible. I don't anticipate doing any lengthy vertical climbing. If I do decide to become a rookie ice-climber, these would probably work just fine for a season or two.
The boot is stiff, as it should be. It reminds be a bit like a workboot, but a seriously comfortable one. The slight rocker in the Vibram sole is reassuring b/c I was hoping to long some trail time with these boots. Having a 3/4 steel shank seems to be a good balance.
I originally ordered a size 43, but found it to be too big, both length and certainly volume. The 42.5 was the right fit and held my foot snug in a variety of socks. Scarpas run narrow (it seems). This suits me fit as I need the support, but it will lengthen the break-in period.
The only negative, so far, is I am getting a slight pinch on the top of my foot when flexing at the toe. The area where the lacing starts buckles under. I have had this with other boots/shoes, so it may have something to do with my foot structure.
Something that I have noticed, and like, is the Vibram sole. It sticks to snow/ice like nothing I have experienced. Even after being outside in 15 degree F weather for over an hour... it does not get overly stiff. I have had Vibram soles in the past, but these seem different, better.
I am looking fwd to putting a few scuffs of these boots!
Age: 33
Weight: 160 lbs, unloaded.
Location: NH - White Mountains
Use: Cooler season hiking, snowshoeing, and limited crampon use.
Overall Opinion: Great (4.5)... might become a 5 after break-in!
Previous Favorite Boot: Montrail Torre GTX (still used for warm weather, non-tech, hiking).
Materials: Leather, rubber, gore-tex lined
Use: Super supportive cool weather on/off trail hiker
Break-in Period: still breaking in.
Weight: 160 lbs.
Price Paid: $226

I am writing this review to help others understand the boot if buying online. Foot description: I have size 12.5 but wear Nike 13 running shoe. I have a high arch, high instep and small round heel. My foot although wide overall "EE" is narrow, in that, my big toe is quite prominent and angles down dramatically to my little toe. I am 6'1" and 225 lbs. (yikes, I need to be about 195)
Lacing System: First the lacing system is super nice. It allows you to adjust the forefoot extremely precisely (1mm) and individually crank down on the upper to get a total and complete heel lock going on. This allows for very good individual adjustments (loose forefoot tight cuff or tight forefoot, loose cuff) depending on your foot and the terrain you are hiking. I found it to be quite precise.
Overall Feel: These boot have a general feeling of padding, protection and beefiness. Would be great on extended trips in Sierra or AT.
Weight: These boots are for serious hiking rather than wearing around town (unless you live in a winter climate). The sole is very fine tuned and allows you to walk very quietly on many types of surfaces.
Additionally, it has a nice midsole, which provides a very comfy ride. It is slightly heavier and wider than the SL M3 and truthfully totally different, from a beefiness standpoint.
Break In: I walked 20 miles (4 miles x 5 days) and these boots are starting to really break in nicely. Zero hot spots even out of the box, but I would recommend putting some miles on them in advance of any serious trip(20+ in at least 5 increments). I don't think I would get a hot spot or blister from them (I wear thin to medium socks too). The support shank must be quite pliable as I have had very little foot fatigue during my "breakin speed walks".
Size: I purchased a 46.5, which are likely the best size for overall mountain use. I have plenty of toebox room, but still feel quite nimble on my feet. On the other hand, I would have liked to have tried the size 46 too, but My guess is that the 46.5 is the correct size for big mountain hiking and a 46 would have yeilded toe banging on the tips.
Design: I really like the design of these boots. The boot looks very similar to the La Sportiva Makalus, but is far more flexible when walking and thus, far more comfortable as an all around light mountaineering boot.
Con: It's a bit heavy, so I cannot wear it as a daily shoe (something I was hoping to do).
Safe Adventures!
Materials: Leather, Gortex, Rubber Rand, Great Sole
Use: Hiking Long and Short distances (5 - 20 mi)
Break-in Period: 20 miles (5 days at 4 miles/day)
Weight: 3 lbs
Price Paid: $225

Great boot!!! No breaking in required. I've had them in the snow, rain, mud and they've kept my feet dry and comfy.
One nice feature is a locking eyelet that keeps my heel from slipping on steep slopes.

Materials: leather, gore-tex
Use: boulder fields, snow, long hikes
Break-in Period: None
Weight: Light, don't know specs
Price Paid: $230

Your Review
You May Like
Specs
Men's
Price
MSRP: $299.00
Historic Range: $179.95-$299.00
Reviewers Paid: $225.00-$300.00

Women's
Price
Reviewers Paid: $230.00

Recently on Trailspace