Scarpa Inverno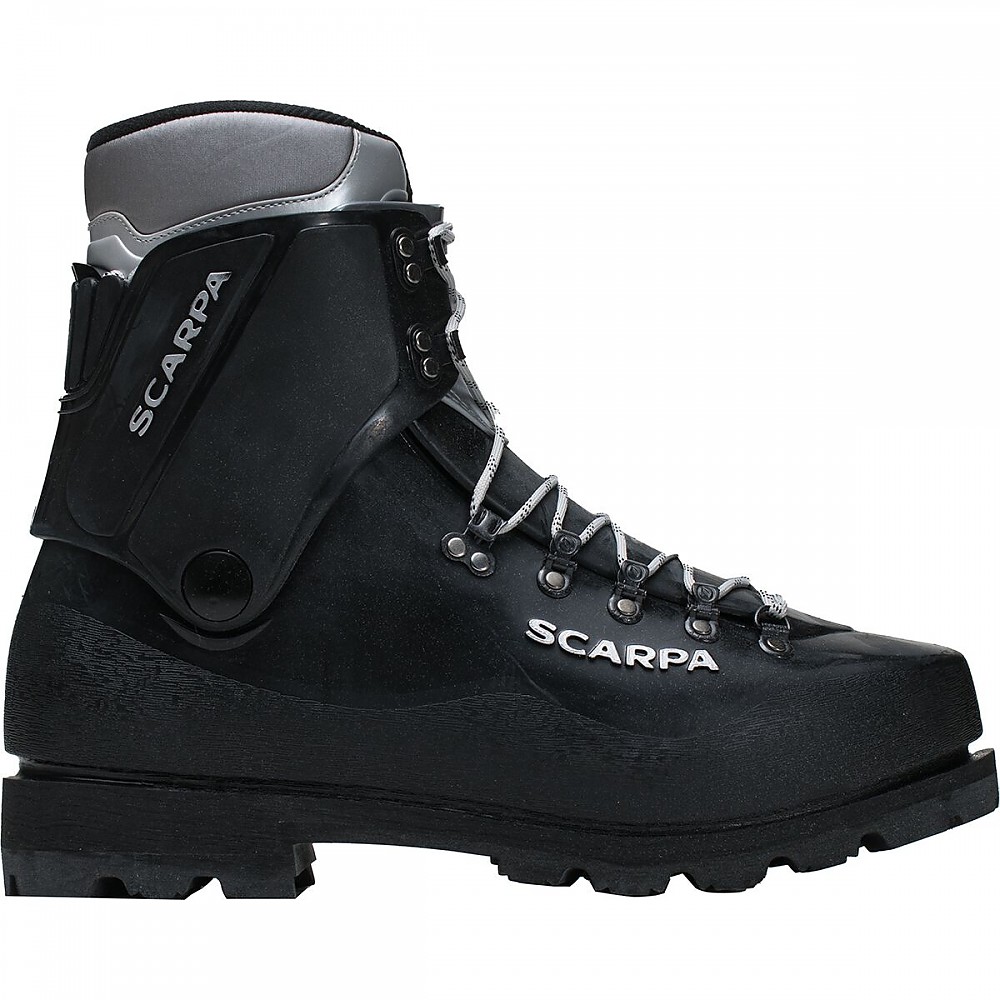 A good general purpose mountaineering boot. After a few years, I purchased insulated high-altitude liners that substantially increase their warmth. Because they are stiff, it is very important to lace them while leaning forward to avoid shin bang. heavier and more clunky to walk in than the more recent leather mountaineering boots, but more likely to keep your toes intact in persistent sub-zero temperatures.
Pros
very warm with high-altitude liners
very durable
Cons
heavy/clunky
stiff outer shell
UPDATE:
a year or two after I wrote the original review below, i purchased the insulated liners.  they make a huge difference in keeping your feet warm.  they also occupy more volume, meaning I tend not to wear them with expedition-weight socks for the most part.  i think the Inverno is only sold with insulated boot liners now.
what i learned over time is that the key to avoiding 'shin bang,' a known bugaboo with these boots, is that it's best to lace the upper section of the outer boot while leaning forward, bending your knee.  that gives you enough leeway to keep your shins happy and helps them feel a little less like walking in ski boots, especially in the snow.  I also find it helps to lace them up and go for a couple of walks at home in the weeks before using them on a trip, so my feet and legs get used to them.  i have never gotten blisters in these boots but have occasionally lost toenails when i laced the lower section too loosely on a very cold day with a lot of down-hiking. 
with the warm liners, i no longer use these with overboots in the White Mountains and feel they can handle virtually any weather lower 48 states can dish out.  Laced as described, these work nicely not only for climbing in crampons, but also snowshoeing in very cold conditions.  If I were inclined to climb something very cold at high altitudes, i would feel compelled to pair these with a pair of forty below overboots and would think hard about one of the boot/gaiter combos like the scarpa phantom 8000, millet's everest boots, or lowa's expedition 8000. 
my original review appears below. 
* * *
I purchased these lightly used for winter hiking and climbing. they are a double boot, plastic exterior shell with an inner insert, similar construction to a downhill ski boot. the inner boot laces up separately from the outer boot and can be easily removed used to walk around in a cabin, tent, or snow instead of a bootie.
My primary use has been at and around Mount Washington, the Presidentials in New Hampshire. i have used them to walk on snowy trails, with automatic/step-in crampons, and with snowshoes, and they work extremely well at all three of these.
The only place they don't work so well is dry trail, where the stiffness tends to feel clunky and uncomfortable. if you anticipate any significant amount of dry trail walking, bring a light pair of hiking shoes.
Fit is a little tricky, important to try them on. The sizing is not exactly the same as normal US sizes, and the plastic shells are sold in whole sizes only; variation of the size of the inner boot accounts for their availability in half-sizes.
In terms of comfort, these boots are significantly stiffer than a normal heavy hiking boot, so take the time to get used to them. they don't really 'break in,' but your feet and shins need to get used to them. shin bruising can be an issue; i have successfully avoided that by loosening the inner laces or not using the top set of eyelets on the inner boot, and that works fine. keeping them too loose can leave your toes banging the front of the boot on steep downhills.
for the coldest weather, well below zero, the regular inner boot isn't warm enough for me, and i tend to run warm. i have worn them on hikes in -20 fahrenheit without frostbite, but my toes were pretty numb.
Scarpa sells a fairly expensive 'high altitude' or 'alveolite' liner that is probably a lot warmer - i wonder whether it would take up more volume and change the sock combination; it's worth testing if you get the cold-weather liners.
i have, so far, opted to use insulated overboots instead (mountain hardwear absolute zero, but outdoor research and forty below have great overboots too). with overboots, i think these boots will probably work in just about any conditions. one issue with overboots generally, step-in crampons don't work too well, so better to bring strap-in crampons if you may use overboots.
Materials: plastic
Use: winter hiking/mountaineering
Break-in Period: they need some break-in
Weight: 5 1/2 pounds
Source: bought it new
Price Paid: $125

Standard double-plastic mountaineering boot with high altitude liner is good enough for technical ice climbing and comfortable enough for snow slog approaches. Ready for the winters of the White Mountains, glaciers of the western ranges, or altitude of the Himalaya.
Pros
Warm
Rocker step makes walking more comfortable then other plastic boots I've tried
rigid design stable for all climbing conditions
Fit: True to size. Make sure the salesperson in the store is knowledgeable on Euro vs American sizing. Mine was not the first time around and I ended up getting something way too big.
Comfort: I have had only a couple of hot spots from rubbing with these boots, and I got rid of that by adjusting my laces and using mole skin if I knew I had long approach hikes. Comfortable when ice climbing.
100% support of ankle and foot
Waterproof plastic
Great grip for snow and rock
Temp control: Very warm, I typically switch socks out during an overnight because my feet sweat in these things.
Very durable after 3 seasons of hard use, still in excellent condition.
Source: bought it new
Price Paid: $280

Scarpa's Inverno is a classic. They've dialed in a simple, efficient double boot system that just flat works. The cordura liners are the base model and work well for low angle, low altitude approach or glacier travel. The high altitude liners add a lot of warmth, but with the advent of Intution Denali liners...there's no comparison. These liners will lighten your whole system by more than a pound- well worth the investment.
I use the Scarpa Inverno for alpine climbing, glacier travel approach, backcountry skiing (in a pinch) and they hold up well.
As a woman, it can be interesting getting men's gear to fit comfortably: in this case, the right liners are the key. Once you've established the right fit for the plastic shell, get a custom liner dialed in and you're good to go.
For toasty warm (and dry) toes in the coldest climates and gnarliest snow conditions, go with the tried and true Scarpa.
Materials: Double Plastic Climbing Boots, Cordura Liner
Use: Alpine Climbing, Glacier Travel
Break-in Period: None
Weight: 5 lbs, 8 oz.
Price Paid: $225

I have worn my Invernos vertical ice climbing and on expeditions above 21,000 feet. I love them. They fit American feet better than most boots. One favorite feature is the large degree of rocker, or curvature, of the sole. This makes the Inverno far more comfortable for hiking without crampons. Approach hikes and desert training are no problem, even though the Inverno is stiffer than the really soft plastic boots. These are complete all-around boots. They are also about the least expensive boot that can handle extreme cold, altitude, and vertical ice. The Charlet Moser Super 12 crampons fit the soles of these boots perfectly. These are lightweight, convenient, rock solid crampons. The combination cannot be improved upon.
I did get frostbite in my Invernos during an overnight bivouac high on Mt. Elbrus. The fault was mine. I did not have enough clothing to keep my core temperature up. For extreme cold and high altitude, you'll need a larger boot than you would want for vertical ice, so even though the Inverno can do it all, you would still need two sizes of Invernos to do it all. For Denali, I am getting Advanced Base Camp boots (formerly One Sport Everest) in a much large size because those are the boots everyone on Everest uses and I don't want to deal with any more frostbite. The Invernos will still be my favorites for everything short of Denali or the Himalaya.
Materials: Plastic double boot
Use: High altitude mountaineering
Break-in Period: Break in your feet, not your boots.
Weight: 5.5 pounds
Price Paid: $322 US

I've only used these for a few trips this winter. Here's my observerations:
o they are heavy compared to leather boots, or at least they sure feel that way. The two boots together probably weight in at about 10lbs. It can get pretty tiring, espcially when you add snowshoes!
o they are very warm
o they do take a bit of getting used to, walking on bare ground or only a few inches of snow changes your gait
o they provide plenty of ankle support
o these boots are the widest plastic boots I could find, they fit my foot, a narrow heel, wide forefoot, size 13
o they do all plastic boot things well, so far as I've noticed
o they have a neat system with a gasket instead of a bellows for closing the tounge. It seems to work.
Materials: plastic
Use: snow/ice
Break-in Period: --
Weight: a lot
Price Paid: $330

Great all-around mountaineering boot! The liners are warm, comfortable and dry quickly. The actual hardshell boot is extremely durable and holds up very well -- I was impressed.
Pros
Durable
Warm
Crampon compatible
Cons
A little on the heavier side for an extended mountaineering trip
I  spent up to 12 hours a day climbing in these boot in very cold weather in the Himalayas and my feet stayed warm, dry and comfortable everyday. I highly recommend these!
Source: bought it new
Price Paid: $380

After trying the Asolo (both home and on the mountain) I bought the Scarpa Inverno instead. These boots are heavy (like all plastic boots) but if you get a good fit, these are the "sneakers" of serious mountaneering boots. Had a chance to try them out hard on Mount Rainier in both blistering sun and cold wet slush. These boots do the job, but a price that were much higher than I did intend to spend. However, boots are probably the most important piece of gear and nothing can ruin a trip as much as a pair of illfitting/leaking boots. My vote is for the Scarpas if you can afford them and need a "serious" boot.
Materials: Plastic
Use: Snow fields, glaciers, crampons, heavy pack
Break-in Period: None, fit like sneakers in the store
Weight: 5.5 lbs
Price Paid: $329

I tried several plastic boots, and these were the only ones that fit comfortably. I wore them about 10 times on day trips this past winter, carrying as much as 35 - 40 lbs. My feet stayed warm, dry and comforable.
These boots have a gasketed tongue rather than the bellows version found on many plastic and leather boots. I assume that those plastic bellows will someday fail, but the gasket looks bombproof, and keeps out water as well as anything else (I recently found myself ankle deep in a stream, but my feet stayed dry).
These are very good boots, but fit is critical; don't buy them if they don't fit in the store.
Materials: Plastic
Use: snow and/or ice with heavy pack
Break-in Period: forever (plastic boots don't brweak in)
Weight: approx. 5 lbs
Price Paid: $330

I was hoping that I could get out in some plastic boots for less but after looking around.......These boots are well worth the money that you pay. They are pretty plush right out of the box. The only problem (small) is that I have a narrow heal and am having to work with a shim system to keep my heal where I want it. Not a problem. I recommend them to anyone. Very warm as well. Almost too warm sometimes. Think about that when the guy at the store is telling you to be able to fit two or three pairs of socks in them.
Materials: Plastic
Use: Glacier travel
Break-in Period: Quick

Version reviewed: 1997
These boots kick ass for cold and snowy conditions. They are also rigid for vertical ice. They are comfy and feel very durable. Since my left foot is at least .5 size larger than my right foot, I have to stuff the right boots with more socks, an extra insole, but seems to keep my heel better in place. Did great on vertical ice and kept my feet toasty in below zero temps and extreme wind chill.
If you can find these for the 20% clearence, get them while you can, otherwise it will be $340 for the '98, but probably still worth it - KILLER BOOTS!!!!!!
Materials: plastic
Use: winter mountaineering/ice climbing
Break-in Period: none
Weight: 5lb10oz
Price Paid: $270 (clearance)

These boots are quite comfortable for my wide feet and flat arches, but for long, level, approaches, I opt to put them on top of the pack and use approach shoes! The boots are quite warm, even in cold conditions (below freezing) with the regular liners. I have had some problems with the laces being shreaded by the metal grommets -- you may want to carry a spare set of laces on a longer trip. Oh yeah, don't expect them to be easy for any alpine rock climbing.
Materials: Plastic
Use: Mountaineering, Ice Climbing
Break-in Period: Good out of the box

I have used about every type of plastic boot there is and this is by for the best do-all boot there is. It fronts points as good as any if not better, the rocker sole keeps shin bang at a minimum on the trail, and they hold on to crampons like glue. The shell is a little bulky for rock but with use you get use to it. Lots of toe room to keep them warm and the ankle tightens up for minimal heel slip.
Materials: Plastic
Use: Mountaineering/Ice climbing
Break-in Period: none
Weight: average
Price Paid: I paid under $300

They are a comfortable boot once broken in. I went 1 size bigger and they fit good with two pair socks. They are warm in snow and I have not had cold feet. The reason they didn't get 5 stars is the squeak that goes with them.

They don't seem like you need to tighten them all the time which is good with crampons. They have stayed tight for me up and down the mountain. I feel for the price they are a good deal.
Price Paid: $219

I have had my Invernos for several years and I love them. My only complaint is the tongues of the liners finally broke down and the lace rivet rubbed on my shins and caused me a bit of pain. Most likely from using the boot snowboarding and putting too much forward pressure on the tongues. Minor issue compared to the amount of use the boots have seen and the fact that new liners are available.
Materials: Plastic
Use: Mountaineering
Break-in Period: Can't remember
Price Paid: $180

I have worn these boots on twelve ice trips to Smugglers' Notch, Vermont. They are both very warm, and very comfortable. For long walk-in's keep the upper laces untied. They fit perfectly with BD makos, plus the black color will help absorb some heat from the sun.
Materials: plastic
Use: ice climbing
Break-in Period: none
Weight: 5.6lbs.
Price Paid: $330

Very comfortable, like slippers in fact. And climb about the same. Easily the least climbable plastic boot I've owned. I've also been through a pair of Koflach Ultras and Asolo 101s, both climbed better than the Invernos.
I just wore these out to the local park for a 2 mile hike through the snow to test out how well they fit and I saw the heel started to separate from the base.  
They are brand new and glad I saw this before I went out on trip with them. I received these as a gift so I don't even know if they are going to be covered by warranty. Bummer :(
Price Paid: Gift

Your Review
Where to Buy
Help support this site by making your next gear purchase through one of the links above. Click a link, buy what you need, and the seller will contribute a portion of the purchase price to support Trailspace's independent gear reviews.
You May Like
Specs
Price
MSRP: $319.00
Current Retail: $388.95-$439.00
Historic Range: $139.50-$439.00
Reviewers Paid: $125.00-$380.00