Scarpa SL M3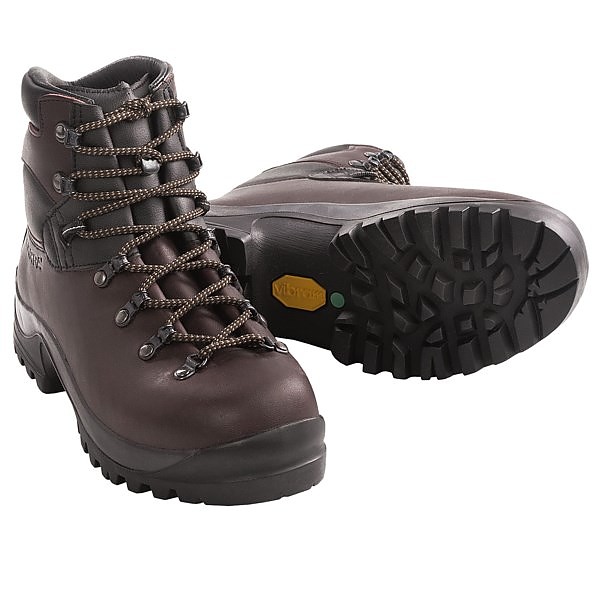 INITIAL SHOPPING
I was unsure of purchasing a boot over the internet in part due to the old adage of "try it before you buy it." Unfortunately I live in an area where the only 'hiking boots' available are Wal-Mart brand (shudder).
So after months (literally) of web shopping, I narrowed down my choice to the Asolo TPS and the Scarpa SL M3. Loving the Sherpa leather and European sizes (you can literally chose among centimeters), I went with Scarpa. After three returns to get the perfect size (toes don't hit the front, no heel play, etc), I settled on a 44.5 and couldn't be happier.
BREAKING IN/FIRST THOUGHTS
Initially the sole, being nice stiff Vibram, gave me a little heel lift during the break-in process. I was concerned I might have bought a $200 blister maker but after a week or so the sole was worked in and no more play is evident. The leather-lined tongue and cuff prevent abrasion (like the older version fabric-lined ones did - I know because one of my returns was one) though they do promote sweating a bit more.
The full leather outer was beautiful to say the least. I always loathed those Gore-tex/tennis shoe hybrids with fabric patches left and right. I also knew the more stitches under the cuff meant more places for water penetration. I'm not the kind of guy to take a bridge when there is a perfectly good sandbar to wade across so waterproofness was key.
I took the liberty of purchasing Nixwax spray-on waterproofing at the time of my boot purchase, just because the Scarpa L M3 does not have a waterproof rating due to lack of Gore-Tex (since when did Gore-tex become the gold standard?).
A good rule of thumb for ankle support is to take the boot and try to bend the cuff left and right; good support resists the bend, poor support moves freely. Now, although I wanted sufficient ankle support for extended trips with a heavy pack, the 'articulated ankle support' design fails in this respect. If the 2.9mm leather outer extended to the cuff instead of breaking into what it is, the boot would've been perfect. As it is, it offered a little too much play. HOWEVER, after getting used to it and extensively devoting my pack to a minimalist practice, the articulated cuff is actually a godsend. :)
TRIALS AND TESTING
I made numerous day trips to the top of a 3,000' "mountain" which entailed sandy two tracks, stream crossings, rocky ascents/descents, and rough inclined trails with plenty of trail obstacles. I've done the same trip in tennis shoes and by the time I get back to the vehicle the soles of my feet would be screaming.
The Vibram sole of the Scarpas certainly fixed this problem. They also resisted water penetration during the stream crossings and bushwhacking. I didn't carry a pack on these trips so ankle support was negligible. With the closing of the fall season, it was time for some winter tests. I wore these boots every day to classes (a 15 min hike to campus) in snow, sleet and rain... eventually in ice and salted roads... and never did my feet grow cold or wet.
Eventually I got into winter survival camping and which boot did I grab? The Scarpa. Numerous day trips snowshoeing into the bush with just a wool blanket, titanium pot, and belt knife would've given me some painfully frozen feet if the Scarpas were not as bombproof as they were. I never (NEVER) had water penetration through the boot body nor snow infiltration through the cuff (great form fit).
I wore two layers of wool socks and my feet never got cold during the day or throughout the night. They also did not 'freeze up' when I took them off at night, overnight, and put them on the next morning. This shows the leather did not absorb any water enough to freeze or cause stiffness. Let me emphasize that it was at least 3 months of daily use since I last applied the Nixwax so the Sherpa leather is bombproof.
OTHER THOUGHTS
The boots are heavier than most, yes, but they are underrated even by their maker. They are listed as three-season (I have experience to prove they are four, down to -20F), they are not listed as waterproof (I have stood on the crest of a waterfall collecting water for 20 minutes and the water still beads), and they are toted as 1.8kg when after you get used to them, you barely notice and certainly don't feel like you're wearing hiking boots.
They are the most comfortable hiking boots I have ever owned and I've only received one hotspot during the break-in period. So long as you get the right size and take time to break them in, they are as comfortable as your favorite running shoes.
Materials: Sherpa Leather
Use: Winter survival camping, spring and fall bushwhacking, summer camping and thrutrips
Break-in Period: 2-3 weeks
Weight: 1.8kg
Price Paid: $210

Absolutely one of the best boots in the market. It has got everything you need for the outdoors.
Pros:
- it is the zenith of function and fashion, if you will, combined in a sturdy and supportive Italian made package.
- 2.9 mm sherpa leather is tough as anything else and it keeps the boots waterproof for ages
- amazing designe and engineering that gives you maximum protection and comfort. sculpted heel area, arch support, lacing system make this boot an SUV for your feet.
- amazing waterproofing, much much better than gore-tex, in my humble opinion. keeps the boot cool in the summer and pretty toasty during the winter with right combination of socks
- crambrelle lining manages moisture pretty well. in 3 years of regular use I never had a blister. some of that credit also goes to SmartWool's marino wool socks
- midsole absorves bumps, heel strike, and any underfoot elements with ease
- Vibram sole is beefy and sticky one of the best I have ever used.
- crampon compitable, so you can use it in many different terrain and conditions
- the outsole is designed to give you a rocking sensation while walking. it make the boot feel lot lighter on your feet and helps you log long milage.
- the boot is crafted in Italy and it is a SCARPA boot
Cons:
- you have to be a little careful about the sizing and the fit
- you have to try it on before you buy it, cause the boot is so well made that if it does not fit you to begin with, it is going to be a problem. it takes a long time to shape the boot and make it comfortable if there is a major fitting problem to start with. also, check the Scarpa's comperative Europian sizing and US sizing
- takes some time to break in
Great boot for backpacking and hiking on and off trails. it gives me a lots of confidence to walk on challenging trails. I carry my 25lbs son in my backpack, and this boot gives me maximam support and comfort in long trips. no foot fatigue or pain in the arch area.
People complain about the scaffing of the boot. Yes, you may get scratching on the surface of the boot if you walk off road or in rocky area, but these scratches do not do ANYTHING to the 2.9 mm silicon treated sherpa leather. I think it makes it look kind of rugged and cool.
Bottom Line: Scarpa SL M3 is one of the best boots you can find. if you do some general maintainance -- it will serve you for probably next 10 years. Get one and you dont have to worry about your outdoors footware for a LONG time. Great investment.
Materials: 2.9mm Sherpa Leather, Crambrelle
Use: Long hikes, backpacking, light mountaineering
Break-in Period: 1 week, around 10 miles
Weight: 3.8 lbs (+/-)
Price Paid: USD 109

As the last reviewer put it: there needs to be a lighter, three-season version of this boot.
I've worn Scarpas for decades and this is my favourite boot. No *tex membrane to hold in sweat, a good fit, good leather (but see below) and a fantastic, confidence-inspiring vibram sole. The lace system gets better, even if the eyelets look a little cheaper, with the new versions.
Lately I have been looking after my partner's newer version of these and I notice that Scarpa is still taking value out, perhaps in an effort to compete with the cheap Asian-made boots. (If my boots are ever made in China, please someone shoot me, as I will be beyond hope.) Specifically, Scarpa seem to be using a slightly lower-grade leather (the tan looks cheaper anyway) and they're certainly using a smaller piece for the entire boot. Perhaps the ankle fit is actually better when they use thinner, separate pieces for the top of the boot but I doubt it - it looks like a lower cost design. They are also taking the leather from the inner cuff and replacing it with that stupid stuff that is not hard wearing, I forget what it is called but it looks like a 'wicking' material.
I have read that there is a newer version still and mention is made of a lighter material in the sole (no longer steel?) but it looks like the leather is even less for the one piece construction. I have searched in vain for a non *tex, full-grain leather boot for three season use, with a secure sole and so on, but alas, there isn't much out there. The crowd doesn't want to look after their boots and they don't seem to mind if they have to replace them every few years and buy another cheaply made, sweat-inducing pair of boots as long as they have that label to tell them there is nothing to do and nothing to fear.
I still love my Scarpas, though it will probably be the last pair I buy (Zamberlain don't look any better - all their boots have a *tex membrane and most of them are new-buck). I like them most when I am struggling on loose ground or even a patch of ice and I know that they will comfortably stop me from making a fool of myself (Vibram deserves some credit there).
For those who find themselves banging their toes, I would suggest that you go half a size up and wear a thicker sock (it is a winter boot, after all), try the boot by knocking it against the carpeted floor at your local shop, if possible, or just get used to the idea that you usually have to tighten your boots a little on the descent to stop yourself slipping forward (that is why they have a 'speed lacing system'). It sounds smug but I did/do all of the above after learning the hard way.
Price Paid: 100 GBP (?)

In the past 3 years I have worn these boots in a multitude of conditions and temperatures from the Cascade Range to the Appalachian Mountains and a lot in between. I'm ultra critical when it comes to footwear so with that said:
As for construction, these are the best boots I have ever put on my feet. The one piece upper means no seams to bust or leak. As for the fit, although I purchased the wide version I had to have these boots stretched which was not an issue and these boots are really tough. As for size, these are true to fit but keep in mind to allow for natural foot swelling. Also, be sure to break in these boots well before your first hike as the leather uppers are thick!
(The following review of the SL M3s includes a Montrail Enduro foot bed (5 stars!!) that was added and the use of mid-weight wool socks.)
PROS:On the trail, these boots provide superior support especially when packing heavy loads. The Vibram soles traction is impressive on wet, slippery rocks and in wet conditions, these boots, with silicone impregnated leather will keep your feet dry. (I do highly recommend maintaining the waterproof properties with Nikwax, but don't over do it as it makes re-soling a problem!) In the Cascade and Rocky Mountains, on steep descents I have never experience toe bang and after long, extended hikes, I have never experienced hot spots.
CONS: The SL M3s are a bit heavy. This issue does not outweigh the pros, especially in mountainous areas but on flat to moderate trails these boots feel a bit overkill and on long, extended hikes on the AT these are not my first choice (opting for light weight gore-tex). In addition, I find these boots hot in the summer months in the southeast. Being waterproof leather, these boots are naturally not going to breath like gore-tex.
BOTTOM LINE: An extremely well made boot that, with proper care and maintenance, will last you a decade or more! Proper sizing is the ultimate factor to bond and fall in love with these boots and they require a break in period.
If your hikes include heavy packs, mountainous, winter and wet terrain: 5 star.
Flat to moderate and warm summer hikes: 3.0.
Great boots for hauling heavy loads over rough terrain. Durable, but expect a long-break in period.
Pros
Durable leather
No Goretex membrane
Long lasting sole
Cons
Long break-in time
Can shrink if not worn routinely
I bought these boots in 2009, and have hiked over 500 miles in them. Took about 100 miles to get them broken in completely. At one point I didn't wear them for about 6 months, and they shrunk in width, so I had to buy a boot stretcher to get them back in shape. No problems since then. 
At this point, there are no issues with the leather, but the leather dye is wearing off in the areas of heaviest use.  The inner lining is in good shape with no apparent wear.  The original insoles lasted about 100 miles, and I've replaced them with aftermarket insoles.  Still using the original laces as well.  I haven't had any wear issues with the liner material, but the heel area is starting to get shinny.
These boots are perfect for folks who haul heavy backpacks over rough terrain. Traction on all types of surfaces is great.  I've never had a problem with water penetration, even when soaked, and have maintained the leather with Nikwax.
These boots are really designed for off road use; standing around or walking on concrete and asphalt will tire your feet out quickly. Even with the mileage I've put on them, the Vibram soles show little wear. I typically wear the boots with one pair of Smartwool socks, and have never had blister problems, even when the boots were new.
The boots are designed to accept crampons, but I've never tried that feature.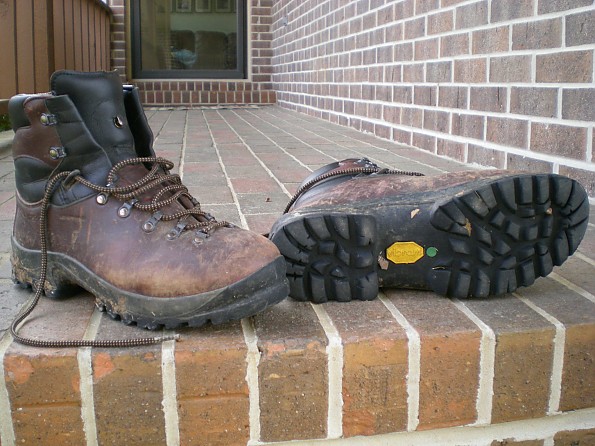 Source: bought it new
Price Paid: $200

I am a land surveyor in SW New Mexico and make a living on my feet. I own Scarpa, Lowa, La Sportiva, and a couple others not worth mentioning. I love my Scarpas the most and wouldn't give them up for anything. I wear my boots daily, even on the rare dinner date with my wife. Rain or shine, heat or cold, dry or wet, Scarpa continues to impress me.
Pros
They just don't wear out. With daily use, my Scarpas outlast my Lowas 3 to 1.
Extreme comfort
Great iny any weather or condition
Cons
Can't really think of any!
The Sl M3 Pros were my first pair of Scarpas. I am a land surveyor in SW New Mexico and literally make a living on my feet. Don't get me wrong, I love my Lowas too, but for my money the Scarpas can't be beat.  
I keep telling myself that my next pair will be the SL Activ, but I don't think I will get it done very soon because my SL M3 Pros may outlast my feet.  I cover more ground in a week than most backpackers do in months. I found Lowa 10 years ago and still use them, but after discovering Scarpa two years ago, my Lowa purchases are now limited to deals I can't pass up.  
As a father to a very active family and also being a hunter and fisherman, I put my boots to the test daily. Even on date night! My feet are my most important asset and I can't say enough about Scarpa.
Source: bought it new
Price Paid: $230

After a long search for a quality 3 season boot, the ML S3's won out. The Scarpa name carries a reputation of high quality and committement to the outdoorsman. After several months of use (and abuse), I have no reason to disagree.
I ordered direct from the manufacturer as I had questions regarding the wide version. The rep was extremely helpful and courteous, offering to give a refund or exchange for a different model if the fit wasn't there. Rassuring words before you lay out 2 big ones and change.
Materials and workmanship are top notch. The lacing system allows for smooth and effortless tightening. Waterproofness is reliable and the comfort factor is pleasing. Felt great right out of the box. I'm not sure if the leather with silicone impregnation is breathable, but they sure feel cool. So much that on winter trips I require a slightly thicker sock.
I spent the extra bucks knowing that I was in it for a long term relationship. I hike a lot in the Cheaha Wilderness in Alabama, and we are talking rocks, and rocks and more rocks. The boots have taken some good licks and scuffs. Better toe coverage by durable rubber would be great, as I tend to stumble along and don't pick up my feet fast enough.
Overall, I am very pleased. My feet are secure and protected when I hit the trail, and one less item to worry about means more time to enjoy the things we get out to see and do.
Materials: Leather
Use: Rough Rocky Trails Day trips/Overnights
Break-in Period: A Few Good Day Trips
Weight: Approx. 3.5 lbs
Price Paid: $229

More boot than I will ever need.
Pros
Sturdy
Durable
Good traction
Well made
Cons
Heavy
Needs a long breaking
Scuffs
I love lightweight hiking boots with sticky soles that let me run up mountains without slipping. I also broke my ankle and need more support than I used to need. These boots seemed to fit the bill, full ankle support, leather construction that could easily be water proofed and  a durable sole that provides good traction.  
The first time I tried these boots on they were almost as stiff as alpine ski boots but after 50 miles of hiking and wearing around the house they are very comfortable.
The boots are heavy but with time I have gotten used to that and enjoy the support on technical trails. If you want to use these boots plan on spending time hiking on similar terrain to prevent blisters.  
The biggest down fall of these boots is that the finish is a smooth ox blood that scuffs when climbing over scrambles or rocky trails. These are just cosmetic blemishes but it detracts from the boot.   
Source: bought it new
Price Paid: $134

One of the best boots available today, in a world where good boots are hard to find anymore.
In the old days '80s and '90s, good hand made Italian boots where not that hard to find. Raichle, Vasque, Lowa, Zamberlan, La Sportiva, and Scarpa all had boot models made in Italy, at least some of their models. Now days the pickings are real thin and Scarpa is one of the only boot companies still making a good well made boot.
These SL M3's remind me of the the good old REI Spirit boot (which used to be made in Italy for Raichle, who in turn distributed them to REI), but not anymore. It is very similar, but a bit more heavy duty . But it is still a real good boot.
What I really want Scarpa to make is a boot identical to this one, but about 15% to 20% lighter. But not compromise quality, I want it made in Italy and one piece leather, no Gore-tex.
But yeah this boot rocks, I would say this boot is halfway between a mid- weight hiker and a heavy duty hiker. For me it is too heavy just for day hiking. But it would be ideal for multi day, rough terrain hiking with a pack. Good work boot for what I do, I am a tree trimmer/climber.
Materials: One piece leather
Use: rough trail with moderate pack, multi day.
Break-in Period: average break-in for a heavy duty boot
Price Paid: $220

good boots
i've had mine for the last year, in which i would have done around 100 days in them working and tramping.
i have had a huge amount of scuff damage on the toes and its not because i drag my feet through the bush, but because if you're not on a formed trail you can't avoid occasionally clipping a fallen branch/rock. without a high rand to protect the leather from scuffing i don't expect them to last more than 100 more days.
also the leather is parting from the sole in a few places because of too many days traversing the bush on pest trap lines. having a rand would possibly reinforce the connection between the leather/sole and prevent this.
they are very water proof if i look after them (nikwax conditioner) (i probably should use it more often).. the boot is going to fall apart in the other areas before the leather cracks dies.
they are super supportive both when going up and down hill with heavy loads.
these would be excellent if you don't intend going off trail EVER, but for bush work they aren't worth getting.
Price Paid: 330 nzd

I agree with almost every word of Mitchell C.'s review of 03/11/2008. These are wonderful boots, beautifully and strongly made, very comfortable, with great support and fit.
I have had endless difficulty fitting other boots, and these Scarpas (the wide model, length 49cm) fit* my size 14EEEE flippers better than any of the many models I have tried and discarded over a number of years. In fact, had these not worked, my next, desperate stop might have been Mr. Van Gorkum. (Google him: 16-month waiting period, $1600; 5-month rush order, $3000.)
After wearing the Scarpas for only a few days locally, I risked a 30-mile, 45-pounder on the AT: absolutely no problems whatsoever.
They are heavy, but they also protect and support as no Gore-Tex rag ever will.
As to moisture control, both inside and out: I agree with Mitchell C. The Scarpas are superior to many of the Gore-Tex boots I have tried, which typically delaminate and begin to leak within a few months. In addition, the Scarpas seem to vent interior moisture as well as or better than a Gore-Tex.
*(I typically use a Spenco cross-training or hiker insert.)
Materials: Leather
Use: Rough trail with heavy pack
Price Paid: $185

My wife and I bought a pair each of these great boots back in 1997. We still use them and have done so every year since then.
Whenever we go anywhere we bring them - because of the comfort and the support. We have never had any trouble with our feet and legs on any of our trips.
They have walked us through dirt, rocks, mud, snow, ice - wet and dry - 4 seasons - in Himalaya - India - Hawaii - USA (east/west mountains) - Canada -Svalbard - Scandinavia - Faroe Island - Europe.
They are easy to clean because of the 1-piece leather design, which also is an advantage in rough areas with sharp stones and ice. They are not cut to pieces like many other so called hightech boots.
As of now (2010) they are still looking good, used -yes, scars -yes, but still in one piece and durable. We can't recommend these boots enough!
Regards Jimmy ;-)
Materials: leather, gore-tex (full sock)
Use: rough trail w/ heavy pack, mountains, ice, anywhere
Break-in Period: 1 month
Weight: quite heavy
Price Paid: 200$

After doing my reading and listening to many hiking boot sales people, I committed myself to owning the SL M3. From top to bottom the boot shines with the finest craftsmanship. My favorite aspect of the boot is the lacing system which allows for these heavy-duty hiking boots to wrap comfortably around my feet. The lace hooks are designed not to snag on rocks or brush, a nice feature among the newer boots. I have only been able to able to use these boot in the few wilderness areas along the central Californian coast so far, but have found that the SL M3 handles wet, rainforest conditions as well as arid, rocky conditions equally well.
My only concern with the boot is how I'm going to pay for them when my credit card bill comes in. Oh well.
Materials: Sherpa leather w/cambrelle lining
Use: rough trail w/ heavy pack; all around
Break-in Period: 10-20 km
Price Paid: $219

These boots rock. I have the older model and they are so well made that I can't believe I got such a good deal on them. They are very rugged and stiff. I broke them in by wearing them around the house a little, and after a couple of days went on a 3-mile hike with no hot spots or blisters! I have a narrow heal, low volume flat foot. I was pleased that these boots felt really good for my type of foot. Not only do they feel good, they're bomb proof. Oh and last but not least, they are some good looking boots. I am sure they will get all scuffed up but they're hiking boots, who cares!

Materials: hs12 leather
Use: backpacking, hiking, rough trails light pack
Break-in Period: none really (2-3 hours around house)
Weight: 105
Price Paid: $100

Have finally worn down the old pair and after throwing away a pair of useless Asolos (these are rubbish) have slipped into another pair of Scarpas.
By the way, next time I'm in the US I'm buying 2 pairs as they are nearly 1/2 the price due to the Aussie importers making a tidy profit.
I use these boots for 2 week hikes where you are walking with a 35kg pack through creeks, lakes, tarns, swamps & bogs, snow & over rock all day. The last trip was 70km with pack & 150km of day hikes with fishing rod. These boots are fantastic.

Materials: Leather
Use: rough trail w/ heavy pack
Break-in Period: 3 weeks
Weight: doesn't matter like quality
Price Paid: A$450

Brilliant. I'm walking around the world on foot. My current pair have lasted me from Nicaragua to Edmonton in Canada (that's around 6500km). They have been faultless. Be sure to break them in before using them though. They will rip you to shreds otherwise. No doubt that they are number one for quality and craftsmanship.
www.ymt.com.au/walk4one
Happy trails folks! Sam.
Materials: Leather
Use: Extreme distance w/ abrasive surfaces
Break-in Period: 1wk
Weight: 1.75kg
Price Paid: Aus $390

I went to the Alps this summer and walked in the snow, rain, and sun. My feet kept dry and the grip was fantastic. The break-in time of these boots was less than a week, not really long for boots with very thick leather uppers. The Vibram sole seems to be very durable, even when walking over very hard terain with a 37-lb pack.
Materials: leather
Use: rough trail w/ heavy pack
Break-in Period: 1 week
Price Paid: $150

I noticed the product description in another review showed a Gore-Tex liner in the boot. This boot does not have a Gore-Tex liner. Waterproofing is through the silicone-impregnated leather that Scarpa uses in the construction of the boot.
That being said, this will be the best boot you ever own. Period.
Price Paid: $249

I am a forester and needed a boot that was durable, comfortable and came in wide sizes. These boots are very comfortable and quick to break in. But my first pair had the sole around the toes delaminate within 2 months. I was treating the leather lightly each weekend and not drying the out with heat so this should not have happened.
I brought them back to where I bought them and exchanged them. Same thing happened again, but the store would not exchange them and said I should deal with Scarpa myself. Found out that I could send them in and it would be at least 3 weeks before I could get them back and that the defect would not be covered by my warranty, so I would have to pay for the repair.
So a tube of shoegoo got me thru the season and I will not ever buy another pair of Scarpa boots.
Materials: Gore tex and leather
Use: Off trail, heavy loads used daily
Break-in Period: short
Price Paid: $215

I finally found out this year that I have wide feet, after beating the heck out of the little dogs for years. I ordered the SL M3 wide, hearing that Scarpa was a good boot.
It's awesome! Fit comfy right out of the box, beefy and strong, no blisters or complaints, until...Once the leather softened up, my left foot started sliding forward and banging my toes. TOO MUCH VOLUME for my bony little feet. Had to take 'em back.
Now, does anyone make a WIDE, LOW VOLUME boot for people with duck feet? I can only fill up the shoe with so much extra stuff before the reality is just that my feet are too wide, but too low volume to find a comfy boot for me.
Oh well, next stop, Vasque Sundowner, 9 wide, here I come...Any other suggestions?
Materials: Leather
Use: Day-hiking to backpacking
Break-in Period: 30 days
Weight: 0-45 lbs
Price Paid: $220

there are only two great boots out in the crammed niche of true hikers. the scarpa sl m3's and the new scarpa zg 20's are superior to any commericial boot made. the zg 20' will give the sl m3's a run for the money. they are lighter, cost a little less, but are rock tough. when you wear either of these boots in the most rugged terrain for 12 hours with a 30 pound pack, you will have forgotten how much they cost because you will happier with these hikers than any boot you have ever worn; 42 years of trekking and i have never had better boots. and i have spent a lot of time and money trying to find the best. i just hope scarpa never stops making them. marc adin.
Weight: sl m3's a little over 3
Price Paid: $225

This boot appeared to me to have excellent potential. After wearing it for awhile however, I noticed that my toes kept making contact with the front of the boot. This makes it impossible to use for digging snow-steps, hiking downhill, or anything really.
I was disappointed with this boot because it appeared to have everything I was looking for: stiff support, suitable for mild mountaineering and aggressive hiking with a heavy pack. However the fit of the boot just made it unusable.
Also, it tends to get really wet in wet climates, probably better for dryer climates.
Overall, I was fairly disappointed with this product. For some people, this boot is gonna stink due to the fit.
Materials: leather
Use: hiking, light mountaineering
Weight: heavy
Price Paid: $300 CAD

I bought my first Scarpa leathers in 1999. I have been wearing them regularly in mountain and fell hikes all over the world. I've attached crampons and long-distance skates to them. They are the most comfortable pair of footwear I have ever owned. I even like wearing them when going grocery shopping  — I feel like I am bouncing through the supermarket.
After 12 years, it is time for a replacement, or a repair. I bought a pair of SL M3 size 42, walked for about a mile, and found that they were just too tight for me and it was really painful. I realised that I should have bought the wide-fit, so returned them. 
However, I am still concerned about buying a new pair of 42-wides. Perhaps I should just get the old boots repaired and resoled instead, although I don't know if that would last me another 12 years.
I have given a rating of 5 stars, but this is really based on the 1999 model which did have a Gore-tex insert and lining.
Price Paid: $199

Your Review
Where to Buy
Help support this site by making your next gear purchase through one of the links above. Click a link, buy what you need, and the seller will contribute a portion of the purchase price to support Trailspace's independent gear reviews.
You May Like
Specs
Men's
Price
MSRP: $249.00
Historic Range: $19.95-$269.00
Reviewers Paid: $100.00-$250.00

Women's
Price
MSRP: $249.00
Historic Range: $99.96-$269.00