Scarpa Trionic

The Trionic has been discontinued. If you're looking for something new, check out the best backpacking boots for 2023.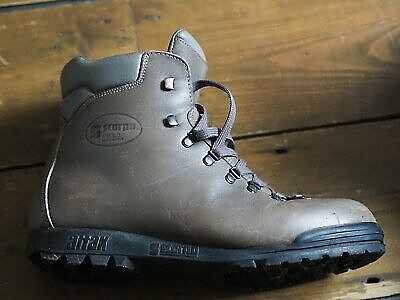 Version reviewed: Scarpa Asolo Attak Trionics
I did that thing you are told never to do...yet lived to tell the tale;-)
Pros
Good quality leather
Well made
Waterproof
Tough soles with good grip
Designed to accommodate full gaiters
Durable
Cons
Lasted for the narrower European standard.
Yes, I know...always break-in your new boots gradually before trusting them on some serious expedition. I knew this, I believed it—and yet, I bought a pair of Scarpa Asolo Attak Trionics on a Friday, then departed to walk the 268-mile Pennine Way, through the northern spine of England (and into Scotland), on the very next day.
Apart from a few blisters, the boots were flawless during that trip—and a hundred others in the succeeding 20 years. For a boot designed to cope with rock, snow, and mud, the Trionics are fairly light and were also worn on day hikes and shorter trips, with lighter loads, throughout the UK and in the Alps.  They never leaked or required repair, other than to be treated with proofing wax from time to time.
The boot was designed to work with full rand Berghaus Yeti gaiters (which were almost as expensive as the boots). This afforded extra protection, in treacherous peat bogs and on snowy traverses. The gaiters gave up the fight, long ago, but the boots still get an airing now and again. The soles are worn down now, but for many years were very durable and confidence-inspiring, on broken scree, wet grass, mud, ice, and all those other surfaces which lie in wait for the over-confident—or just dog-tired—backpacker. 
Even more valuable, in the first few years (mid-'90s), before I bought my first pair of Lekis. The shank of the Trionics is a great compromise—stiff enough to offer support, yet flexible enough for ease of walking. Useable with crampons, at a push. The extra punishment your feet can endure when the pack load exceeds 40 pounds should not be understated.
At a time when it was hard to find boots in the UK, which were offered in a range of width fittings, the Scarpas were the most comfortable, for my feet—and I tried most of the available competitors. Once I discovered the delights, of a wide-fitting Altberg...the Scarpa era was over. If my current favourites give half the service that the Scarpas have done, they too will be a bargain.
(Note: the boots below are a shinier version of my own;-))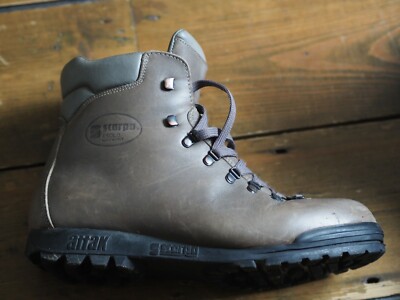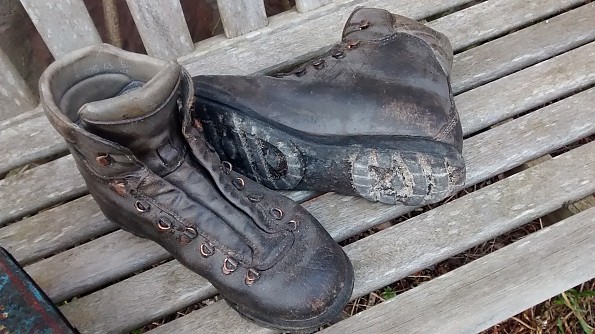 My boots. Uppers are still good. Negligible tread left, on the soles, though.
Background
They were my go-to backpacking boot, alpine boot, and day hike footwear for 16 or 17 years. Thousands of miles.
Source: bought it new
Price Paid: £85, maybe?

Pros
Comfortable and last for years
Cons
None that I can think of. They were very well constructed.
I bought a pair in 1984. I last used them seriously in 2010 on a 20-mile timed challenge hike in the North Downs, England. At various times I walked from Chamonix to Zermatt, hiked Orkney, off Scotland,  the Polish Tatras and countless local walks in the chalk hills. Excellent, comfortable, very long lasting boots, though both uppers and second pair of soles are gone now.
Nearest equivalent today would probably be the Scarpa Delta, though it's not recommended for crampon use. It's otherwise much closer than the current SLs. I'm now using Scarpa Rangers, largely because I was given them as a gift, but also because I've greatly scaled down my hiking ambitions. Back in 1984, the SLs cost me £40.
Background
Excellent.
Source: bought it new
Price Paid: £ 40

Outstanding boots!!! I have had mine since 2001!!
Pros
Comfortable
Strong
Reliable
Cons
Having to use beeswax to keep them waterproof. (But that's something that's common with all-leather boots anyway.)
I've had mine since 2001 — and they performed perfectly on a 28-day mountaineering/whitewater expedition (21 days in the mountains) I took with Outward Bound in Idaho.
No break-in, they were comfortable from the first day. And I didn't get any blisters, something my teammates had to deal with daily. And today, I used them on my adventure motorcycle trips. These boots are awesome!! 
Source: bought it new

I've had my Scarpa Trionic "Attak" boot for over 22 years. It's my first REAL boot and wouldn't dare replace them. They're aged to perfection and I expect them to never leak (once a year I "snowproof" with Beeswax). I've abused them hiking, orienteerring, backpacking, and some construction sites. The tread isn't what it used to be, but unless I can get them replaced them by Scarpa, I'll just have to live with them the way they are. They'll probably outlast me.

Materials: Leather
Break-in Period: None- perfect from day one
Weight: I'm 180- 215lbs, my boats 1.9 (sweaty) lbs

Fantastic boot! I've had mine for around 20 years and they really are almost as good as new. I wear them every day to walk the dog over some very rough paths here in Southern Spain, and apart from some sole wear, they are still in superb condition.
I just treat them with Nikwax every few weeks (it's very dry here) and I can wade through shallow streams and my feet stay bone dry. I can't recommend them highly enough.
Materials: Leather
Use: mainly short hikes on rough trails
Break-in Period: none, perfect from new.

Great boot. We both put on new pairs before hiking up and down Mt. Moosilauke. Never got a blister! Then again, we had feet that had already hiked some 1,500 miles. Anyone know where I can get another pair? (for the day when these boot eventually(?) wear out).
Tennessee Jed, GA->ME 1989
Materials: Leather
Use: A.T. Thru-hike
Break-in Period: None
Weight: ?
Price Paid: around $100 in 1989

I've had my Trionic boots since around 1987 or 1988. I still wear them today and I love every minuet of it. These boots are at home on any rocky, steep trail as well as tame Wal-Mart floors. I just need to start thinking about getting them re-soled.
Materials: Full Grain Leather
Use: Backpacking
Break-in Period: Slim to none

Cannot praise these boots too highly. I've had them since 1987 and have gone many, many miles in them without a single blister, etc. And they look like new(ish).
Materials: leather
Use: dayhikes & backpacking
Price Paid: Can't remember

Your Review
You May Like
Specs
| | |
| --- | --- |
| Price | Reviewers Paid: $100.00 |
Recently on Trailspace