Scarpa ZG 10 GTX

The ZG 10 GTX has been discontinued. If you're looking for something new, check out the best backpacking boots for 2023.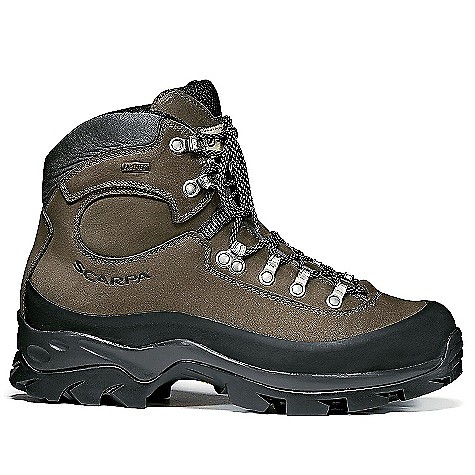 I was pretty pleased with these boots until the Vibram sole started to part company with the boot after only 3 yrs and 9 months reasonable use (fell walking once a month). Well I say 3 yrs 9 months but I had issues with damp socks about a year before then but just assumed it was that they needed another waterproofing, so it may have been that the soles had started to come loose but not so badly that is showed.
I didn't think this was very good for boots costing £140 so I contacted the supplier (not the shop I bought them from) expecting a 'hard luck after so long' response but I was very pleased that they offered to replace them with brand new ones if I sent the old ones back. I was quite happy to stand the £9 recorded delivery. So I think Scarpa gave me excellent customer support. I will start using the new ones seriously within 2 weeks.
So why 4 stars? Well the sole should have stayed put for a lot longer (I will have to see how the replacements do in 4 years or more) and my size 12's weigh in at a tad under 1kg each so a bit heavy. I've had slightly sore/achy feet sometimes after 12-15 miles but maybe this is because of the damp getting in or maybe I expect too much of any boot after this sort of walking, but it's always nice to get them off and into trainers at the end whereas some boot wearers say they feel as fresh as when they started.
I could also see that anyone with wide feet could find the toe end a bit narrow as they just fit me snugly there. I have to say also that I don't think the soles are that grippy as the rubber is quite hard but conversely the tread will not wear out quickly (It didn't on mine but as I say - not a huge amount of walking on rocks/stone).
They are very easy to get on and off, give good ankle support and for the first few years were 100% waterproof in all conditions - you could splash through anything as the tongue is sewn in. Water would just 'roll off' the nubuck finish
I don't know if there's anything that would suit me better but when I tried these on in the shop they were the most comfortable (and also I found the most expensive!).
Materials: nubuck
Use: Fell walking - 12 miles every 4-6 weeks
Break-in Period: Didn't need any
Weight: 1kg each
Price Paid: £140

Sadly -> taking my Scarpa ZG10 GTX boots back to manufacturer after a series of emails.
The issue? Bought them for this year's Southern 50, last July, and started practicing and getting fitter. Result, fine at first, but now, just 10km leaves me with torn, bleeding and blistered heels.
The reason? some 'clever designer' put the seam for the Goretex layer vertically down the heel line, under a thin Cambrelle lining. Once the cambrelle has worn, you effectively have a knife edge running up and down your heel with each step.
I have to say that Scarpa's after sales bloke has been really fair, and says they have few returns,
but I feel that this design is so fundamentally flawed that they must have real issues with it, and
any other boot with a vertical pressure seam on the heel line.
Anyone else have experiences to share?
(for balance, light, comfy, fast over ground, waterproof, cool and tougher than they look)
Materials: leather, gore-tex
Use: heavy, 30km+ hikes, most weekends
Break-in Period: -failed to break in-
Price Paid: £169

These are my favorite boots of all time. They have been extremely durable and comfortable. I have relatively wide feet and do a lot of varied terrain I have even done some pseudo rock climbing in the gunks with them.

I got them on the discount rack for around 150US, I can not believe how lucky I was to find such a good boot for that price. I can't imagine ever buying another brand of boot.
Use: day hikes, mount fuji, mt hood, rough trail, heavy pack
Break-in Period: 0 days
Weight: 190 lbs
Price Paid: $150 US

Too narrow even though I've narrow feet, leather cracked after 5yrs and leaked. Over rated for me. To much of this nubuck garbage. Let's get back to full grain leather.
Price Paid: £130

Went on a three day upstate New York mountain hike in these boots to break them in mid April. The conditions were toughest possible to test the boots, it was a thunderstorm and water and mud were everywhere, as we went higher it was 3-4 feet deep snow on the northern sides of the mountains. Even stepped up to the knee into a river while crossing it. At the end of the third day my feet were as dry as when I started the trip what could not be said about the feet of my 2 companions whose feet were wet and cold through and through. The only drawback of these boots is that they are not nimble, but that's the sacrifice for comfort, warmth and dryness.
Materials: nubuk on the outside gore-tex liner inside.
Use: 30 pound pack multiple day hikes.
Price Paid: about 200

These are the most comfortable boots I have ever owned. They are quite heavy hence 4 stars not 5, but for comfort, waterproofing and support they are brilliant. These are not for the hardcore hiker but perhaps more for a weekend walker. They take quite a bit of breaking in but if you buy them, be prepared for a bliss. Compared to my old KSB's they are so much better.
Materials: Gore-tex
Use: general purpose but NOT mountaineering
Break-in Period: 3-4 day hikes
Weight: heavy
Price Paid: £110

Your Review
You May Like
Specs
Men's
Price
Historic Range: $69.96-$109.15
Reviewers Paid: $150.00-$200.00

Women's
Price
Historic Range: $69.96-$132.26

Recently on Trailspace