Sea to Summit AlphaLight Long Spoon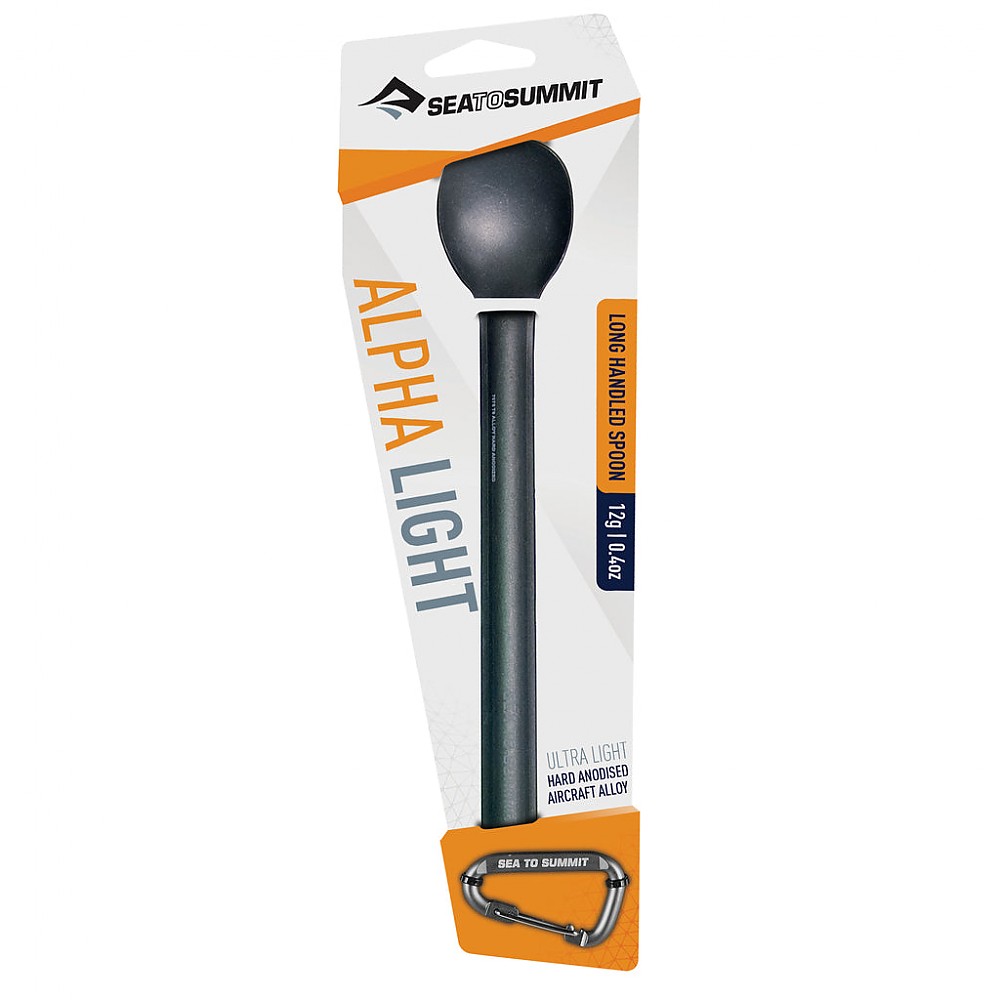 Sea to Summit's AlphaLight Long Spoon is an ultralight, anodized aluminum spoon that, due to its superiority, has replaced the Titanium Spork I've carried for nearly 15 years.
Pros
Ultralight (0.4 oz)
Reaches the bottom of freeze-dried food bags
Clips to your pack with a 0.05 mini-biner
Cons
Loses the tines of a spork
Wish the bowl was a bit larger
Most of us have done it...Finished off the last of our Mountain House meal by digging into the bottom of the bag and allowing our hand to be covered in tomato sauce or other goo. It seems to go with the territory.
Let's start with a short, slightly narcissistic video.
For 15 years, my Snow Peak Titanium Spork has been my companion on every camping adventure, but earlier this year, I stumbled upon the Sea to Summit AlphaLight Long Spoon. There was, of course, a moment of indecision. I mean, I've had my spork almost as long as I've had my wife, and I'm a pretty committed person.
Oh, but that AlphaLight Long Spoon tempted me...with its extra long handle, promise of being lighter, and $8 price tag (Honestly, $8!!!). I decided to begin my affair with this spoon.
Let's do some side-by-side comparisons.
First, the AlphaLight Long Spoon is a full 2" longer than the Snowpeak Titanium Spork.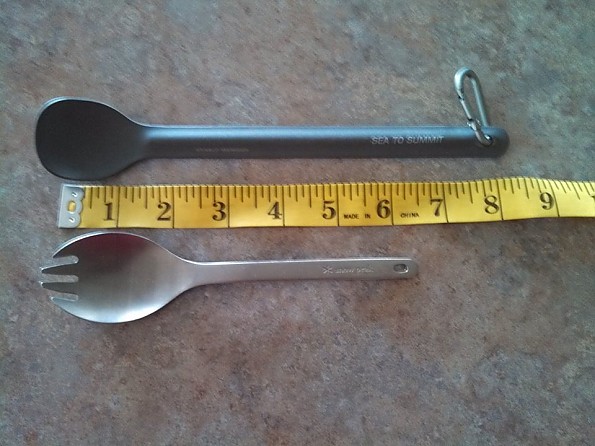 Snowpeak Titanium Spork— 6.5 inches
AlphaLight Long Spoon— 8.5 inches
Sure, in everyday usage, the AlphaLight Long Spoon comes across as freakishly long. HOWEVER, it was designed for those eating freeze-dried meals from the pouch.
Observe the difference: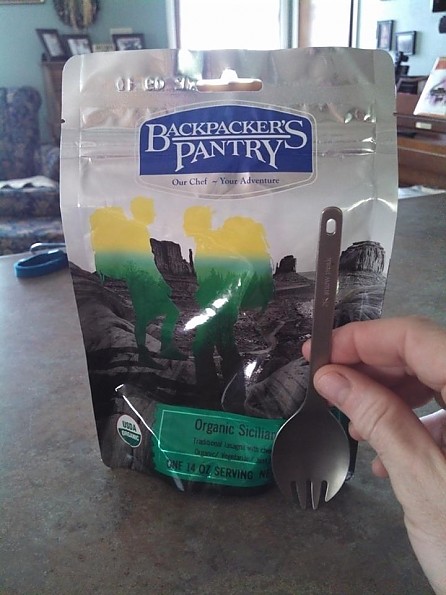 Puny spork that can't reach the bottom of the bag.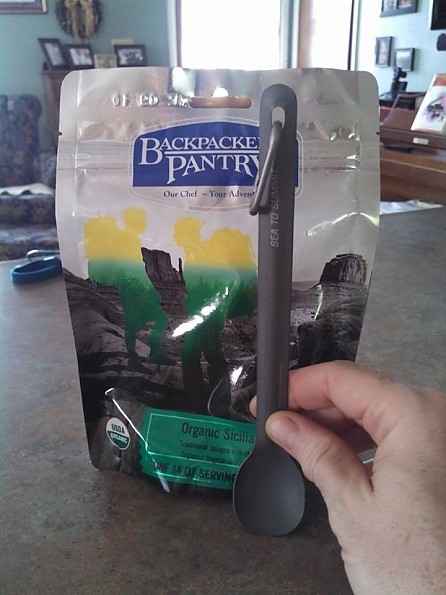 Svelte spoon that takes keeps my hand out of the bag!
Second, the AlphaLight Long Spoon is 1/10th of an ounce lighter than my spork. I placed both on the postal scale at work to confirm the advertised numbers:
Snow Peak Titanium Spork: 0.5oz (actually, Snow Peak lists it at 0.6oz, but I weighed it)
AlphaLight Long Spoon: 0.4oz
Okay, I know I can come across as a gram weenie in my reviews, and 1/10th of an ounce isn't much, BUT keep in mind we've added a full 2" to the spoon AND it's still lighter, PLUS that weight includes the handy-dandy mini-biner, which leads me to...
Third, the mini-biner proves to be very handy in keeping the spoon where you can find it. Yes, some silly utensils fold or slide in order to fit into your cook kit (This would be a good moment to mock this item https://www.trailspace.com/gear/gsi/telescoping-foon/). Since the AlphaLight Long Spoon isn't going to fit into my mess kit, the biner is great for securing my spoon in a place where I can easily find it later.
The Snowpeak Titanium Spork has a small slit in its handle, I suppose, to tie a string through.
[Side note: The very fact that I would carry and use the mini-biner proves I'm not a Gram Weenie. Okay, yeah, I tried dehydrating my toothpaste once, but....]
Fourth, the spork wins in the category of being able to stab food. Let's face it, a spoon (or the [giggle] GSI Telescoping Foon) lacks the utility of a spork. And the spork has a larger bowl for holding solid food....BUT both the spork and spoon only hold 1 teaspoon of liquid in its bowl. Although the spork looks significantly bigger, it's an illusion. The very tines that I like about the spork mean liquids are limited to 1tsp. Soup eating is equal in this equation.
Summary
I wish the bowl on the AlphaLight Long Spoon was a full Tablespoon. Otherwise, I find it superior in every way to my 15-year-old spork.
Of course, the question is will the AlphaLight Long Spoon last as long as my titanium spork?
Source: bought it new
Price Paid: $8

One of my favorite pieces of kit.
Pros
Lightweight
Inexpensive
Long, long handle
Everything positive thing that other reviewers have noted still holds true. I've had mine for something like six(?) years now, and have converted all of my hiking buddies from any other utensil. The ability to dig into the bottom of the ubiquitous freeze-dried bag without coating one's fingers, hand, and sleeve is just lovely.
My only quibble has nothing really to do with the spoon, but rather with its response to my own clumsiness and inattention. I mean, it's an ultralight bit of aluminum, not forged steel. With a little creativity, you can fit it into even the smallest BearVault, which after you've eaten a meal you want to do, rather than let the bears and mice and flies lick your spoon.
But. If you're tired from a long day, and all the blood has rushed from your tired brain to your full belly, and you're using that smallest bear vault. Well, it is only a slender bit of aluminum, and it will bend. My spoon developed a rather jaunty angle right at the "bowl," which is now actually even better for digging at that last bite in freeze-dried bag. But once bent, twice weakened, and I have needed to be much more cautious so as not to further bend and inevitably break my perfect spoon.
A minor redesign, a slight thickening of the "elbow" of the spoon would likely obviate this danger—and may have already been accomplished in the years since my purchase. Or, you know. I could continue to pay better attention to what I'm about.
Unlike many of the other reviewers, I have long since removed the attached carabiner for other applications. As noted, I stuff my spoon into my bear vault, and the extra length and odd angles made the clip more of a liability than a convenience—for me.
Source: bought it new
Price Paid: $9

A lightweight long spoon made for eating meals out of dehydrated pouches. High quality aluminum alloy. The spoon is hard anodized, to prevent chemicals leeching into food.
Pros
Nearly unbendable
Lightweight
A great spoon for multi-day backpacking trips when food weight matters.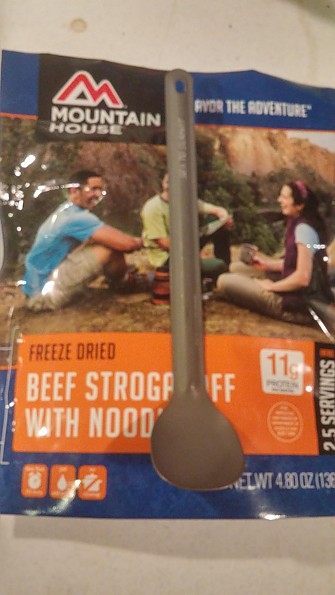 The long spoon allows me to keep my backpacking kitchen light: spoon, Snow Peak mug, and fuel canister stove.
The spoon is a couple inches longer than regular sized spoons, which means you will not get food on your fingers when digging the last spoonfuls out of a dehydrated meal pouch.
I regularly do 4-day, 3-night solo loop hikes. I carry Mountain House dehydrated meals: 3 breakfasts, and 3 entrees. The rest of my food is made up of a mix of cereal bars, jerky, Slim Jims, coffee singles, Nuun tablets, and powdered Gatorade. Because all my prepared meals are re-hydrated, the long spoon is the only piece of cutlery I carry.
If you regularly eat out of pouches, this spoon is an essential piece of gear as far as I am concerned.
Source: bought it new
Price Paid: $9

A nice, super light, long handled spoon, for getting into those nooks and crannies.
Pros
Lightweight
Good size
A bargain
If you are like me, and use "cook in the bag" meals for backpacking, you have experienced the frustration of digging into a cook bag with a standard size spoon, and making a complete mess of it. The food can get all over your hands, making one bear bait by bedtime.
Enter the Sea-to-Summit long handled spoon. Not much to say about it except that at 8.5 inches, it is plenty long to get into the depths of any size cook-in bag, so you don't miss any tasty goodness. And at .4 ounces, it will hardly weigh you down. 
The spoon is made from sturdy aircraft-grade 7075-T6 aluminum alloy, and after several seasons of use, shows NO signs of wear. I expect this thing to last for decades. There is a tiny carabiner attached to the handle, though I'm not sure it's big enough to be useful.
Interestingly, Sea-to-Summit makes a titanium version of this spoon, which weighs .2 oz more than the aluminum version, which costs significantly more!
Source: bought it new
Price Paid: $8

Will never need another spoon in the backcountry! I love this spoon! It works great with freeze dried meals due to its length.
Pros
Lightweight
Durable
Long spoon for dried meals
I bought this spoon last year after a friend recommended it for use with freeze dried hiker dinners. I love it! It's the only piece of silverware I bring backpacking. It comes with its own mini carabiner to hook onto a bag or camp kitchen line or hook. 
I just bought one for my son too because he took mine on a trip and loved it as well. 
Source: bought it new
Price Paid: $8.95

Your Review
Where to Buy
Help support this site by making your next gear purchase through one of the links above. Click a link, buy what you need, and the seller will contribute a portion of the purchase price to support Trailspace's independent gear reviews.
You May Like
Specs
Price
Current Retail: $10.15-$11.95
Historic Range: $4.99-$11.95
Reviewers Paid: $8.00-$9.00

Recently on Trailspace