Sea to Summit Ascent 25

#5 in unisex 3-Season Down Sleeping Bags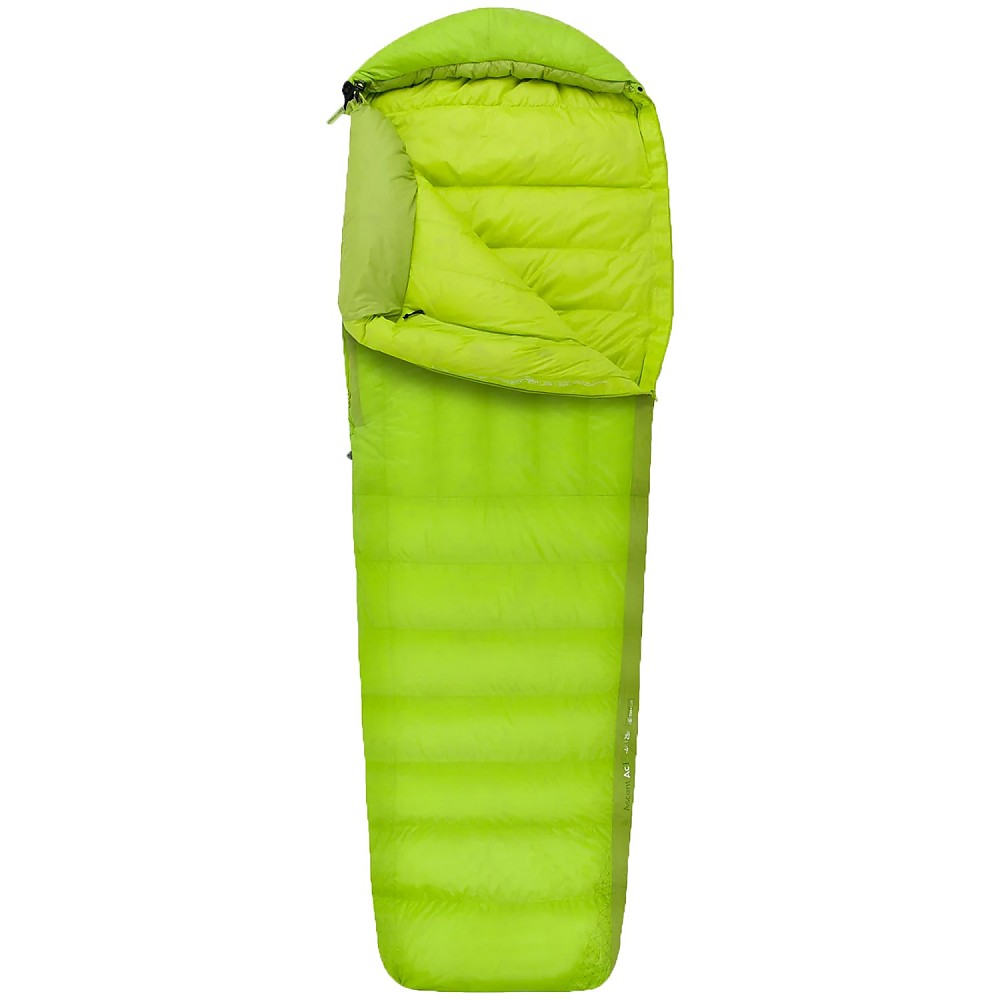 As a long-time camper and backpacker, I have used quite a few sleeping bags over the years, some of which I found less than ideal in comfort and performance. I am now primarily a canoe camper, who also sometimes camps in campgrounds in a pop-up trailer, and I think I have finally found the ideal sleeping bag! This Ascent 25 Sea to Summit bag is the most comfortable bag I have ever used; an Ultra-Dry Down bag, it packs compactly, is lightweight, has various ventilation options, and I have found it suitable for a wide range of temperatures from 25 degrees (f)(-4C) to temperatures in the 60's and 70's (15's and 20's C).

I can highly recommend the Ascent as a three-season bag for campers, backpackers, or canoe campers, based on my experiences using it for five camping trips so far. It will continue to get more use as the summer progresses.
Pros
Comfortable in varying temperatures
Packs compactly
Water-repellent down reduces negative impact of moisture
Rectangular shape with large foot-box makes it a roomy bag
Cons
You have to like bright green! I do, as it matches my tent and camper.
I think the only true "Con" is that, as with any sleeping bag, you must be careful with zippers to not catch the fine, thin fabric. With three zippers, the likelihood of catching fabric is greater.
I have quite a collection of Sea to Summit gear in my canoeing kit, mostly dry bags and camp kitchen gear, but this is their first sleeping bag I have tried. It is also the first down sleeping bag that I have owned. 
So far, I am very impressed with the quality and design of the Ascent 25 bag. Though Sea to Summit identifies its primary use as a 2.5-season backpacking bag, I have used it for remote canoe camping and front-country camping on five trips since early May of this year. I rely on a good sleeping bag to keep me comfortable in my tent when canoe camping and in my pop-up tent trailer (Sylvan Sport GO) between May and November. I anticipate that this will be a suitable bag for winter hut camping as well.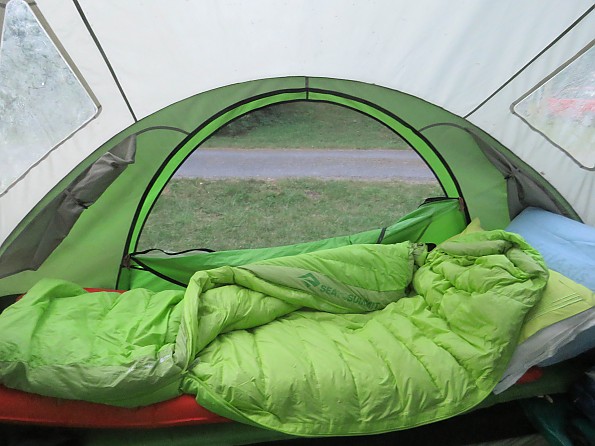 The Ascent 25 is suited for uses where small packed size and light weight are important, but the added feature of moisture-resistant down filling makes it also well suited for canoe camping. I had previously avoided down bags for canoe camping because, despite our best plans, sometimes our gear does get damp. All my sleeping gear gets packed in a waterproof portage bag, but that does not protect the bag while in camp. The Ascent's Ultra-Dry Down addresses the concern over the bag getting wet, and I think this bag will be my go-to sleeping bag for year-round use.
I am testing the Sea to Summit Ascent rated to 25 degree f. (-4C). The bag is also available rated to 15 degrees f (-9 C) and 0 degrees (-17C), but since my camping rarely takes place in temps lower than 25, this rating is the most suitable for my activities. I feel that the reported temperature range, with some personal variability built in, is accurate. Sea to Summit also makes a comparable women's-specific model (in terms of sizing and shape) called the Altitude 25 and Altitude 15.
Technical Specs and Features
I think it is accurate to call the Sea to Summit Ascent a "high performance bag." Its design and technical elements all contribute to my very positive impressions.
This modified/roomy tapered rectangular bag is bright green in color; the lower temperature rated bags are each a different shade of green. The regular size weighs 1 lb. 14 oz. The shell and lining are made of 200 nylon.
Fill: The Ascent is filled with ULTRA-DOWN 750+ loft premium grey duck down (330 g. fill weight). ULTRA DOWN is a "permanent Nano-level water repellent polymer treatment applied to our high loft, high quality down. The Nano-thin treatment vastly improves our down's reaction to water without effecting its weight or loft performance. ULTRA-DRY Down™ retains over 60% more loft and absorbs 30% less moisture when compared with untreated down"
Down Origin: The bag is made in China, with down that is identified as 90% duck down, obtained from ethical and humane down sources, per its certification by the RDS (Responsible Down Standard) organization, based in Australia. However, the specific origin of the down is not identified.
Length: The regular length bag, which I'm using, has a maximum user height of 6 feet in length (183cm) and has a 61-inch (155 cm) circumference at its widest spot (shoulder area). The long version is for users up to 6'6" (198 cm), with a shoulder area circumference of 64 inches (164.5 cm). This makes for a roomy and comfortable bag, even for side sleepers.
I personally prefer the unisex Ascent bag over the women's Altitude because the women's regular size is too short for me, and the women's long size is too long for me; also, the unisex bag is roomier around the torso and shoulder area.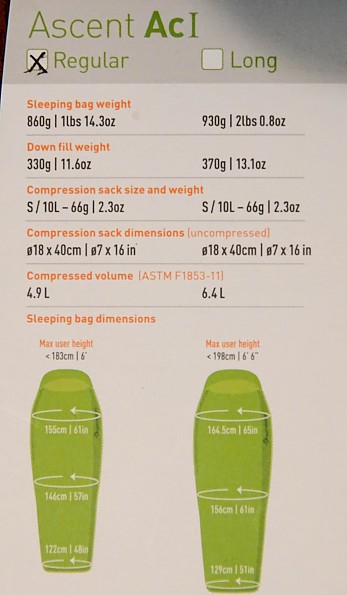 Hood: There is a hood area adjustable by a cord. The hood area is quite roomy, and by adjusting it snugly there is potential for maximum warmth retention when needed.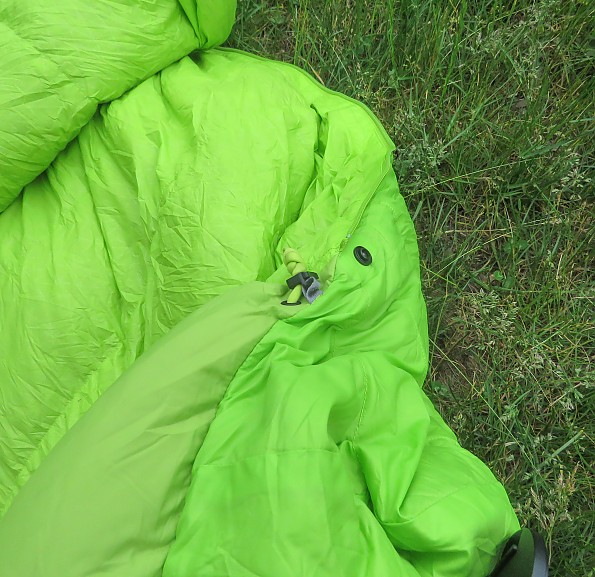 Baffles: The torso area baffles are vertically oriented, while the lower baffles are horizontal. The vertical baffles in the torso area are said to prevent shifting of the down fill to the side, and thus maintain even thermal protection of the user.  The horizontal baffles at the lower end are designed to keep the down filling around the foot area, thus keeping the user's feet warm.
Pocket: The bag has an internal pocket at the head end. Keep your cell phone or wallet safe and secure and readily accessible!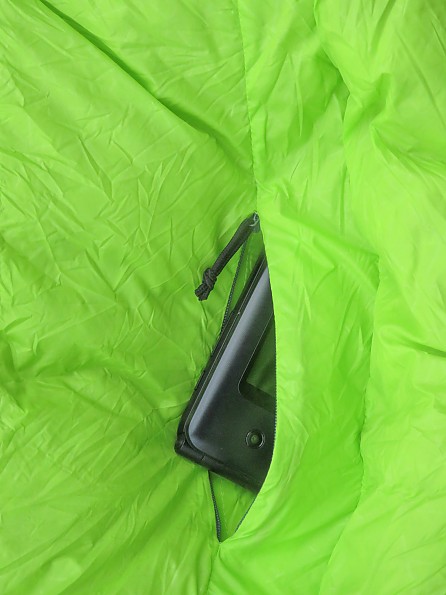 Zippers: The bag has three "free-flow" zippers, that can be zipped from either inside or outside of the bag by reversible zipper pulls. There is a main left-side zipper, a half-zip on the opposite side of the bag, and a zipper along the base of the foot area. This allows multiple configurations of the bag to adjust for sleeping style or temperature.
The bag can be used as a quilt, if one unzips all three zippers, and separates the long left-side zipper from the foot box zipper. This bag is also compatible with the women's right side zipper bag (the Altitude), permitting the two bags to join as a double bag.
Quilt-Lock: The "Quilt-Lock" system allows the bag to be attached to a Sea to Summit QuickLock quilt. According to Sea to Summit, by attaching the quilt to the sleeping bag, you can transform your 2.5/3 season bag into a 4-season bag, due to the added warmth the quilt provides.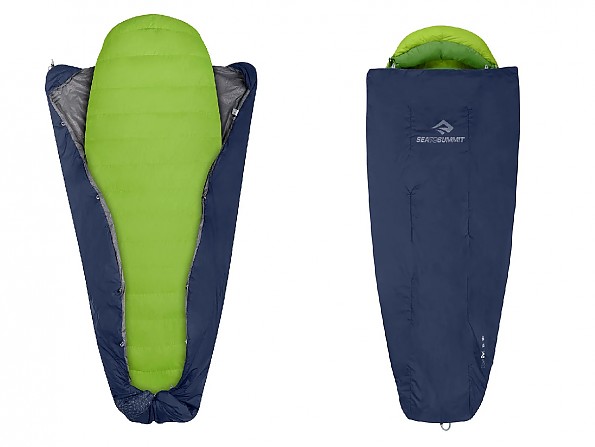 Storage: The Ascent comes with a small Ultra-Sil compression stuff sack, and a larger loose storage bag. The bag packs quite small in the compression bag, to a length of approximately 10 inches (25 cm) and diameter of 7 inches (18 cm). Even after being packed so compactly, the bag puffs out to a nice soft loft.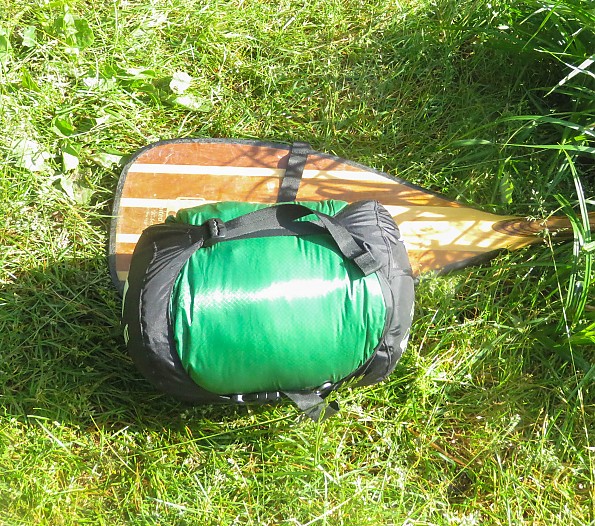 Temperature Range:
Sea to Summit identifies this bag as a 2.5-season bag; of course, the suitability of any bag for different seasons depends on the geographic location in which it is used and an individual's tolerance for different temperatures.
 Sea to Summit tests its bags according to EN13537 standards.
Comfort: 35°F/2°C

Lower Limit: 25°F/-4°C

Extreme: -6°F/-21°C
Note that Comfort rating (T-Comfort) is said to be the lowest temperature at which the bag will keep the average "cold sleeper" comfortable. The T-Limit (Lower Limit) rating is reported as the lowest temperature at which the bag will keep the average "warm sleeper" comfortable. The Extreme range is not suggested without additional thermal layering.
Below is the temperature range as provided by the manufacturer, showing the wide range of comfortable temperatures for this bag.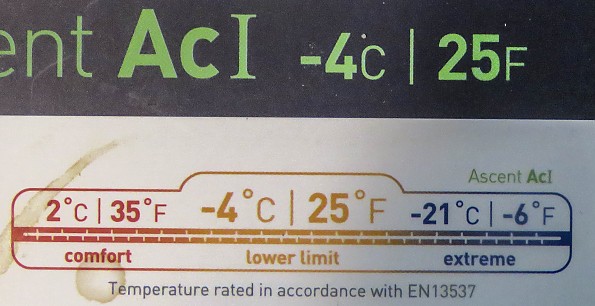 The zipper system allows for use in colder temperatures in the style of a modified mummy bag, yet it is also possible to open up the bag for use in warmer temperatures.
There is obvious variability in this information, which is based on the user wearing a base layer and socks, and sleeping on an insulated surface with a minimum R-value of 5.38. I had to look up the R rating of my 3-season mat, and it is only 4.5 R-value. Therefore, temperature ratings and applicability are subject to interpretation and individual preferences.
My Uses and Impressions:
When the Ascent 25 arrived for testing, I was impressed that it has a loose larger bag for storage, as well as a compact compression sack for use in the field. The stuff sack and storage bag do not coordinate color-wise with the bag, as I assume the same stuff sack and storage bags are used for different styles and colors from Sea to Summit.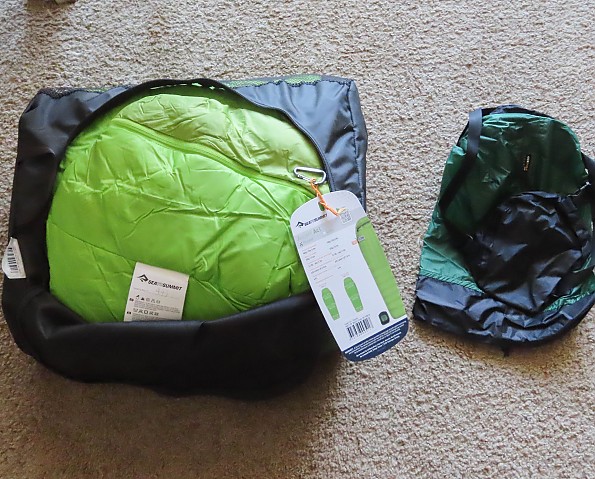 In addition to the bag, I received an envelope with a full page of instructions on care and cleaning, a brochure on Sea to Summit Sleeping System options, an introduction to the Sea to Summit policy on their use of down, and a certificate of the "Down Batch Test Report" from the International Down Feather Laboratory. Not only is this my first down sleeping bag, it is my first such certified and approved bag.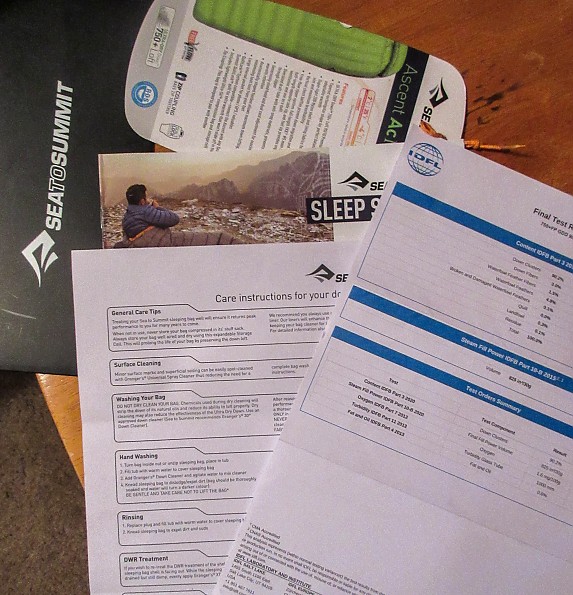 The informational card attached to the bag provides much information on its features and technical specifications. However, to determine the best use of the zipper system, I found it necessary to go to the Sea to Summit website. A short video is available describing the use of the bag, as well as the ventilation and thermal options:

I have used this sleeping bag with an inflatable Big Agnes pad; the bag has worked very well over this mat, with minimal slippage and adequate thermal protection beneath the bag. I've used it camping in my two-person tent, in a roomier three-person tent, and on a bunk in our GO camper.
The Ascent 25 has kept me comfortable in temperatures ranging from evening temperatures of 28 f.(-2 C) up to 80 f.(27 C). Having a dog in the tent does increase the internal temperature of the tent, but not enough to affect the use of the bag. The versatility and multiple zipper and ventilation options really make this bag suitable for all my spring, summer, and fall camping outings.
Having kept dry in my tent and camper, I have not had a chance to assess the bag's performance in wet or damp situations; in the canoe, it is in a double dry bag, so even if I capsize, the sleeping bag is unlikely to get wet. However, it is reassuring to know that this Ultra-Dry down will reportedly not become useless if it gets wet from condensation or other weather-related dampness.
The Ascent 25 bag compresses very nicely into its compression stuff sack and takes up little room or weight in the portage bags I use for canoe camping. Once the bag comes out of its sack, it puffs right up to a nice soft loft.
Being a primarily side sleeper with a touch of claustrophobia, mummy bags have always been problematic for me. The confinement and limited sleeping posture meant I often had to keep a mummy bag unzipped, which may be fine on a summer night, but not so great on a frosty fall outing. This bag allows me to configure it in a way most suited for the temperature, yet I can also easily adjust it as the night progresses. The roomy foot box contributes to its comfort.
The configurations that I have used, made possible due to the multiple zipper options are:
1. Nearly fully zipped on both sides and foot box (though I have not had to snug up the hood yet). Turning and arm and leg motion are a bit restricted in this mode, but I use it only when it is quite cold, and the bag is still roomier than any mummy bag I have used.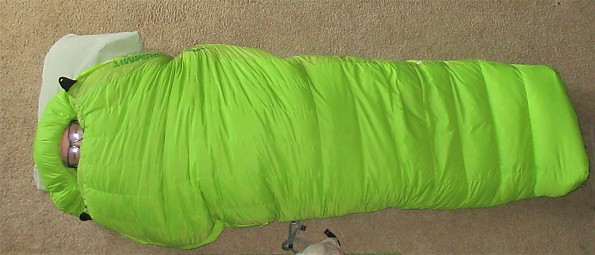 2. Top half zipped down and folded over. Both side zippers undone, allowing a top "flap" that can be pulled up if the temperature drops.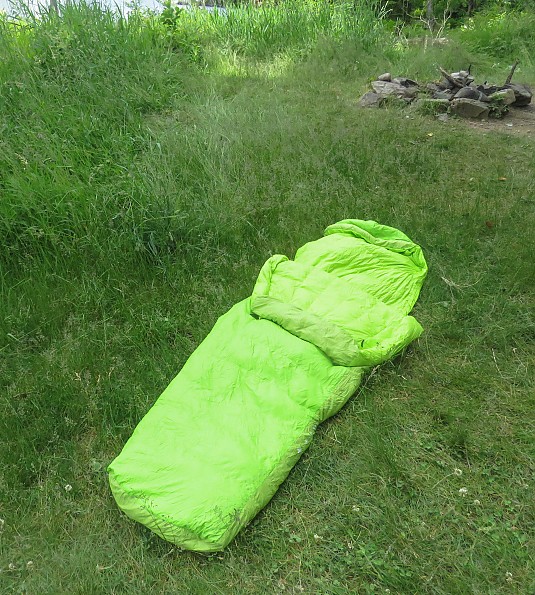 3. Unzip all zippers to create a flat quilt (nearly rectangular; when the foot box area is unzipped, the base is not completely flat).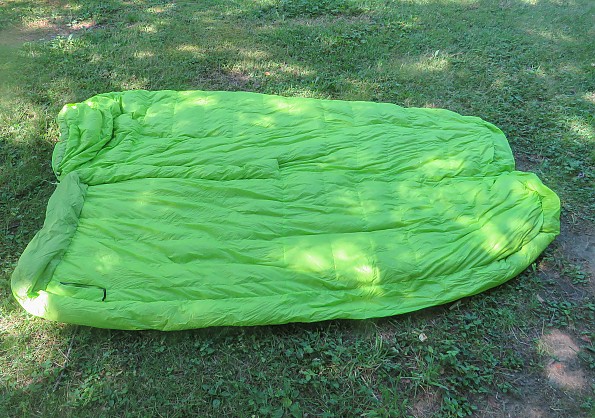 4. In either of the first two modes, I may unzip the foot box zipper to create more foot ventilation if desired. The foot box is very roomy, so the unzipping is for ventilation, not increased foot space.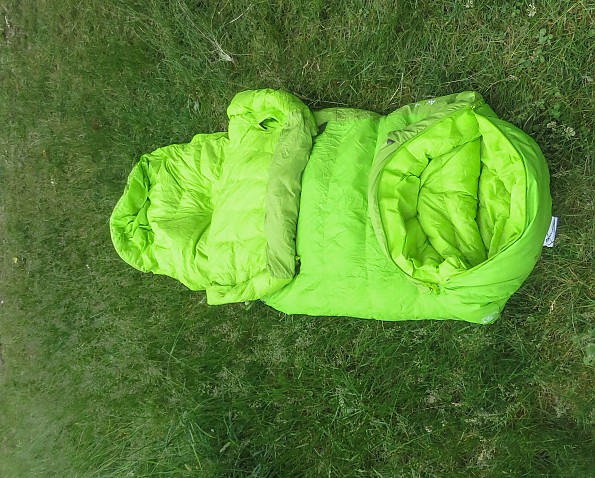 I do not usually use the internal pocket, but it is available should I need it.
The zippers are easy to use, and I like having the option to zip from inside the bag or outside the bag, due to the flip-over/reversible zipper pulls. The zippers are strong (YKK #5) and flow easily. I do have to be careful that the lightweight nylon fabric does not get caught in the zipper. Slow and careful zipping is the key.
The bag seems extremely well made, with no uneven seams, no hanging threads, and evenly placed fill in baffles, hood, and footbox. My sleeping bags are subject to having dogs crawl all over them (but NOT into them!), so we will be giving its external shell a good test this season. I will continue using the bag on many more camping trips this year, right up until November; variable temperatures and conditions will be encountered, allowing me to better assess the multiple options for using the bag.
Warranty:
Sea to Summit offers a lifetime guarantee on its sleeping bags to be free of manufacturing and material defects. The warranty does not cover normal wear and tear. If your bag develops a problem or fault due to a manufacturing or materials defect, Sea to Summit will repair or replace at their discretion.
From personal experience, I have found Sea to Summit's customer service goes above and beyond what is required. They have replaced a cracked pot lid for me, at no charge, when I asked about ordering a replacement part. They have also provided me with extra dry bags when I had an issue with a lost screw on one dry bag buckle. I feel extremely confident that should any issue arise with this bag, Sea to Summit will make it right.
Care and Maintenance:
Since this is my first down bag, it is nice to have a comprehensive sheet of instructions for washing, spot cleaning, and drying. Following the step-by-step instructions should assist in my preserving this bag for many years.
I also learned something about down products. I had not known the proper way to deal with "down leakage", which I have encountered on outerwear. The thorough information sheet enclosed with the packaging clearly explains how to draw the escaping down tuft back into the product, and then massage to hole it used to leak out ...oh, to think of all those down tufts I have yanked out as they peeked through the sleeves of my parkas!
Summation and Recommendation:
I feel confident making a strong recommendation for the Sea to Summit Ascent bag to campers, canoe campers, or backpackers. It is the most comfortable sleeping bag I have ever used, and that has been reinforced in different camping situations this season. Its versatility makes it a great option for those of us who camp in a wide range of temperatures and conditions over three seasons. I also know that I can depend on Sea to Summit to deliver a great product, as well as excellent customer service over the long haul. I look forward to continuing to assess the bag as we progress towards the cooler fall camping season.
Experience
I have used sleeping bags since I was quite young, starting with a wool and duck cloth WWII surplus bag in scout camp, to various synthetic fills, different shapes, styles, and sizes as I winter camped, summer camped, backpacked, and canoe camped up to the current day. I feel confident in stating that this Sea to Summit bag is the finest I have ever used. It has performed well on each trip so far this season, and I anticipate using it regularly until the chilly nights of late October.
Source: received for testing via the Trailspace Review Corps (Sample for testing and review provided by Sea to Summit)

Your Review
Where to Buy
Help support this site by making your next gear purchase through one of the links above. Click a link, buy what you need, and the seller will contribute a portion of the purchase price to support Trailspace's independent gear reviews.
You May Like
Specs
regular
long
Price
MSRP: $369.00
Current Retail: $369.00-$419.00
Historic Range: $328.95-$449.00

Best Use
Backpacking

Performance
2.5 Season

Weight
1 lb 14.3 oz / 860 g
2 lbs 0.8 oz
Fill Weight
11.6 oz
13.1 oz
Compressed Volume
4.9 L
6.4 L
Fits up to
6 ft
6 ft 6 in
Temp (EN Comfort/Lower Limit)
25°F

Women's Temp (EN Comfort)
35°F

Insulation
Ultra-Dry Down 750+ Loft

Shape
Relaxed Mummy

Shell Fabric
Lightweight 20D Nylon Shell

Zip Options
Free-Flow zipper system

Recently on Trailspace