Sea to Summit iPood Alloy Pocket Trowel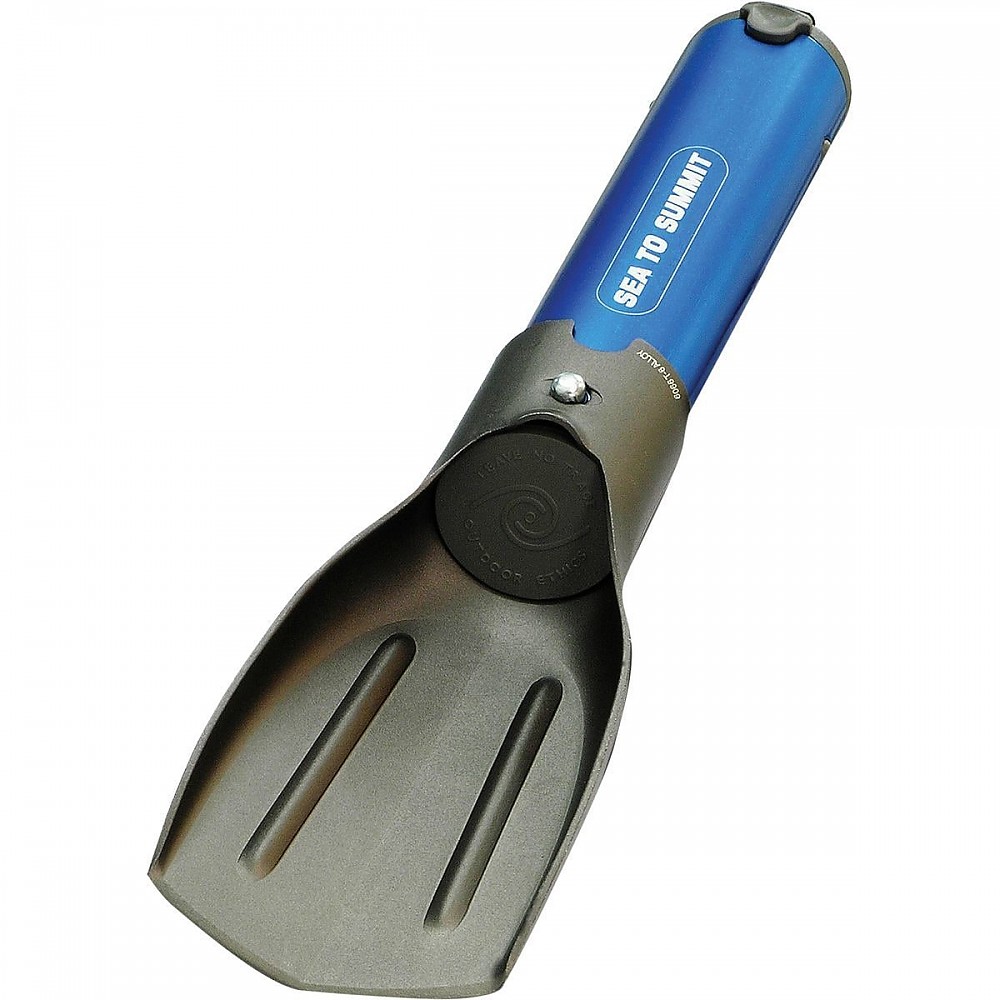 I got this little trowel to replace a military-type entrenching tool. A lot of what I use the e-tool for is digging cat holes. Sometimes I use it for digging drain ditches when I anticipate water run-off from hills into my campsite, or for digging a pit to bury compostable trash, or fire pits if I'm building a fire, and sometimes I use it for whacking branches into kindling, whacking brush out of the way, or as a stool to sit on while at the cat hole. But I'd say at least 85%-90% of the time, it is just digging cat holes.
I bought the iPood trowel online, with the intention of lightening my load from 1.5 lbs to 0.2 lbs. While it is decently made, I think for $20 it is waaay overpriced. (minus 1 star). If this trowel were $10-$15 I would give a higher rating. If it were $7 I would say it was well worth having.
The description says you can put a spare lighter or toilet paper in the handle. While this is true, I haven't found a need to carry a lighter with me to a cat hole, and for anything more than an overnight trip of two people the handle doesn't hold enough toilet paper. I put a small hand sanitizer bottle in the handle with a micro photon LED light. But since I'm already rummaging in my pack for the trowel + toilet paper + flushable wet wipes, it isn't like its saving me a ton of trouble by having the hand sanitizer in the handle. I could just as well store it in the stuff sack. I wont take away any stars, but I award no stars for this (cough, *gimmick*) feature.
I found the collapsible handle kind of neat, I thought it seems to makes it slightly smaller, but after some use I found that stuffed into my pack I don't feel like it takes up any less space - just a different space configuration. It helps it fit in smaller pockets, like of a fanny pack, but in a large pocket of a pack it makes little noticeable packing difference. Also, lets remember this is just a hand trowel. No longer do I feel like digging drain ditches. A trade-off you might miss if you are used to being able to push an entrenching tool into hard earth with your foot, as now your wrist is getting the work-out.
Now the blade of this trowel is definitely strong. I don't have any problems with it bending or chipping on rocks. I wish it were pointed though, like NORMAL trowels, which would help it cleave into hard earth easier. I found that in wooded areas where brush ground roots were heavy this trowel had difficulty pushing through roots. I'm not talking grass roots, it will handle that just fine. But the flat front edge of this trowel is not as easy to use as a pointed spade. (minus 1 star).
Finally, my one gripe is that unless you have seen this trowel in person, be prepared for just how small it is. It is fully half the size of my gardening trowel. The spade part of the blade is like the three fingers wide and just as long. Digging anything now takes 3 times as long for me. I've heard people complain about using products like the MSR Miniworks because it takes 15 extra pumps over the 60 rated pumps to get a liter of water.
Well what if I told you that whatever time you save by purchasing a more expensive water filter will be negated by the amount of time you need to take to dig your cat hole every time you need to take a cr*p? Ok, so maybe it doesn't take you 5 minutes extra, but when I need to go, I need to go. And I like having a tool that in two - four scoops I've made my hole. With this little spade it takes 10 - 13 scoops. Ahh, such is life - a trade off.
Oh well, I wouldn't say that you get what you pay for. You get a puny little ultra-light trowel with bells and whistles for some pricey cash, but for usefulness this is really best for a someone other than me. Think ultra-light weight-weenie packer, or day hiker with very limited space. Everyone else, just pass.
Price Paid: $20

What can one say about a small little trowel, designed to dig cat-holes in the woods to bury crap in? Well, how about it's well designed, has a really fun name, and does what it's supposed to do?
This thing is not designed to dig trenches around your tent in a rainstorm, make fire pits, cut kindling, mine for gold, or stir your scrambled egg breakfast. It's designed to dig small hole in the ground. Remember that. Remember, too, that while the iPood Pocket Trowel is a really neat item, it's not 100% perfect.
The handle is designed with a removable plug in the end to store a lighter and a bit of TP. Sounds good, but in practice, it's not very practical. Paper just gets wedged in there, making it difficult to remove. It's faster and easier to keep any "necessaries" you might need, along with the iPood, in a separate stuff sack in the top of your pack. Just grab and go. I tend to wait until I really have to "go" before I "go" and just taking the time to dig a cat-hole takes enough time already. It's better to have everything handy, as it were.
The iPood Trowel does a fine job digging a hole in softer ground, but add in some rocks and roots and it falls short. Still, you must remember that this is a hand trowel, not a shovel. It won't cut tree roots and you won't be able to use it to pry our large rocks. It does a fine job making a small hole, but that's all. I wish that the iPood was a bit pointier. I think that would make digging holes a bit easier.
I do like the included stuff sack and the nifty way the head comes off the handle. It makes it a bit smaller for storage. The blade is strong. I've yet to damage it, even when digging holes in a glacial moraine in the Grand Tetons. The spring clip that holds the head to the handle, so far, has worked flawlessly, though I can see keeping it dirt-free is important to its continued functioning.
Overall, I'd say the iPood Sea to Summit Pocket Trowel is a winner, especially considering it only weighs 3.8 ounces, packs well, and does a fine job digging small cat holes, even in somewhat rocky soil.
Price Paid: $20

Every once in a while a product comes along that changes the way you do backpacking, and I really wanted the iPOOD! to be one of these products. It was light, sleek and seemed like it would be handy because you could stuff toilet paper or wetwipes in the handle.
The first problem resulted from the metal adjuster button not lining up with the hole in the handle, it was a metal bracket inside the handle which kept bending and not snapping into place. After fixing it, I'd try to slide it out again for use and the same thing would happen. This happened SIX times in a row.
The next problem was in the plastic cap on the handle where you are supposed to stuff toilet paper into, it would continuously to get stuck and was really hard to pull out. My brother tried to pull it out and it ripped half his fingernail off- seriously. Keep in mind this was all after one time using it. On its maiden backpacking trip, it was never to be put back together again. I guess it was my fault for buying a shovel that had moving parts.
I would recommend looking at another shovel or not using a shovel at all. In fact, there's not much a rock can't do the same as this shovel except carry toilet paper, at least a rock works and you don't have to carry it. iPOOD!- R.I.P.
Price Paid: $20

I'll be honest, this trowel looks flimsy. It almost feels a little flimsy but I can assure you it is anything but. I find it hard to believe how strong this little trowel is.
I have used this to dig catholes from anything from soft loosely packed soil, to hard clay, to rocky hard soil and each time it cuts through the ground like a hot knife through butter. It is now an indispensible item in my pack. I love it.
The design is great and I love that it comes with its own stuff sack. There is storage in the handle for TP but it can barely hold enough to one or two wipes.
This is a great product by Sea To Summit and one that I will use for many years to come. A great investment.
Price Paid: $20

I simply love it. It's great for digging out a fire pit and spreading dirt over the fire when you are ready to leave camp. It's worked great for the #2 calls in the woods. 
I've never had issues with it not being sharp enough to cut through tougher soil, but it could be a lot sharper for those conditions.
Price Paid: $20

Your Review
Where to Buy
Help support this site by making your next gear purchase through one of the links above. Click a link, buy what you need, and the seller will contribute a portion of the purchase price to support Trailspace's independent gear reviews.
You May Like
Specs
Price
MSRP: $24.95
Current Retail: $29.95
Historic Range: $9.95-$29.95
Reviewers Paid: $20.00

Weight
3.5 oz / 100g

Dimensions
5.5/9.5 x 3 in

Material
6066-T6 aluminum alloy

Recently on Trailspace