Sea to Summit Pack Tap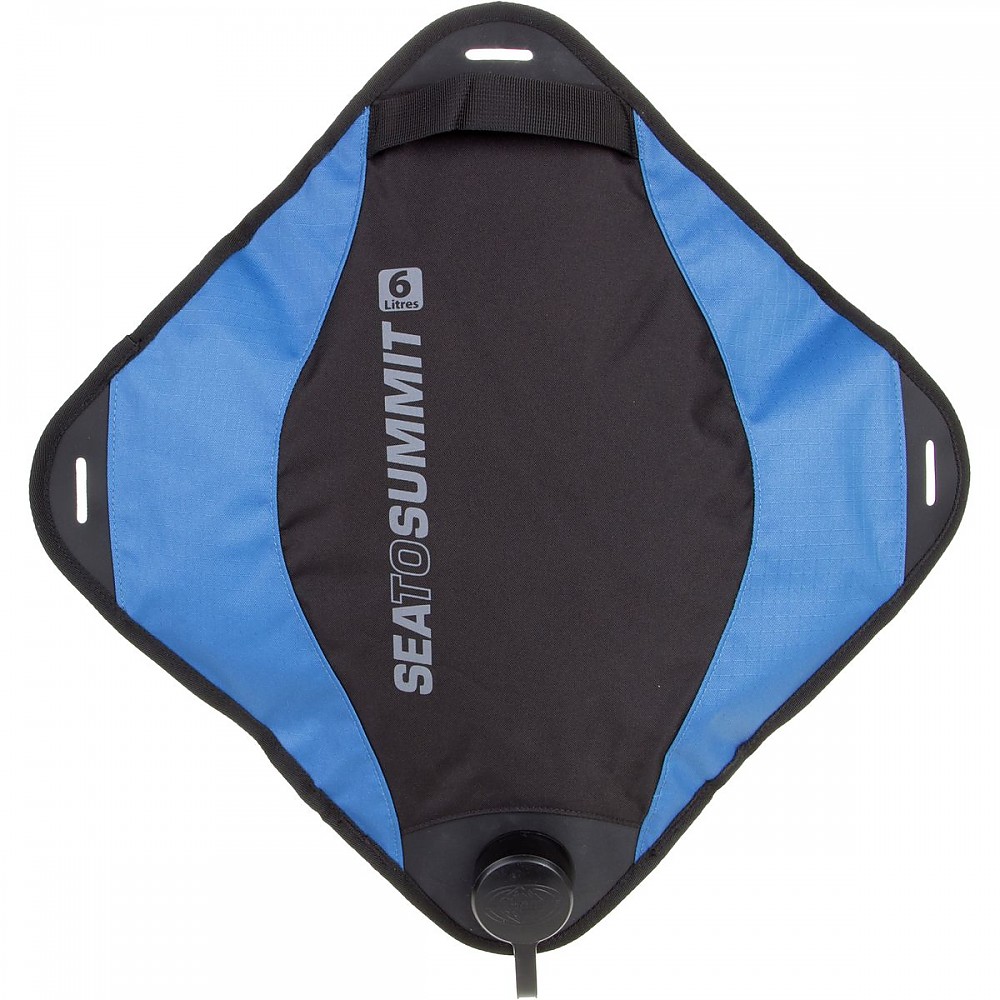 A mixed bag: really good for some use cases, but irritating for others.
Pros
innovative concept
sturdy outer shell
several attachment points
auto-close
pours well
Cons
capacity is bogus
difficult to fill
cap can get lost
shell will be wet
cannot clean/dry inside
The concept has a thin waterproof (mylar?) bladder in a sturdy (cordura) outer shell that protects the inner shell, has convenient soft handles and lash points. This works, have not had any leaks yet (and the inner would be replaceable).
The silicon valve pours well and is self-closing (needs continuous pressure to stay open). In practice this needs two hands and a surface to pour (pot on ground, bladder in two hands; or bladder on a table, one hand to open, one hand to hold cup etc). There is no way to "lock" the valve shut, but it is reliable—have not had it open accidentally.
To fill, the silicone valve cap needs to be pried off. In good conditions (at home) this works OK-ish. With wet or cold hands it is a challenge. Once off, the cap is not attached via tab or string, so it can roll away (or simply get lost in storage). There also is no direct way to attach a drip/gravity filter, although some vertical setup with a loose hose can be rigged.
When filling anywhere near capacity, the outer cordura shell will get wet (and cannot be simply be wiped dry). As such, the bag is best strapped to the outside of a bag/pack. It does provide several attachment points but will affect balance.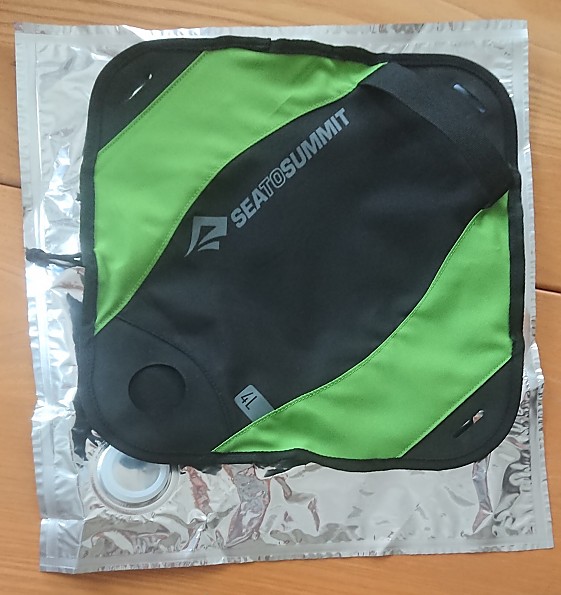 As can be seen in the photo, the inner bladder seems one size across several models—so in the 4L version, this has to be folded  to "fit" (the lash tabs in 3 corners are not hollow, there is less space inside the outer shell than it seems). Some water will stay in these folds and requires shaking to come out, and it takes ages to completely dry on the inside (e.g for stowing until the next trip). Perhaps as a result of the folds, the stated capacity also seems off—the 4L version seems to hold about 3L.
So in summary, for filling this with clean water from a tap and transporting in the trunk of car, or bottom of a kayak, this concept really works well. For backpacking—filtering dodgy water, or manipulating with cold and wet hands, carrying in pack—less so.
Experience
I've used the 4L and 6L versions for several kayaking and hikings trips over the last 1.5/2 years.
Source: bought it new
Price Paid: 27,15€ for 4L

Version reviewed: 10L
Superb and long lasting water storage with big capacity and without bad taste.
Pros
Well worth the money
Sturdy outer shell
Big capacities available
Takes only as much space as you fill in
Packs small when not used
Lightweight
Replacement bladders available for little money
Newer versions come with a dust cap
Closes up by itself after use
Small and large handles allow good carrying
Cons
Hard to open the cap, especially with very short fingernails or in the cold
Has to be kept open with one hand to keep water flowing (vs. closes by itself)
Difficult to get it dry after use
No filter attachment
Outer shell gets wet easily when filling and stays wet for a while
My first water bladder/storage was made by Ortlieb and a terrible disappointment as it brought an intense plastic taste to every water you put in and it was leaking constantly when lying on its side—which was told to me NOWHERE before except in a small note on the manufacturer's homepage.
But enough of this, as a replacement I got the Sea to Summit waterbag, Pack Tap as it is now called, in 10l size. That was in 2009 so it served me very well for 12 years now. Recently I had to exchange the bladder due to a puncture and was very happy to find they still sell replacement parts. The new 10l bladder was only about 8€.
So it's a very packable, robust, and well worth the money item. It takes a bit of getting used to, but I wasn't used to anything else when I got it, so good for me.
What might be most controversial is the cap which acts as a closure to the bladder and opening for pouring out water simultaneously. It's really hard to remove sometimes when you want to fill it, but it has to be tight when closed.
You remove it by clawing a small rim on the edge of the cap with your finger(nails). Then you fill it through the opening and close it again. To get water out of it you have to pull on a little lever on the cap to open a flexible part of it up. The water level has to be above the cap for this which can be achieved by holding the Pack Tap by the short handle, slinging the long handle over your shoulder. Or you can lay it on a picnic table with the part with the cap hanging down over the edge. Works as long as it's relatively full, then it falls down except you put something heavy on the handle.
Also it gets wet easily when filling it in a stream or even under a water tap. Can be annoying when you want to put it in your backpack, but not so much for me.
As mentioned, what I highly regard is that it gives no taste to the water you put in, which sets it apart from other products.
Experience
Frequent user for 12 years
Source: bought it new
Price Paid: 30€

This is a great product that served me well for two years of about once monthly use. I was loving the ease of use and the ability to carry so much more water. It was all going well till out on a hike the Pack Tap started leaking around the seam that the opening attached to the bag with.
Pros
Carry more water
Easy to use
Don't over drink like with a Camelbak, which always has the straw right there
Cons
Leaked after 1 year of use
Need another bottle to drink out of onto of the pack tap
Luckily it broke on me on my last day of the hike and I had another bottle with me to use. The tap can be cheaply replaced by a water bag tap that can be purchased cheaply.
Source: bought it new
Price Paid: $40-ish

What Sea to Summit has done here is simply tart up an old fashioned wine bladder (which many have converted for years of service as water bladders in people's packs) and slap a decent price tag on it
Which is brilliant. There is little to fault in this bladder. It is light, easy to use, durable, very well constructed, well thought out (even to replacing the spigot/tap with an easier to use and more durable silicone version and the stitching/construction is impeccable.
Best thing about a bladder is that it stabilises any water in your pack (as opposed to half full bottles sloshing around), is very light and packs away to nothing when empty (so nothing to carry a couple of extras or an extra large one in the pack for extra water carrying capacity if facing a long dry day on the trail).
This is a thorough refinement/enhancement of the trusty old wine bladder and I recommend it. 
Price Paid: $30

Your Review
Where to Buy
Help support this site by making your next gear purchase through one of the links above. Click a link, buy what you need, and the seller will contribute a portion of the purchase price to support Trailspace's independent gear reviews.
You May Like
Specs
4L
6L
10L
Price
MSRP: $26.95
Current Retail: $26.95-$29.95
Historic Range: $12.90-$34.95
Reviewers Paid: $30.00-$40.00

Capacity
1.1 Gal / 4L
1.6 Gal / 6L
2.6 Gal / 10L
Dimensions
11 x 11 in / 28 x 28 cm
13 x 13 in / 33 x 33 cm
15 x 15 in / 38 x 38 cm
Weight
4.0 oz / 114 g
4.4 oz / 124g
6.75 oz / 191g
Wine Capacity
5 bottles of wine
8 bottles of wine
13 bottles of wine
Materials
300D polyester exterior / double Mylar bladder

Best Use
Camping, Backpacking, Paddle Trips