Sea to Summit Rapid 26L Dry Pack

#7 in Dry Packs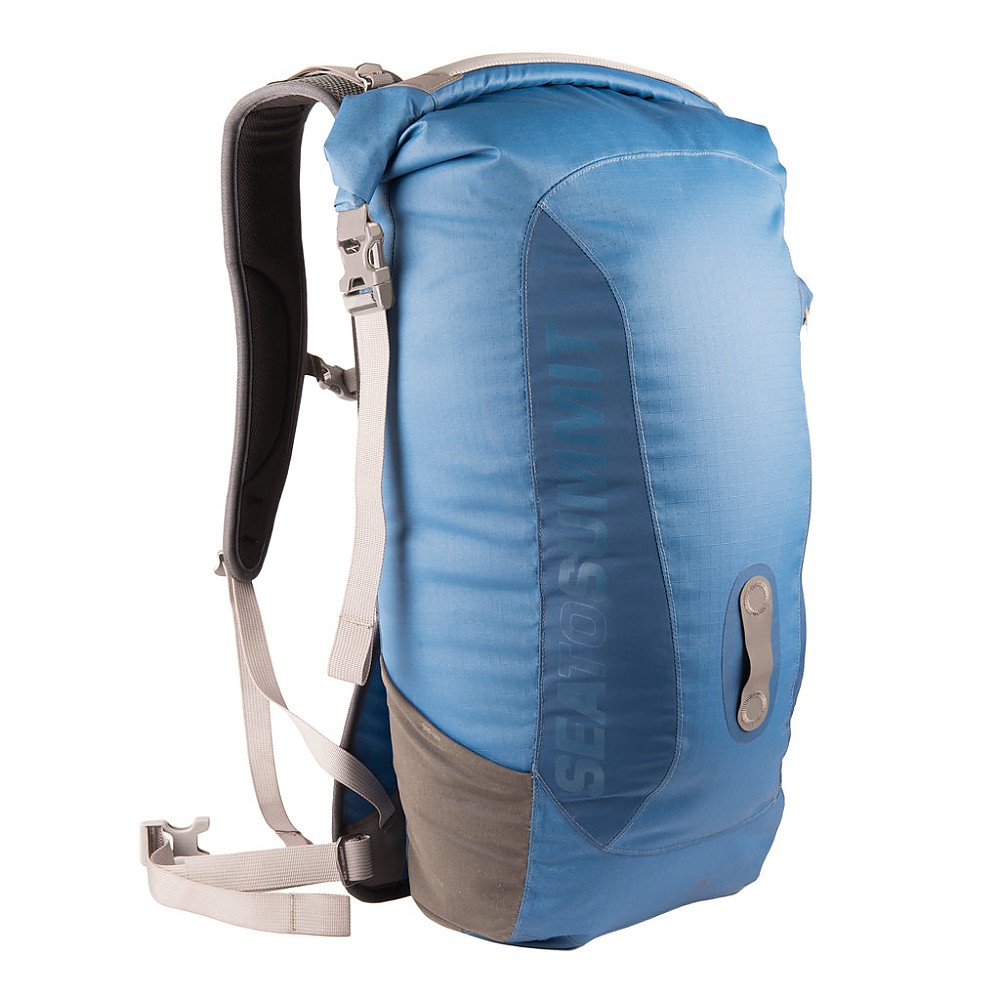 The Sea to Summit Rapid 26 L Dry Pack is a well-constructed and featured day pack that happens to also double as a dry bag. I was impressed with its versatility in functioning in wet conditions and also meeting my needs as a day pack, even as an overnight pack. It handles loads up to 20 lbs quite well but begs to be loaded with more than just a few pieces of clothing, as I found that the top roll can unravel if not sufficiently stuffed and compressed. The universal fit worked pretty well for my more petite frame and appears to be expandable to larger sizes. The sleek and trim design should suit a variety of applications.
Pros
A day pack that stays dry
Well featured
Quality construction and materials
Cons
Top roll can unravel if pack is not stuffed sufficiently
I have worked and played a substantial amount of my life out on the water, as a SCUBA diver, ship captain, marine biologist, and kayaker. I have seen my share of instances where things get wet when not properly stored. I incorporated an LL Bean dry bag with shoulder straps many years ago to suit such a lifestyle, mostly shucking it short distances across the gangways of ships and into the bellies of small boats.
As such, I learned quickly that these early dry bag packs were not designed to go the distance on your back. Having spent a great deal of time kayaking and hiking in 'swampy' environments in south Florida, I also have an appreciation for the value of a dry bag/pack. I have been pleased to find that the Rapid works well as both a dry bag and day pack, serving double duty for my hikes and paddle trips.
Fit and Comfort:
The Rapid has a universally sized shoulder harness and torso length, meaning it comes in only one size. As I have a rather small torso length (16 inches) and narrow shoulders, I was concerned about the fit of this bag. While I did find that the shoulder straps are a bit wide for my taste, the pack was surprisingly comfortable and the fit decent. I guess because it technically is a frameless pack, it can serve a wider variety of body types.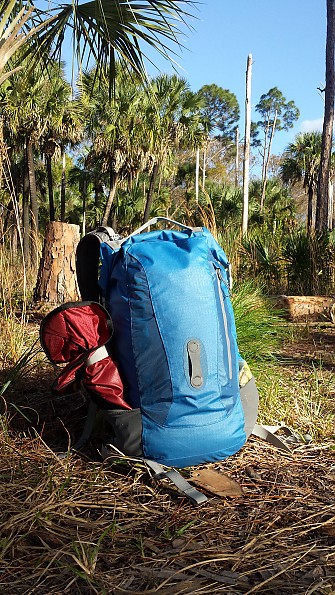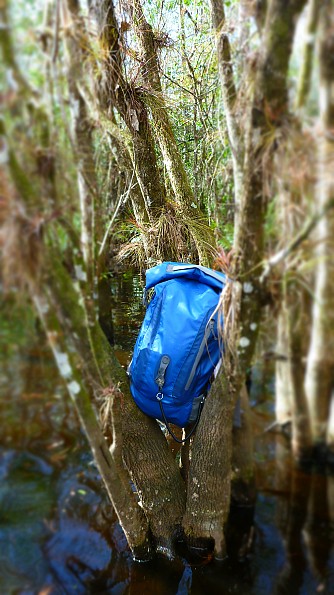 Ride/Stability/Capacity:
This pack is a HUGE improvement over my old dry pack, which essentially is a dry bag with straps attached. The pack incorporates a sturdy/stiff foam backing that is welded directly to the body. This backing transitions to slitted foam triangle panels that connect the hip belt and shoulder straps. The hip belt is a minimal design of removable nylon straps. There is also a removable chest strap. Shoulder tensioning straps help to pull the load close to the back. 
All in all, I was impressed with the stability and ride of this pack, especially given that it is marketed as a dry bag. I loaded it with 2 liters of water on most day hikes, plus misc. food and gear, and was always very comfortable. Feeling that it had even more potential, I decided to see how it stacked up as a backpack and found that it supported a 20 lb load for a 15 mile overnight very well.
Overall capacity was really the limiting factor in how much the pack could carry.  As the laminated material is not stretchy at all, there's only so much that you can stuff into it. And as I found, stuffing one compartment, such as the hydration compartment, encroaches into other compartments. Don't get me wrong, it's nice and necessary that it has these separate compartments. It's just that in overstuffing any of these, you will notice a decrease in the size of the main compartment, or vice versa. I prefer it this way, as the resulting slim profile ensures that it doesn't snag easily on things, like branches or the hatches of your kayak.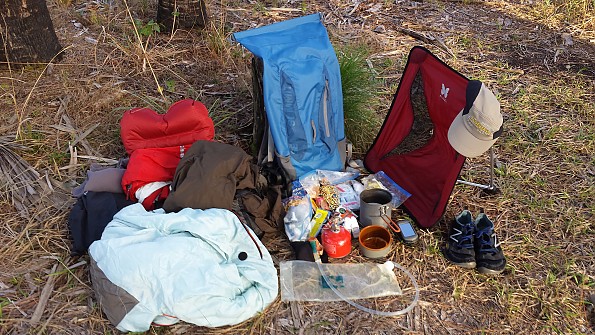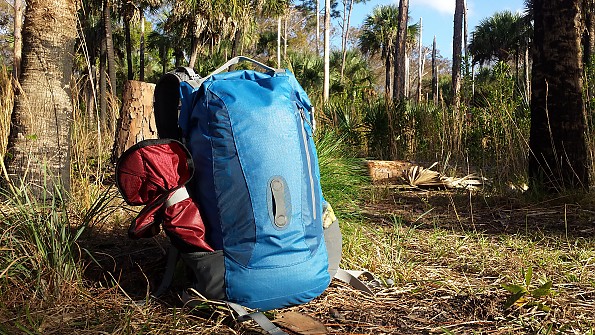 My self-sufficient overnight load consisted of a 2-liter Platypus, Aquamira water treatment drops, an ultralite Hennessey Hammock, three Easton stakes, a 40-degree Vaude synthetic sleeping bag, a set of rain clothing and thermal underwear, food for a day and a half, a GSI Pinnacle Soloist set, MSR MicroRocket and medium fuel canister, first aid kit, and an Alite Monarch chair (stuffed into one side pocket and tied off with the end of one of the compression straps).
While I probably couldn't have crammed one item more, I was very pleased to be able to accomplish such a feat with this pack.
Organization/Accessibility/Compression:
The main fault I found with the Rapid is that the roll top can unroll itself if the pack is not sufficiently stuffed and/or the straps are not cinched down tightly. I discovered this while wearing the pack for a period of a few hours while transiting around on a small boat. The pack was exposed to my movements (hauling lines, grabbing rails, etc.) and high winds. I had put only some dry clothes inside it that day, so there was little to hold its form. Otherwise, the pack offers ample compartments for good accessibility.  The roll top is easy to figure out and compression follows naturally.
Construction/Durability/Water-proofness:
The thermoplastic-polyurethane-laminated 420-denier nylon fabric proved to be plenty durable in my testing.  This included clawing branches, abrasion from stuffing into my kayak, and one slip into the drink.  The fabric was also pretty easy to brush or wash dirt off. I would say it is as durable as the vulcanized rubber dry bags that I have had the most experience with, while being quite a bit more lightweight. The seam-seals also appeared pretty solid.  Waterproofness was comparable to other roll-top dry bags.
Ventilation:
I found the pack to be pretty comfortable in hot conditions…above 80 degrees F, especially considering that the main body does not breathe at all. It's not the well-ventilated pack out there, but such considerations would take away from the sleek design of the dry bag. I appreciate the effort the company went to in supplying mesh lined and perforated shoulder straps—whether this makes a difference much, I'm not sure, but at a minimum it cuts down on the weight. This also helped reduce the amount of moisture the pack soaks up when exposed to the wet…I estimated that it gained about a pound in water weight when saturated. Not too bad given that it starts out at only 1.6 lbs dry.
Features/ease of use:
Here is a list of most of the advertised features and my comments on them:
Stretch mesh side pockets…nice for stuffing food and accessories, tight fitting to the body of the pack to reduce snags.

Separate hydration compartment…a great feature, very spacious, but I wish the zipper entrance was wider.  I had to go to my slimmest Platypus to get it to fit…perhaps if you fill a bladder already in place, you won't have this problem?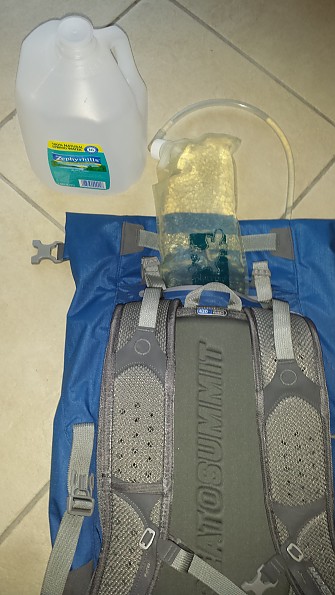 Internal pocket for small stuff, stretchy too…a nice place to stash keys, headlamps, and other needed small things. Think pant-pocket small.

A loop on the back for attaching stuff to the bag or tying the bag into a boat…I didn't use this feature too much but it's always nice to have attachment points…the literature suggests attaching a bike light-good idea.

An external, zippered pocket on the front…not very spacious but worthy of slipping some bars, maps, gadgets, and such for easy access.

All the features of a day pack: hip belt, chest strap, and shoulder tensioning straps…yes, these features make it function very well as a day pack.

And finally, as touted, the white interior does result in good visibility of pack contents.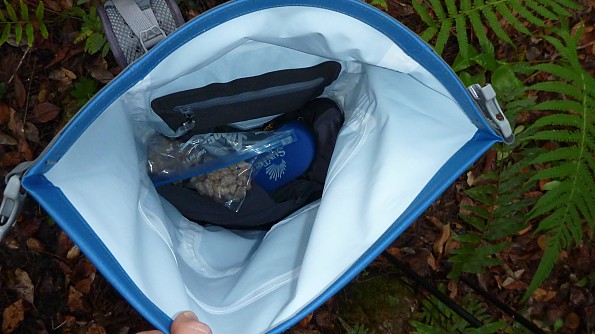 Uses:
A pack that can be placed outside the footprint of your hammock tarp and also withstand the rain is a very nice compliment to the hammock-style of camping: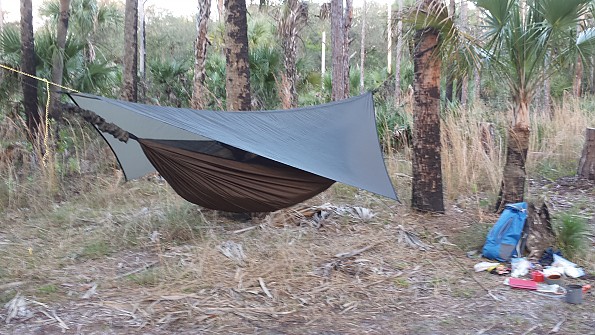 I would also recommend this pack for bicycle commuting, expensive photography equipment, skiing/snowboarding, and use on boats. I'm sure there are many other good uses that I haven't listed, but these are just a few that came to mind.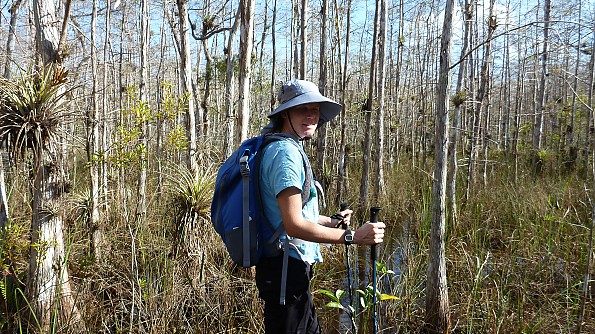 I used the pack for multiple days hikes, one overnight backpacking trip, a few kayak trips, and for general storage of gear while out on small boats and a ship. I appreciate the opportunity to field test this fine product.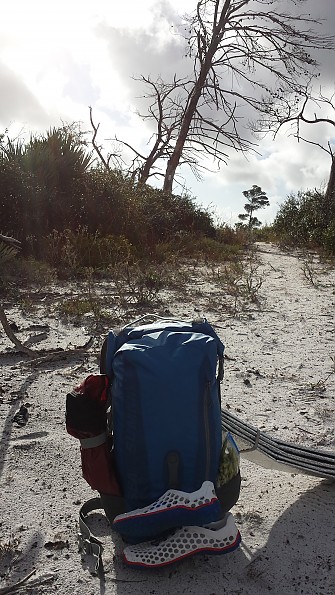 Source: received for testing via the Trailspace Review Corps (Sample provided by Sea to Summit for testing and review)

Your Review
Where to Buy
Help support this site by making your next gear purchase through one of the links above. Click a link, buy what you need, and the seller will contribute a portion of the purchase price to support Trailspace's independent gear reviews.
You May Like
Specs
Price
Current Retail: $199.95
Historic Range: $135.93-$199.95

Recently on Trailspace