Sea to Summit Wilderness Wash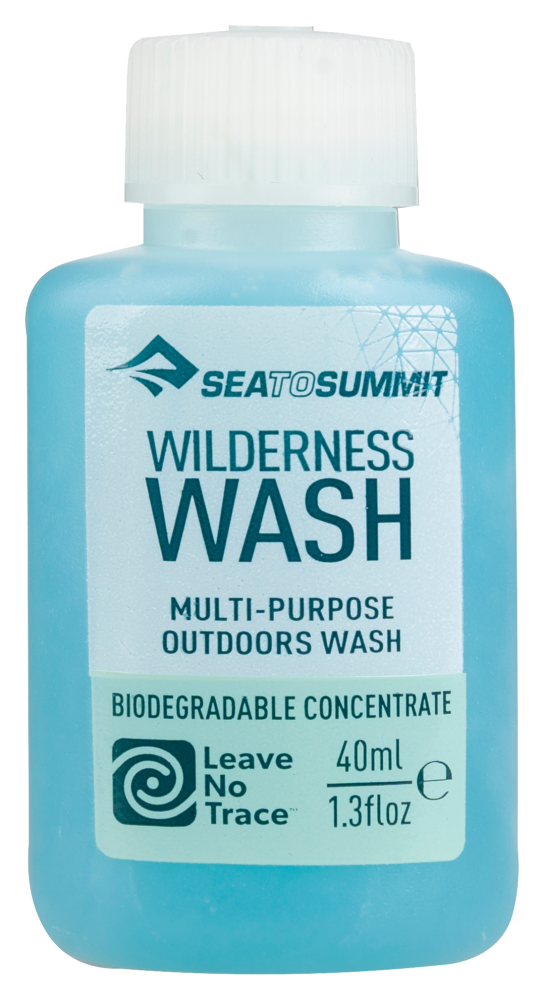 Dirty face? Dirty Pots? Dirty clothes? "Backpacking-greasy" hair? A little bit goes a long way with this biodegradable wash. Works well and would do well for hiking or air travel.
Pros
Concentrated
Non scented
Biodegradable
Gentle on skin and cooking appliances
Cons
More needed with hair wash
Cleans pots, but may not get "stuck on" off
This is my first wilderness wash that I've ever owned, so I have no comparison other than that normal daily washes (i.e. dish soap, body wash, shampoo). At 3 fl. oz. it's compact, about the size of a deck of cards, both in height, width, and depth. I do not have an electronic scale, so I can't attest for its weight, but it honestly is about the same as a deck of cards too. It's also super concentrated, so a little goes a long way, more on that below. The question for me was, "Why stink in the backcountry?"
What is it and how can it be used?
If you need body wash, shampoo or to clean your pots while out in the backcountry, this is for you. I was apprehensive at first. Not so much with it being wash for your hands, face, and hair, but also that it works well for cleaning pots.
When using as a wash with my hair and with my pot (MSR Stowaway 1.1L) there weren't any suds. When I was first looking at some reviews, some noted that there weren't any suds or foam when using it. Because of this one factor, the reviewers gave a lower rating. The bottle specifically states that this is a "Lo-Sudsing" wilderness wash. No need to mark it down for doing what it states!
While it didn't foam up (no problem, just as advertised!), it still left a clean feeling and appearance to my hands and pot.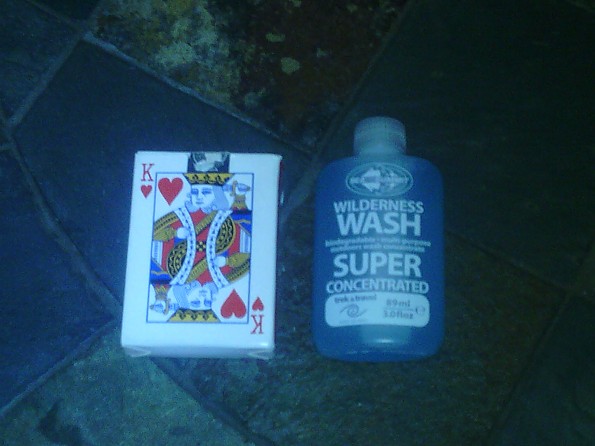 How much to use?
A pea sized amount worked fine as a hand wash, but for larger uses the bottle recommends using 3-5ml, a cap full, for a 10L sink or average shower. Using this, there would be around 22 uses in this bottle. With things like a shower, I feel that a bit more needed to be used and my hair is only about 1 inch long. Still, I used less than I would had I used actual shampoo
As a hand wash…
I used about a pea sized amount and it fine. I easily washed my hands and wash up past my wrists. It worked really well. I had a bit of grime (purposefully) on my hands from working in the garage. My hands were cleaned and it actually felt as if it was soap with lotion or aloe, just that smooth feel afterward. My hands were not left dried or oily. In addition, it has a very neutral smell which is great for the backcountry to reduce the chance any four-legged intruders come sniffing around.
As a body wash/shampoo…
I've used inside and not in the backcountry yet. As recommended by the bottle, I used a cap full. I felt that was a little less than what I needed to clean myself from neck up, but still used less than I would have with regular shampoo. My hair and face felt fine, no reaction to the soap. Everyone may be different so I wouldn't necessarily just lather up your face right from the start.  My hair wasn't necessarily silky smooth, but worked just like any generic shampoo would.
As a dish detergent…
I cleaned my stainless steel MRS Stowaway using the soap and dollar store shammy. Generally I only boil water and transfer to freeze dried food or bowl. I made some couscous for this occasion. I used only a bit more than a pea sized amount judging from when I washed my hands. The wash didn't leave any streaks or residue on the pot. I washed it out with room temp water instead of hot water since that would be more of a real backcountry experience. I can see this soap perhaps not cleaning off the "stuck on" food, but it seems to work well on the smaller jobs.
As a clothes detergent…
Other than the shammy being used to wash my pot, I haven't cleaned any clothes with this wash.  I let the shammy air dry and it came out just fine.  There was not any discoloration or any negative effects on the fabric (no crusting, etc.).  When I clean clothes with this I'll update the review.  I'd like to clean different fabrics like cotton, polyester, spandex, and maybe wool.
Other attributes/notes
The top is actually a leak proof lid.  It screws on like any normal, threaded top but instead it has a plug which fits into the hole where the wash comes out.  No worries about accidentally leaking in your pack or carry on.
The wash is also sold as being biodegradable and pH neutral. At 3 fl. oz. it should be fine to be included in carry-on baggage onto an airplane.   With my latest flight in August 2013, 3 fl. oz. was the largest amount of "liquid" allowed on airplane.  Other sizes are 1.3 fl. oz. for those lighter backpackers and 8.5 fl. oz. which I can only imagine how long that would last!
Lastly, my soap which was purchased in March 2014 and is stamped that it expires 07/2016.
REMINDER: While this is biodegradable, it's not meant to be used as a wash in any water source.  It's biodegradable on land, but can promote the growth of algae. Wash at least 200ft from any water source, the bottle recommends 100 meters.
It's a fun wash, good for many occasions, and with it being super concentrated the $4 makes it worth the cost.
Source: received it as a sample, freebie, or prize (gift certificate to backcountry.com)

Your Review
Where to Buy
Help support this site by making your next gear purchase through one of the links above. Click a link, buy what you need, and the seller will contribute a portion of the purchase price to support Trailspace's independent gear reviews.
You May Like
Specs
Price
Current Retail: $3.95-$8.99
Historic Range: $2.93-$35.70