SealLine BlockerLite Compression Dry Sack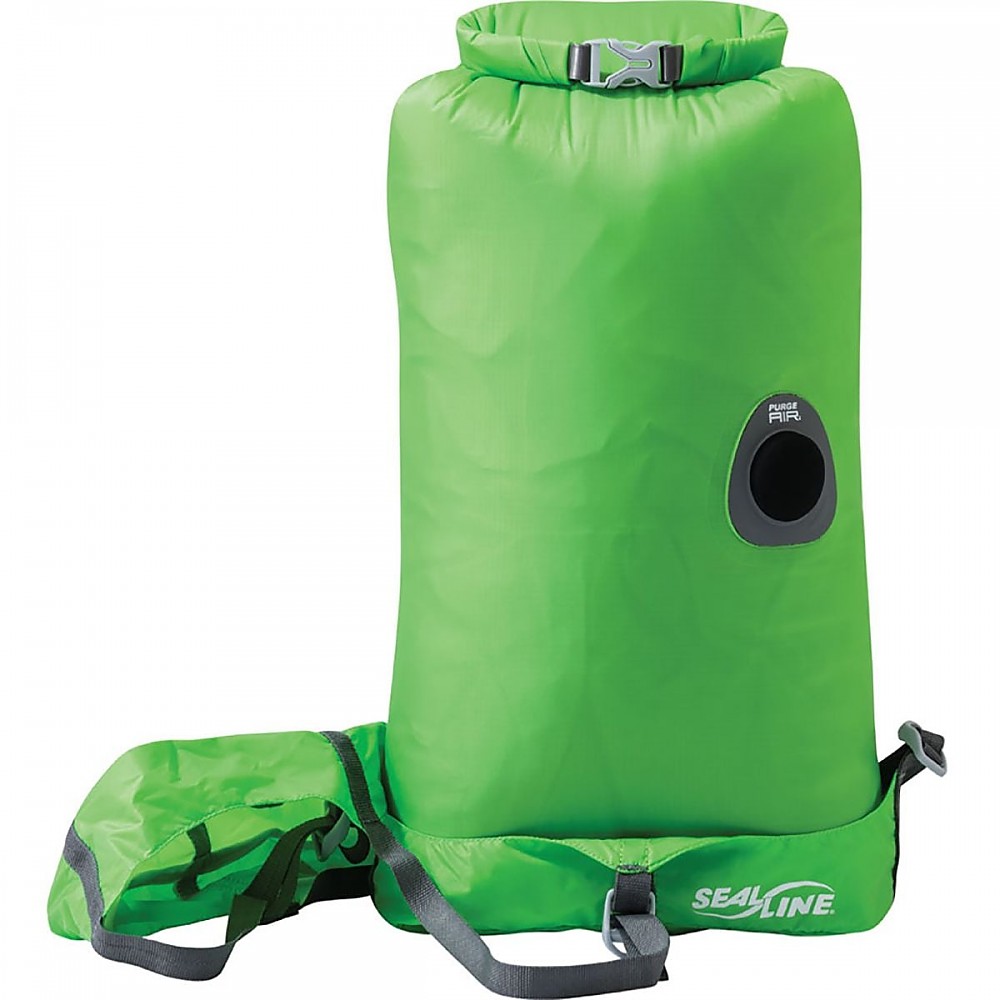 Version reviewed: 10L
Dry bags (also called dry sacks if lightweight parts of packing system) are valued pieces of gear in our outdoor equipment arsenal. We use them primarily for canoe camping, but also for winter cabin camping and car camping. It is said "you can never have too many dry bags" when canoe camping, and since we follow that mantra, we always pack lots of them.

My primary expectation is that such a bag will keep my gear dry in any conditions. This bag from SealLine certainly meets that challenge, and the compression feature is an added bonus. This bag is lightweight, sturdy, waterproof, and can ease space issues by compressing soft contents to a smaller size.

This review is for the 10 liter size, and based on its performance over the past two seasons, I can highly recommend this dry bag for campers, backpackers, and paddlers.
Pros
Lightweight
Highly visible color
Compression with purge valve
Strong and easy to use closure system
Rectangular shape for packing efficiency
Cons
Thin compression straps may tend to get twisted or tangled
The BlockerLite Compression Dry Sack comes in three size choices—5L, 10L and 20L—each of which is suited for different uses. This review is for the 10L sack, available in a nice bright green, which I used for clothing and for small sleeping bags. When canoe camping, my smaller bags (such as 10L size) are packed within a waterproof portage bag, and for winter cabin camping and car camping, the bags are used within a larger pack, or hauled in a pulk.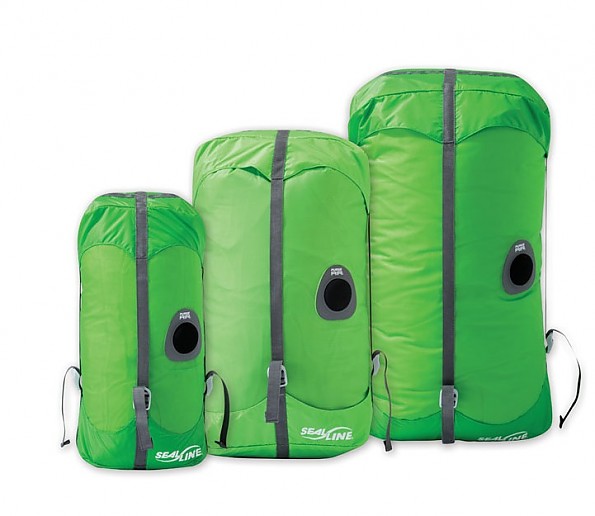 Website photo: available in 5, 10, 20 Liter sizes




The 10L bag is 16 inches (40cm) deep with the top rolled (22cm) and 8 inches (20cm) x 4 inches (10 cm) wide at the rectangular base. The 10 Liter volume converts to 610 cu. inches of packable space. The weight is approx. 3.4 oz.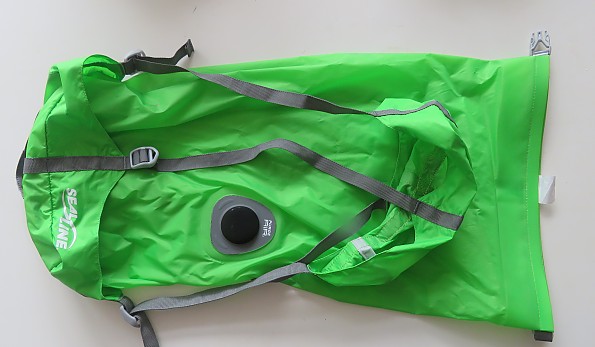 The waterproof material is 20D silicone and polyurethane coated nylon, with fully welded seams, to improve durability and waterproof capacity. There is a 1-inch layer of a smooth stiffening strip below the roll-top closure edge, to hold the bag opening in the best position for a secure, tight, waterproof seal.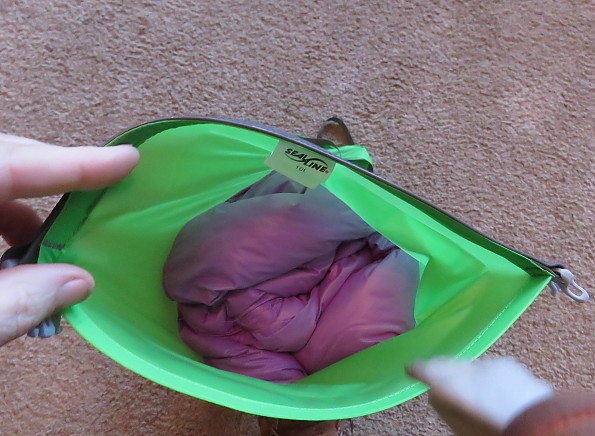 The four straps which are utilized in the "Continuous Compression" system are approximately a half inch wide; the buckles are easy to use and adjust. With compression sacks, I often end up with twisted straps; these straps are easily undone, re-positioned, and then snugged up once the bag is fully loaded.
There is a handle made from the same half-inch strap material, at the bottom end of the bag.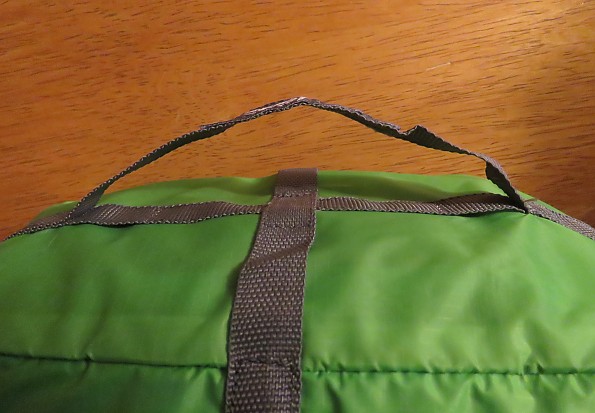 I did notice that the base of the bag, and the top "cap" are rectangular shaped. This is reported to be a move towards efficiency of packing.
I own a collection of various dry bags, of different sizes, from different manufactures. Since my bags are generally stuffed into a portage bag or Duluth Pack, or are just loaded into the canoe, this is not a particular benefit for me. However, it does make sense that multiple bags with a rectangular shape maybe able to be packed more efficiently that cylindrical bags. SealLine reports that this design results in "packing 20% more efficiently than rounded sacks for easy, space-saving organization."
Another unique feature on this dry bag is the purge valve, located at about mid-point of the bag when it is packed and sealed. This purge valve allows trapped air to escape as you pack, compress, and then seal the bag. I admit to being a bit dubious about having a foam valve on the side of a waterproof bag, but my testing and experience showed that his valve is solidly waterproof.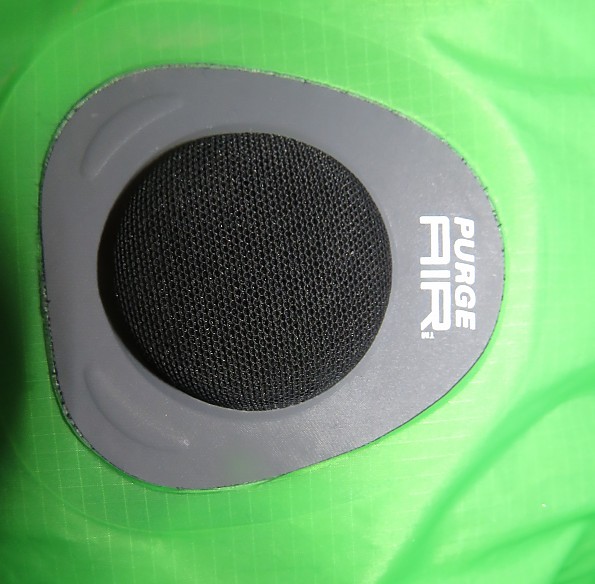 Product Performance:  The first job any dry bag has is to keep its contents dry from rain, moisture, snow, or water. Though this dry bag is not described as "submersible," I have been very impressed with its reported waterproof capabilities.
While canoe camping last fall, including one trip in the rain, the bag was reliably waterproof in all conditions. Loaded onto a pulk while dragged to a winter cabin this winter, it also kept the contents dry.
To test the bag, I placed a dry towel in the bag, sealed the bag, and hung it outside in a pouring rainstorm. I follow the "three rolls" guidelines for dry bag top closures, rolling the closure over three times without any wrinkling, before clipping the two ends of the buckle. This assured that no water could enter through the bag's top opening. 24 hours later, I brought it inside, and the towel was completely dry.
To dispel my concerns about the purge valve, I immersed a packed bag into a bucket of water, exposing the valve to water for an hour. Since much of my use of the bags involves canoeing (and yes, I have been known to capsize occasionally), the ability to maintain integrity while in a body of water is important to me.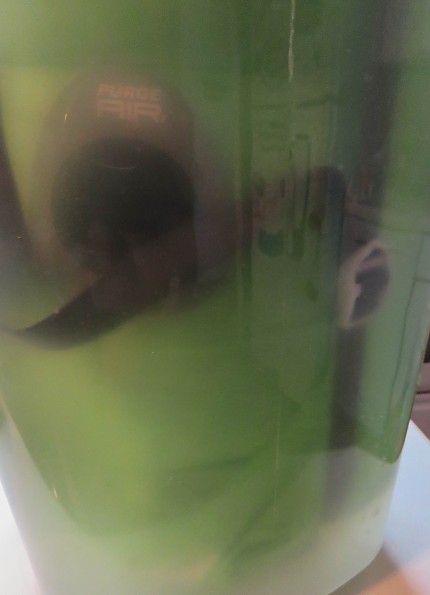 The Shape of Water...not entering the dry bag!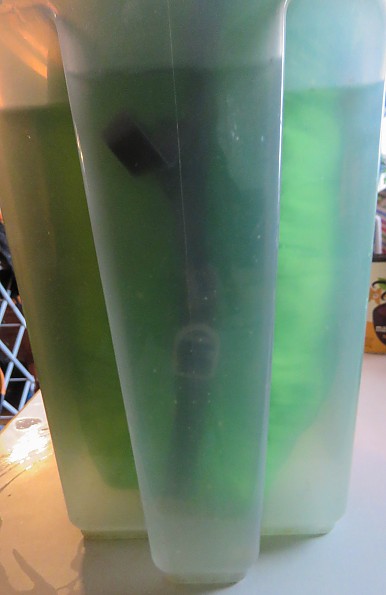 Immersion test...all dry (on the inside!)

The foam purge valve and its surrounding gaskets held tight! Not even a hint of dampness on the towel inside the bag. The bag has certainly, in the field and in experimentation, proven to me that it is a solid, dependable, waterproof bag.
I know of others who have used their dry bags for carrying and storing water; I do not generally do this, but I did put a gallon of water in the bag, and suspended it over a bucket, for 60 minutes. Not a drop in the bucket, and any moisture or water on the exterior of the bag. I will remember this the next time I forget my foldable bucket on a canoe trip.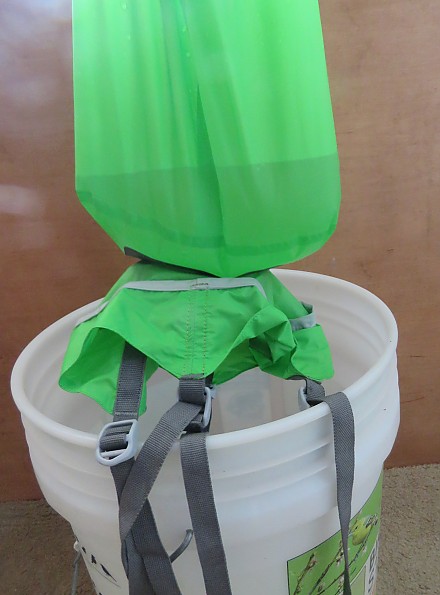 No seepage, leakage, or dripping


I have used dry bags as a means to carry wet clothing or gear, in order to keep other packed gear dry. This bag was aces in its performance for this task. A soaking wet towel was placed in the bag; no seepage or moisture was noted on the bag's exterior, even when placed in contact with a solid object (a drying rack frame). Too bad the dry bag is not able to magically dry out its contents!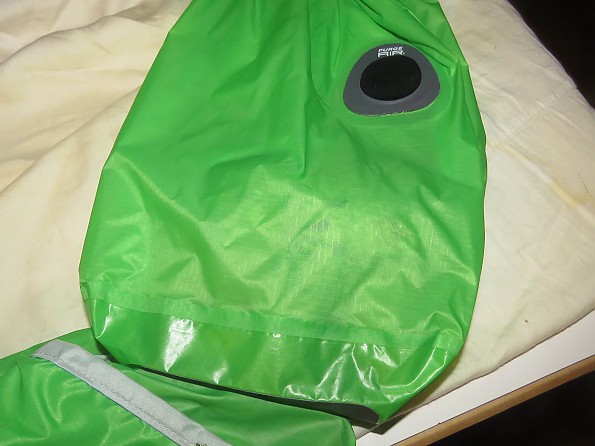 (note the shiny area is not wet, it is the roll stabilizer stiffener fabric)


This bag demonstrated the ability to really compress its soft contents. I compared the size of a small sleeping bag in its stock compression stuff sack with the same sleeping bag in the SealLine BlockerLite dry bag. The ability to purge excess air does actually seem to result in a smaller end product; as a canoe camper, space is at a premium, so this is a feature much appreciated. For a backpacker carrying their gear, this would also certainly be a welcome feature.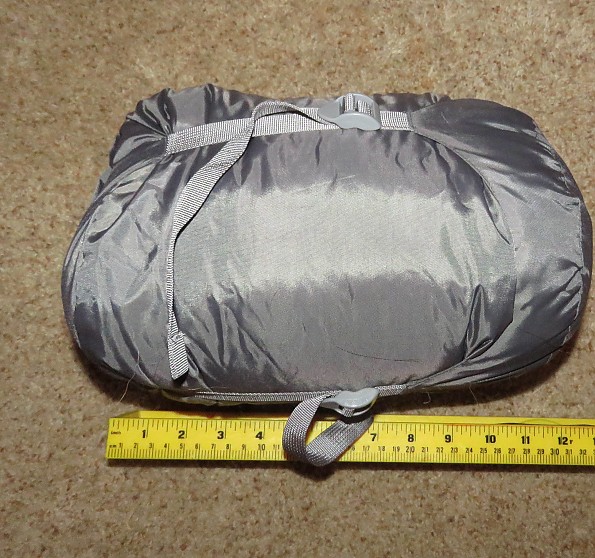 Compression in regular compression sack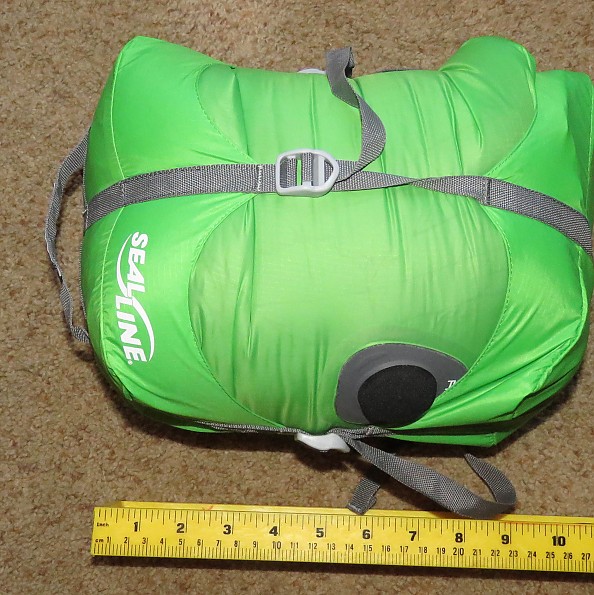 The SealLine dry sack reduces packing size by a few inches


The bag is easy to compress; though the straps on the 10L bag are only a half inch wide, they are easy to use, and snug up tightly. As you roll the closure, and apply pressure, air is expelled; if it is a smaller item in the bag, and there is lots of excess space, the end result may have the crinkly appearance similar to that of some freeze-dried meal packages! But the bag and the attached compression strap system ultimately result in a nice, space-saving, tightly compacted dry bag.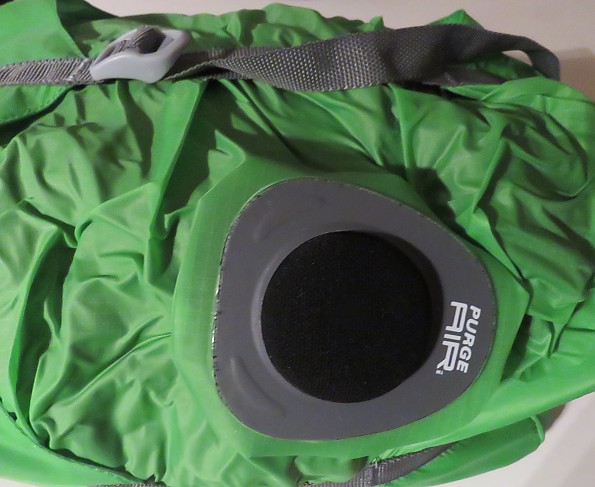 Using this dry bag as a pillow while camping is certainly possible; I did note that if stuffed with clothing, the four straps and the purge valve made it a "less than comfortable" option for such use unless I wrapped a puffy coat around it. However, that cannot be considered a truly negative aspect of this bag, as it is not an intended use.
Conclusion:  I think this is a great dry bag, which has the added benefit of compressing soft goods in an efficient manner. I am confident in its ability to keep the contents dry in all conditions, if the bag is sealed properly, of course.  This is an excellent choice for paddlers, campers, travelers, or backpackers looking for an efficient bag to confidently pack gear.
Source: received for testing via the Trailspace Review Corps (Sample provided by SealLine for testing and review)

Your Review
Where to Buy
Help support this site by making your next gear purchase through one of the links above. Click a link, buy what you need, and the seller will contribute a portion of the purchase price to support Trailspace's independent gear reviews.
You May Like
Specs
Price
MSRP: $41.95
Current Retail: $43.95
Historic Range: $41.19-$54.95

Sizes
5L, 10L, 20L

Closure
roll-down

Bottom Shape
rectangular

Protection Level
waterproof

Materials
20D silicone/polyurethane-coated nylon

Recently on Trailspace