Sierra Designs Baku 2

The Baku 2 has been discontinued. If you're looking for something new, check out the best three-season tents for 2021.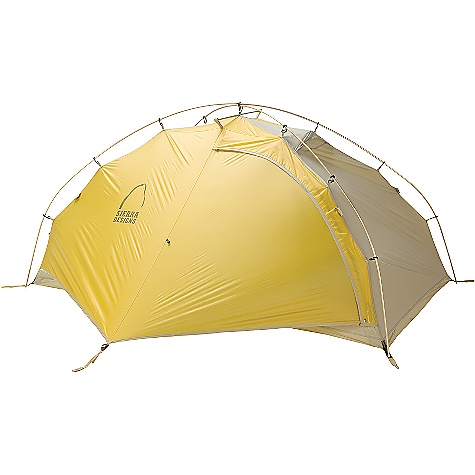 Specs
Price
Historic Range: $173.97-$299.00
Reviewers Paid: $299.95

Reviews
4

reviews

5-star:

1

4-star:

1

3-star:

1

2-star:

1

1-star:

0
Best all around tent I've owned.
I've used this tent for 3 years. Lightweight and extremely easy to set up and take down. Did well in thunderstorms. Finally had to reseal the seams this year. 
Only complaint is the glue holding the door loops came unglued. You will get some condensation on cold nights because of the single wall.
If you can still find one, I would highly recommend buying it, especially if you just want something light and easy.
Source: bought it new
Price Paid: About $200?

Tent purchased for ease of set-up, light weight for size. Used in frequent over-nighters in warm (60-65 deg. night-time temps) to chilly conditions (lows of 30-35 deg.), always with a single occupant, a 5'8" 160 lb male.
Setting up the tent is indeed very quick and easy. Even in the dark, without a headlamp, an occasional check with flashlight was all that was necessary to facilitate pitching in less than five minutes, including stakes. (It is a free-standing tent, but I nearly always stake it as is my habit.)
It is roomy for one, but two would be a quite cramped affair. The vestibule on either side is big enough to shelter a pack and pair of boots and still allow exit.
The biggest problem, and only really appreciated when using the tent in cooler weather, is a very significant problem with condensation. It simply is not adequately ventilated, and in the morning, even with only one person inside, it's like a rainforest exhibit. Thus, it's okay for warmer weather, where condensation is less of a problem, but in colder weather it's a poor choice.
Design: 3-season free-standing
Sleeps: 2
Ease of Setup: Quite easy
Weight: 4.5 lb
Price Paid: Don't recall

Because of a design flaw or China production problems, coupled with low sales of this product, it has been discontinued. If you see one used, I would NOT recommend getting this product. It has great features, light on weight, but has become a "sour lemon" with the seam seal issue on the insides crumbling and flaking to the floor with time. Sad because this product had some really nice features. AVOID BUYING THIS PRODUCT IF YOU SEE IT USED.
Pros
Lightweight
Great features
Cons
Product has a production or design flaw and seam seals crumble and come off
As a result of poor quality seam seals and low sales, product is discontinued
This is an amazing tent for a single wall design tent. As of June 2008, this tent is being closed out and no longer manufactured apparently. I think the fact that it is a single wall tent is the ONLY reason it apparently did not sell well and is being phased out of production.
I won mine from a contest with Sierra Designs right after it was first introduced (2006?). I was hesitant to use a single wall tent from the start, but since it was free, I thought, I will give it a try for the weight savings.
I have used mine hiking in the wilderness areas of northern Georgia, the Great Smokey Mountains National Park, and the forests of northern Alabama every since the day I got it.
This is an extremely well made tent. I am totally impressed in its strength and quality verses weight. The fly is tough and will withstand some brutal weather! I have been in this tent in some pretty hard rain and it was not even seam sealed. I have only had one minor leak up near the vent area on top on the first rain event in the tent. Some McNett Seam Seal did the trick. It trickled in from the top vent and dripped.
For a one person and gear tent, you cannot beat the space versus weight. I currently own 11 tents (I know, everyone has a quirk) and this is by far the most favorite one I use for backcountry when WEIGHT is a big factor in the backcountry. I have full confidence in this tent in sustaining the elements.
The only downside I can say is that in January 2008, it got down to 9 degrees in northern Alabama while on a 4 day hike. With the high humidity levels we always have and the single wall-less breathing tent, the inside of my tent looked like a frost bucket in the morning. It took some time to thaw out the icicles protruding down from inside the tent!
This is an awesome tent as is most any of Sierra Designs products. Well thought in design, function, and quality. I honestly feel the reason this tent did not catch on is because people are just apprehensive to purchase a single wall tent.
If you are looking for a simple, high quality made, weight conscience type tent, then this tent will do you fine. It just takes getting used to that ONE thin piece of silicon nylon between you and the elements as opposed to dual nylon layers( base tent and fly).
Update: January 27, 2012
I carried this tent on a 17-mile hike in Talladega National Forest in Alabama recently over the Martin Luther King Holiday weekend. When I pulled it out, I was absolutely devastated. ALL of the seam seal tape on the insides of the tent had crumbled, cracked, and much of it had fallen to the tent floor like massive dandruff! Even a couple of the tie downs for vents had come unglued and fallen to the floor.
I sent it back to Sierra Designs. As of 1/27/2012, I have not heard if they will replace it or repair it. Very disappointed in this.
The main reason I even bring this out is for those of you with sil-nylon type tents. You may very well experience the exact same thing in time, regardless of the brand. We will update everyone on Sierra's decision on what to do about this problem since the tent is no longer made.
I still like the tent, just severally disappointed in a design flaw in the construction or  very poor quality control in China as we are seeing more and more of. 
Update: March 30, 2012
Sierra Designs are great people to work with and a great company. They were very nice and admitted there was some production flaws in the product and the seam sealer material. As I predicted, they no longer make the product and promptly substituted it with the Lightning HT2 tent—brand new shipped to me in late February of 2012. I will post a review of it later.
If you are reading this and considering buying a USED Baku 2, I would simply pass. Design flaws or Communist Chinese production problems have pretty much trashed this product. It is a shame because I REALLY enjoyed the years I had this tent. 
Design: 3 season freestanding
Sleeps: 2
Ease of Setup: Very Easy
Weight: 4 lb 7 oz.
Source: received it as a sample, freebie, or prize
Price Paid: $0

Have used a few times since purchase, unfortunately it has yet to rain when I've used it. Such is life in the southwest.
I'm 5'7" and feel it has enough room in it even with my girl but think that anyone over 5'10" (6' max) will feel cramped unless you are alone. The vents work well but are not very easy to open ie.. you push a sewn in rod outward to set in a velcro loop (tight fit) which creates a small opening with a screen to let air flow through.
Having a screen door on each side is great (especially with 2 people) and the vestibules work great covering them as well as allowing air flow. Zippers are top notch with no problems thus far. Interior pockets and ceiling loops allow you to stash and hang plenty. Whether it was cold or warm I think the breathability has been fine.
When purchasing, the people at Summit Hut allowed me to set it up in store and even though I never saw it other than online or in a magazine it was surprisingly quick and easy. Quick clips and poles work great and make for the easy set up and the junction clip at the top where the 2 poles cross really help the stability even without the GO lines as I found out this weekend in 30-40 mph winds on the mtn. Six stakes provided hold everything down, 4 for the corners and 2 for the vestibules.
Total weight on my scale was 4 lbs 12 oz for everything. I purchased the footprint as well as I want this to last for a while.
Overall I would recommend this tent and I would purchase again. I will post up again when I'm out in the rain.
Design: 3/S freestanding
Sleeps: 2
Ease of Setup: Very easy
Weight: 4lbs-12ozs
Price Paid: $299.95

You May Like
Recently on Trailspace