The Bedouin 6 has been discontinued. If you're looking for something new, check out the best three-season tents for 2020.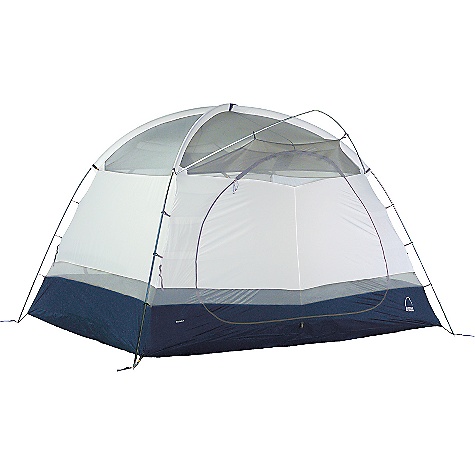 Specs
Price
Historic Range: $250.95-$449.00
Reviewers Paid: $150.00-$380.00

Reviews
i bought this over 10 years ago and it's still standing and repelling water ez..needs one little repair for an ember burn and hole where there is tension from one of the plastic hooks..would buy their new version in a heartbeat, but don't need a new one yet!
Pros
Size
Pockets for clothing, cup holders, standing up
Nice sized vestibules
It really is a 3-season tent!
Cons
Needs adjusting after a couple days camping, especially in rain
Sometimes zipper door gets stuck over the other zipper, not easy to fix in the middle of the night after a bathroom break.
6 people = sardines in a can..I've slept w/ 3 people and 2 dogs (the stinky one slept in the vestibule) and that was plenty packed
more like a 3-person tent, or you can actually live in this w/ 1 other person =)
I set it up on my own..nice footprint (I bought an extra) sheds wind and water easy..hot nights you can sleep w/o the fly...or if precipitation is questionable you can fold up the entire bottom 2 feet of the fly to allow air circulation.
Quality material and sturdy poles, I've never had one misalign, bend or break. Great company!
Source: bought it new
Price Paid: $150

My wife and I have run the full gamut of camping. Truck campers, 5th wheels, boats, as well as a number of tents of all sorts. We decided we needed a tent for those times when we didn't want to bring the RV along or we wanted to take a week long ATV trip.
We've used a Sierra Designs Gamma for backpack camping with great success so choosing a brand for a larger tent was a no brainer. We chose the Bedouin 6 because it's a huge roomy tent for two people and it has two doors. The two doors is a big plus to us. We can sleep four comfortably in a pinch and comfort is paramount to us. I wouldn't use it for six people unless it was an emergency.
We've spent some of the worst days ever weatherwise in this tent with temperatures down to -8* and it's always kept us dry and comfortable. Very stable in the wind for a tent this size. Lots of storage and plenty adequate ventilation. The two big vestibles allow each of us to keep our boots and gear on our own side.
It's big and heavy but it's durable and keeps you dry so who cares about the weight. Best tent of its type that I've ever owned. We like this tent so much that we bought a Bedouin 4 for our daughter and son in law when they needed a tent.
Design: Three Season Freestanding Dome
Sleeps: 6+
Ease of Setup: Easy two man setup
Weight: 18 pounds

This is a great family car camping tent. You can split it up into three parts if you're backpacking... but it is BIG! Not really lightweight. Sturdy for the fact that it only has a single pole-crossing, but it will definitely move around in stiff winds. We stayed nice and dry in some wet Maine camping last summer. I will always buy a good quality tent since it's worth it to be dry in the morning with the rain tapping on the rain fly.
To the guy that said that it was cold... Yes - of course. It has great ventilation since it's a — 3-Season Tent. It's intended for the three months that include summer. Thank god there is ventilation or you'd be roasting in the summer! if you're looking for something when the temperatures dip to 30, get something with less ventilation at the bottom and less headroom! The heat in your tent will pass right up and out in this thing - again - thankfully in the summer.
I did agree that it needs more stakes to take care of all 4 corners and all the fly stake-out-points. Not sure why SD skimped on those.
All in all a great tent - comfortable for a family of four... tight for a group of four 6-foot guys out for the weekend.
Design: THREE Season Good Headroom and DRY!
Sleeps: 4
Ease of Setup: Super Easy... but those poles are LONG
Weight: 13 or so
Price Paid: $350

The poles on the tent slip apart constantly when sliding through the tent. The cord does not provide any real tension.
The aluminum ferrule bent and broke on our last trip rendering it useless. Fortunately, I realized one section of the pole could be removed from each side. I knotted the extremely long tension cord to keep the poles together. Tent sagged, but the trip was saved!
Otherwise, this is an excellent tent for summer family camping. A bit cramped but just enough space for four (4) people. I am bummed about the poles - I'm guessing their discontinued or expensive to replace/repair.

Sleeps: 4
Ease of Setup: Easy, but poles bend and break very easily

On the plus side: Generally this tent is good for car-camping, river rafting/canoe trips. While heavy, it is quite roomy, and at 72" tall holds up well in 30+ mph winds and heavy rain. It will move quite a bit in strong winds, but never fear: it will not collapse. This tent sets up quickly, even in the dark and with impending rain.
On the negative side: #1 The tent has one major design flaw - the gauge of the zipper, YKK. For a heavy tent it makes no sense why the designers chose a lightweight zipper which quickly strips out. This is especially true in dusty and sandy climates. #2 The number of stakes is inadequate for all points of the fly plus the tent. Needs to include 4 more.
A side note: My wife and I always find stakes left at campsites we stayed at in Colorado, Utah, New Mexico and Arizona.
Design: three-season freestanding dome
Sleeps: 4
Ease of Setup: Very Easy
Weight: 18.5 pounds
Price Paid: $380

After suffering through a couple catastrophic failures of a cheapo family tent, I decided to cough up the extra bucks and buy a Bedouin 6. I'm extremely glad I did. It's very roomy for my 4-person family when car camping. The quality is what I've come to expect from Sierra Designs (it's my 3rd SD tent).
It's quick and easy to set up, it's admirably weather-proof, and it ventilates fairly well in hot, muggy conditions. I love its organizational capability - it's got a couple small gear lofts, a couple banks of 3-tiered stash pockets, and a couple beverage holders with stash pockets below. On clear nights, the mesh ceiling lets you stargaze. The twin vestibules are adequately roomy, and the twin doors add a bit of convenience.
For car camping or base camping, it's the hot ticket for families or groups of up to 5 people (6 people if they're small and don't mind being jammed against each other). I'm 6'5", and it's plenty long for me.
With such a large surface area, it's probably not the best choice for high winds or snow. You can guy it out in these conditions, though. You'll probably want beefier stakes than those that come with the tent. Sierra Designs Y stakes work very well and are relatively inexpensive.
Design: three-season freestanding dome
Sleeps: 5
Ease of Setup: Quick & easy
Weight: Doesn't matter, I wouldn't pack it

Awesome basecamp tent for the backcountry or family camping. After a trip with the family in southwest Florida I found this tent very roomy with two doors and a full coverage rainfly that has two vestibules front and rear that will hold plenty of gear. This tent is very stout with good airflow and no condensation inside. You also have an option to pitch the rainfly and footprint only and save plenty of weight. With plenty of guy out points on the fly it should be easy to ride out the rain!!!
Design: three season
Sleeps: 5
Ease of Setup: not very difficult
Weight: 17 lbs.
Price Paid: $329

I spent quite a bit of time researching the family car camping tent that I wanted, and decided on the Bedouin 6. I was ready to love this tent, but I can't say I do.
This tent is full of features that help you keep your gear organized, and the craftsmanship seems to be excellent. It allows you to fold up the fly for extra ventilation, and other similar features which can be nice. It stood up to some decent rainstorms with no problem.
The problem is, we've gotten quite cold on more than occasion, when outside temps were roughly 30F. The ventilation is excessive for the four of us (2 of which are children under 5 years old). I felt the cold breeze move past my face far too much of the night, and shivered even with a ski hat. My guess is that it's a combination of plenty of mesh, just above head level, and a very large volume of air due to the large tent interior and the 2 large vestibules. It's hard to heat up that much air volume, especially with a lot of outside air mixing.
We've mostly gotten around this issue by not pulling the vestibules taut (allowing them to rest on the ground), which cuts down on the amount of cold air getting in. It would be nice if they made the ventilation adjustable somehow, and they cut back on the other features if necessary.
Design: three-season, freestanding dome
Sleeps: 6+
Ease of Setup: pretty easy
Weight: 14lb
Price Paid: $299

Recently on Trailspace