Sierra Designs Cirro Jacket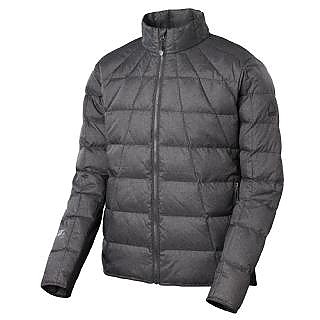 Version reviewed: prototype
An effective "Hybrid" jacket design using hydrophobic DriDown in the body and sleeves, with stretch-knit underarms for flexible fit, providing a versatile piece for "active" Winter wear. The Cirro is great for those who sweat a lot while active. Used intelligently, it can replace the normal layering system sweaty people like me use to keep warm and dry while active in the Winter. Although it's not waterproof, DriDown certainly expands the range of safe uses for down. Combined with a wicking base layer, this jacket proved superior to my mid-layer insulating fleeces, whether I was hiking, snowshoeing, trail-running, sledding, or scrambling.
Pros
Simple, effective (mostly) design
Quite compressible
Durable outer fabric with a dynamic quilt/baffle design
Flexible, adaptable Fit
Generous coverage by extended rear hem and sleeve length
Cavernous interior stash pockets
Self-adjusting stretch knit gussets in body and sleeves
Warm whether wet or dry
Impressively Hydrophobic as advertised
DriDown keeps its loft despite moisture abuse. It also dries and regains loft quickly, much more so than my other down pieces
Good loft for the money
Layers easily
Cons
Interior pockets each need a small hook & loop closure tab
Stretch knit material is cold
Stretch knit gusset material is stinky. fast.
Tags stitched through exterior jacket material (pre-production?)
Lack of draw-cord on hem can let in an occasional chill when really windy
Some questionable sewing quality (result of pre-production?)
No chest pocket(s)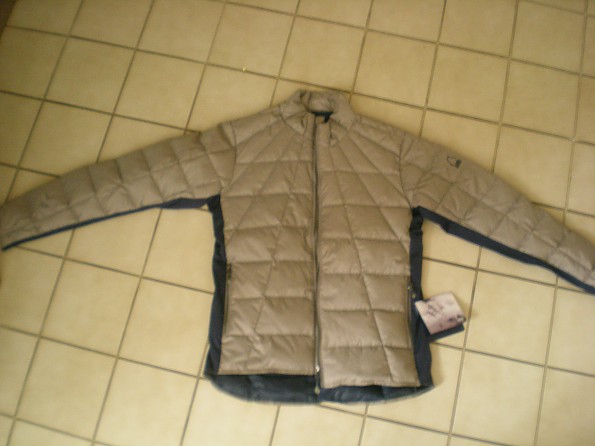 From Sierra Designs:
Sierra Designs Cirro collection- Jacket, Vest, and Skirt
**New for Fall 2013:  Designed for active winter use, the men's and women's Cirro Jacket is a lightweight hybrid piece insulated with 600-fill DriDown in the body and tops of the sleeves.  A stretch knit gusset on the sides and under the arms increases comfort and mobility. Great for extra warmth on cold days spent in the backcountry.  DriDown stays lofty and warm whether you're working up a sweat or the snow starts to fly.  The Cirro series also includes the women's skirt and vest.  $199
Scope of Testing: 
I used the Cirro Jacket for several activities, including hiking, aggressive trail running, mountain biking, camping, post-holing/snowshoeing, and manual labor for more than 13 days in a variety of conditions including rain, fog, snow flurries, driving wind, at elevations from 800ft to 9,600ft, and in temperatures of 57 down to 21 degrees, with wind chills yielding relative temperatures of 9 degrees, throughout the mountains of Cleveland National Forest and San Jacinto State Park in Southern California (pic below is Taquitz Ridge above Lily Rock with my boy).
Me trail running, chasing snow (48 degrees at trailhead, 39 at turnaround after 2600' elevation gain - never hit the snow):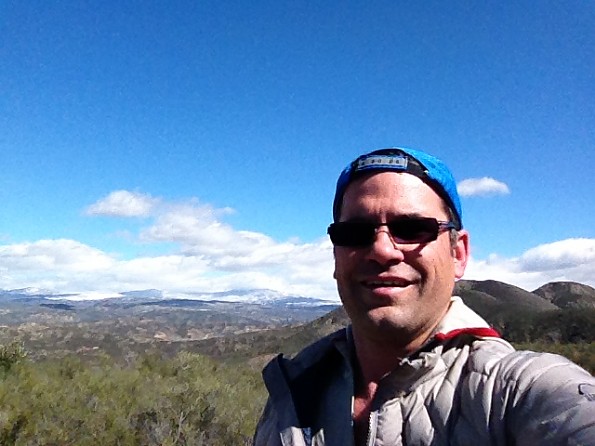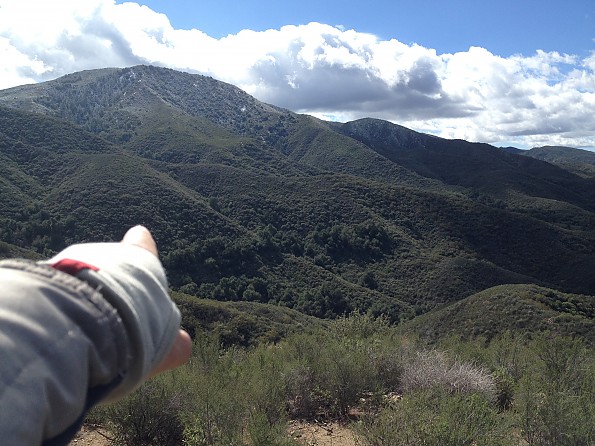 User Info and Experience: 
Male; 6' 2", 195 lbs trail runner, mountain biker, and backpacker, as often  as possible. 
Cirro Jacket just before sledding near Pine Cove, CA
Jacket Features and Specifications:
Size Large. Sierra Designs proprietary 600 fill power DriDown, nylon rip-stop interior liner, shell is 100% down-proof, 30D polyester ripstop with DWR and a "Cire" finish. 
Weighs 13.6 oz on my scale (manufacturer claim 13.1 oz). The Cirro Jacket compresses to a 6" sphere. It has four pockets — two inner and two hand-warmers — with YKK zips.
There is elastic, brush-faced gusseting along entire length of inner sleeves and side hems. A full front zipper with draft flap is from YKK. The dropped rear hem extends 29", and the sleeve length is 36.5". The weight of DriDown insulation fill was not specified.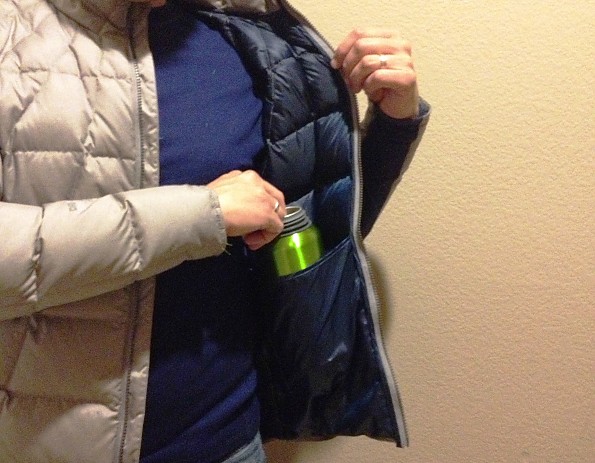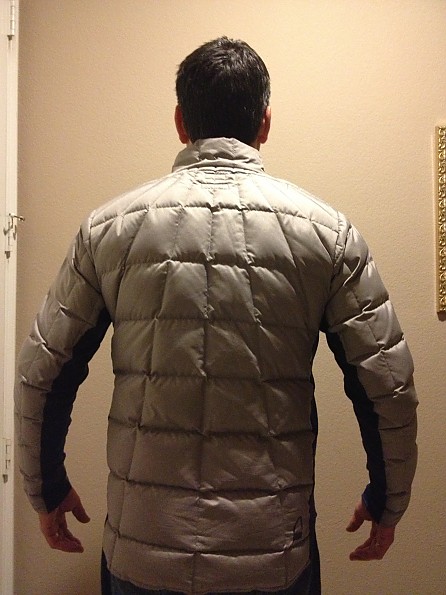 Pictures of large interior pocket and LONG dropped rear hem
Product Testing and Review
First off, the unique radiating baffle design is nice look. However, a strange, non-functional design cue is that the tags are stitched through exterior on back (see picture above). I would think that this would render the baffling and down in the tag area useless, and I feel that keeping the spine warm is an important function. Overall, however, I'd say the Cirro is a handsome design, as I've received numerous compliments on it.
Fit & Comfort: 
Stretch material on underarms keeps things ventilated and make it easy to remove the jacket while wearing gloves. Stretch gusset panels are made with a brushed backed stretch knit (navy blue fabric in picture below).
The 4" wide, 4-way stretch panels can stretch to 150 percent of their "at rest length," insuring a comfortable fit regardless of the activity and body type.
The fit is athletic, not technical. No drawcord at the bottom is fine, in theory, because of the stretch side panels, but it is should be tightened up along the hemline, taken in maybe a ½-1" so there is no gap between the jacket and my pants. (I have a fuller posterior relative to my height.) The Cirro's dropped-hem cut provides plenty of rear coverage, essential in winter activities.
Nice, long sleeves provide full coverage as well, even with arms extended (my first mountain bike ride test). DriDown dried quickly after my first trail run in freezing temperatures, where the jacket wetted through from my sweat (I was wearing a 190 weight merino LS baselayer). I will also add that the Cirro kept me warm, despite me sweating through, even after I rested outside, post-run, in the freezing temperatures (31-32 degrees). 
During my winter hike/snowshoeing (just a little) adventure, I was again reminded of the great rear coverage (longest hem of any Large sized item I own), which meant plenty of protection for my backside below my pack, without riding up and leaving me exposed. The Cirro proved supremely comfortable and flexible in fit during the same active hiking/snowshoeing with trekking poles (similar pace and cadence to cross-country skiing). Again, the sleeve length is also excellent, with no riding up despite long trekking pole strokes. 
Adjustability:
The stretch knit gusseting and full front zip are the only adjustments found on this jacket. I found myself wanting a drawcord hem a couple of times when I had some strong winds sneak under the hem and give me a chill. The gusseting does work very well, however at keeping the jacket in its proper place. 
Water Resistance:
Though by no means waterproof, the Cirro sheds mist, light rain, and wet snow quite nicely. Tried on another trail run in light rain for 30 minutes, in 40 degree weather and winds up to 20mph. I was warm the entire time. Wet snow just before New Year's, experienced while sledding and throwing snowballs, didn't slow me down at all. Which brings me to DriDown technology:
DriDown:
This stuff is pretty amazing: 
I sweat. A lot. The Cirro/DriDown dried quickly after my first sweaty trail run (190 weight merino LS baselayer). It kept me warm despite the wetness on my baselayer and on the inside of the Cirro. There was no loss of loft.
The Cirro's DWR works well, at least has so far after two washes.  Despite sweating into jacket during several active outings, the DriDown kept its loft and most importantly, kept me warm. Moisture passes through fabric and passed the DriDown to the exterior without reducing loft. It dried fast as well.
Washing, Drying, & Care:
I washed the Cirro the first time with Atsko Sport Wash on extra gentle, top loader, with no damage. The jacket floated no matter what I tried to do. I can honestly say that the hydrophobic property of the polymer-treated down plumes was witnessed. The Cirro dried with a towel and three raquet balls on extra low in about 30 minutes.
It's important that the DriDown wash process is easy, as the jacket's hybrid zone design encourages active use, which equals sweat and stink, specifically in the stretch underarm material (stinky synthetic). I would recommend a odor-fighting treatment in the gusset material.
For the second washing, I hand washed and squeezed the water into the down until it got soaked and lost its loft (see picture of wetted, wrinkled, and flattened sleeve and collar below). It still lofted some, and kept some insulating qualities. It took 30 minutes in the dryer and 1 hour of air drying (ambient home temperature was 65 degrees with about 50-55% humidity) to completely dry and return to full loft.
Breathability & Moisture: 
Moisture passes through fabric to exterior without reducing loft (seen below after a trail run). Materials dried fast as well.
Warmth:
Notes from my backcountry hike/snowshoeing adventure: 
Stretch panels let in the cold when not in motion. A shell is going to be useful to keep out the chill while at rest for hours in winter temps. In temps low 20-30 plus 20-25 mph gusts with a wind-chill, while hiking, I kept warm enough without a shell. The Cirro has a wind-resistant main shell fabric. The Cirro was cozy warm when I stopped for a short rest and had no wind, temperatures still in the low 30s. The Cirro keeps its loft well. 
When inactive, this can serve as a fall coat, but I found myself reaching for my 750 down puffy sweater sitting around our campsite at night in January winter camping, when the weather hovered around 22-28°. 
Layering:
Stretch gussets make layering easy. I most frequently wore this jacket over a merino T-shirt, a merino l/s base layer, or a l/s Polartec Power-Dry crew shirt. A slightly loose neck allows for a high-collar baselayer to be worn underneath with ease, and without compressing the down. The Cirro gives superb warmth and movement underneath my shell jacket(s).
Durability:
I have noticed quite a bit of down leakage in the interior, more so than my other down puffy. There are no visible signs of wear on the jacket so far. In fact, it looks and lofts like new, even after two wash cycles. 
Function:
Notes from my three-day winter camping/hiking trip: 
Great moisture transfer, dry time, and loft retention meant I could forgo having several layers to deal with during our trek the next morning. Could use a single chest pocket. Adds nice warmth under a soft shell or hardshell in winter conditions down to 30 deg. Stretch material could be heavier 100 or 200 gm stretch fleece, like Polartec Powerstretch material, which still breathes, stretches, and wicks well.
While the Cirro uses quality fabrics, I found inconsistent stitching quality at the cuffs, and as mentioned before, the tags were sewn through the jacket. I'm hoping the both of these issues are a result of this jacket being essentially a one-off, early prototype jacket.
It will be made in China, as was this particular example. I'd also like to point out that this sample is a non-production color and texture as well, although my specs above reflect the actual production version's materials. 
Zippers and pockets all worked properly with one minor exception: 
The interior stash pockets, while wonderfully large, do not securely hold items that are smaller than a Nalgene Bottle or goggles. They could use a small, lightweight hook&loop closure on each. 
Conclusion: 
The Sierra Designs Cirro Jacket manages to wear its "Hybrid" zone insulation designation well, even in prototype form. With its DriDown technology, I found the Cirro Jacket invaluable as my go-to insulating layer when backcountry hiking, Winter trail running, and snow-shoeing. It presents better loft and insulating properties, breathability, less weight, water and wind-resistance than even my best (and most favorite) Lowe Alpine Polartec Windpro fleece.
DriDown has yet to be control group tested against the finest synthetics like Primaloft in cold, humid, and wet conditions, but my experience so far would point to its superior insulation characteristics in those situations. Time and further testing will tell the whole story.
I would not consider it as a belay jacket, being devoid of a hood, premium–level fill power, and insulation under the arms, but it does pair and perform excellently with a weatherproof shell as a layer for warmth when active, in just about any winter endeavor.
It's a fantastic three-season warm layer, even while at rest, down to about 30 degrees. Its long sleeves and rear hem are excellent for warmth during powdery winter adventures. Skiers and boarders might find it too sparse in the features department to wear as their outer layer (not enough pockets or attachments — no drawcord at the hem).
The Cirro is supremely flexible to wear as additional insulation in varied conditions and activities, all the while sporting a handsome overall design that got me my first ever style compliment from my bride on an item of outdoor clothing. This means it can look sharp at social events as well as at isolated backcountry events.
I wish to express my appreciation to Sierra Designs for letting me review this jacket prototype.
Source: received for testing via the Trailspace Review Corps (sample provided by Sierra Designs for testing and review)

Your Review
Where to Buy
Help support this site by making your next gear purchase through one of the links above. Click a link, buy what you need, and the seller will contribute a portion of the purchase price to support Trailspace's independent gear reviews.
You May Like
Specs
Men's
men's
women's
Price
MSRP: $199.00
Historic Range: $198.95

Weight
13.1 oz
10.5 oz
Women's
men's
women's
Price
MSRP: $199.00
Historic Range: $198.95

Weight
13.1 oz
10.5 oz