Sierra Designs Clip Flashlight CD

The Clip Flashlight CD has been discontinued. If you're looking for something new, check out the best three-season tents for 2022.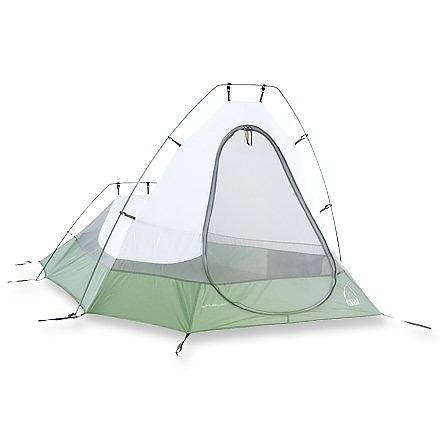 Specs
Price
Historic Range: $127.97-$179.00
Reviewers Paid: $130.00-$189.00

Reviews
13

reviews

5-star:

3

4-star:

6

3-star:

3

2-star:

1

1-star:

0
14 years old and still going strong.
Pros
Warm
Long
Reliable in high winds
Well ventilated
Cons
Small vestibule
Cumbersome exit
Hot in summer
I bought this tent in '06 and it's still going strong. New seam seal and waterproof on year 10. It's heavier than today's UL tents, but more reliable. I have slept in 28-degree weather comfortably. It does well in high winds.  Taking back BA Tiger Wall UL and going back to the CF for my upcoming through hike of the Colorado Trail.  
Warm, easy set up in dark, long, so have room for pack or dog at feet, even with two people. Durable. Only tent left standing when tornadic force winds ripped through canyon at Lost Maples State Natural area. Ventilates well. Never had any condensation.
Can be hot, even without rain fly in Texas summers. No star gazing mesh. But, maybe that's what keeps it warm. Heavy compared to today's backpacking tents, but was lighter than most when purchased. Not free standing. Stuff sack a little small. 
Door location makes entry and exit challenging if sleeping two or if reduced mobility.  
Experience
Been backpacking for 15 years. Also used this tent for car camping in cold weather, and for river trips. Camping all my 64 years, and it was my sister's and my responsibility to pitch my dad's canvas family size straight wall tent.
Source: bought it new
Price Paid: Don't recall exactly.

Pros
Strong
Reliable
Easy to set up
Cons
It's not free-standing, but that's OK.
I had the Clip Flashlight CD for probably around 25 years. Seriously, I did! Gave it to a friend today.
It's never let me down. Not once did it ever leak with the fly on, but you do need to get it just right to cover all the corners. I have always used the ground cloth, and make sure, it's tucked under the tent.
So, I just now bought a new tent, because I just wanted something new. I hope I'm not too disappointed!
Source: bought it new

The Clip Flashlight tent has been very popular because it is a good all around tent. It is durable and mine has withstood wind and rain and kept out bugs without a problem. It is a double wall tent with aluminum hoops forward and aft that hold the shape of the tent well.
It sets up quickly. It is not free-standing, that is, needs pegs. There is adequate space for two, but no extra room for gear.
My only disappointment was that the advertised weight 3 lbs 10 ounces turned out to be a pound lighter than the carry weight. I wrote Sierra Designs about that and they wrote back a really nice letter explaining how that can happen.
Nevertheless, the tent is still heavier than I would like. There is a floor made for it so you can use the rain fly without the interior tent. (They call it Fast-Pack configuration.) This gets the weight down to about 3 lbs. 13 ounces, but no bug protection.
The tent is an excellent buy for the price and it is a reliable shelter. I have not used it lately for summer trips because now have a lighter weight tent. BTW, the Fast-Pack configuration seemed to keep rain out better when I extended the corner tabs of the tent with strings to pull the corners up and out further. Look at "similar" tents here as this same tent is reviewed under several names (Clip Flashlight, CD, and CD 2 for example).
Design: Three-season, hoop frame, double wall tent
Sleeps: 2
Ease of Setup: Sets up quickly. Fast-Pack configuration needs to be "adjusted "
Weight: 4 pounds 11 ounces (about 2.14 kg)
Price Paid: $130

I've had my Clip Flashlight for over 6 years and it's served me very well. I do a lot of solo hiking and the Clip Flashlight is simply perfect for that.
The tent weighs next to nothing and unlike some other lightweight tents, the CF isn't made of 90% mesh. Because of that, the CF is usable well into the fall and early winter - as long as there's no major snowfall. And yet it still manages to ventilate fairly well during the summer.
The negatives ? Due to its non-freestanding design, the CF is susceptible to heavy winds and snow... but that applies to all non-freestanding tents. Rating it a 2-person tent is very ambitious as well... and of course that applies to pretty much all tents.
Real tight for two people, especially two people and a dog. I will keep this as a solo (or solo plus dog) tent, but will be looking into buying a larger two or three person tent in the future.
Design: non-freestanding
Sleeps: 2

I bought this tent a few years ago and the only big problem I have ever had with it is that it is hard to dry it out. This is mainly because it is not freestanding. Another problem with the design was the amount of room in the vestibule. There was a pretty limited space under it. Also, I'm not exactly one you would call a small fellow, and although it says it's a two person tent, you can't really fit two people in the tent real comfortably unless they intend to cuddle.
Amid these problems there are good aspects. The ventilation is great and it's a lightweight tent. The only time I got wet was when I went on long trips and the tent never dried all the way before I packed it back up and set it up again.
Design: three-season non-freestanding
Sleeps: 2
Ease of Setup: pretty easy, only problem is that it's not freestanding and uses clipson the poles
Weight: 4 lbs. 8 oz
Price Paid: $169.99

Version reviewed: 2003
This was my first backpacking tent purchase in over 20 years. This is rated as a 2 person tent and can theoretically accommodate 2 folks (but very cozily). I have used it exclusively as a solo tent. I'm about 6'0" and 225 and I find it quite roomy. With a pack weight right at 4 lbs., it isn't ultralight gear for a single person, but certainly not a huge amount of weight and a very comfortable shelter that has served me well including in wind and downpours. I have used it in fastpack mode only once (Grand Canyon in November) and found it to be slightly better than sleeping in the rain during a high wind and high rainfall situation (would have been fine if I could find a sheltered place to pitch it). The non-freestanding design saves weight, but is a bit of a pain in rocky terrain. Even using tie out rocks, it isn't practical on slickrock. A buddy has the one-person version (Lightyear CD) and gives it high marks. I am considering retiring it just to get something in the sub 3 pound range (or I might just eat less fattening food). Very pleased with the product.
Design: three season non freestanding big and small arch
Sleeps: 1
Ease of Setup: relatively easy
Weight: just under 4 lbs.
Price Paid: $180

I bought this tent several years ago and have yet to be let down. The ultimate test so far was on the eastern slope of Mt Lafayette in N.H. Due to the high winds and rising temps (60 mph+/ 35F-55F) I was secure, though awake, until the final gust pulled my guy lines free. Even though it flatttened out a couple of times, I stayed dry-ish. Overall it outperformed my expectations of a lightweight tent. Point of note--know your tent mate really well or be very comfortable alone, and don't use a candle lantern in high winds unless you stay vigillant. Easily fixed with clear tent repair tape. . . Quite pleased for several years now. . .
Sleeps: 2
Ease of Setup: simple
Weight: 4
Price Paid: $170

This refers to the circa 1999 (blue rainfly) version.
It looks like Sierra Designs is finally quoting real packed weights these days. As I recall, when I purchased this tent in 2001, they claimed its packed weight was 4 lbs.
I used mine for only three weekend trips before deciding to go with a freestanding option. But that reflects more on my requirements than on the quality of this tent. (If you're curious, see my review of Mountain Hardwear Trilight 2.)
Despite its brief tenure, I did make a few observations.
Exactly one person of moderate torso length can sit and dress inside. Accommodating two slender adults for sleeping is cramped.
It's possible to keep the rainfly permanently clipped to the body so that, when pitching during a rainstorm, the body is somewhat shielded from rain. Just stake the body down; erect the poles; and crawl in to clip the body onto the poles.
The DAC Featherlite poles are soft and brittle. Take heed of the manual's warning to avoid letting the shock cord propel the ends together haphazardly; allowing them to do so will definitely deform the end of each tube. Due to brittleness, correcting the deformation must be done gently. Consider grinding it away rather than attempting to press it out.
Due to the slope of the front face, the rainfly entrance overlaps the threshold of the tent considerably. That, combined with water pooling at the flap of fabric shielding the rainfly's zipper from raindrops, tends to create a miniature rainstorm beyond the tent threshold upon unziping the rainfly. Hopefully, the altered zipper path on the latest model has fixed this.
I recommend buying some MSR Groundhog style stakes to replace the factory-supplied stakes at the two rear stake points if there's any chance that sandy soil and wind could conspire against you during the night.
Enjoy and preserve wilderness.
Best wishes.
Design: two-person two-hoop non-freestanding
Sleeps: 2
Ease of Setup: moderate
Weight: 4.5 lbs

Version reviewed: 2002
I havent had this tent long but I love it already. I went hiking with a group of guys in the northern Appalachians, and it was 20 degrees with 50+ mile and hour winds and pounding snow. Everyone had a problem with their tents: some would collapse, some would leak, and some the poles snapped.
But the Clip Flashlight held up great. This tent is great for anyone that wants something that won't kill your back or burn holes in your wallet. But the vestibule is a little small. The new DAC poles are great too. Setup is a breeze. I would reccomend this tent to anyone
Design: 3.5 Season Non-Freestanding
Sleeps: 2
Ease of Setup: Easiest One I've Ever Had
Weight: 3.10 Pounds
Price Paid: $149

This tent is ideal for backpacking in ideal weather conditions. If you will ever find yourself in extreme wet weather and/or high winds, steer clear of this one. The pole design and fly are not adequate for most of the conditions I encounter in the Northwest. I was lured in because of its light weight. Bottom line: usually when it comes to tents, you get what you pay for.
Design: 3
Sleeps: 1-2
Ease of Setup: simple
Weight: 5 lbs
Price Paid: $189

Version reviewed: 1997
I chose this over the Kelty Zen, just because of the weight. A big plus, besides ease of setup and low wieght, is the vestibule.
Design: 2 person backpacking
Sleeps: 2
Ease of Setup: easy set up
Weight: under 4 lbs
Price Paid: I gave $180

Version reviewed: 1997
I looked between this and a Sierra Designs Orion. My reason for picking this over the Orion was:
1. Lower to the ground, to get better air resistance.
2. Quick to set up (although so is the Orion).
3. It's a little bit lighter, which on longer trips can make a bit of a difference.
The one thing that caught my eye on the Orion was its freestanding design, which can sometimes be useful.
The Flashlite might not have a lot of room but it is quick, easy, nice, low to the ground, lite, and is exactly what you need to the light in lightweight backpacking.
Design: 3 season
Sleeps: 1-2(close and comfortable friends)
Ease of Setup: It took me 3 min. my first time and this was the first tent I have had to set up in a long time!
Weight: feather weight
Price Paid: $150 (on sale), $200 normally( I believe)

You May Like
Recently on Trailspace