Sierra Designs Gamma

The Gamma has been discontinued. If you're looking for something new, check out the best three-season tents for 2023.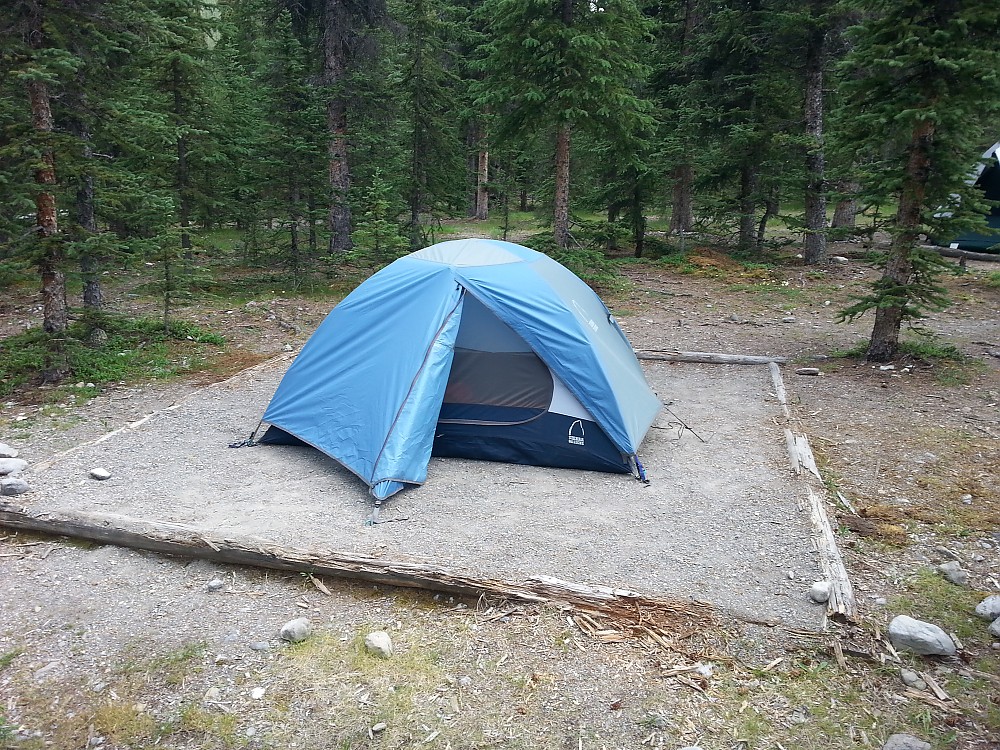 Excellent tent that I trust after tons of use, and lots of abuse. It'll keep me dry and covered and midge free, if not super warm (that's what the sleeping bag is for though).
Pros
strong
extremely waterproof
large
Cons
bit of condensation
windy means lots of noise
I've used this tent long term in both Canada and New Zealand as well as a bit in Scotland. It holds up excellently to all sorts of abuse, long term backpacking, use in the outback on rocks and sticks and around moose and bears.
It's a two person but very lightweight, strong materials. I've had it in 4-day soakers and not a drop inside. It does get a bit of condensation but if you leave the flaps to get air it's not too bad. I  took it up to Alaska and found it hard to warm on my own though.
It's strong though and large with plenty of room for one or even snug with gear inside with two, or gear can lean up together outside under the vestibule. 
I have had trouble with the wind whipping through and making me quite cold. Wish the nylon sides went up a bit higher. I've had it in sand and around those awful midges (black flies) and it's good. The poles are strong, bathtub style bottom means water doesn't leak in.
Noisy in a lot of wind as it flaps around, but you can peg it down more and use earplugs. So the only real con is the wind flows in right over me quite a bit.
Source: bought it new

Simple, durable, lightweight tent. Used it many times for bike trips, kayaking, and hiking.
Pros
Easy to pitch and pack
Stable
Durable
Usable vestibule and nice large door
Cons
A little condensation
Fly zip snags
No longer made!
I would almost consider this tent irreplaceable, just because I could never find something as usable for the same money. It's everything I could ask for in a 3-season tent...pitches quickly and easily, is stable, has kept me dry in heavy rain, packs light and is fairly compact, has a nice, big side entrance and decent vestibule for gear, has a couple mesh pockets inside and a little drink tray that I've used on occasion.
I have had a little condensation inside but never been a problem as far as getting me or my gear wet. The zip on the fly gets snagged sometimes, which can be a bit annoying, not a big deal though. The color is a bit bland, would be nice if it stood out more. 
Got a steal of a deal on it so I'm all smiles.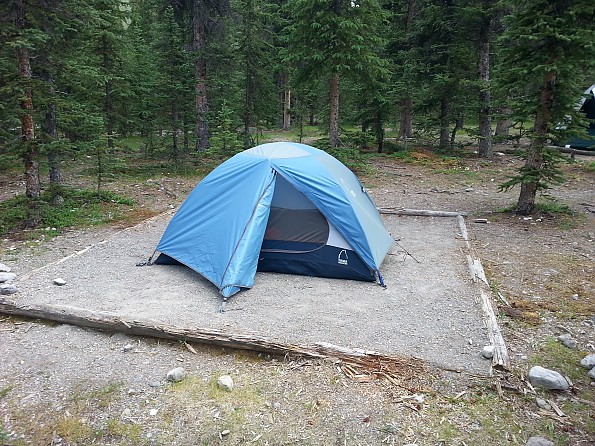 Source: bought it new
Price Paid: $120

I used this tent on a week-long camping trip in Utah where the wind gusted, and it rained and rained and rained. At first the tent got a little damp in the corners - then I wised up and guyed out all possible guy points as tightly as possible. The tent then stayed dry, even after a storm where the wind was so strong that the rain splashed up under the tent fly and the fly was pressed against the tent body.
On the negative side - the location of the fly entrance zipper on the vestibule. It is off to the right hand side, and when the it is raining or the fly is wet, water does drip into the tent when the fly is opened. That is the only negative I found with this tent. Size wise - at about 53 sq feet, I don't find it big enough for 2.
Design: Free standing 2 pole 3-season backpacking tent
Sleeps: 2
Ease of Setup: Very easy
Weight: Pretty light - about 6 pounds
Price Paid: $139

I have used this tent about five times. I did seam seal the fly and the perimeter of the bathtub floor. Went through an all night rain and had zero condensation. There is enough headroom to sit up comfortably. We easily fit two people (not a couple) and gear. You need more stakes than come with the tent, and the ones that come with it are rather large. Get some superlight titanium ones. Also get some guy line. I have been super comfortable in this tent and enjoy spending time in it. I like the white tent fabric, too -- makes it seem lighter inside. I bought this tent because it was a good deal (price included footprint) and am thrilled that it turned out to be a great product.
Design: three-season freestanding dome
Sleeps: 2
Ease of Setup: Sets up easily - fly first; tent clips on underneath (read - tent stays dry during rainy setup)
Weight: about 5 pounds; fastpack at 3.5pounds
Price Paid: $100

I love this tent. I can't say much more than that. It is super easy to set up. After putting in a twenty-seven mile day on the AT (in the rain), you don't want to end up wrestling your tent in the dark. The Gamma makes quick work of making camp. It can be set up in under two-minutes. Lightweight and durable fabric makes this tent my choice for the trail.
Only downfalls: the zipper on the fly always seems to jam, and I've gone thru a set of poles.
On the plus side, Sierra Designs customer service is top notch. They overnighted me the poles each time they snapped.
Sleeps: 2
Ease of Setup: If it were any easier, it would come with free HBO.
Weight: lets just say its light enough
Price Paid: +/- $100

Great tent. Setup is a snap. I went through a night of rain without any leak or condensation. The tent was very stable in high wind. The best I like in this tent, is the ease of getting in and out. The large door, and the way how the door mesh unzips all the way, is a great feature. Enough vestibule room to leave boots and a backpack outside (wish the vestibule was a bit bigger). I use it as a 1 person tent, and having one door is just enough for me. I have used the REI half dome 2, but the Gamma is a much better design and quality.
Price Paid: $110

This tent operates flawlessly. I did nothing to prep it and have been dry as a bone through an all-night rain. I amazed my fellow backpackers as they sat under the tarp and watched as I tore down and packed this tent from inside the tent. OK, so I was under the rainfly as I packed up the tent then the footprint, then the poles while the rainfly covered my back. Anyway they were wet, I wasn't.
Design: three-season, freestanding
Sleeps: 2
Ease of Setup: Fast clips make this a breeze to set-up even in darkness.
Weight: Approx. 6 pounds for tent, fly, and footprint.
Price Paid: $149.95

Superb tent! Spacious, easy set-up, lightweight and waterproof. This tent will be better if it has a bigger vestibule.
Design: 3 seaon free standing dome
Sleeps: 2
Ease of Setup: easy set up, can be set-u;p within seconds
Weight: 3.2 lbs
Price Paid: $149

Your Review
You May Like
Specs
Price
Historic Range: $109.93-$184.95
Reviewers Paid: $100.00-$149.95

Recently on Trailspace