Sierra Designs Hyperlight 3

The Hyperlight 3 has been discontinued. If you're looking for something new, check out the best three-season tents for 2022.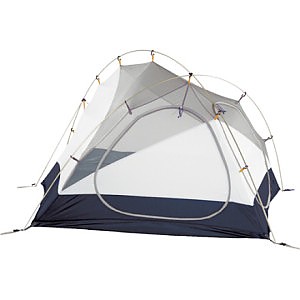 Specs
Price
Historic Range: $179.95-$288.96
Reviewers Paid: $165.00-$240.00

Reviews
5

reviews

5-star:

0

4-star:

1

3-star:

4

2-star:

0

1-star:

0
I own both the Hyperlight 2 (for mountaineering) and the Hyperlight 3 (family backpacking).
Like many SD tents, the Hyperlight 3 is very light, sturdy in comparison to other 3-season tents with similar floor space. The "kite" shaped floor functions well to make the floorspace usable: the foot area is low and narrow, while there is ample space beside each sleeper and at the head for gear and a dog or two.
I can see why some whine that with the narrow foot-space, this isn't really a 3person tent. Certainly true. But then I used to have a 3person REI dome, and it was comfy for only two. A 3person tent with a rectangular floor will certainly have no usable space for storage of gear (if used for three), and will weigh more.
I think this tent was designed for use by two people who want a bit of roominess inside, maybe room for a small child or a dog, plus some gear. It is clearly not designed for three full size adults.
Design: three-season free standing
Sleeps: 2
Ease of Setup: very easy
Weight: Six pounds packed weight
Price Paid: $175

Thanks to the reviews on this site, I purchased my Hyperlight 3 with the intention of using it as a 2 person tent. The tent is comparable in weight to many 2 person tents and I figured the extra space would come in handy.
The tent is very easy to set up and the two entrances (which are spaced about 1m apart) make it very easy to enter/exit without disturbing the other person. Footspace is at a premium since 2 full length Thermarests will overlap at the bottom but due to the angle of the tent, headspace is at a premium.
I've used this tent in the summer and in the winter when it was around 5 below C. The tent performed very well in both cases... even without the Jake's corner.
If this was a review for a 2 person tent, I'd rate it a 5. Unfortunately, I just can't imagine 3 people being crammed into this tent unless they were all under 5' tall. Think of this tent as a 2 person and you'll be pleased.
This tent is incredibly easy to set up and probably takes around 5-10 min. after your first time. A loop/clip on the fly and one on the tent body are blue, so it's easy to figure out what goes where if it's dark out.
The tent's biggest problem is that it's billed as a 3-person tent. I bought it as a roomy 2-person tent, but recently used it as a 3-person tent. SD suggests that two people sleep with their heads near the doors, and one sleeps in the middle with their head in the corner (head-to-toe). This position would be impossible.
My friends and I (all under 6' tall) had to sleep with all of our heads near the doors but this causes your feet and sleeping pads to overlap. I woke up with a wet sleeping bag because it was too crowded in the foot area and my bag was touching the wall. Even if you attempt to lay two standard size sleeping pads next to each other (in a rectangular position), they barely fit and almost touch the outside walls.
There is a 1 inch gap between the rainfly and tent body near the top of the tent. So you may wake up with mosquitoes buzzing around your head. It makes it more difficult to keep them out of the tent when you try to open the door.
If you can get it as cheaply as I did, it's worth it. Otherwise, I'd buy a different model.
Design: freestanding
Sleeps: 3
Ease of Setup: Very Easy
Weight: 6 lbs. 1 oz.
Price Paid: $165 @ Sierratradingpost.com

A very good quality, sturdy, and lightweight tent.
The tent's shape make it impossible for more than two people to fit in if you use full length sleeping mats. Two large males (both around 6 feet tall) fit comfortably. The floor area (44 sqf) is in-line for a three-person tent, but the awkward shape does not allow for three full-length mats -- I can imagine getting three people in if you use half-lenght mats. For two people there is lots of extra space in the corners to stash your goodies. The vestubles are not huge but sufficient to store 2 - 3 packs/cook underneath it.
The tent has to be guyed out properly since the four-pole design leaves a big portion of the flysheet without support from underneath. The flysheet will sag when wet and cling to the mesh, causing condensation problems, if not guyed properly.
Verdict: great three-season, two-person tent if you require some extra space, don't mind the weight, and prefer the stability that the Jake's corner provide. Not quite there as a three-person tent but will do if you don't mind sleeping on top of one anther.
Design: three-season freestanding
Sleeps: 2
Ease of Setup: Quite easy - color coded clips, poles of different length. Can be done alone.
Weight: 2.8kg
Price Paid: USD 210

I really wanted to give this tent a higher rating because I love Sierra Designs products, but in good conscious, I cannot. The design of this tent is a "kite" floor plan. Not only is this tent not a three-person tent, it really doesn't work well as a two-person tent unless both occupants are 5'10" or under.
On the plus side, this tent is very stable in the wind, and ties down nicely. The top and rear corner have plenty of mesh, so condensation has not been a problem. Materials are all first quality, and well put together. Vestibules are smallish, but each person gets their own assuming 2p usage (see below).
The design of this tent is built around the "Jake's Corner", an extra pole set which fits into two plastic pole attachments built into the bottom corners of the tent (think of the tail/bottom part of a kite). As a feature, the Jake's Corner works very well to add stability -– BUT –- I feel like Sierra Designs made a tent to feature an innovation, rather than using an innovation to help build a better tent.
The reason? The kite shape just doesn't work (even as a two-person tent). You end up having to go head to toe because if both users' heads are near the top, there's no room for a two full length therm-a-rest pads -– the pads overlap each other at the bottom of the tent, even if you place the pads right up against the two tent doors. Even going head to toe, you still end up with no head room for one person, and someone's feet in your face during the night.
At 6.25 lbs trail weight, the Hyperlight is a middle of the road/heavy two-person tent. There is no way, and I mean NO WAY this is a three-person tent (okay, maybe it's a 3p for Cub Scouts/kids). As a 2p tent, you'd better be camping with someone you're not afraid to get up close an personal with -– which you'd expect from a 2p backpacking tent, but not a 3p tent. This tent's funky layout needs another two inches in each direction. I thought I could make it work when I set it up at REI before purchasing, but it just doesn't work.

Design: Modified dome, freestanding. 3+ season
Sleeps: 3
Ease of Setup: Very good: color coded clips, Jake's Corner easy once you get the hang of it.
Weight: 6.2 LBS
Price Paid: $240 @ REI

You May Like
Recently on Trailspace