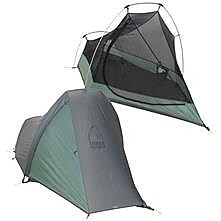 Specs
Price
MSRP: $169.95
Historic Range: $34.95-$189.95
Reviewers Paid: $50.00-$150.00

Trail Weight
2 lb 11 oz / 1.22 kg

Packed Weight
3 lb 0 oz / 1.36 kg

Interior Area
20 sq ft / 1.86 sq m

Vestibule Area
3 sq ft / .28 sq m

Peak Height
38 in / 97 cm

Packed Length
19 in

Packed Diameter
4 in

Capacity
1

Season
3

Number of Doors
1

Number of Poles
2

Pole Diameter
8.5 mm

Pole Type
DAC NSL

Floor Material
70D Nylon, 3000 mm

Body Material
20D Nylon

Fly Material
40D Nylon, 1500 mm

Reviews
16

reviews

5-star:

8

4-star:

5

3-star:

1

2-star:

0

1-star:

1
This tent is bomb proof and lightweight! I think the only drawback is the smaller vestibule. That being said it is still all you will need in most cases. I would highly recommend this tent to anyone looking for a great 3.5-season tent that works well for backpacking, bike packing, motorcycle camping, and yes, even overlanding....as a backup for when there's not enough room in the RTT!
Pros
Lightweight
Plenty of room inside
Great weather protection
Cons
Non-freestanding (only an issue w/hard ground)
First of all, let me say I have the previous model of this tent. Now, here's what I have to say: I have taken it on numerous adventures and it has survived everything from week+ long overland trips to the June 2012 Derecho that hit Ohio, West Virginia, and Virginia.
The reason I initially purchased this tent was that after an overnight trip on the Allegheny Trail, roughly 18-20 miles, with a heavy two-man dome tent, you know the kind...it had the blue tarp consistency bathtub floor and weighs like 10lbs. Anyway, after carrying that around for two days I decided to get something lighter!! I did some research and settled on this tent based on its weight, reported three-season functionality and reputation of the manufacturer!
I am a huge SD believer. They have great products and great customer service. This tent is super easy to set up and it does require two stakes in order to set it up, one at each end, as it is not free standing. Most of us have learned the hard way to go ahead and stake down the tent so putting down two stakes before you set it up and staking the four remaining points seems pretty easy to live with to me. You can really get it taut and the design makes it fairly easy to set it up even in the windiest of conditions!
Enter the Derecho of 2012, a buddy of mine and I decided to do some car camping. We loaded up his Tacoma and went to the Cranberry Wilderness area in West Virginia. Little did we know that we would get hit with 80+ MPH winds and a tornado that skirted our campsite. After the initial winds came the torrential rains....my poor tent ended up with a branch the size of my thigh over the top of it and the bathtub floor was completely full of water all in about a half of an hour. We had to seek shelter in a nearby field to keep from getting crushed by trees.
I didn't have the fly on the tent at the time and I do feel that if I had it may not have fared as well. Once the storm had subsided enough for us to go back in to the small tree circled camping area, I moved the limb and pulled the stakes and dumped the tent out and threw it in the back of the truck and we took off. I figured that it was a goner because I didn't have a chance to look at it thoroughly at that time.
Once we got home, which was a full 24 hours later as we were stuck due to downed trees on all of the roads leaving the area. I set up the tent and inspected it thoroughly. I found a small hole or two in the mesh, but other than that it was still in good shape.
Since then I have used it on other outings and it provides good protection from the wind, rain, and snow. The tent has pretty good head and elbow room and is long, so you can bring your pack inside if needed. It packs down well as well, especially if you take it out of the sack and distribute it to various locations throughout your pack.
I purchased the footprint, gear loft, and some additional stakes to make it even better. With all of that it still weighs in at a little over 3 lbs on the kitchen scale. Even today this tent is still in good shape and I have many fond memories of it and the places I have been with it. The only complaint might be the small vestibule, although since you can bring in the pack it really hasn't been that big of a deal...and definitely wouldn't prevent me from buying this again!! 
Source: bought it new
Price Paid: $125

I have used this tent for many outings, including hiking 200 miles on the Colorado Trail. This tent has kept me dry in many storms, especially those on the CT. As a lightweight tent, I feel it has worn well, and has more life in it now that I have applied some seam seal, where it was peeling off.
Pros
Lightweight
Spent night in shelter using hiking poles
Customer service in replacing lost poles
Easy setup; room for solo hiker; good vestibule for boots; is taut enough to keep me dry in all conditions, including severe weather in Colorado mountains; no condensation issues.
I'm 6-2 and can sit up fully inside the tent; it's not large enough to keep a pack inside the tent, but I don't expect that in a solo hiker tent. I feel this tent has held up quite well, considering the amount of use it has seen.
Source: bought it new

I had this bad boy when I thru Hiked the Appalachian Trail back in '09. I loved this thing. Not only does it keep me dry, but it is also super light and easy to set up. This was a lifesaver a few times on those colder nights up in the mountains of Maine.
I started with a Black Diamond Bivy tent on the AT, but quickly discovered it wasn't as waterproof as they had promised.  I saw the Light Year 1 looking all pretty on display, and I knew it was love at first sight. This tent is one of my favorite tents I have ever used. I am using another SD tent on the PCT this summer.
Source: bought it new
Price Paid: $115

After more than a year of research, and two abandoned (gave away) tents, I finally bought a Light Year 1 for my solo trekking.
The Light Year is a near-perfect one person tent. It is much more roomy than any of the other one person tents I saw, used, or tried.
It sets up easily in a couple minutes. It is large enough for me and my pack. I use my pack as my pillow, and it's a bit tight. I'm almost six feet.
The abundant screening allows plenty of air, and I've experienced no condensation problems as I did with my two failed tarptents. The white nylon panel on the roof added privacy and a bit less breeze which I like over the all-nylon mesh type tents which are very drafty and public. The tent pitches taut and is quiet in the wind, unlike one of my tarptents.
I wish that the tent were symmetric so that my pack would better fit, but then there'd be no place for the vestibule.
The real clincher for me was the excellent service and repair Sierra Designs offers. They repaired my old two- and three-person SD tents quickly and with no charge.
Design: three season, needs two stakes to stand.
Sleeps: 1
Ease of Setup: fast and easy. Open poles, insert in grommets, put in one stake, then the other. Done!
Weight: slightly under 4 pounds with stakes and my Tyvek groundcloth
Price Paid: $149

The Light Year 1 was totally redesigned this year. I cannot compare from the old design, but I just purchased the new design and I really like it.
Pros
Light
Easy to set up
Packs small
Cons
Doesn't come with enough pegs
Could be lighter
It weighs 3 lbs 4 oz, so not the lightest tent on the market, but it is super easy to set up and so far I have no complaints.
I did a YouTube video on my first impressions and a walk around. Check it out if you are thinking of buying this tent. Once I do a couple overnights with it, I will post a second impression video.
Source: bought it new

I love the ease of this tent to set up. I'm a single woman with arthritic hands, and this tent makes setup a snap.
Pros
Lightweight
Ease of setup
Ventilation
I have an older SD Light Year 1 tent. It was originally purchased for my son TWELVE YEARS AGO when he was in Boy Scouts. He used it on all his pack trips, and I can guarantee not a lot of TLC was given during these first few years. After my son earned Eagle and headed out on his own, he left the tent behind, I'm assuming because he loved his mommy so much (LOL).
I started using the tent myself three years ago. I'm a 5'2" middle-aged woman with structural issues and arthritis, but truly love hiking and backpacking. There are lighter tents out there, but this one is tried and true. It packs down small and easily, with little exertion on my hands. In fact, it fits nicely in the bow of my kayak as well and doesn't add bulk or weight there either.
It's a breeze to set up and, due to my petite stature, has plenty of interior room. I've even shared it with a couple of my dogs, although they tend to hog up all the extra space. The vestibule is roomy enough for me to stow my pack, dirty shoes, etc., leaving more room for me.
Every year I comparison shop newer tents that are a smidge lighter and have a few added features. Then I set up my little Light Year and postpone the purchase another year.
I can't remember what we paid for this little gem, since it was more than a decade ago, but it has proven itself worth every single penny.
Source: bought it new
Price Paid: Unsure

This summer I hiked near the crest of the Sierra with a few guys who had fancy, expensive tents. We were in a big storm with wind and pouring rain. They all got wet. I was snug in my inexpensive, light-weight tent.
Entry is easy. I just step in and squat down. I don't have to crawl inside as I do with my more expensive tent.
When the zipper failed on another, older Sierra Designs tent I own, the company fixed it for free.
This is my favorite one-person tent. (I have the earlier model with more nylon on top, which I appreciate.)
Price Paid: $110

No respect intended to the individual giving this one star. Apparently after 5 years, the individual tried to use it and when they opened it, a pole was missing -- which SD replaced immediately. That is pretty good customer service. With all due respect, there was a version with carbon poles which was problematic.
That being said, for $119 this is simply the best solo tent you can get. I have used this on the Appalachian Trail and many other places. It's not free standing, but don't you stake down your tent anyway. Sure, if camping out west on rocks, there are other tents I'd choose. Like my North Face Roadrunner.
I have been in driving rains and stayed dry. All and all a true lightweight at under 3 pounds. The tent actually folds down to have the size of its bag. I actually wrap my sleeping pad (full length) over the tents, and it fits perfectly into the bag which is strapped to the bottom of my bag.
Design: non free standing
Sleeps: 1
Weight: 2.9 pounds
Price Paid: $119

This is an amazing tent for the price and weight. It's completed the AT twice, survived heavy snow and rainfalls and it's still kicking. It's been setup in pitch black with me being completely exhausted and still only took a few minutes. I've had it about 6 or so years and I'm considering buying the new model.
Other than a little trouble with the pole cords, it's been perfect. People do need to realize it is an ultralight tent, that means less material...smaller area, thinner fabric and pole wall thickness. Luxurious comfort and bomb-proof construction are trade-offs for less weight and good packability. I'm 6' and 185 and I think it's just as it should be.
Highly recommended for an experienced hiker looking for an extreme light-weight solo tent.
Design: Ultralight three-season
Sleeps: 1
Ease of Setup: Simple and quick
Weight: Sub 2# or sub 3#, depending on configuration

I had this tent for five years before I used it, but I wanted to have one on hand for solo backpacking. When it originally came, it came minus the front tent pole. It took a couple of calls to the company, but they did send the missing pole.
Then five years elapsed and I had the opportunity to use it. The back pole snapped on the first trip out. I was impressed when they replaced the pole for free, even though the tent was five years old. The second time I used it the front pole snapped.
This time I am not asking for a replacement. It is not worth the risk. I will either use my heavy LL Bean tent that has served me well for over ten years, or buy an ultra light from another company.
I am surprised by the strength of the other reviews for this tent. Maybe this problem happened because the poles got old. In any case, I am not taking any more chances.
Sleeps: 1
Ease of Setup: relatively easy

I'm doing an initial review after getting this on a supersale brand new at REI. So two things to keep in mind, I'm reviewing this after picking it up for cheap ($50) and I've only ever set it up in my basement.
So let's review the pros...
1. It set up easy. I don't have many guyout points in my basement but it still went up. I couldn't get it as tight as I might want but I think that as it was setup it would shed rain.
2. It's got headroom. I have always imagined that a one person tent would be tight. This one was pretty roomy, except for the foot box.
3. Everything seems pretty sturdy. The fly hooks up tightly. The tent seems sturdy, and I've always liked Sierra Designs products.
4. Light. It weighed 3 pounds 5 ounces on my scale, so it's about what they claim which I can appreciate. It stuffs down to about 5.5in by 18in. Much smaller if you pack the poles and tent separately.
5. The price. I had no intentions of getting a non-freestanding tent, but I couldn't say no to $50. Keep in mind, for another $50 I could order and retrofit a third pole that would make it free standing and have a cheaper tent than most 1 person freestanding tents.
6. Once I get the footprint, the fastpack option is light. Under 2 pounds.
The things that worry me...
1. Getting it guyed out tightly enough/ freestanding design. See point 5 above, it doesn't worry me too much.
2. $30 for a footprint sucks. I didn't get that yet. I will though.
3. My rectangular sleep pad doesn't fit as well as a mummy shaped one would.
Things I'll report back on...
1. Ease of pitching in the outdoors.
2. Ventilation
3. Fastpack option and what kind of protection it offers.
Design: three season hoop
Sleeps: 1
Ease of Setup: easy
Weight: 3.3 pounds
Price Paid: $50

This is a great tent...if you're short! I'm 5'3" and it works really well for me, but if you were much bigger you'd be having problems. I have plenty of room to sleep, store most of my gear, and even change. So if you're about my size then I would definitely get this tent!
Sleeps: 1
Ease of Setup: really easy
Price Paid: $129.99

I bought this tent because of its light weight and reasonable price. I wouldn't recommend it to anyone though. It's kind of the worst of both worlds as a tent and a bivy.
For a tent it's barely more than a bivy. I'm 6'0" and I don't enjoy changing in it (stripping down outside in the cold and then jumping inside to the sleeping bag is quicker). In the morning, putting clothes on outside in the cold is preferrable to the yoga poses required to do it inside this tiny tent.
For a bivy, it's bulkier/heavier than the tripod/hoop bivies and doesn't offer much more space. I don't know how that 6'4" guy in the other review makes it work. Maybe he's skinnier and more flexible than I am...
It's not a freestanding tent. This makes setting up more of a pain in most places, and near impossible when the ground is hard to stake. It is pretty solid once all the stakes are in though.
It's not all bad (hence 3, not 2 stars). Ventilation is good, and I haven't had any condensation issues when it's below freezing outside. I think it would hold up well in a windy rainstorm, but luckily I can't say first hand. It is lightweight and well constructed.
After the pad and sleeping bag go in, there isn't a lot of space left over, but you can fit a good size pack in there if you're willing to snuggle with it. So it is slightly more roomy than a bivy. This could be better if the tent was symmetrical (like the rainfly). The part that is reserved for the vestibule would have been better used as additional tent in my opinion.
I guess it's just not the tent for me. I'll probably get a real bivy and a real tent to replace it. A tripod bivy for when weight/space matters, and a light 2-person tent for other times. That will cost more than twice as much, but I guess you get what you pay for.
Design: three-season small tent
Sleeps: 1
Ease of Setup: annoying since it's not freestanding
Weight: nice and light
Price Paid: $140

I'm a tall guy at 6'4". Most of the small, hoop style tents, especially solos, are too small for me. This one, however, did great for me all summer in New Mexico. There is adequate room for sitting up and changing in the tent. A small vestibule is big enough for wet raingear and muddy boots. The head end of the tent gets somewhat narrow, resulting your sleeping pad folding, but that's not a problem at all. It is a solo tent, after all.
Great weatherproofness. I did wish the fly extended further away from the tent body to enhance splash protection (minor deal) and ventilation. Most nights were dry for me, so I would often put the fly on but leave the door unzipped or rolled up. It's right there next to your head, so battening down the hatches only takes a couple of groggy moments.
Good tent. MUCH cheaper than a bivy, has more room, and only weighs a pound or two more.
Design: Three-season solo
Sleeps: 1
Ease of Setup: Quite simple overall. There are 6 stake out points on the tent body. Then, insert the two hoop-style poles in the grommets and clip the tent body on. One more stake on the rainfly makes a modest vestibule.
Weight: 3.5-4 pounds
Price Paid: $150

I used this tent this summer on the CDT for eight nights. Thunderstorms hit almost every afternoon and I'd usually have the tent up. No leaks. No condensation problems. What I didn't like was its length. I'm 6'1" and my 3500 ci pack fit in the v above my head, but I felt cramped. I could sit up, with a bowed back, and dress and undress with relative ease.
I also own a clip flashlight and decided that I couldn't tell the difference in weight when holding them in either hand and gave the lightyear to a poor friend. A good solo tent, but what happens when you meet someone in the wilderness and are hit with a thunderbolt of love???
Design: 3 Season
Sleeps: 1
Ease of Setup: The tent is a breeze to erect. Two stakes, fore and aft, then the two poles which are clipped to the tent. The fly is pitched with two more stakes, and that's it!
Weight: 4lbs or a little less
Price Paid: $150

Excellent 1-man tent that weighs a mere pound or so more than a confining bivy sack. Sets up very quickly and the small footprint allows this tent to be pitched in congested scrub and other areas. Tall enough in the front to sit up and get dressed, yet low enough to maintain a low profile in high winds. Very small vestibule for boots. A small 2-3 day pack can fit on the inside as long as you are under six feet. Great tent for the weight conscious backpacker who doesn't want the confinement of a bivy sack.
Design: 3 Season Solo Tent
Sleeps: 1
Ease of Setup: 2 pegs - very easy. Less than 1 minute.
Weight: 3 lbs
Price Paid: $129

You May Like
Recently on Trailspace