Sierra Designs Lookout CD

The Lookout CD has been discontinued. If you're looking for something new, check out the best four-season tents for 2022.
Specs
| | |
| --- | --- |
| Price | Reviewers Paid: $300.00-$400.00 |
Reviews
7

reviews

5-star:

4

4-star:

2

3-star:

0

2-star:

1

1-star:

0
Please re-release the Lookout CD!
Pros
Super strong, lasts 10-20 years
Good in all kinds of weather
Spacious for two people plus messy gear
Cons
A little on the heavy side
Fly door is a little tricky to open from the inside (rain flap gets caught in the zip easily).
I got my first Lookout CD in the early '90s and used it extensively for camping and for my work as a park ranger for two decades. I loved the tent but after 20 years the fly started breaking down from UV exposure and the zippers were struggling so I found a lightly used one to replace it.
My second Lookout CD is even better largely due to a bigger stuff sack that is easier to manage. It's still going strong but I need to rewaterproof the fly and the bungees are getting a little stretched out. I'll repair it, but this has gotten me looking to the future for a replacement and I just can't find any other tents on the market with the size, warmth, and sturdiness of this tent.
It is very easy to set up and I can do it myself almost as fast as with help. I've mostly camped in the desert but also found myself in frost and several inches of snow and the tent held up like a star. I love that I can zip the skylight closed on really cold nights and get back to sleep. I very often camp in windy locations (desert, beach) and this tent guys out easily in all directions.
The only improvement to the design I would make is to the fly door. The rain flaps very easily get caught in the zipper and it requires a zen moment to slowly unzip. This can quickly lead to frustration if there's any urgency to exit the tent. Also I wish I could clip back the door to one side in nicer weather. Other than that, it's the best tent ever.
Please bring it back!
Experience
I have owned two tents of this model for over thirty years. I have used it at least 6 times a year.
Source: the first was a gift, the second was purchased used.

The stability of my Lookout CD 2.0 is excellent. I love the double doors which come in soooo useful in the wind, pitching is quick and easy enough for one person. The lookout roof panel is a fantastic feature in those summer nights looking out at the stars.

Not THE lightest 2.5/3 person tent but light enough, given the stability I wouldn't trade it off for a few ounces saving.
Pros
Quick easy pitch
Stability
Double doors, well placed
Lookout fly and inner
Weight for such a stable tent
Cons
Vestibules could be bigger, but I can live with it.
Pitching is simplistic... easy, even for a solo operation. Poles are easily placed, strong and light, this tent is stable enough to hold itself. I do however use pegs to keep things super tight. As far as stability in wind goes, I'm in mine right now and it's gusting a hoolie from the mountain, but the tent is super stable.
My tent is now 19 years old. I've had it from new and recently reproofed it. I did however forget to reproof the sewn in groundsheet, so I'm going to do that but also add a footprint in order to lengthen the life of this beloved refuge.
I've never had any issue with the ventilation. It has to be remembered that this is a 3/4 season tent.
In terms of space: no issues whatsoever. I do use it more as a two-man than a three, but the available space is huge for both sleeping and stowage.
As I've said, my tent is 19 years old now, however ALL zips still work faultlessly, I only wish that Sierra Designs would reissue this tent so that I could buy another one.
Ive used this tent in all seasons, from hot sunshine to driving rain and snow. Been used high on wild amps and valley bottom, it has never once let me down... so reissue this tent lol.
Experience
I've tested many tents, the Lookout is my all time favourite.
Source: bought via a "pro deal"
Price Paid: £200

1997 Lookout CD (free to a good home...missing poles and stakes).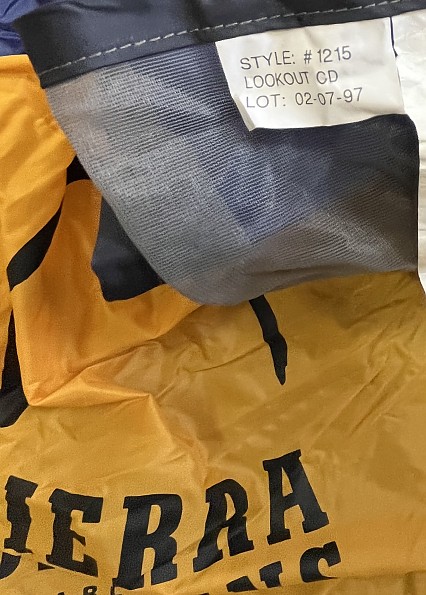 My wife loved this tent. She lent it to a family member who returned it without the poles and stakes. We'd hate to throw it out ,so if you would like it or have poles you'd want to give away, let me know!
The tent is in great shape. It has the rain fly, footprint, and stuff sack. If you create a profile you can send me a message.
Source: bought it new

Abused for over 16 years. Abused is the correct terminology. It's been buried in the snow...not talking about the crap videos online, but rather 4 feet of snowfall without shoveling!!!!! Yeah. Packed through the Lost Coast......pissing rain with over 10 years of abuse in the Trinity Alps, NNF, throughout the Sierra, Mt Whitney to Mt Hood. Trinity Alps through winter, on and on and on and on and on.
Pros
Durability
Funtionality
Waterproof
Windproof
Design
Etc etc etc etc
Cons
Preferably would need a second door. That's it. Only complaint, but most won't find the need for a second. Snow snow and more snow.......!
Anyone that tells you that this tent is for the birds hasn't used it. Yes......one time, ohhhh I forgot to seam seal...blah. Don't listen to these idiots. This tent is amazing from start to finish.
Only thing that SD could have added is a second door. Yes, digging and redigging out the snow from the tent is a pain. Two doors would help.
Source: bought it new
Price Paid: $400

Version reviewed: 1997
My problems with this tent: It leaked the first time i used it. SD said i didn't seal the seams in the fly sufficiently. They factory taped them (which suggests to me they should give better sealing instructions, or factory tape the seams). The tent then spontaneously developed a pea-sized hole near the roof vent. SD couldn't fix this. Also, one of the bungees for the much-ballyhooed clip-locs disappeared, severely compromising the structural integrity of the tent. Opening the vestibule zipper from the ground when you are inside requires some serious contortion.
All the other reviews say setup of this tent is easy -- it isn't difficult, but it isn't quick either. The tension at the top of the tent is way too tight, such that the roof panel can hardly be zipped shut.
Pluses? It is by far the lightest tent that is 4 season and has this much room. I returned after one disappointing backpacking season. I will replace it with an Integral Designs Halfdome or a Marmot.
Design: 4 season convertible
Sleeps: 2-3
Ease of Setup: medium
Weight: 7 lbs
Price Paid: $475 Cdn

Version reviewed: 1996
The only problem I have encountered with this tent is the problem of unzipping the fly vent on the rain fly. It would be wonderful if Sierra Designs created a feature that allowed you to do this from inside the tent instead of having to get out and unzip it from outside. A small problem, but food for thought. I have a friend who owns a Marmot mountaineering dome. This tent has this feature, and it is quite convienient.
Design: 3/4 season mountaineering dome
Sleeps: 2/3
Ease of Setup: Imcredibly easy to set up, clip system is wonderful
Weight: 6 lbs. approx.
Price Paid: approx $300-350

Cette tente est exceptionnel. Elle est spacieuse et très bien ventilé grace à son 'toit ouvrant!'
Ayant eut à tester cette tente à plusieurs reprises, je peux dire qu'elle supporte très bien
les vents fort (Elle a résisté à des vents de 140 km/h au Mt-Albert en hiver!)
Légerte, stable et abordable, c'Est vraiment une très bonne tente!
----------------------
This tent is exceptional. It is roomy and is very well ventilated thanks to its 'sliding roof!' Having had to test this tent on several occasions, I can say that it supports the winds very well (It resisted winds of 140 km/h on Mt Albert in winter!) Stable and accessible, it is really a very good tent!

Design: 4 seasons
Sleeps: 2
Ease of Setup: easy
Weight: 6lb2oz.
Price Paid: $474 CDN

You May Like
Recently on Trailspace