Sierra Designs Meteor 2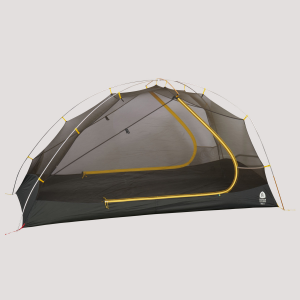 A two-person tent best suited for those that value livability a little more than shaving ounces. Sierra Designs touts it as good for car camping or backpacking and I agree; this really is that rare 'tweener design. This is a great couples tent for those milder weather trips. Though marketed as a three-season tent, I would avoid using it  during  the edges of shoulder seasons or winter for reasons listed below.
Pros
**Enough space for two (29.8 square feet / 41" peak)
Excellent ventilation
Cheery colors
Reasonably light for the space provided
Flexible fly options
Cons
Very high cut fly—cost of such good ventilation in this design
Full mesh body can collect a lot of moisture if wet and windy
Deforms easily in high winds or with snow loading 
Mesh has many scrunched spots after only three months use
The manufactures page can be found at this link. But here are the primary specs:
Minimum Weight: 3 lbs 15 oz / 1.78 kg
Packaged Weight: 4 lbs 8 oz / 2.04 kg
Number of Doors: 2
Number of Vestibules: 2
Vestibule Area: 9 + 9 sq ft / 0.84 + 0.84 sq m
Floor Area: 29.8 ft2 / 2.77 m2
Peak Height: 41" / 104.1 cm
Dimensions (L x W): 84" x 51" / 213 cm x 130 cm
Packed Size: (L x W): 18" x 6.5" / 45.7 cm x 16.5 cm
Design Type: Freestanding
Number of Guylines: 6
Stake Quantity: 10
Prologue:
Upon the first use of this tent my wife and I had the same thought at about the same time: this tent reminded us of the old parachute games we'd play in school as children where all the  kids would hold the edges of the parachute and bounce a ball or whatever. So from then we referred to this as "the parachute tent".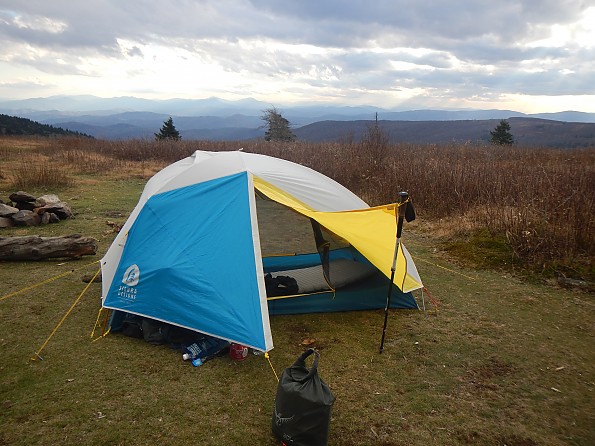 Ease of Use and Setup:
This tent pitched as many freestanding tents do: you stake out the four corners, assemble the poles, and match color codes on the pole ends and fly to complete. I will admit that I had some initial difficulty with my sample; it turned out I was testing a pre-production prototype and there was a manufacturing error with the color codes. Even so, once I realized the error it was very simple (and I would go so far as to say intuitive) to assemble. 
Livability and Space
SD says about this tent "so much room you'll want to extend your time in the outdoors" and while this is true for me regardless of shelter, I do agree. I've encountered very few tents marketed for two people that really work for two; this one does. I enjoyed the ample headroom when changing clothes or positions and my wife and I were easily able to fit our packs and gear under the two vestibules. 
This tent has almost 30 square feet of floor area and a 41-inch peak height which doesn't seem that large on paper (as compared to say a Big Agnes Fly Creek 2 HV with 28 square feet of floor and a 40-inch peak height) but once you camp in it with another person you can appreciate the difference.

**As pointed out to me by fellow Trailspace Review Corps member Jake W, claiming a tent to be a comfortable size for two is highly subjective and he's absolutely correct. Taller and larger people should note the listed specifications.

We also truly enjoyed the fly design: you can roll the fly back or forwards and up both sides, etc... on warm nights with little breeze this was a treat to star gaze or just to feel more connected to the surroundings. 
In these example photos below my 5 foot 7 inch tall (1.7 meters) wife is modeling the interior space.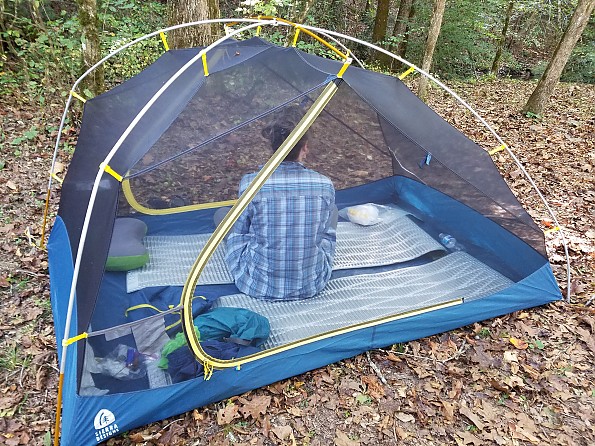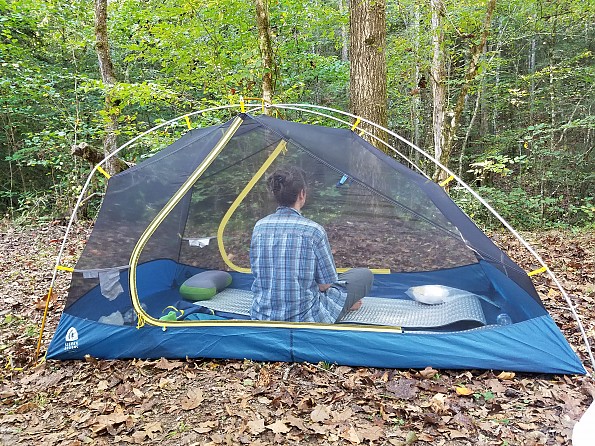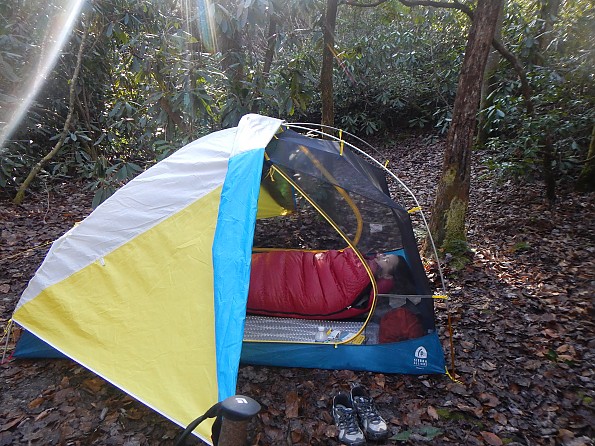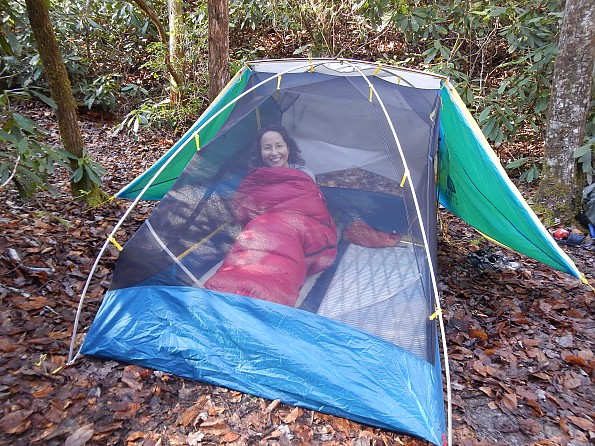 This timer shot was rushed as it just started to rain but we wanted to get some photos with both of us in the tent. This is taken from the foot end: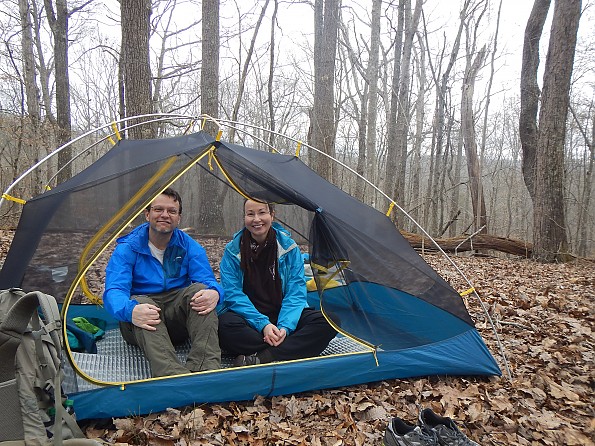 Looking up through the mesh body with the fly rolled back. Great feature...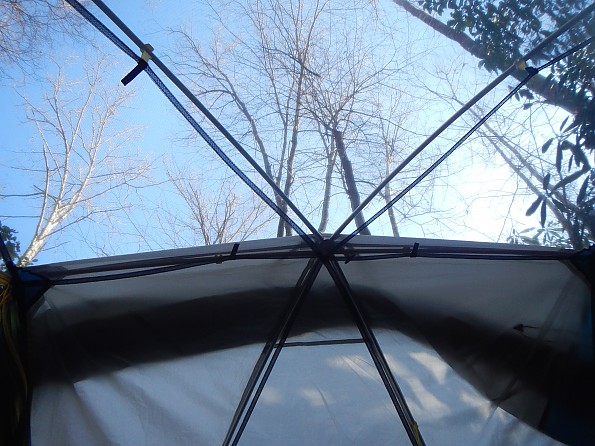 Durability
The fly and body are 68D PU coated Poly Taffeta and I like having a floor beefy enough to not worry about using a footprint. 
However, the 15D mesh on the tent has developed over a dozen small scrunched spots so far. I don't think the holes are large enough to allow insects in but there are a lot of them and they keep developing. So far it just seems like a cosmetic  issue but still makes me frown when I notice them.
The DAC poles seem adequately durable but the design of the tent makes for some long pole legs which as noted below tend to deform readily in wind or snow. 
These scrunched mesh spots were hard to capture in photos so you may want to click to enlarge them: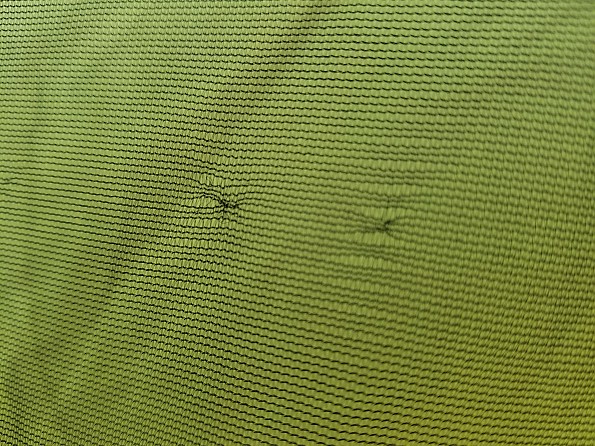 When I first saw this tent pitched my immediate concern was the height of the fly with this somewhat hybrid design (single / double wall). I was worried that it might allow blow-through in horizontal rain as the fly only comes to within a few inches of the ground at the lowest point and over 12 inches off the ground at the head and foot. But that high cut fly sure lets the air flow well. Upon her first entry my wife said "whoever designed this tent wants you to breathe!". This is a very well ventilated tent.
In this photo is the ubiquitous 1 liter Nalgene bottle at the head end of the tent for perspective in a ground level shot: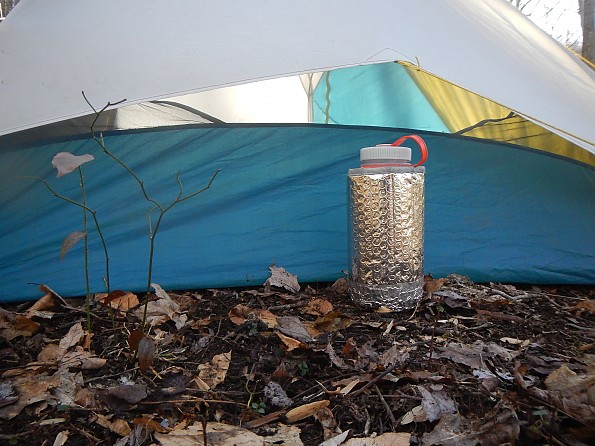 Rain and Fog
My first rain experience was in the Lewis Fork Wilderness of Virginia; I had eight solid hours of vertical rain (no wind to speak of) and all was well; no leaks or issues whatsoever.  
However, on a couple trips where there was a lot of rain/fog/ mist accompanied by wind, the wind blew the moisture into the mesh where it readily collected. (I believe this to be a potential issue with any all-mesh inner tent and certainly exacerbated by the high fly/ well ventilated design.)
This photo shows the moisture collecting on the mesh body inside the fly. The wind was blowing from that side; the other side of the mesh body didn't collect nearly as much moisture.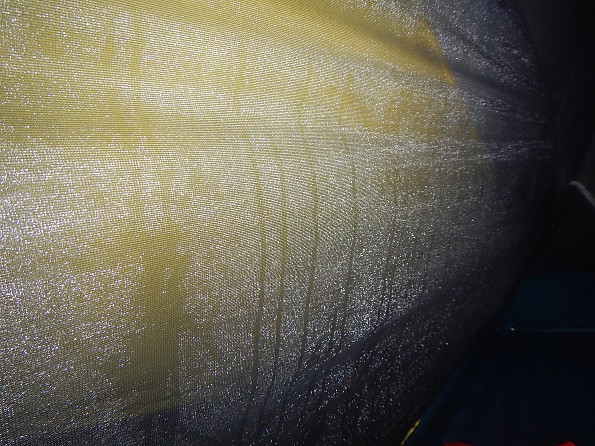 This was the camp where that happened: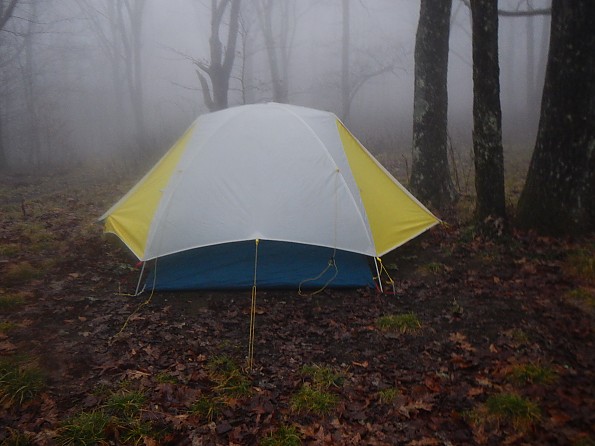 In this photo is another example of moisture making contact with the inner tent on the foot end: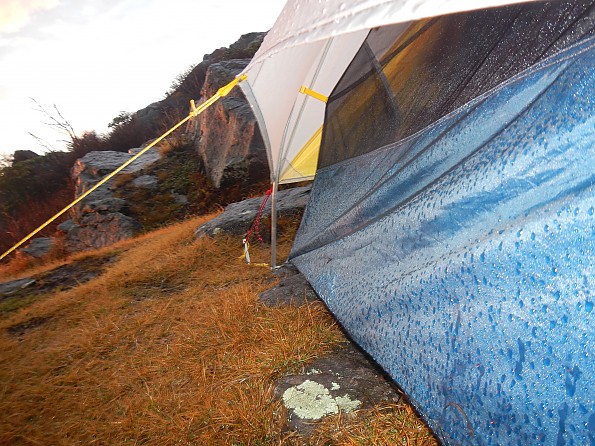 In cold weather I also observed fog and moisture collecting on the mesh inner then freezing into ice and eventually falling into the tent. It wasn't enough to matter much but somehow some of that fallen ice got under my gear and melted giving me a bit of water on the floor. 

This ice fell into the tent from frozen moisture:
This is a relatively  tall tent (41 inch /104.1cm peak height) and as such it didn't fare well in strong winds during my testing. I experienced a lot of wind penetrating the shelter and noted that the walls deformed easily. I wouldn't recommend a high exposed camp in this design but with a little forethought in site selection it does well enough. I highly recommend using all the guy lines as well as the Velcro fasteners on the inside of the fly. 
It's hard to tell in this photo but one side of the tent is caving in from wind: (note the pocket is cup-shaped where it normally is streched tight)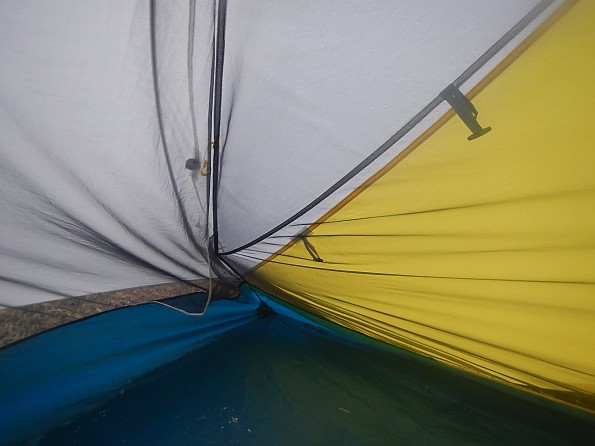 Here I'm standing next to the tent. I'm 5 foot 7 inches tall (1.7 meters) :
Snow
Being a three-season tent I didn't expect it to be great at snow loading and it wasn't. About an inch of wet snow was enough to make the long poles sway out of position and allowed the fly to press against the inner mesh. Again, this is not the tool for that job, it's just that my testing period coincided with winter weather.
This was the heavy wet snow I woke up with one morning:
The Meteor 2 comes with a neato Burrito Bag stuff sack as well as a bag for the stakes and poles. For much of the testing I didn't use the Burrito Bag as I prefer to let the tent fill up some blank space in my pack and not have a hard-packed object to work around. The Burrito Bag worked as advertised though and was intuitive to adjust and use.
This was as it looked out of the box: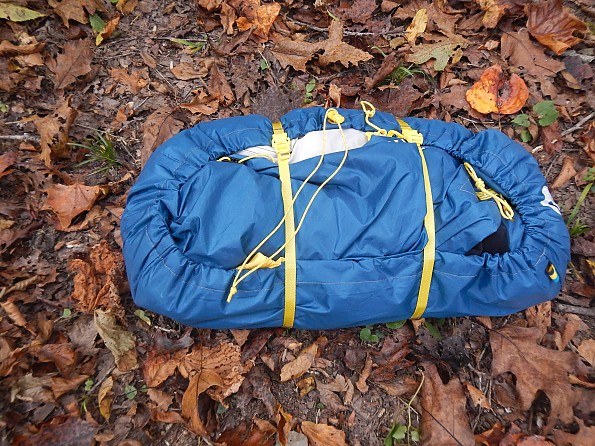 And here is my wife holding it for perspective:
I really liked the pole and stake combo bag; it's a clever idea to keep those things together and worked well for me in the field: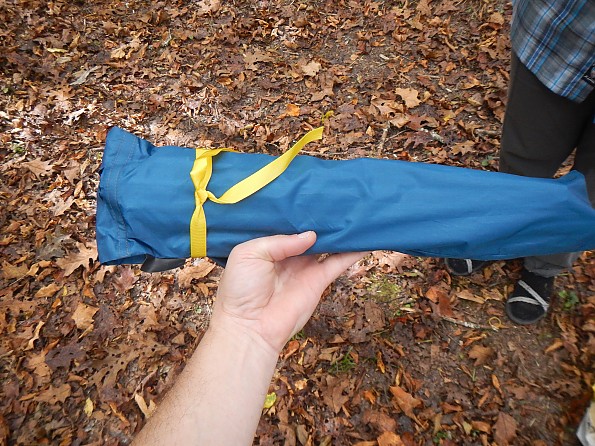 The stakes are in an attached pouch that folds over to access them: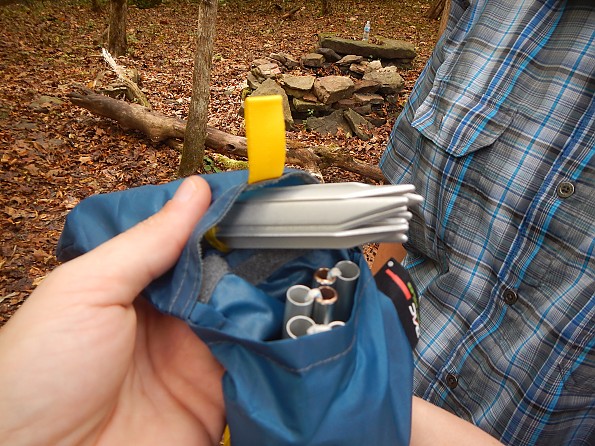 Summary:
While this isn't a very adaptable tent (limited to 2.5 seasons really), I find that it fits a niche as a very nice couple's shelter for the type of trips my wife and I embark upon (usually somewhat fair-weather and temperate (50-80 degrees F/10C-26.6C)). We both really enjoyed using it. And while my wife and I rarely car camp, the ample space does indeed lend this tent to that function as well.
While I did many solo trips with this tent for purposes of the review, it's a bit on the heavy side for me to use extensively as a solo shelter. 
The relatively poor performance in very windy conditions limits its use and as such I can't tout the value as being a major pro but by today's standards it is relatively inexpensive.
But in the right application this is a nice and enjoyable shelter to use. 
Suggested Improvements
I would find this tent usable over a wider range of applications if the fly were able to be drawn closer to the ground to seal out wind-blown moisture or perhaps if the body had a low band of solid fabric instead of being all mesh.
It would also be nice if the mesh was a little sturdier. All those little scrunched spots don't inspire confidence in durability. 
Testing 
I used this tent for 18 nights of backpacking from October 2017 to January 2018 mostly in the Southern Appalachian Mountains of TN, NC, and VA. 
About the tester
I'm a passionately avid backpacking geek and typically pull between 30 and 40 short trips covering about 1,000 miles annually. I've done more than 7,000 miles of trekking over the last decade. To see where I go check out my Trip Reports here on Trailspace. 
Miscellaneous Photos for those that want more:
Here is a closeup of the pole grommet:
This shot is removed enough to see the overall shape a little better: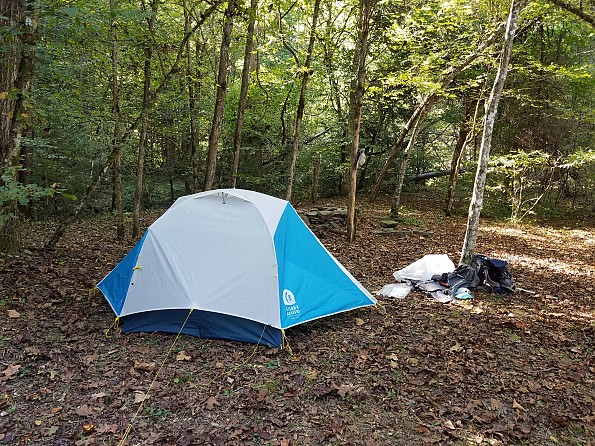 A snowy camp in Citico, TN: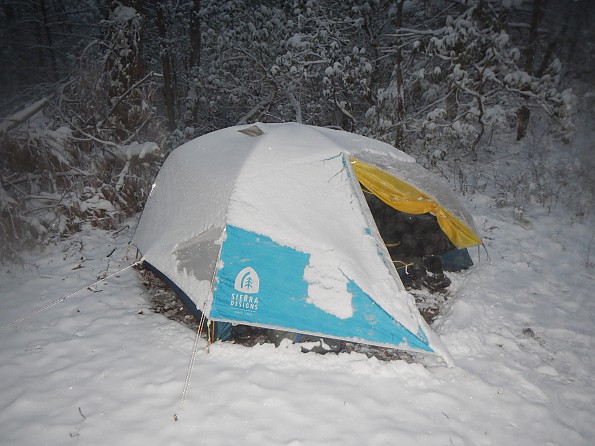 A sandy camp in the Big South Fork TN/KY: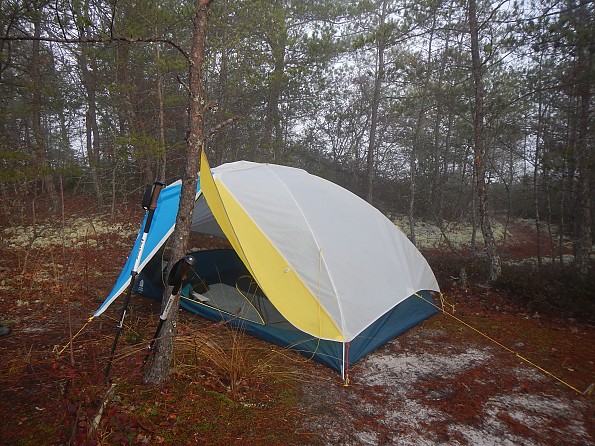 One normal person and one chronically cold person hanging out: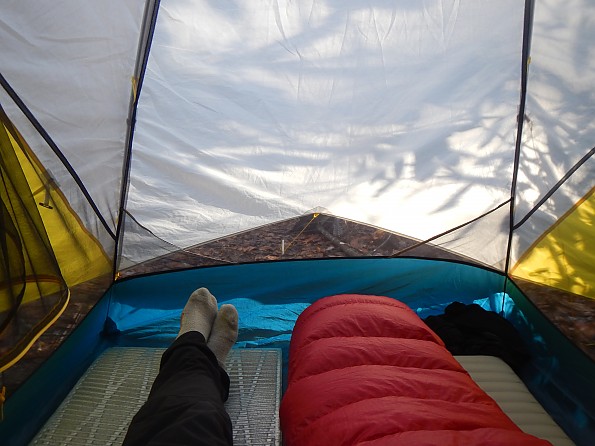 A Little Hump Mtn Camp in Roan Mtn, TN: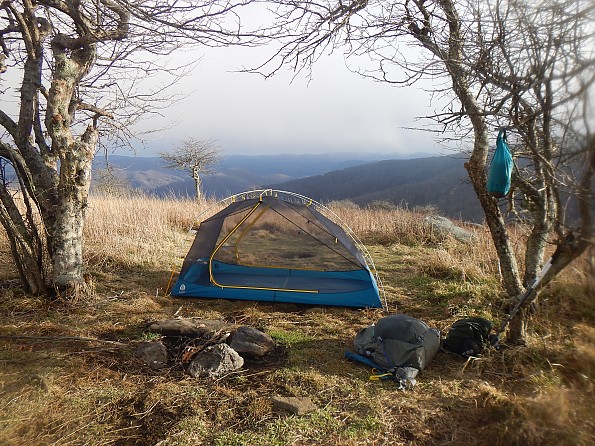 Drying out on the bear-line while the sun shines :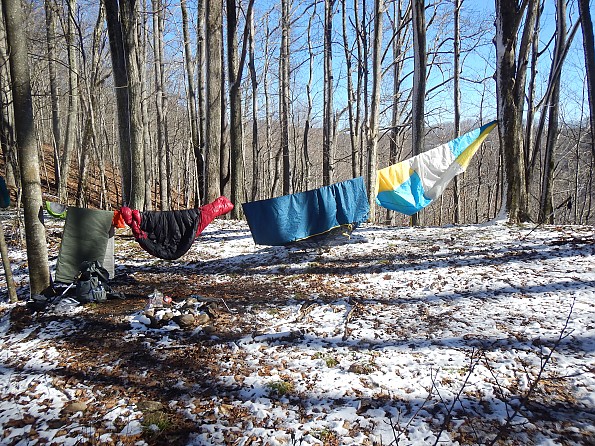 Camping on Wilburn Ridge in VA: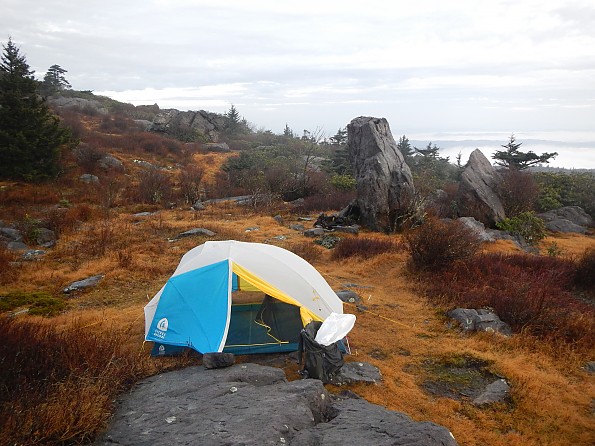 I was able to take down the inner tent from within during a rainy morning exit: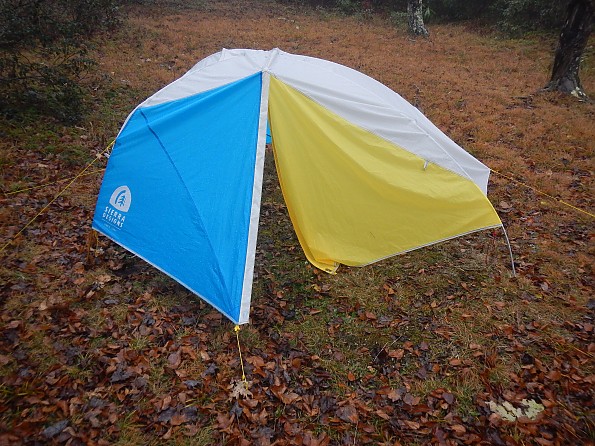 My hand for perspective on an internal mesh pocket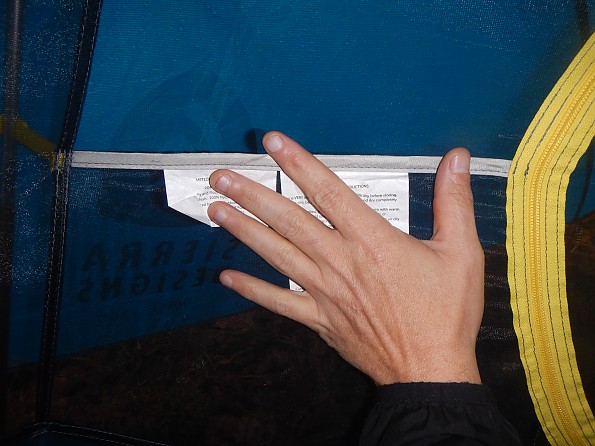 Looking out the door while enjoying morning coffee.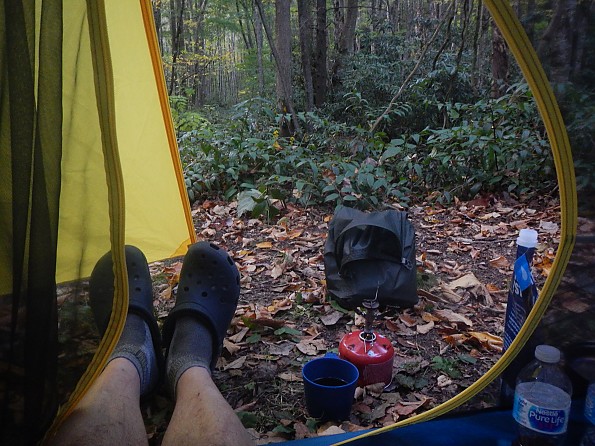 Camping on Thomas Knob / AT in VA: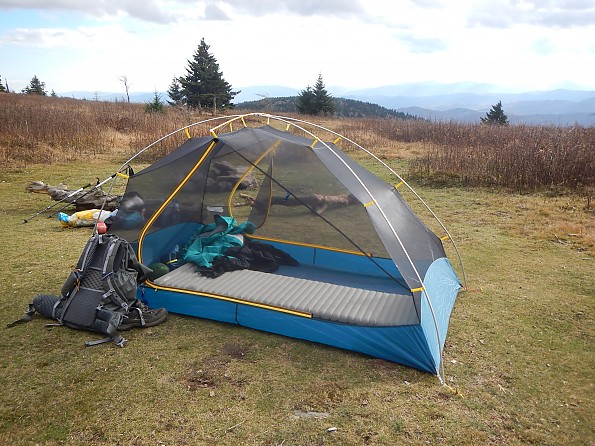 Source: received for testing via the Trailspace Review Corps (Sample provided by Sierra Designs for testing and review)

Your Review
Where to Buy
Help support this site by making your next gear purchase through one of the links above. Click a link, buy what you need, and the seller will contribute a portion of the purchase price to support Trailspace's independent gear reviews.
You May Like
Specs
minimum
packaged
Price
MSRP: $249.95
Current Retail: $249.95
Historic Range: $249.95

Weight
3 lb 15 oz / 1.78 kg
4 lb 8 oz / 2.04 kg
Vestibule Area
9 + 9 sq ft / 0.84 + 0.84 sq m

Floor Area
29.8 ft2 / 2.77 m2

Peak Height
41 in / 104.1 cm

Dimensions
84 x 51 in / 213 x 130 cm

Packed Size
18 x 6.5 in / 45.7 x 16.5 cm

Recently on Trailspace