Sierra Designs Omega

The Omega has been discontinued. If you're looking for something new, check out the best 3-4 season convertible tents for 2023.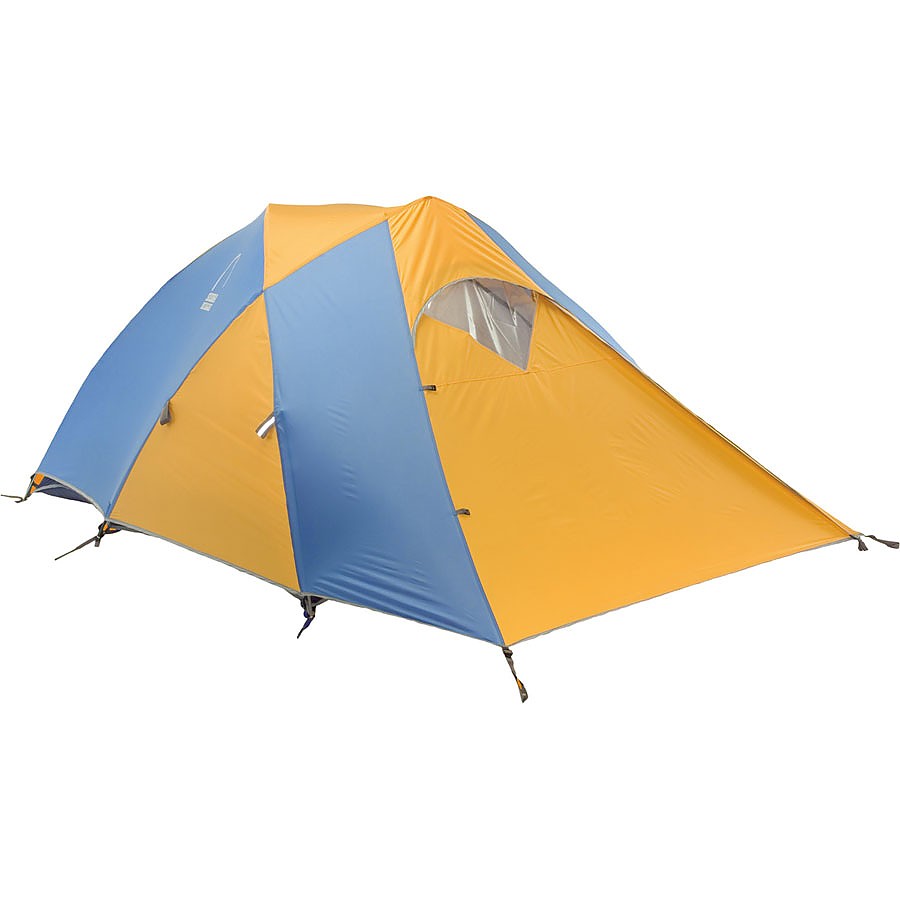 I really loved this tent when I got it, and now my husband is a convert too. We have a broken pole at the moment and are really hoping it can be replaced. They aren't making the Omegas anymore, so keep your fingers crossed.
Pros
The WINDOW in the vestibule is water tight and lets you see out!
Lack of condensation
Being able to minimize it down when you want to—truly versatile
Cons
It's on the heavy side at 7 pounds
Need to stake the foot of the fly out or it will touch the tent when wet.
The zippers on the doors take some getting used to.
Ok, I bought this tent as a single woman with a dog back in 2004 or 2005. I met my husband 5 years ago and he had his own tents. His bp tent is also a good tent. We have taken all our tents out for one thing or another, car camping, set up in yard when his folks come to visit, trail head, etc...now tho, when we go backpacking, this is the tent we take, hands down.
It isn't the lightest BP tent we have, but we love it, absolutely love it. I don't know if it's because it's convertible, but we really dig on the versatility the Omega offers. Sometimes we don't stake it down, and it works (although better with the sides staked down, admittedly). In warm weather, we leave the fly off and unzip the ceiling and watch the sky — great view. And if it sprinkles a little, we zip the ceiling shut and voila..no rain in tent. In-between seasons, we may or may not use the fly, but when we do, it's great that it has a window.
Sometimes we will leave the door open but the vestibule closed and then we can keep an eye on what's outside-- watch the snow pile up, make sure the fire's going out, check on the dog if she decided to be outside...see what's out there making that noise. I never want a fly without a window again.
We never have condensation in this tent unless the fly is on and we didn't stake it out with a guy line at the foot. That is the only place that has ever gotten wet — when feet touch the end of the tent. Also, great in the wind. The door zips all the way off, which is nice in summer (still has mesh door attached to keep bugs out) for lighter weight.
We set up the fly as a shade for baby, as dog house, and have even taken just the fly backpacking in Glacier. Before I met my husband, I thought it was just me that loved this tent, but now he's a convert too. His MSR 3-season tent is a good tent. The Omega is just better. Lucky us, hey!
Source: bought it new
Price Paid: not sure now Maybe $300-$400?

This tent has changed very little in years. It is one awesome tent! If you want a great ALL AROUND tent for ALL seasons, this is one is very hard to beat, I promise. I call it my "tank tent". I own eight tents and watch manufacturers models all the time. When something is made well and performs well, they just don't change it! Such is the case with the Sierra Designs Omega.
A friend of mine has had one for nine plus years and loves it. I have the 2004 model. I purchase mine after talking to him. If you find yourself camping in snow occasionaly and also in the fall, spring, and even summer, and you don't want to buy a separate tent to match the season you are camping in, then look no further.
The top inside of the tent features a zip-out ceiling that converts it to a 3-season tent and allows great venting. The door also features a zip-out section to reveal an all mesh door for even more venting. Sierra Designs also allows dropping a section of the poles and leave them at home for 3-season camping, but the weight loss is so minimal that I have not found anyone that does that.
I have been in mine on one trip in the wilderness of northern Georgia where the temperature literally went from 70 degrees to the upper 20s in 24 hours. That included extremely heavy rain, sleet, and concluded with a half inch of snow by morning. It sounded like the sleet was going to slice a hole in my tent, but the Omega has a very strong thick fly and is one tough tent!
I seam sealed my tent with McNett Seam Seal and I think the tent would take on anything mother nature can dish out. My friend who also has one was in 50 mph winds on an island out in the Gulf of Mexico and the tent held up great. He won't leave home without it now!
The only cons I can think of are very minor. You have to climb over your gear in the vestibule to get out and the tent is very heavy for backpacking...but heh, it's a 4-season tent as well, so what do you expect!
BOTTOM LINE-If you want an all around tent made to battle the roughest weather and camp in during all seasons, this tent gets 5 stars from me!...RFree
Design: Convertible freestanding dome
Sleeps: 2
Ease of Setup: Very easy
Weight: Packed weight 7 lbs. 9 oz.
Price Paid: $239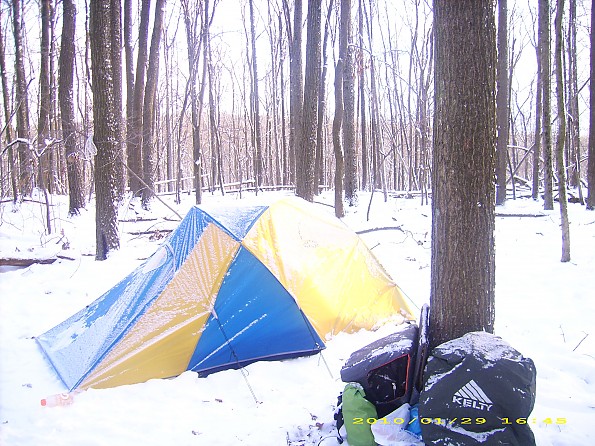 I have stayed in the Omega 2, four nights since purchasing this tent just over a month ago. Every night it has been extremely cold. The first night was a practice night in my backyard to get a feel for the thing. It was about 15 degrees. Same with the second night. When i finally took the tent camping in Allegheny National Forest on January 29-31st the overnight lows were -15 degrees. (I hope that i never have to do that again) :)
Anyway, the tent is a cinch to setup and if staked, internally guyed out and externally guyed out properly, this tent is a very sturdy shelter that I feel could handle some serious conditions. It is what you would expect from a single door tent. You have to climb over your gear somewhat to get in and out. If that bothers you then get a 2 door tent I guess. It is a good sized two person tent. There is plenty of room for you gear and I didn't feel cramped with two guys in it.
Well, as for how the tent performed in the really cold weather, it is about how you would expect. It was still very cold in it. The condensation froze before it could escape out the vents and then it snowed a little inside when you bumped the tent walls. I don't really feel it had anything to do with the design just so freakin cold.
Overall I would recommend this tent to others who are looking for a tent that can be thrown up to be a nice summer tent and one that can be staked down to be tight and bomb proof in some real rough conditions. Get this tent and you won't be sorry.
Design: 3/4 season convertible
Sleeps: 2
Ease of Setup: very easy
Weight: 7 lbs.
Price Paid: $215

Very strong tent, and actually roomy enough for two people. Tall people will appreciate the length. Weathered a cold October rainstorm in Texas nicely. I used it as a solo car camp tent; if used for backpacking be sure two people split the weight. Unsuitable as solo backpack tent.
This design has a bathtub floor that the manufacturer recommends seam sealing at the wall joint. I disregarded this advice before using, and pitched the tent in a sloping meadow. That night it rained. In the morning I found I'd pitched it right over one of the rivulets that drain the meadow. Water flowed under the tent all night, and much to my surprise come morning there was no leak and I was dry. Still, I then went home and used the Seam Grip. I also recommend using Seam Grip on both sides of the fly where the velcro loops are sewn on for binding the fly to the poles for wind strength; these sorts of violations of rainfly integrity often leak despite taping.
The zip-in panels that make it a four-season convertible make ceiling ventilation modifications very easy. One should have no issues with condensation or stale air in this tent. The vestibule is large enough to stow packs, but the door cants too far to make it a practical awning for cooking, and there can be some drips falling into the tent during wet entry.
The tent is swoopy and stylish, my son said it looked like a race car. If you go for the style sort of thing, this one looks good. The color scheme makes for cheerful interior lighting.
If you intend to use in harsh wind (e.g. mountains) be sure to get the internal guy kit sold for the Alpha/Omega series. It makes up for the lack of a fourth pole in the event the wind hits hard at the rear of the tent.
Design: 3-4 Season convertible 3-pole dome
Sleeps: 2
Ease of Setup: Moderate
Weight: 7 lbs 9 oz with guys and stakes
Price Paid: $199

I had the Omega light- which is the same but made with silnylon so it only weighs about 5.5#. I used mine for one trip and threw that puppy on craigslist. I wanted to get one tent to do it all - and this one is damn close. I'm 6', 200# and my girl is 5'1" 90# and we were cozy in there. We fit and had some gear in it but I felt like we were in a kids' fort or something. Low ceiling, and tight walls. I could only sit fully up near the door. I was in a bad rain in NoCal and when we would get out - we would unzip the fly and water would drip in the door because of the "underbite" made between the fly and the floor. Sierra Designs is great and setup and stuff couldn't be easier. When it was sealed up we stayed totally dry and unaffected by coastal winds. Just the underbite problem and the smallish size (imho) killed it for me. (Sooo close!)- back to two tents.
Design: strong pyramidal kinda thing
Sleeps: 2
Ease of Setup: too easy- put the poles in the corners and clip em
Weight: 5.5# (Omega light)
Price Paid: $2 sumpthin'

I have ten new tents and have owned many more in the past. This one would rank somewhere near the top.
I ask only a few things from my tents, #1 to be solid....and this one is with very slight drawback, it will almost pull completely slack free when wet.
#2 needs to be waterproof and windproof...and does that fine.
#3 needs to breath...it has plenty of mesh for that.
#4 needs to be roomy...it's roomy enough for 2 6ft1 220lb adults to toss and turn.
Overall it's enjoyable, but I have concerned myself with a small flat area on the fly. Flat spots on the fly can let water seep through, but no problems yet.
Design: 3\4 season
Sleeps: 2
Ease of Setup: easy
Weight: 6lbs
Price Paid: $340

Just used it this past weekend. Nice tent! Puts up easily and has tight fit. Weather was nice, therefore I don't have a good feel of how the tent stands up in harsh weather. But, I suspect well. This is a two-man tent and has plenty of room. I am six feet tall and there is plenty of room for me and the wife and a little gear not a lot. Vestibule is roomy. I cooked under it and had no problems. Right now this tent seems great. I am very glad I bought it. It packs a little bulky but is light. I think I will be pleased on long backpacking trips.
Design: Excellent
Sleeps: 2
Ease of Setup: easy
Weight: 7lbs

So far, I've only used it for summer and fall. But it has been absolutely poured on and stayed bone dry. Also have been set up on a very windy ridge and it didn't even flap. Very tight fly set up. And that was just using two poles and a spreader, not the full 3 poles. Vents great (one super humid night in W. Va.). A little heavier than I expected or would have liked but it will take me through 95 percent of the weather conditions out there.
Design: Convertible 3-4 season
Sleeps: 2
Ease of Setup: Very easy
Weight: 8 lbs
Price Paid: $280

Your Review
You May Like
Specs
Price
Historic Range: $34.95-$349.00
Reviewers Paid: $199.00-$340.00

Recently on Trailspace