Sierra Designs Sandman

Top 25 in men's 3-Season Synthetic Sleeping Bags
The Sandman has been discontinued. If you're looking for something new, check out the best 3-season synthetic sleeping bags for 2023.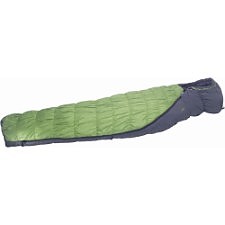 I've used the Sandman for about five years now and I love it. I had been using a Cabela's Basecamp 0 degree synthetic. In comparison the Sierra Designs bag is much lighter, better packability and I love the flex design. I have been a little chilled on some frosty fall mornings camping in the Upper Peninsula of Michigan with a three season tent. But other times I have been very comfortable and toasty.
Design: Flex mummy
Temperature Rating: 15 F
Price Paid: $160?

I have used this bag for five years mostly for snow camping. It is the most comfortable bag I have ever had. I toss and turn quite a bit and with this bag, with pad straps, I never come of my pads. The square top is great for elbows when sleeping on crossed arms and the extra room is good for stashing hot water bottles or other gear that needs to sleep with me to stay warm.
I have the L version and I am 6'0". This leaves plenty of extra space at the foot for boot liners and etc. I have used it in snow caves and tents. It stays warm until about 15-18F in a tent. Wetness or condensation don't affect the warmth. It is a little bulky in the pack and, as the other reviewer said, don't keep it compressed long. This bag works well for 3-season camping as well. The bag is durable, the zipper rarely catches or sticks. The bag looks like new with no tears, frays, or loose stitching.
I wanted something lighter and smaller-to-pack than the monster 1982 LL Bean 0 degree quallofil bag burros carried for me to sleep in as a packer in the High Sierra for three seasons.
Spent 15 years in Maine. I weigh 200 pounds and used to be able to count the times I felt cold in a sleeping bag on one hand...
Cold spots and low or nonexistant loft have been the norm in this bag. I cannot help thinking either this design is smoke and mirrors, or the person filling the insulation at the factory was dozing when the time came to fill my bag.
The coup de grace was a Christmas overnight in (heated!) canvas tents in Yosemite Valley. The bag's very spotty history with me had me beaten down into sleeping in long johns and wool socks for the first time ever.
Even in above freezing weather on a full-sized twin bed matress, the bag afforded acceptable warmth in only the most contrived and carefully isolated sleeping positions.
I was awakened a succession of times by a cold butt, feet-even my back, as my moderate turning ran afoul of unacceptably narrow insulation boundaries.
My wife's 20 degree Katahdin bag from LL Bean, same age and use, lofts twice as high as my Sandman. She whined about leaving her toasty bag in the morning. This girl likes to wear a shortie wetsuit snorkeling in Maui.
I am usually too proud to return equipment for a refund. This time will be different.
Design: mummy
Fill: polarguard 3D
Temperature Rating: 15 F
Weight: not the issue
Price Paid: $159

Used this bag during my winter treks in the Adirondacks and White Mountains. Zipped up along with adequate clothing, and a 300 weight fleece liner this bag has kept me warm, and so very, very comfortable during -35 deg temps. In order to save the weight and bulk of carrying an extra liner I will retire this bag from winter use in a few months after I purchase a Marmot Col and relegate it to its main purpose as a three season bag. I highly recommend this bag!! Great job Sierra Designs!
Design: mummy
Fill: synthetic
Temperature Rating: 15 F
Weight: ~3lbs
Price Paid: $159-200

Great bag !!!
Just keep it out of the compression sacks as much as possible. or it will lose loft.
I have used my bag hiking and kayaking and it works great in both. It compresses down good for the tight fit into the hatch of my kayak and lofts back up fairly good . But over the course of getting wet many times and being washed at least 8 or so it is losing its warmth.
I use this bag each weekend camping and at home each night on the floor with my thermarest and foam pad ( i stay out of the bed because of back trouble. amazingly sleeping on the floor or ground makes my back feel much better ) and have since i got it almost a year ago for my weekend island getaways on my favorite river run.
The bag got totally soaked one night while staying on the APT in a bear shelter. It had been raining all day and while sleeping on the top bunk the roof was leakng in one of the many places right on the bag. But i was so tired and didnt care . When I awoke the next day their was light snow on the ground and the outer shell of the bag was somewhat frozen in places but to my suprise I was not awoke by the cold or wet all night.
I am now a firm believer in this new polarguard 3d material. this impressed me the most about the bag.
And for all the room in it to put your water and camera and other things and still have plenty of room to sleep well is great. Do get the long bag (6'6") though no matter how short you are the extra room for your clothes and such will be great. esp. on the real cold mornings.
This bag has been used alot !!!!!! no tears! money well spent and just picked up the new one last week. its the 0 bag night delight. also have the sierra designs tent ( draco model ) and love it. still going very strong.
Design: sandman mummy
Fill: polarguard 3d
Temperature Rating: 15 f
Weight: 3 lbs 16 oz
Price Paid: $210

I have been using the Sierra Designs Sandman bag for two years now and have been very pleased with both the construction and performance. I have had it in all types of weather. The 15°F rating is accurate and stays warm even when wet.
I toss and turn alot in my sleep and hate the constricted feel of most mummy bags. The elastic and adjustable roomy hood make this the most comfortable sleeping bag I have ever owned. The elastic allows me plenty of room to move around while keeping the bag close to my body for warmth. The hood is spacious and very adjustable.
Design: Mummy
Fill: Polarguard 3D
Temperature Rating: 15 f
Weight: 3lb 14oz
Price Paid: $150 - $200

When I saw the ads for this bag last year in Backpacker I just had to get one. I've never been able to find a comfortable 3 season bag and for someone that spends at least 50- 60 nights a year sleeping on the ground, getting a good night's sleep is crucial. And now i can, this is one SWEET bag! It's a little bit heavier than most other 3D bags with a 15 deg. rating but the comfort trade off is well worth it if you like to sprawl when you sleep like I do. I've used the bag in temps bet 10-15 deg and found the rating to be on the money, for me anyways. I tend to be a "warm" sleeper and used a full-length Z-rest under a 3/4 Therma-rest during the coldest nights.
SD is putting the "flex" feature in several more of their bags for 2000, some Down, some 3D, so if you like some room and still be warm, these are the bags for you.
Design: Mummy
Fill: Polarguard 3D
Temperature Rating: 15 f
Price Paid: $210

This is one bag which really impressed me. I used this bag along with a liner in an overnighter at the Presidentials, New Hampshire. Temperature was around 10 degrees yet I was sweating so much that I removed the liner and surprisingly stayed nice and warm with just the sandman. I highly recommend this bag.
Design: Mummy
Fill: Polarguard 3D
Temperature Rating: 15
Price Paid: $159

Finally the perfect three season bag I've been searching for!! Although a bit bulky compared to other mummy bags rated at this temperature, it more than makes up for it in comfort and construction. I have taken it to warm weather climates and found the ingenious stretch hood fantastic for venting and is un-claustaphobic. But when the temperature dipped below 25 degrees F. I was able to cinch up the hood and still able to move freely in the bag. sleeping in various position was possible due to the "flex" system incorporated in the shell, i enjoyed lying on my side (fetal) back, and arms around head with no problem. Sierra Designs did a fantastic job on every detail from the box hood to the roomy footbox. Just remember, this is a three season bag and i would not recommend taking this to a climate below 20 degrees F. All in all a great sleeping bag and highly recommended!!
Design: Mummy
Fill: Polarguard 3D
Temperature Rating: 15 F
Weight: 3.5 lbs
Price Paid: $179

WOW guys!!
I have always insisted on mummy bags because my head is the first thing to get cold, but I've never gotten used to the concept of staying on my back and crossing my arms like King Tut.
But that all changed this past weekend when I climbed inside the Sierra Designs Sandman, which I had fallen in love with from advertisments for in Backpacker and Outside magazines.
From the first second I climbed in I knew I was hooked - a patented design allows you to move freely inside the bag while keeping the area around the face cinched down tight. There's even room to sleep on your stomach using your arms as a pillow over your head! All the time you're getting the extremely toasty protection of Polarguard 3D, so much so that I had to unzip during the night.
Verdict: If you like to sleep in fetal, spread eagle, or other contorted positions, check out this bag. It's the amazing one in metallic red, while women have their own model (the name escapes me) in silvery blue.
Incredible bag.
Design: mummy
Fill: Polarguard 3D
Temperature Rating: 0 - 15
Weight: 3.5
Price Paid: around $215

Your Review
You May Like
Specs
Price
Historic Range: $95.16-$179.99
Reviewers Paid: $159.00-$215.00

Recently on Trailspace