Sierra Designs Stretch Dome 3

The Stretch Dome 3 has been discontinued. If you're looking for something new, check out the best four-season tents for 2022.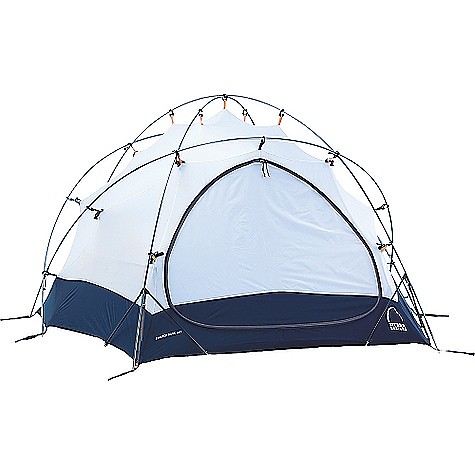 Specs
Price
Historic Range: $329.37-$549.00
Reviewers Paid: $245.00-$425.00

Reviews
12

reviews

5-star:

8

4-star:

3

3-star:

0

2-star:

0

1-star:

1
Why read a review of a tent no longer being manufactured? It may very well help you decide what to buy on the current market.

Though no longer being manufactured, this was/is one of the best free-standing 4 (+ 1/2) pole free standing designs. 360 deg. -wind resistance, snow (load) burry proof vent, breathability/condensation, in slope pitch (free standing).

The Sierra Designs Stretch Dome AST (1992/2001-2005 variants) was one of the most innovative tent designs ever with x frame and two transverse alloy guide poles.

Compare this design with most other manufacturers and you will see the similarities and it could help you in deciding to purchase a more modern variation of this tent.

Pros
Pole design: X frame and cross pole reinforcement
Free standing design, high no of fly attachment points
Igloo type entrance and cooking area and vents
Geometry lots of room for base camp or 2-3 mountaineering
Easy to get std poles, ferrule, and make replacements
Cons
Pitch time a bit longer, thought required for windy setup
Attachment of tent to fly (solved in newer designs: Exped and Hilleberg)
Igloo type entrance and cooking area and vents...ha
Weight, but newer designs: lighter poles, tent fabric
Not bathtub floor
The Sierra Designs Stretch Dome tent with its igloo type fly: Innovation in double wall (tent and how fly attached) design prevents flattening and flapping in high wind (angle) due to connection between the tent and fly on an excellent fabric/configuration (lapped seams & fixed guides).
We experienced this benefit all the time, ie NO FLAPPING NOISE IN HIGH WIND TO KEEP YOU AWAKE.
Excellent structure for wind and snow load: WE HAVE SINCE BOUGHT HILLEBERG Saivo3. This very same skeletal design with newer materials and geometry variation (and bathtub floor) is now used by top tent mfg such as Sierra Designs (still), Black Diamond/Blbler, MSR , North Face, Marmot, Exped, and Hilleberg.
I'm saying LOOK AT THE UNDERLYING DESIGN and HISTORY (patent holders) when you pick a tent. Weight should not be the highest priority for parties of two or more. My wife and I distributed this tent on our Mendehall Glacer/Juneau Ice Field trip (which included ferry and return bus rides from Atlin), and many more trips.
A big deal for expeditions are: field replace/repairable fabric materials, std dia. poles and ferrules. DON'T GO WITH CUSTOM DIA. OR PRE-BENT POLE PROFILES.
When looking for a bombproof design, compare the mfg design of frame and compare their 'new designs' to the Sierra Designs Stretch Dome. WE DID AND NOW HAVE A NEW TENT FOR NEXT 10 years. - JG
Source: bought it new
Price Paid: $400

I received this tent as a gift in December. I must say I was nerdy and researched tents for almost a year. I picked the SD3 because it had all clip on sections (no sleeves). The design is simple yet efficient. I can set it up by myself with no problems. Once all the clips are in place, it is extremely roomy in side. Granted I car camp and bring a lot of stuff, I think it is a tight 2 person tent.
It has been on two outing so far. The most recent this weekend. We had heavy rain and 35+ mile hour winds along the Katy Trail near Columbia, MO. The tent was absolutely dry the next morning. Including 1/2 of the vestibule was dry. The underside had dry leaves.
Since I camp once a month with the Boy Scouts, I am thankful to SD for making a great product.
julia
Sleeps: 2
Ease of Setup: very easy

I took my Stretch Dome to Ireland for a two-week vacation. During a very windy day my tent was blown away. I found it 400 yards away laying upside down with all my gear still inside. The rain fly was torn but the tent was fine.
I thihk this is really a tough tent. I've been in it when the wind pushed the tent down until the walls touched my sleeping bag and it sprung right back up when the wind finally died down. I now use the internal lace-up (tab in corners) and the wind just sweeps by.
The clips are easy to use when cold and windy, and the tent sets up MUCH faster than those that require pushing the pole through sleeves. (been there, done that) This counts big time when it's raining.
Design: 4 season
Sleeps: 2-3
Ease of Setup: A breeze to set up!
Weight: 8.5lbs
Price Paid: $389

I've been using my Stretch Dome for around 10 years and it's not just a tent -- it's a fortress! It simply shrugs off snow, rain, wind, condensation, etc. with its bombproof construction. It's also one of the rare tents which actually allows for 3 people to sleep inside and 4 people to sit inside and socialize with room to spare.
With that being said, I think I'll be selling this off in favor of another 3 person tent. The problem with the SD is that it's too bombproof for my purpose, which is mostly backpacking. I guess I'm willing to go with a 3 season tent for the reduction in weight/bulk. I'll probably regret it in the end but I can gladly say that I got my money's worth -- and more with this SD SD3.
Bought this tent in 1988 and have used it about an average of 30 days per year since. It has been a great tent, though too heavy for extended trips. Although considered a 3-person tent, it is really a roomy 2-person -- I would not want to spend too much time with three people in this tent. I replaced the fly, it ripped due to the years of UVs. The zippers and poles (cracks, some broke) finally wore out, but I sent it back to Sierra Designs and they repaired them -- good service. The floor coating has worn and the floor now leaks significantly, but considering the amount of use... Other than the zippers, I have not had any problems with the tent body -- no rips, holes, etc. It has been a very good tent and I am still using it 14 years later.
Design: four-season freestanding Dome
Sleeps: 6+
Ease of Setup: easy
Weight: ?
Price Paid: can't remember

Love the little features:
-- clips for attaching the tent to the poles -- easier and faster than sleeves
-- cinches for the tabs that hold the poles, so you can insert the poles while these are loose, then rank on them to make the tent taut without needing to bend the poles
-- double door (screen and single wall) for climate control
It's big, but it's a four-season, so what did I expect. It kept me warm and dry in some nasty weather in remotest Iceland. The Icelanders loved it so much they bought it from me used -- for more than twice what I paid for it. I came home and bought another one.
Design: four season
Sleeps: 3
Ease of Setup: Clips make it easy and fast, even with gloves on
Weight: 8
Price Paid: $300

Great value in 4-season tent (especially at sale price!). Mine is a '96 model that I bought at close at price. I noted a recent negative review and thought I would add a conflicting opinion. This tent now has about 15 nights of mid-winter Colorado camping with nary a problem (plus lots of milder nights). It has held up in heavy snow and very heavy winds. The clips are great in the winter because you can put the tent up without removing your gloves. Only drawback is the single door on my older model. A larger vestibule would help in the winter too. I understand newer designs have corrected the former.
Design: 4 season dome
Sleeps: 2-3
Ease of Setup: Easy
Weight: 8 lbs.
Price Paid: $245 (sale)

After enduring many a midnight wash out in my old Eureka, I was determined to buy the best, lightest, most weather-proof tent I could buy. I found it in the SD Stretch Dome. Damn, this thing is indestructable with the clip locks and the internal guy network (hell even without it) This tent is as solid as it comes. Never forget a trip last year hiking on Baffin Island. Went to bed, no wind, clear sky, was laxy and didn't really peg it down, no guys, didn't even do the clips. Woke up to hurricane force winds, didn't really notice till I stepped ou though, the tent was just kind of flapping back and forth like it was in a bit of a breeze. Think of what it would have been like if I had bothered to guy it out!
Like the other reviewed, I bought my model the year before they introduced the 2nd door. WOuld be nice for summer ventilation if I camped in muggy climates. But this tent is a very effective Spring-Summer-Fall-Winter tent.
Haven't had any problems with mine, but the Sierra Design folks are top notch for honouring warranties. No quibbling here!! Over all, best damn tent I ever will own!!! If only Sierra made boots too.
Design: 4 Season
Sleeps: 2 comfortably, 3 in a pinch
Ease of Setup: Basic 4 pole cross, but no sleeves so a bit of a pain in rain and high wind
Weight: 7lbs
Price Paid: $500 Canadian (so that is probably $19.95US)

Very light weight. Very good in the wind, the external guy ties were appreciated when the wind was really howling. Easy to set up. Very roomy inside. This was a very nice for a recent trip to Alaska. I have an older model with only one door which is a minus. The built-in vestibule doesn't go all the way to the ground and requires that you get very low to enter. I wish I had waited for the new two-door model and/or had had the money to buy the expedition model.
Design: 4 season
Sleeps: 2-3
Ease of Setup: easy
Weight: 8 pounds
Price Paid: $425 US

A great tent, the second I have owned. It is rock solid in winds and bad weather.
Sheds wind, has a nice big door and decent shoulder room.
Design: 4 season stretched octagon dome
Sleeps: 2-3
Ease of Setup: easy clip system. The hood over the door is a nuisance, though
Weight: 8.5lbs
Price Paid: US $425

This is an exceptional tent that is extraordinarily bombproof. I spent 35 days last summer in the Alaska backcountry in this tent. It held up beautifully! It holds three people and gear nicely, and makes a suite at the ritz for two. The setup is incredibly fast for a tent of this size. My only complaints are that the tent only has one door, and the rainfly could be slightly more taut.
Design: 4 season dome
Sleeps: 3
Ease of Setup: extremely easy and fast set up...uses clip system
Weight: approx 8.5 lbs
Price Paid: approx $400-450

I too bought a Sierra Designs Stretch Dome tent for the name and reputation of the company. My zipper went out on me on the Kenia River in Alaska in 1996 and left me mosquito bait. I brought the tent back and they replaced the zipper. The same tent left me mosquito bait in the John Muir Wilderness last weekend with a busted zipper. I brought the tent back and the boy told me that they should of repaired it with a different slider. I asked for a refund on the tent and he refused, but said if it broke again he would then refund my money. Do I trust the tent again in mosquito land? I think not. I cannot recommend Sierra Designs products for continued use. They are great if you want to camp once or twice and want to impress your friends with your purchasing power.
Sleeps: 3
Ease of Setup: Easy

You May Like
Recently on Trailspace