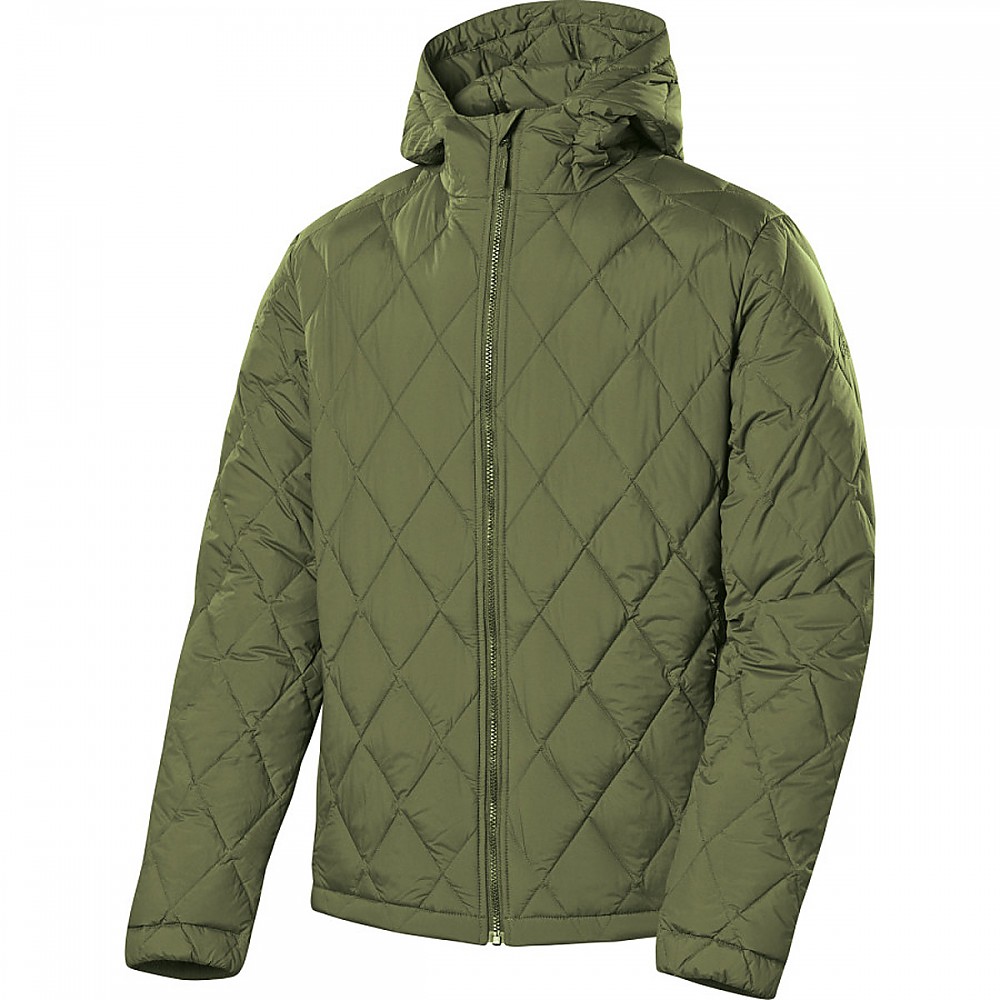 Specs
Men's
Price
Historic Range: $91.58-$229.00

Women's
Price
Historic Range: $91.58-$137.37

Reviews
1

review

5-star:

0

4-star:

1

3-star:

0

2-star:

0

1-star:

0
The Sierra Designs Stretch DriDown Hoody is not your average puffy jacket. It not only has 800 fill hydrophobic DriDown, but it also has a shell that is made of a stretchy blend of nylon and polyester (20D) that is stitched in patterns which allow substantially more flexibility and mobility than any other jacket that I've seen. With 4.23 oz of down fill and a windproof membrane, this jacket packs in some serious BTUs.
Pros
Impressive 4.23 oz of 800 fill DriDown
Has not leaked any down yet (literally, not even one feather)
Comfortable
Warm
Stylish (chevron stitching and nice colors)
Very wind-resistant
Fair price
Cons
Snug fit, could have more room for layering
No external chest pocket
Weight is 16 oz., some might think of that as a disadvantage
About the tester:
I am a 30-year-old from South Carolina. I have been backpacking for about 5 years now and I also ski and snowboard when conditions are right in the south.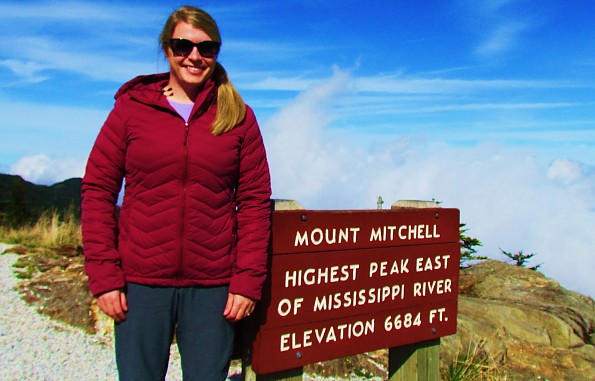 Testing Conditions: This jacket was used in late October – December in the Southern Appalachians and in South Carolina in temperatures ranging from 50-30. It was tested in dry, rainy, calm, and windy conditions. I was not able to test it in snow, but I feel 100% confident that it would perform well in snow.
Should I get to keep this for further evaluation, I will update you on snow conditions.
Recommended uses: skiing, climbing as belay parka, camping/backpacking, hiking if it is very cold, daily winter use
Fit & Comfort:
SD claims that the fit of its Stretch DriDown Hoody is a regular cut, however, I would consider it rather slim fitting. I found it to be snug across the chest and waist, but I do have a larger rib cage/chest, so that may just be me. It is more snug than the Patagonia Down Sweater Hoody and the Montbell Alpine Light Down Parka that I compare later in this review.
You could consider this a benefit, because it makes for a more flattering cut. I personally prefer a more regular cut, so that I have more room for layering. One noteworthy feature of the fit that I have to mention is the length. I love that it is 26" in the back. This ensures that I can reach up without having a cold draft go up my back.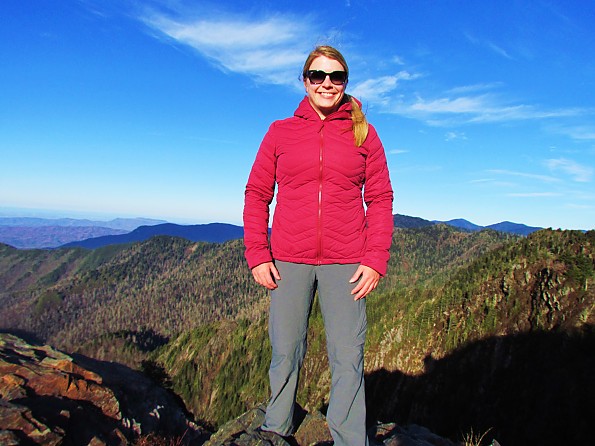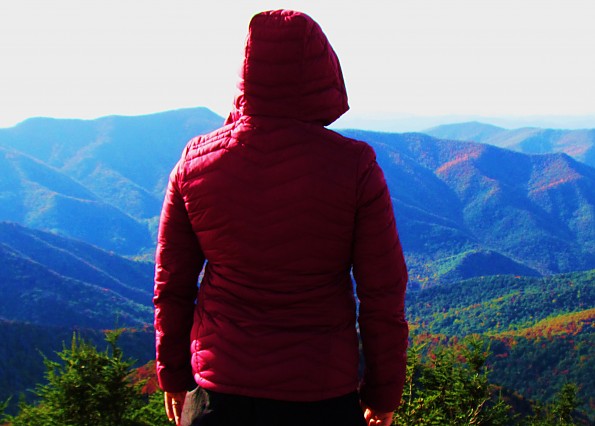 As far as comfort goes, the SD Stretch is very comfortable. The fabric that it is made of is so soft. The stretchiness of the fabric also adds to the comfort level because it does not restrict range of motion when moving.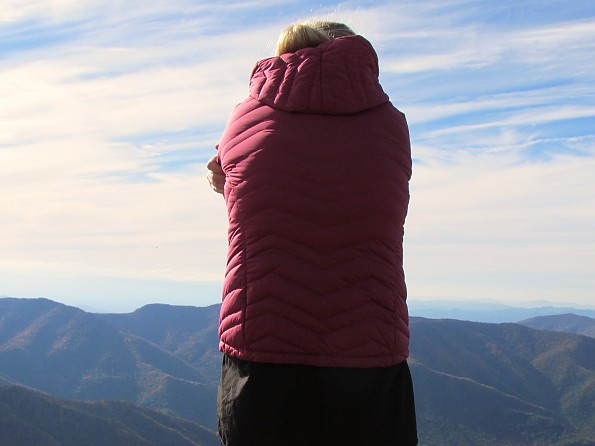 Adjustability:
The Stretch DriDown Hoody has an adjustable draw cord hem and an adjustable hood. The hood is adjustable at the front only (no rear adjustment cord).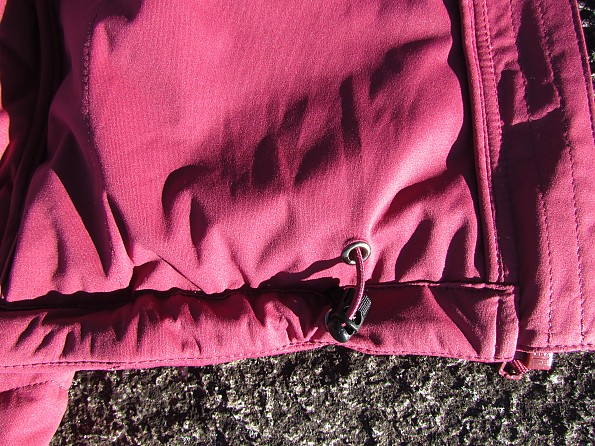 The wrist cuffs are elastic, so they do stretch and contract, but aren't technically adjustable. I really like the cuffs a lot, actually. The elastic part is a few inches into the sleeve, so that they do not constrict. I had the jacket on at 40 degrees (maybe lower) with 35+ MPH winds on a ridge and did not notice any wind getting through the cuffs or the hem. The hood also stayed in place very well while cinched during the wind gusts.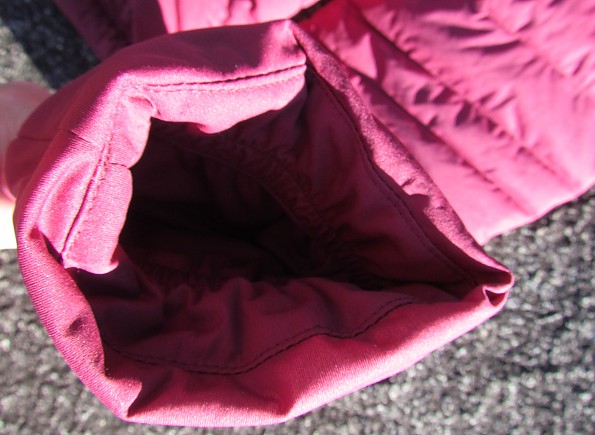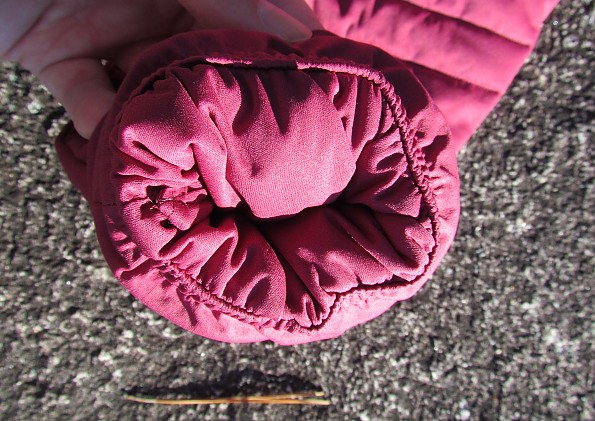 Water Resistance:
The SD Stretch DriDown Hoody is comprised of 800 Fill DriDown, which is regular down treated with a molecular level polymer to create a hydrophobic finish on each individual down plume.  This finish allows DriDown to stay dry longer, loft better, and dry faster than regular down, keeping you warmer in any environment. As untreated down gets wet, it loses loft and therefore loses its ability to insulate. DriDown helps eliminate this problem. DriDown stays dry 10-times longer than untreated down. DriDown retains 170% more loft than untreated down when exposed to moisture and humidity. DriDown dries 33% faster than untreated down.
*Third-party testing conducted by California Down and Feather Testing Laboratory
Of course I had to test this out. While it is very hard to conduct the scientific research that would need to be done to fully evaluate these claims, I did do some field testing in the rain. Over a light rain/drizzle, there was no effect on the warmth or loft whatsoever. It rolled off the jacket. In thirty minutes of steady hard rain, I remained dry and warm. The rain did seep through the initial layer of fabric, but no loft was lost and the inside of the jacket stayed completely dry. I was very impressed with this because from the outside, it really looked like the whole jacket was soaked.
Wind Resistance:
Due to the fact that this is not a nylon shell, I did not expect it to be very wind-resistant, but it absolutely is. I also thought that if nothing else, the wind would seep through the seams, but it did not. As I said earlier, I was in 35+ MPH winds on an exposed ridge at around 40 degrees and it did a fantastic job blocking wind and keeping me warm.
I was very impressed! The SD Stretch DriDown Hoody has a membrane underneath the lining. This helps make the wind resistance of this jacket 0 CFM (cubic feet per minute per square meter), meaning that it is absolutely windproof, just the same as a hardshell with a membrane.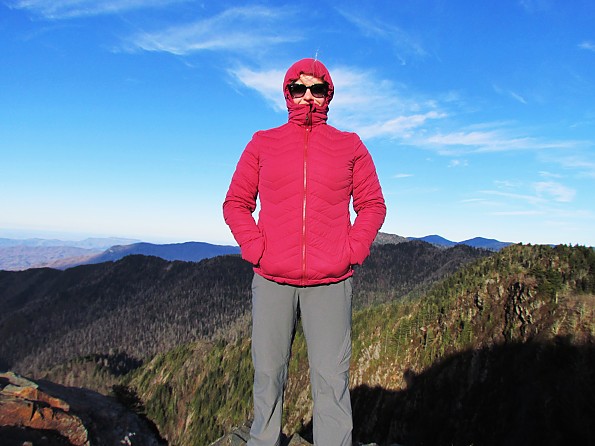 Windy ridge in GSMNP (Charlie's Bunion)
Breathability:
The SD Stretch Hoody is fairly breathable. I got pretty hot when walking at a steady pace at 30 degrees, but I would imagine I would get the same results in most other down jackets. It does have a full zipper for venting options. The addition of some pit zips would certainly help out, especially if you are wanting to ski, snowboard, or snowshoe.
Moisture:
I didn't get too sweaty in the SD Stretch, but I would imagine that the fabric would wick away sweat better than traditional nylon. I will update this if I am able to.
Warmth:
The SD Stretch is very warm. It definitely keeps you warm during activity. It also is warm enough for sitting around basecamp, which is very important to me because it was what I primarily used it for. I would wear it down to about 30 degrees with a regular baselayer. Any colder than that would require more layering.
Style:
The Stretch DriDown Hoody is one of the most fashionable backcountry jackets I've ever seen. The wine, green blue, and black are all really pretty and the chevron baffles look great! Chevron is one of the most popular patterns this year, especially in the south. You can wear this skiing, hiking, or around town.
Bonus: it does not look like a trash bag, like a lot of other backcountry jackets.
Shedding:
The SD Stretch did not lose a feather yet. Not even one.
Layering:
While I feel that the SD Stretch could have more room for layering, I did notice that it glides nicely over the layers that I tried on underneath it.
Abrasion:
I am usually pretty rough on gear, so a jacket that I don't have to worry about babying is very important to me. I gathered firewood in this jacket and it was not phased at all. Normally this is something I would never do in a down jacket, because I don't want to puncture the delicate shells that they are typically made of. I went through briars and bumped into various limbs while searching for firewood. I also carried some limbs that were sharp and could have potentially caused a puncture.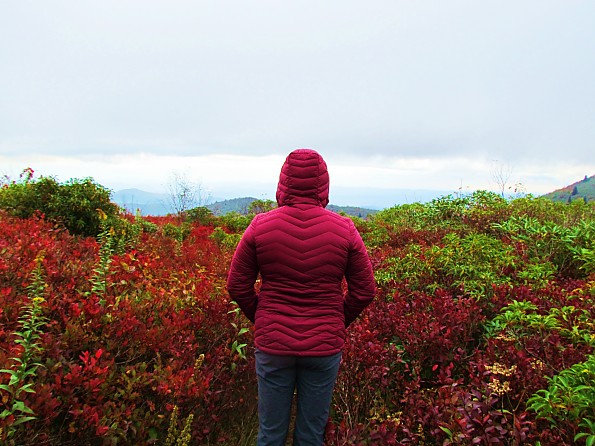 Walking through rough bushes/brush on Art Loeb Trail (Shining Rock Wilderness, N.C.)
Features: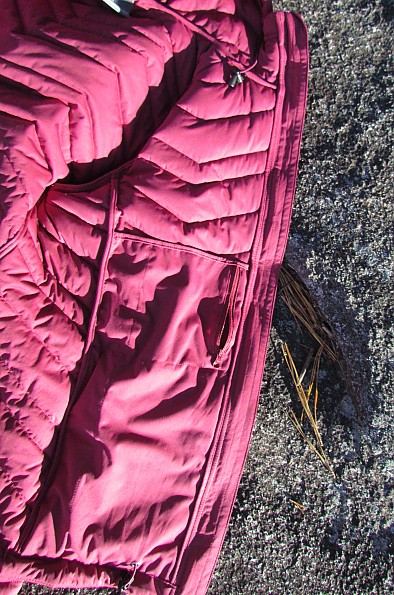 Drop in pocket with zippered security pocket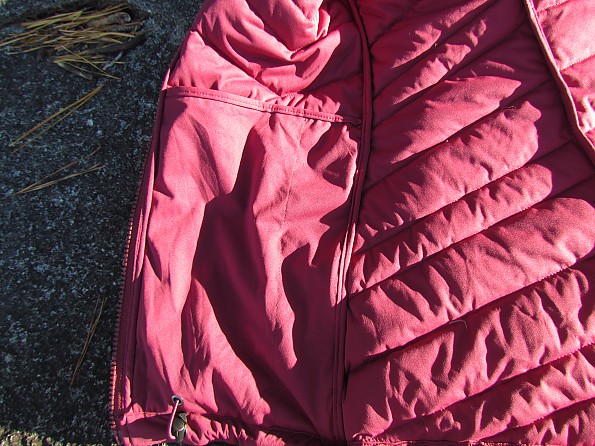 Deep drop-in pocket for gloves, hat, earband, etc
Comparison:
In case you are interested, I am going to compare the Stretch DriDown Hoody to two of my jackets that I feel are similar, and some of the best on the market today, the Montbell Alpine Light Down Parka (2012 version) and the Patagonia Down Sweater Hoody (2013 version):
Warmest: 1. Montbell Alpine Light 2. SD Stretch 3. Patagonia DS Hoody (SD has most down fill out of the three).
Lightest: 1. Montbell Alpine Light 2. Patagonia DS Hoody 3. SD Stretch Hoody
Most Flattering: 1. SD Stretch 2. Patagonia DS Hoody 3. Montbell Alpine Light
Best Value: 1. Montbell Alpine Light 2. SD Stretch 3. Patagonia DS Hoody
Most Durable: 1. SD Stretch 2. Patagonia DS Hoody 3. Montbell Alpine Light
Most Comfortable: 1. Montbell Alpine Light 2. SD Stretch 3. Patagonia DS Hoody
X Factor: SD Stretch has DriDown, stretchy and comfortable fabric, stylish chevron baffles, does not leak feathers.
*Disclosure – I am a self-proclaimed jacket snob, who may or may not have a slight obsession with them. I am also "one of those girls" who is cold all the time, so appropriate jacket selection is of utmost importance to me.
Conclusion:
When considering a backcountry jacket, I have certain criteria that must be met in order for me to make a purchase. Here is my list of questions I always ask myself before purchase along with the answers for the Sierra Designs Stretch DriDown Hoody:
Is it warm enough for me?   Yes

Is it comfortable?                 Yes

Does it look good on me?    Yes

Is it durable enough for me? Yes

Is it expensive?                      No

Does it have a lifetime warranty? Yes
The Stretch DriDown Hoody meets all of my major criteria for purchasing a jacket, so yes, I would recommend it. It can go anywhere in most any condition comfortably and look good doing it.
*Thank you for taking the time to read my review of the Sierra Designs Stretch DriDown Hoody. Thank you, also, to Trailspace and Sierra Designs for the opportunity to test and review this awesome jacket.*
You May Like
Recently on Trailspace