Sierra Designs Tengu 3

The Tengu 3 has been discontinued. If you're looking for something new, check out the best three-season tents for 2020.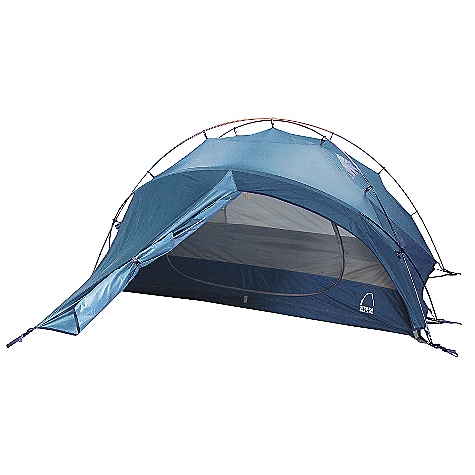 Specs
Price
Historic Range: $179.37-$299.00
Reviewers Paid: $160.00-$259.00

Reviews
6

reviews

5-star:

2

4-star:

2

3-star:

0

2-star:

1

1-star:

1
Tired of sleeping in puddles at music festivals, I sucked it up and bought a real tent after doing a lot of research - arguably too much - and becoming really impressed with the entire Sierra Designs line. I particularly liked the idea of the Tengu 3 given its size, shape, exterior skeleton, and spacious vestibule(s).
Having broken it in this past weekend, I couldn't be much happier. It's a breeze for a single person to pitch, although you'll probably want to give it a dry run at home - its unorthodox structure warrants a patient initial assembly.
The main poles come as a single unit with a swivel hub in the middle from which four lobes (ultimately two poles) unfold. The fly essentially clips to the poles and hangs from them, under which hangs the tent itself. It's somewhat hard to explain, but the design is ingenious, stylish, practical, and efficient.
It was an unpleasantly steamy weekend with several scattered T-storms, but the tent stayed remarkably dry. Since I made an effort to open the doors as little as possible, it also did an excellent job of keeping bugs out.
The vestibules are dynamic and can each be opened partially, halfway, or even completely. This aids ventilation and allows for variable sunlight penetration. I should also add that the front vestibule is tremendously useful - I stored a large cooler and a beach chair within it for most of the weekend, but also welcomed the opportunity to ditch my shoes in an enclosed space before entering the tent. This kept things relatively mud-free on the inside.
I could go on, but you probably get the idea. This tent screams preparedness. Everything about the materials - from the strong, lightweight poles to the smooth, unimpeded zippers - seems thoughtful and well designed. I fully endorse Sierra Designs and this exceedingly sharp, yet rugged tent.
NOTE 1: Don't bother with the official footprint - it's 40-some dollars everywhere I've tried to find it. A 5.5' x 7.5' cutout of 3 mil. clear plastic paint tarp served the purpose without fail.
NOTE 2: As with most tents, the directions are horrible and the stakes/guy lines are pretty crappy.
Design: three-season freestanding dome
Sleeps: 3
Ease of Setup: Very easy for even one individual! Study instructions carefully the first time.
Weight: 8 lbs.
Price Paid: $160-ish

Confusing setup. Can't pitch the tent by itself, you must put up the fly AND the tent. Directions are useless.
This tent is terrible. I've slept in a lot of tents and been camping hundreds of times and this tent is the worst design I've seen probably ever. By design, you *must* pitch the fly with the tent; you can't put up just the tent without the fly.
There are seemingly too many grommets on the floor of the tent. We ran out of poles to put in them and several were empty when we finished. First setup took probably 30-45 minutes with two experienced campers (one of whom is an engineer) and we weren't super sure we did it correctly; the vestibule pole ends were sticking out about 6" above the ground when sitting in their grommets.
As per usual, the directions are nearly worthless. Don't waste your money. 
Source: bought it new
Price Paid: Too much

Interesting features including HUGE vestibule and built-in fly. I also like the pole frame on the outside of the tent. Assembling the tent is easy in poor conditions without any worry about the tent getting wet.
Haven't had any problem with water or high wind. Handled 50+ mph gusts without guyouts really well. For the money, it's a unique tent - probably none better.
Design: three-season freestanding
Sleeps: 3
Ease of Setup: easy
Weight: approx 7 lbs
Price Paid: $165

I spent a week in my Tengu 3 in Alaska, north of the Arctic Circle. It rained a lot, blew 15-20 mph most of the time, and dropped to below freezing at night. We stayed dry, were able to store lots of gear in the huge vestibule (to include cooking in it a few times).
It's a little heavy, but a great tent overall. This is my second SD tent, after my first gave up the ghost after 12 years.
Design: three season free standing
Sleeps: 3
Ease of Setup: EASY
Weight: 9.5 pounds
Price Paid: $200

Great tent until the hub cracked in half and split one of the poles the first time using it. Does not hold up in heavy winds. Thank God for duct tape.
Sierra Designs warranty and repair shut down their Utah shop after telling me to send it there. Then they were rude on the telephone and took over a week to respond to an email and still didn't answer my questions.
I sent a letter of complaint to the headquarters in Boulder, Colo., and received no reply at all. 6 weeks after sending the poles/hub in for repair I still do not know the status. I will never, EVER, buy anything from Sierra Designs again.
Sleeps: 3
Price Paid: $229

I selected this tent after looking at probably 6 "finalists", using the criteria of: easy to pitch, could sit inside if I had to, could sit in the vestibule if I wanted to, could cook in the vestibule if I had to. I was also intrigued (and sold) by the fact the tent hangs inside the fly, so you can set this tent up in the rain and not get it wet inside. And I selected the 3 person over the two person because I wanted the option of being able to store my backpack and gear inside the tent, not just in the vestibule. The fact the 3 person weighs 1.5 pounds more than the 2 person doesn't bother me, because I am a weekend backpacker, not a thru-hiker. If I was obsessed with weight, I would have selected the new Black Diamond Vista at 5.15 pounds, or a Baku 3 at around the same weight, both of which have 9 sq ft vestibules.
The propaganda is true, basic setup is a breeze, setting the 2 poles criss-cross then just clipping the fly to the poles. You thread the 3rd vestibule pole through a sleeve, which takes a moment extra, but no big deal. From there, you stake out the front of the vestibule and you've got a roomy front porch, which features an inverted V shape from the center outwards, thereby creating extra headroom, not a flat slope. I like the side-to-center direction in which the vestibule zipper unzips, creating a sitting space that is evocative of the Trango's. You really can sit in the vestibule and you really can cook there if you have to.
The first overnight was fairly cool, in the low 40s, and the tent proved to be a nice combination of ventilation without drafts. It is a little bit of a pain to get out of the front vestibule for a midnight nature call, and much better to use the significantly smaller rear door/vestibule. Indeed, you might even want to leave the rear vestibule unzipped for convenience and ventilation, unless you anticipate wind or rain.
Speaking of rain, I can't comment on the dryness factor, as we did not encounter any rain; and there was no condensation inside the tent, which was nice. There is plenty of room for two adults; and as is usually the case, I question the 3 person rating, unless you know each other pretty well. We slept at a 45 degree angle, to take advantage of the 73" width, and it worked out fine. At that alignment, there was plenty of room for our gear, with room to spare. The 44" inside height permitted sitting up and changing clothes; 48" would have been even better!
In all, a really interesting new tent for 2007. If you are the sort of backpacker who often encounters rain about the same time as you are making camp, and would like the option to sit or cook in the vestibule, I encourage you to consider this tent.
Oh, REI has it mis-priced at $259. If you pay $15 to become an REI member, you can get another 20% off, dropping the price to $208. Everywhere else, it's $299. The footprint is a hefty $45 - ouch! I wonder if they make as much profit on the footprint as on the tent, yano?
Design: 3-season, free-standing dome
Sleeps: 3
Ease of Setup: Very easy to set up, after 1 dry run
Weight: 7 lbs, 15 ounces
Price Paid: $259

You May Like
Recently on Trailspace