Sierra Designs Vapor Light 2

Top 25 in 3-4 Season Convertible Tents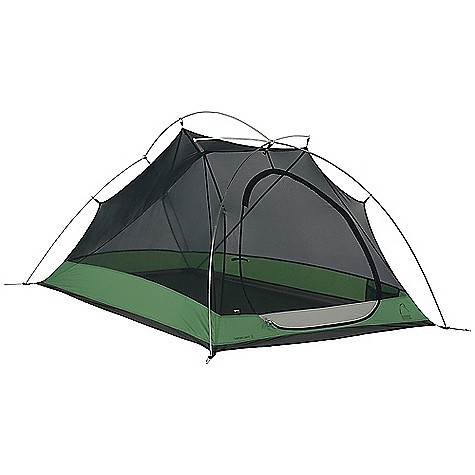 First off.... context.  I was looking to replace my old Walrus hoop tent that is similar in design to the Clip Flashlight.  It was a single person shelter and I've hiked thousands of miles with that tent, half the AT, Alaska, Washington, California, 500 mi of the PCT, Georgia, North Carolina, etc.. etc.. That tent has been everywhere with me and it was a sad day when I put it down.
I was looking for a tent that would primarily be used as a solo tent (most of my use) but I take kids now and then so I thought a small 2-man tent would be idea. Weights have come down since I bought my last tent so I was hoping to either lose or at least not gain weight compared to my Walrus.   
I'm not a big guy... about 5'7" so I didn't need a long tent and often I find a smaller tent is easier to find a spot for so I didn't even consider any of the bigger 2-man options.
I looked at and almost bought the Big Agnes Seedhouse SL2. It was big enough, weight was in-line with my old tent and it had happy owners. I liked the ridge pole design that should be good for shedding snow and wind.  
I didn't like the way it had to be guyed out from the sides. I thought the Vapor Light was an improvement in that regard due to the spider pole design up front that gives you more headroom and seems to better support the fly away from the inner mesh. I could have probably been happy with either though.  
The Vapor Light 2 is a true 3lb. 6oz. pack weight (fly, poles, tent body, guy lines, 6-stakes) and I don't carry the footprint (I've never used one with any tent).
The space compared to my old solo tent is cavernous. I can easily sit up and move around in the tent without touching the walls.   I can sit up in the center near the rear and I think I could get two more people my size in the tent up front for a game of cards. It has a lot of vertical headroom and the walls of the tent are all very steep.   
I've only been out two nights in it but it was November camping... 35-40 deg. with drizzle and I had little or no condensation to speak of. With two people and slightly different conditions I can see getting some but it should stay on the fly. Two people with twin 20" sleeping pads will fit side-side but that is all the room you are going to have. This is a snug two person design.   
The length of the tent may be an issue for tall guys/gals but it is absolutely no problem for me. I was concerned based upon the measurements and reviews with many people going for the XL version. I'm glad I got the shorter one because the weight is more important than the extra length.
Negatives?  I am suspicious of the longevity of the Jakes foot. It works fine now but if one of those plastic feet break I'd have to cut a hole in the connecting nylon to do a quick fix in the field.   I guess only time will tell how they hold up.   
The front entrance could have been better thought out. It is plenty big but the fly door overhangs the inner door and some people are concerned with rain or water getting in when entering/exiting. My old tent was like this too and I found that in real life it is almost never an issue. I'd much rather have water drips at the front of a tent where I can wipe them up rather than down the length of my down bag.   
If I had to re-design I'd make an option for a fly that had a front porch using a hiking pole support that would give better coverage in front. Not a big porch but slightly bigger with adjustable vertical space (use telescoping hiking pole to adjust) that gave full coverage for the door and would allow cooking (they can still make their disclosure about NOT cooking in a tent) in the rain.   
Since this is a snug 2-person the extra porch space would make the design more usable for two, better cover the door and I suspect not add much weight (use lighter materials if necessary to keep weight down).  
The other thing I'd change is I'd make the design such that you set up the pole-fly structure first then climb inside and snap the inner in place. That way you could set it up in a drizzle without getting the inner wet. A zipper down the apex of the mesh would allow you to clip the inner to the four corners then clip the top clips and zip it closed. It wouldn't have to be easy and it would be the secondary way of setting up but it would allow for a dry tent when setting up in the rain. 
Overall though I'm very pleased with the tent. I have much more space than my old tent, free-standing and it is within 2oz. of my old solo shelter.  Life is good. 
Price Paid: $200

Very lightweight and reasonably priced. Good protection from wind, rain, and bugs. A bit cramped for two people though.
Pros
Lightweight
Easy setup
Protection from the elements
Cons
Inadequate ventilation
Small for two people
I bought this tent for a couple reasons. It is advertised as a two-person tent, and it will actually fit two people. But you better be pretty good friends, conditions would be crowded. This is not really unexpected when you consider how the tent met my other expectation.
It is very lightweight. My tent actually weighs less than the published specs and by a good bit. Tent, fly, poles, all necessary stakes and the stuff sack weigh in at a surprising 2.75 lbs., almost a pound under the manufacturer's stated weight.  
The other reason I was interested in this tent is cost. I believe it has been discontinued by Sierra Design but can still be found a few places at a substantial discount from original MSRP.  Lightweight gear usually commands a premium price, so this was a nice alternative. 
I have only used the tent on solo trips and for that purpose this tent seems pretty much ideal. I have no experience with the super light tents from other manufacturers, but I can't imagine getting any roomier without getting heavier or much, much flimsier. A tent has to be actually made of something, right? 
I have used the tent a couple times in the Texas desert and in the Arkasas Ozarks, spring and fall trips. In Arkansas I've had problems with condesation building up inside the fly overnight. The tent walls are almost entirely mesh, so to much flailing around in the morning will result in some of that condensation joining you inside. 
Setup is fast and simple, using hubbed poles, clips, and jakes foot attachments. I have not gone through any major storms so I can't speak to how it would fare in terrible conditions, but in moderate rain and maybe 15 mph winds I've had no problems with moisture from outside getting in, but I'm sure condensation would again be a problem if the rain lasted more than one night.  
Source: bought it new
Price Paid: $200

Spectacular tent.
I recently bought the Vapor Light 2, hoping for a lightweight, tough tent. This delivered. I used it in the Linville Gorge in western mountains of North Carolina. The hike to our destination was about 5 miles and the only way I remembered The Vapor was on my pack was when my friend reminded me...it's that light.
Setting the Vapor Light 2 up is so easy a caveman could do it...literally. The ball joint attachments for the poles are a breeze to set up, as well as the rain fly (if needed). 25 mile/hour winds and mild rain off and on all night. Even without the footprint, my friend and I stayed dry.
For such a lightweight tent, this is surprisingly sturdy and I would guess it could withstand conditions worse than my first go around with it. At least, I'm hoping so, because I'm headed to Glacier NP this summer.
I will say this...If you're a taller guy (above 6 feet), I would highly recommend spending a little more money and purchasing the XL version of the Vapor Light 2. I'm 5'10", average build, and although this tent is a perfect fit for me, if I was above 6' and stocky, it would have been an uncomfortable night. 
With all that in mind, I would highly recommend this to anyone wanting to purchase an ultralight, 3-season tent. Kudos, Sierra Designs, kudos.
Price Paid: $200 (clearance)

Title: vacuumed packed
Subject: My experience of using a Vapor Light tent on Isla Navarino in Terra del feugo (Jan., 2011).  This trail only gets about 100 hikers a year.  Super remote and raw.
So the flight out to Isla Naravino was fantastic and soon as we landed we took a taxi to the trail head and started hiking the Deintes Circuit. After climbing about 500m (1600 ft) we were above treeline and it started snowing/sleeting with a 30mph wind.  Most of the was transverse talus and crushed rock trail (12in wide) with a consistent wind/snow sleet.  We dropped down into camp one and it cleared up and was sunny. 
Day two: literally head straight up the slope and over the Deintes pass (stunning), from there I could see cape horn in the distance and after 15km we set camp right by a lake.  When dinner time hit we were having some soup and I said its so damn windy that there are waves being created in my soup bowl¨,  right after I said that a gust of wind hit and up and over my head flew my tent (with all 40 lbs of gear and staked down) I grabbed it in time before it continued rolling along.  It was really windy the rest of the night (60+mph) so I didn't get much sleep. 
Day three we headed out for the longest part of this trek  22 km (10 mile) with 3 passes. The weather was perfect for this most southern trek in the world.  We hit the last pass and on the other side it basically dropped off at a 75 degree angle.  I thought Christ what in the the hell am I doing (I have a video that hopefully shows the slope) we made it to camp and set up with the sun shining brightly.  I went to bed fairly early since I was sleepy and then the real adventure started. 
Wind, not Boulder wind, not Wyoming wind, not even Patagonia wind, but Terra Del Feugo wind.  It came in spurts about every 5 min (my best guess was around 60-mph)  So I was sitting up in my sleeping bag helping support my text so it wouldn't collapse. This went on for about 45 minutes.  I thought at this time I need to get ready to escape if it keeps up. Right after that you could hear the next gust come and it hit so ferocious that it pushed me over and i couldn't push back to support the tent wall. 
OK I had enough and we both thought time to leave and right at that moment the next gust hit (best guess 100+mph) and completely flattened my tent around me; it felt like i was being vacuumed packed in my tent it lasted for about 3min.  then let up for about 45 sec then came harder and faster flattened the tent then yanked off the rain fly and then flattened my guides tent too.  Time to get the f*** out of there. 
We threw our stuff in the packs and started to move down hill.  As I put my pack on another gust hit and knocked me down flat. like i was knocked out. So it's howling so we crawl down hill and get under some lenga scrub bushes and take cover there for the rest of the night. 
The next day we head out to camp by the ocean where I finally get a good night's rest. Love it love it love it. This trek really made me see how small I am in the world and how defenseless a 200 lbs human is when against Mother Nature.

The bottom line: The Sierra Designs Vapor Light 2 tent withstood this event in stellar fashion, one ripped loop on the rain fly, a small rip in the netting, and a slightly bent pole.  Better than my guide's tent (North Face). thank you.
Highly recommend this tent.
Price Paid: $350

Your Review
Where to Buy
Help support this site by making your next gear purchase through one of the links above. Click a link, buy what you need, and the seller will contribute a portion of the purchase price to support Trailspace's independent gear reviews.
You May Like
Specs
Price
MSRP: $29.95
Historic Range: $118.73-$303.09
Reviewers Paid: $200.00-$350.00

Trail Weight
3 lb 5 oz / 1.50 kg

Packed Weight
3 lb 11 oz / 1.67 kg

Interior Area
25.5 sq ft / 2.37 sq m

Vestibule Area
8 sq ft / .74 sq m

Peak Height
38 in / 97 cm

Packed Length
20 in

Packed Diameter
6 in

Capacity
2

Season
3

Number of Doors
1

Number of Poles
2 Hubbed

Pole Diameter
9.0 / 8.5 mm

Pole Type
DAC NSL

Floor Material
40D Nylon, 3000 mm

Body Material
20D Nylon

Fly Material
40D Nylon, 1500 mm

Recently on Trailspace