Sierra Designs Wicked Fast

Top 25 in men's 3-Season Down Sleeping Bags
The Wicked Fast has been discontinued. If you're looking for something new, check out the best 3-season down sleeping bags for 2022.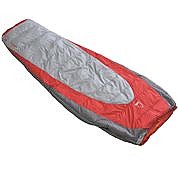 Specs
Price
Historic Range: $139.95-$249.95
Reviewers Paid: $160.00-$199.00

Reviews
3

reviews

5-star:

2

4-star:

1

3-star:

0

2-star:

0

1-star:

0
I have used my SD Wicked fast in a variety of settings.  Before you read on, let it be known that I am a warm sleeper.  I usually use a cotton sleeping bag liner with this.  In the summer months I find the bag usually too hot so I unzip it and/or sleep mostly out of it or on top of it in the liner only.  I have used it on several snowshoe backpacking trips and never been cold (tent, groundcloth, pad and liner w good clothes) . 
Two occasion stand out to me.  A short solo backpacking trip where I ended up in 5 feet of snow after starting out in dry 70 degree weather.  As i ascended from 200 to 4000 feet I was postholing and cold.  I set up my tarp (no tent) and slept very good in this bag.  Another time doing a section of the PCT near mount Jefferson (Oregon).  I got down to 32 degrees the first night and 23 the second!  I was fine both nights.
The bag takes some getting used to.  It is small.  It is tight around your body so if you move around a lot you may not like it. I have gotten used to it and whatever minor lack of comfort it may give you is more than made up for by the low weigh and the comfort that grants.
Great bag that doesn't blow the bank.
Price Paid: $160

This an amazing sleeping bag. I used a Marmot Trestles 15 degree F. bag for a while and it sucked in every way compared to this bag. The 30 degree Wicked Fast was head and shoulders warmer than the Trestles. It is ten times lighter, packs to the size of a large grapefruit, and performs flawlessly.
I have had this bag in 10 degree weather and I was fine. I was in a tent and I was using a bag liner from REI to add 15 degrees warm to it and I had to take the liner out from over heating. I was hot! As soon as I took out the liner the bag was perfect in 10 degree weather!!
My only concern was I could see a couple of feathers sticking out when I got the bag and I simply plucked them out and now it is fine. I used this bag in 40 degree weather as well and it was warm but I just opened the foot vent and let down the zipper and I was fine as well. This bag is freaking great!
Design: mummy
Temperature Rating: 800 fill down
Weight: 1 lb. 7 oz.
Price Paid: $175 on ebay

This is a great sleeping bag, and I am surprised there aren't more reviews on the internet about it. Here are the positives: It is incredibly light. SD makes the claim that other manufacturers have used less durable fabrics to create light sleeping bags, and having shopped around this seems to be the case. The fabric used by SD is light, but feels plenty durable. It does not stick to my skin, and warms up real quick. The down is heavenly, and seems to be warmer than the rating would suggest.
The hood is a nice feature and does decrease the volume of space that needs to be heated...so it does seem more efficient. It is very compact and comes with a nice stuff bag, though I think it could be compressed much smaller with a compression bag. The foot vent is a nice feature as it does create enough of a draft to slightly cool down if needed. And personally I like the half zip... it doesn't continue to zip down till I finally role out. It is roomier than I expected, and rolling around in the night is done with ease. Finally, the weight is fantastic. There are slightly lighter bags, but I feel like this bag will meet my needs and last a long time.
As for the negatives: The foot vent is both a positive and a negative. The only negativity is that it could have zipped open even more and it seems too delicate to have both feet stick out. So I just stick one out and pull the other leg up...which works quite nicely. SD also claims there is a draft tube, and I don't know what their definition of draft tube is, but there isn't one in the classical sense. That being said, I haven't had a problem with that one bit...especially since I typically use a tent (so no wind) and I am a warm sleeper (I think I could take it down to 20).
Hope this helps someone looking at this bag. I really like it and couldn't find much info when I was researching it. Also, some have stated that it doesn't have insulation on the bottom...this isn't true. I think that was an old model and they have since insulated the bottom of the bag. It is a great ultralight bag!
Design: mummy
Fill: Heavenly 800 Down
Temperature Rating: 30
Weight: 1 lb 8 oz
Price Paid: $199

You May Like
Recently on Trailspace