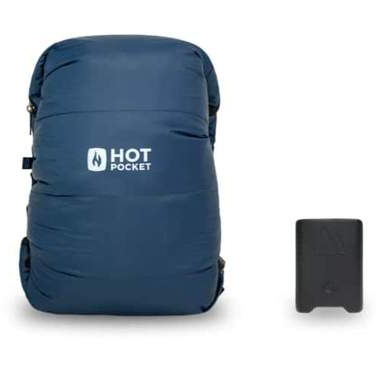 Specs
small
medium
large
Price
MSRP: $189.00

Weight
4.5 oz
7 oz
8.5 oz
Volume
8.7 L
16 L
19 L
Coverage
364 cu in
588 cu in
630 cu in
Open Dimensions
14 x 26 in
21 x 28 in
21 x 30 in
Compressed Dimensions
10 x 11 in
13 x 12 in
15 x 11 in
Materials
20D HYDRAshield

Reviews
1

review

5-star:

0

4-star:

1

3-star:

0

2-star:

0

1-star:

0
This is a thing—and you really need it!

It's new, it's unique, and it doesn't really have a category, so I selected "electronics"—only because it uses a battery. It's sort of a multi-purpose heater/woobie/foot warmer/compression stuffsack/powerbank/flashlight all rolled into one.
Pros
3 sizes available
Lightweight bag (4.5-8.5 oz)
Ultralight powerbank (9.6 oz)
Solar option available
Can use other USBC powerbanks
Holds 2 quilts and a sweatshirt
2 settings—lo and hi heat
Heats up fast
Cons
Expen$$ive
High capacity powerbank is 16.9 ounces
Daypack type straps available (why?)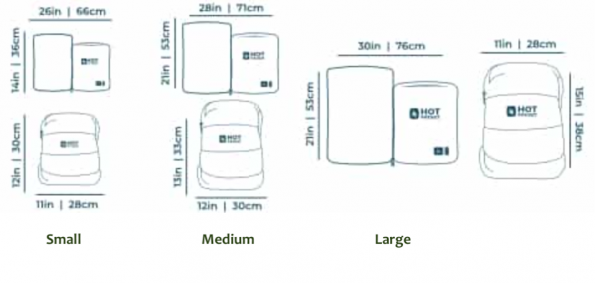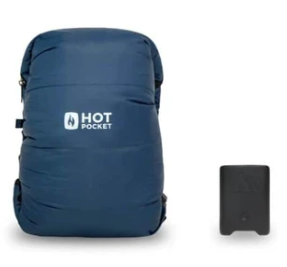 So let me start by saying I wasn't going to buy this.
I saw the ads, I read the articles, and I watched the dog and pony show.
I tried to resist, but I owed myself a gear gift for Christmas and dove in head first. I bought the Medium (16 Liter, 7 oz). The first thought was—Return it. Then I tried it.
Within 3 minutes, it was warming up nicely on low heat (about 100 degrees F). After 15 minutes, it was toasty warm and keeping me quite comfortable on a 20-degree night in my nylon hammock on the back deck. I was wrapped in a standard military type poncho liner, wearing jeans and a hoodie—surprisingly, no chills for over a half hour. High heat kicks it up to about 122 degrees, and it cycles in 15 minute on/off intervals to preserve your powerbank.
So my test was with the supplied UL battery pack, which has a fast charge input, bright flashlight, and two USB-C outputs—one for high current for the Hot Pocket, the other for charging other devices. It's bulky and heavier than any of my other powerbanks, but I can use them as well with an adapter. I tested at 15 minutes on low heat, then 15 minutes (one cycle) on high heat. Post-test, the battery pack's 4 LED indicators showed it had discharged less than 20% (4th LED blinking) and recharged within an hour. 
The bag itself is 20D Hydrashield nylon that resists moisture, looks and feels durable, though soft. The opening is a drawstring spindrift collar that tucks inside a roll down, dry-bag like top. Closed and zipped, the Medium measures 12x13", and opens up to a full 28x21". This covered my torso during my outdoor hammock test...and I was able to loop a strap around the back of my neck to keep it in place. Zipped partially, you can even use this as a footwarmer.
When stuffed, it's a little under 9" diameter and compresses to whatever size you can with its two straps...depending on contents. I shoved two 64x87" quilts and a hoodie sweatshirt in it, and was able to choke it down to 9x11". Oh, and before I forget—you can also preheat your sleeping gear in this thing...or warm gloves and hat...or whatever.
Experience
I'm impressed—it was a chilly, breezy night and this thing kept me warm. I will welcome this bag at 4:30am when the dewpoint clips 30 degrees on those early spring weekenders.

UPDATE 2/17/21: I used this in a cabin over the past weekend. Slept about 20ft away from the woodstove that everyone else was positioned around. I had stashed my military poncho liner (woobie) and an inflatable sleeping pad in the HotPocket as a stuff sack with plenty of room to spare.

As a side sleeper, I sort of cuddled the fully opened HotPocket in front of me from chest to upper thighs under the woobie. With the battery stashed in its flap pocket, I set it on the constant low heat (blue) setting, and I was comfortable all night (7 hours).

Everyone was asking about it Sunday morning during first coffee, so I turned it on high heat (red) setting and passed it around to demonstrate. In this mode, it cycles in approx. 15 minutes heat and 15 minutes off. The battery lasted another 2 hours before draining below 25%....I'm still impressed and happy with the product. I'm thinking they may sell a few more of these to the cabin crew from last weekend...heheh.
Source: bought it new
Price Paid: $189 with promotional free shipping

You May Like
Recently on Trailspace