Silva Ranger CL

The Ranger CL has been discontinued. If you're looking for something new, check out the best handheld compasses for 2023.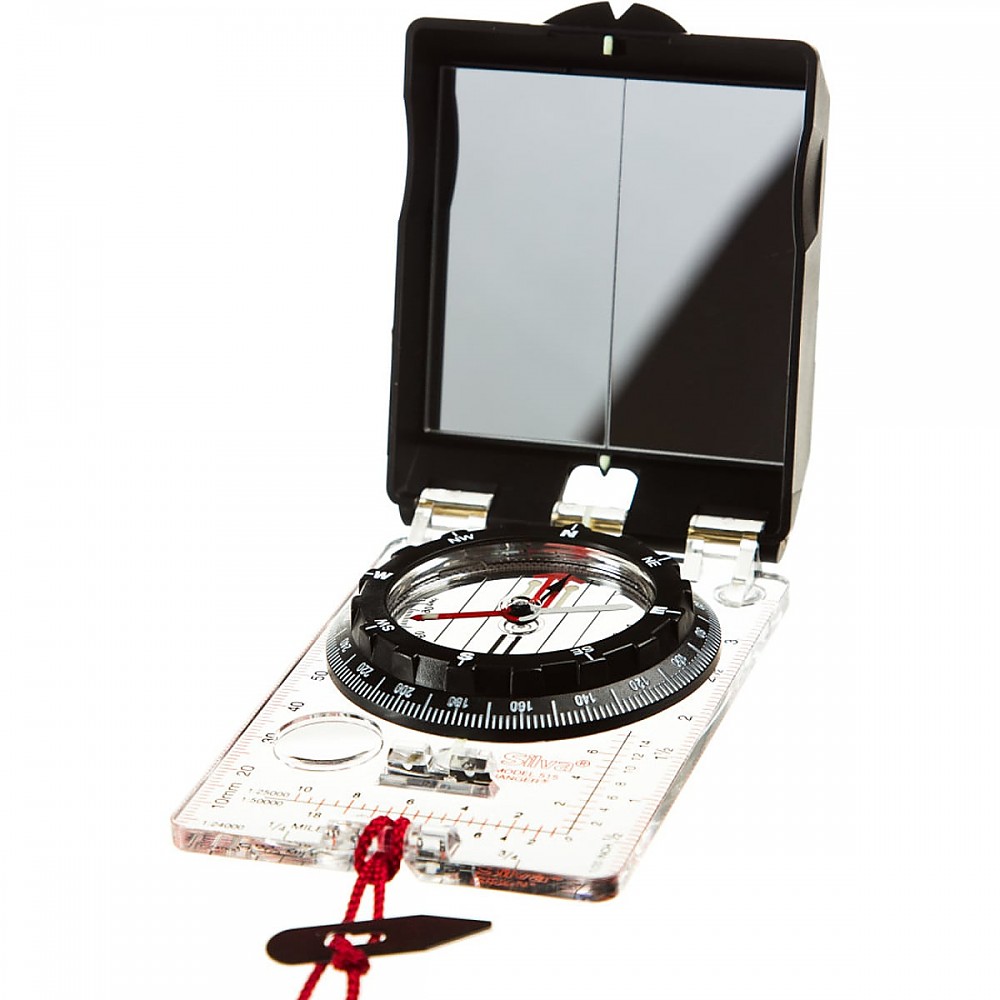 This compass is one of the best out there. Very durable, accurate, and easy to use. The Silva Ranger compass has been the benchmark for over a half century. Used by outdoorsmen, contractors, surveyors, silviculturists, miners, and anyone who needs to rely on the best directional instrument the world has to offer.
Pros
Easy to read
Very accurate and reliable, in all weather conditions
Silicon feet, mirror, v-sight in lid, clinometer, geared declination adjustment (with tool), and lanyard
Luminous points, map magnifier, 0 - 360 degree dial with 2" graduations, 1/20 inch and millimeter rules, 1;24,000 map scale, and 1:25,000 and 1:50,000 romer scales.
Cons
Air bubble in liquid will possibly get larger over time.
I have used the Silva Ranger for over 40 years years, and found it to be the easiest to use, and the most accurate and reliable compass, through all types of weather and temperatures. Although I have a modern Ranger which I use for hunting and general exploration, I also inherited my grandfather's Ranger (he surveyed and staked claims for mining company) which was over fifty years old, and still very accurate.
The only difference in the two is the lid and dial on my grandfather's was made of metal, whereas my modern Ranger has a plastic lid and dial, and the older one does not have metric markings. Other than that, they are identical.
Although I am at times very rough on equipment, and a hard critic,  I found both to be very durable. I would highly recommend this fine instrument for any person, and/ or use! 
K.R.Dawson
Source: received it as a personal gift

After my old Silva Ranger CL broke, I very nearly simply purchased another, thinking of it as the old standby, so to speak. That would have been a mistake. Somewhere in the last few years, production of the Silva Ranger CL--at least as available to me, in the States--shifted from Europe to the Far East, and production quality seemed to decline at least as far as the assembly line moved.
The several examples of the Silva Ranger I examined all suffered greatly in comparison with the older models, with defects or deficiencies ranging from sloppy and poorly marked bezels to off-center baseplate markings and a needle that takes some time to settle and doesn't do so smoothly or with assurance.
In short, the newer Silva Ranger CL completely fails to provide any of the "warm fuzzy" feeling I got from the older version, and which now is reportedly available from European-made competitors.
Although in the past I've frequently sung the praises of Silva compasses, I'm deleting that song from my playlist. The current Ranger CL is perhaps a fair "cheap starter compass", it certainly does not warrant its $50-plus price tag. Under $20, maybe. But if you're looking to spend your money on a sturdy, reliable, accurate, user-friendly piece of navigation gear that you may just rely upon in a survival situation, I strongly recommend looking elsewhere.
It failed out of the blue and could have got me killed. Warranty is dependent on the merchant. Not impressed. Could have bought cheap Chinese and had same experience.
Pros
Was good for about a year
Cons
Every direction was north. Not reliable.
Used it for about a year and it was fine. Then one day I was out in the bush and it seemed off and then I tested it and it had no accuracy at all. Good thing my partner found me or I would have been in big trouble because of it.  
The warranty is a joke—totally dependent on the merchant. Not impressed with their product. 
Source: bought it new
Price Paid: 65 CAD

I've had my compass for 3 years now and I've never had any issues with bubbles in the compass. The declination adjustment is great and I love the overall quality of the compass, you feel like you get what you paid for.
Price Paid: $45

On my third Ranger in 35 years, (lost 2, but never my way). Survey and hiking in British Columbia. I WILL NOT TRUST any other compass!! or GPS!!
Price Paid: over 100$

10 years; still points north and has no air bubbles. What more can you ask for in a compass?
Your Review
You May Like
Specs
Price
MSRP: $49.99
Historic Range: $35.95-$76.99
Reviewers Paid: $45.00