Silva Ranger Ultra 530

The Ranger Ultra 530 has been discontinued. If you're looking for something new, check out the best handheld compasses for 2023.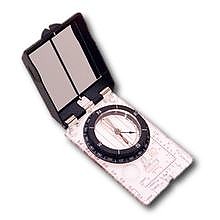 The Silva Ranger sighting compass has been been around for many years, first made by Silva of Sweden. This deluxe version, the Ranger Ultra 530, is not made by Silva of Sweden, but is marketed by Johnson Worldwide, who own the Silva and Ranger brand names in North America. JW has compasses made for them by other manufacturers, usually Suunto in Finland: my Ultra 530 had a 'made in Finland' marking on the box. OK by me, as Suunto also makes great quality compasses.
This deluxe Ultra version of the classic Silva Ranger design has a split sighting mirror, intended to help keep taller landmarks in alignment when taking a bearing. That's fine as far as it goes, but it's still not a compass capable of surveyor-class accuracy (0.25-0.5 degrees) despite what is sometimes claimed. The short sighting radius of all these mirror-sight compasses limits practical accuracy to 1 or 2 degrees using the mirror and eye-level sighting method (providing the mirror/cover stays in perfect alignment with the base over the years), about what a careful ordinary baseplate compass user can achieve with a careful chest-level sighting (and more than enough for practical wilderness navigation).
Unfortunately, the later 540 Ultra compass goes back to the old solid black compass bezel/dial instead of a transparent acrylic top dial. A minor criticism, but I find it more difficult to view the bearings in the mirror with this design (and one can simply read the bearing when removed from eye level, once the needle has been boxed). More important, the dial/bezel isn't luminous, unlike some of the Suunto mirror compasses (MC-2G), which are very readable at night without constant use of the flashlight. This might be a problem for hunters or other wilderness travelers who occasionally need to use a compass at low light levels in an emergency. The Ultra 530 has no built-in illumination either, unlike Silva of Sweden's top of the line Ranger compass, the 25TDCLE (formerly sold in North America under the Brunton brand name).
It appears there is not much market for the most expensive Ranger designs, as both the Johnson Worldwide's Ranger Ultra 530 and the Silva of Sweden's 25TDCLE Ranger seem to have been discontinued. That's a shame, because whatever their country of origin, they are both fine compasses for wilderness travel.
Beautifully crafted. Bought and checked it against Eclipse and Ranger model with prism. Tested them for land surveys, urban planning, map making and mountaineering. The Ranger model comes on top. But I cannot find any information on the split-mirror idea, and it appears the "Ultra" model is discontinued.
The Ranger model is more accurate and smoother to use with maps than the other systems. I hope there is a good explanation for the split mirror, because it makes the mirror less usable for a number of other uses such as... a mirror, or for taking reverse sightings. If anyone knows, please let me know. I went to the Silva websites, and could not find anything.
Price Paid: CDN $70

Your Review
You May Like
Specs
| | |
| --- | --- |
| Price | Historic Range: $53.95-$54.99 |
Recently on Trailspace