Sitka Ascent Pant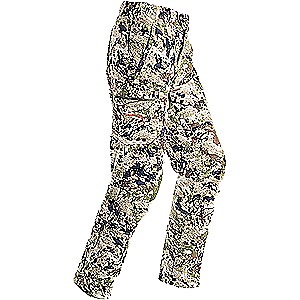 The Sitka Ascent Pants are a compellingly solid pair of lightweight hiking and hunting pants, built for warm-weather conditions. Although they are made by a hunting-focused company, these are every bit as good for non-hunters as they are for the hunters—and near perfect for people like me who do both. The breathable, stretch material (Stretch CORDURA Nylon Woven Blend) keeps things cool downstairs when the temps are hot, but unlike many summer hiking pants on the market, these are actually durable and can take a beating.
Pros
So comfortable you won't want to take them off.
Odor control technology makes it so you don't have to take them off.
Highly breathable = less sweaty bits
Deceptively strong...they are much stronger than they look.
Lots of sizing options for men and women
Loose enough for a baselayer underneath, thus extending their usefulness into cooler weather
Cons
Zipper pulls come untied
Velcro closure to mesh knee pad pockets
No rear-facing pocket
Conditions:
For seven weeks, I've worn the Sitka Ascent Pants for a variety of activities in the mountains of Central Pennsylvania (Eastern USA), including backpacking, day hiking, cutting wood, trout fishing, morel mushroom hunting (no luck), and scouting for future whitetail deer hunting areas.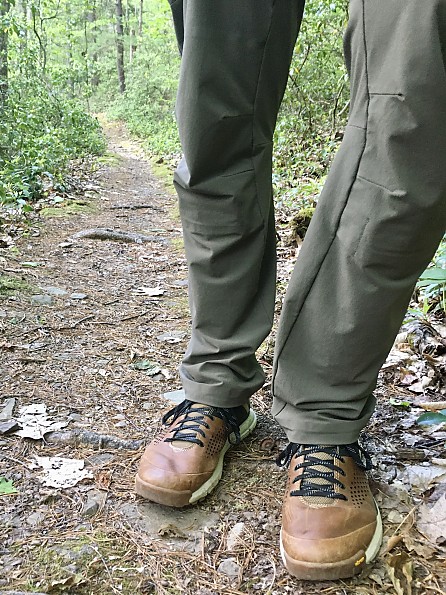 Reviewer's Measurements:
Height: 6'2" (74" or 1.88m)

Weight: 200 lbs (90.7kg)

Typical Pants Size: 32" waist, 34" inseam

Reviewed Size: 33T (measures 33" waist, 34" inseam)
Reviewed Color: Pyrite (3 total colors options exist—2 camo and 1 solid)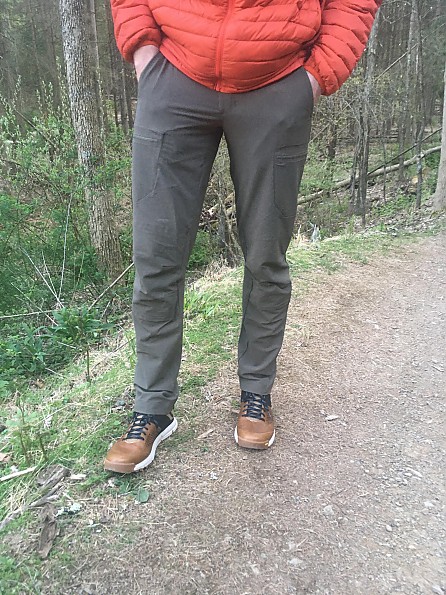 Fit:
These pants have what Sitka calls, an "articulated fit for maximum range of motion with minimal bulk." This description is spot-on accurate, as the Ascent Pants feel practically tailor-made for me. Because of my longer-than-average inseam, I'm always concerned that pants won't be long enough to cover my boots. Absolutely no concern with these pants, as the length covers fully.
Also greatly appreciated is the wide range of sizes Sitka produces these pants in. At the time of this writing, Sitka offers 18 different size options for the men's version and nine different options for the women's version of these pants. Having a regular and long/tall option, like Sitka does, for the most common sizes is something I wish more companies would do. 
Comfort: 
In terms of pure comfort, the Sitka Ascent Pants are on par with a brand new pair of sweatpants (you know that feeling) or a silk pair of pajamas. Honestly, I don't know how they made such a comfortable pair of pants for hunting and hiking without making them flimsy. The cut is semi-slightly slim (i.e. performance), but not hip-huggers, and also seems to taper out just a tiny bit around the ankles to provide enough room for larger boots. The waistband is comfortable and causes no irritation, even when hiking with a heavily loaded hipbelt.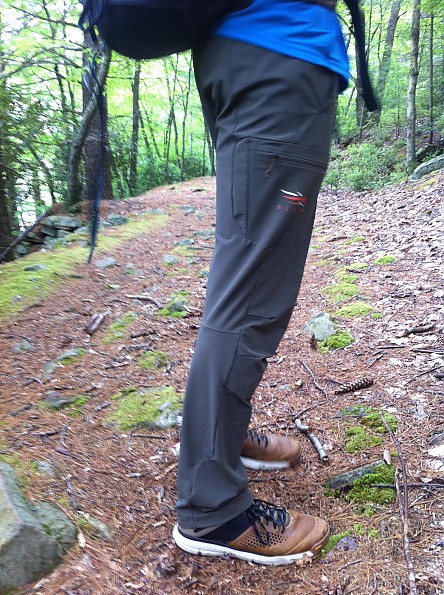 Performance: 
Sitka has a really helpful and easy to read chart on its website that indicates the level of performance for these pants. Using this chart, it's easy to see what the pants are and are not suited for. In this case, the Ascent Pants aren't meant to be ultra-quiet or insulated hunting pants you'd want while big-game hunting in the winter. Instead, they are best suited for warm-weather hunts and scouting trips where noise factor isn't a big issue and breathability is key. Here in Pennsylvania, that equates to great pants for hunting late-summer and early autumn seasons like woodchuck, squirrel, and upland birds. 
Breathability: 
Believe it or not, I haven't gotten to the really good stuff yet. Yes, the fit is ideal, and the comfort is great, but breathability is actually the Sitka Ascent Pants' true calling card. These outperform (by a wide margin) anything I've worn into the backcountry during the hot weather. I've tried warm-weather activities like hiking and hunting in light hiking pants, but they tend to not to hold up well with scrub and brush abrasion. I've also tried such warm-weather pursuits in duck cotton (think Carhartt pants), but they don't breathe well and get very sweaty. And sadly, shorts aren't really an option in many scenarios.
The Sitka Ascent features both breathability and durability in an uncompromising manner. Hot weather activities I've worn these pants in include:
8-mile hike in the upper 70s°F with an uncleared trail and brushing up against loads of mountain laurel. 

Cutting and splitting eight trees over the course of a weekend, mostly in the 70s and 80s°F

A few different day hikes in the 90s°F with high humidity.
Layering: 
In addition to wearing them in hot summer-like temperatures, I've worn these pants while hiking and camping in cooler spring temps (daytime temps in the 50s °F and nighttime temps in the 40s °F). A simple merino wool baselayer underneath has made it easy to wear these during cooler weather.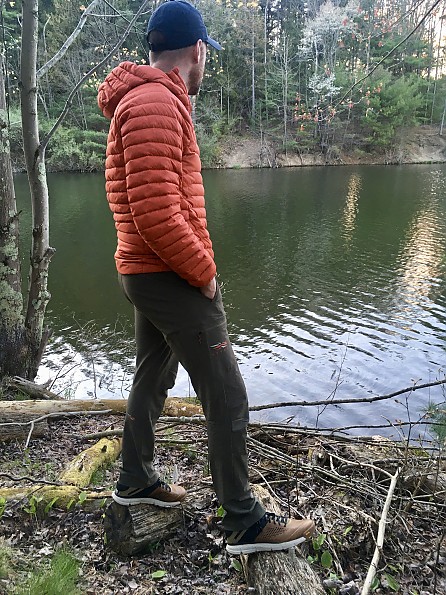 On a chillier evening hike, I wore a pair of lightweight merino wool baselayers underneath. 
Construction, Features, and Function:
The Ascent pants are built with a four-way stretch, brushed nylon fabric (technically called Stretch CORDURA Nylon Woven Blend—60% CORDURA, 30% Nylon, 10% Spandex) that is both exceptionally lightweight and strong. In fact, after hiking for several hours through dense mountain laurel that hadn't been well maintained, I expected to see significant signs of wear and tear on the pants, but nope, no sign at all. Similar positive outcomes when using them to clear out a large brush pile after felling some trees.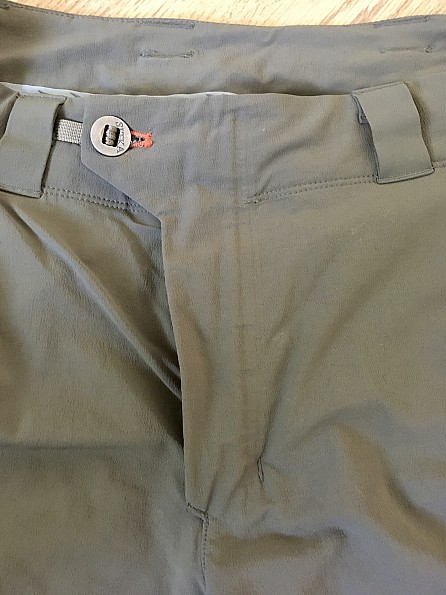 The pants feature four main pockets (two hip, two zippered thigh), which are all backed with mesh for added ventilation. The zippered pockets, along with the crotch zipper all have thin nylon string-like pulls, almost all of which have independently come untied during testing. Frustrating? Yes. Easy to fix? Yes. The fix is simple—retie the string onto the zipper with a stronger or more secure knot.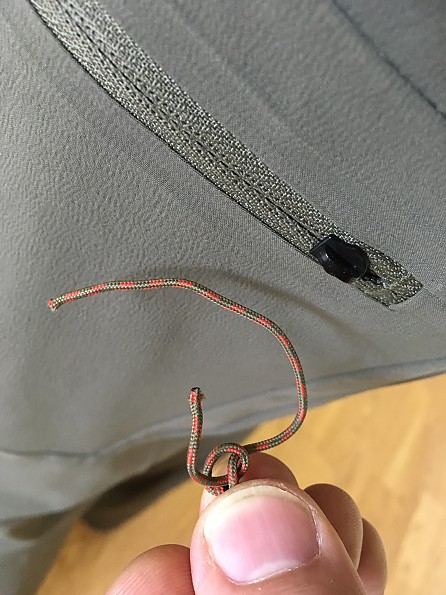 Fail! The zipper pulls tend to untie. Easily fixed though! 
There are two additional velcro-enclosed interior pockets on the front of the knees for holding knee pads (provided) in place. These are meant for hunting purposes such as shooting from kneeling or prone positions or when field dressing big game. I have yet to use these for such purposes, but when testing the velcro enclosures, I found them to be a little tricky to master at first and somewhat irritating if they aren't closed correctly.
If you're going to use the knee pads in the field, I recommend familiarizing yourself with inserting/removing the pads before needing to do so in the field. If you never plan to use the knee pads, just make sure the velcro enclosures are shut and you'll forget those pockets are even there.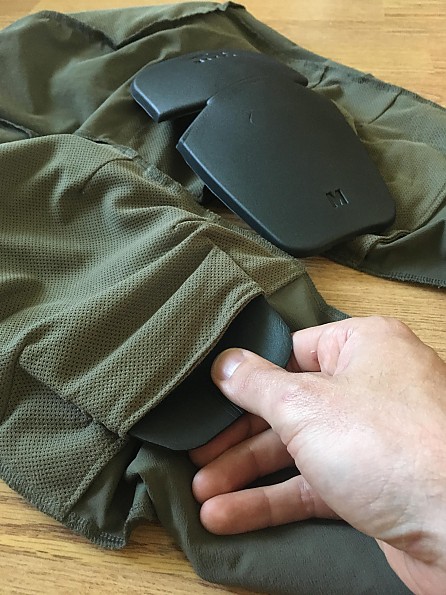 Inserting the knee pads. Much easier to do when not wearing them. 
Lastly on the topic of pockets, I tend to use rear pockets, so I often find myself reaching for them when wearing these pants, to no avail. I don't have an issue with the lack of rear pockets, per se, given the fact that I wouldn't use them when hunting (their primary purpose), but when wearing these for other pursuits, I'd sometimes find rear pockets useful.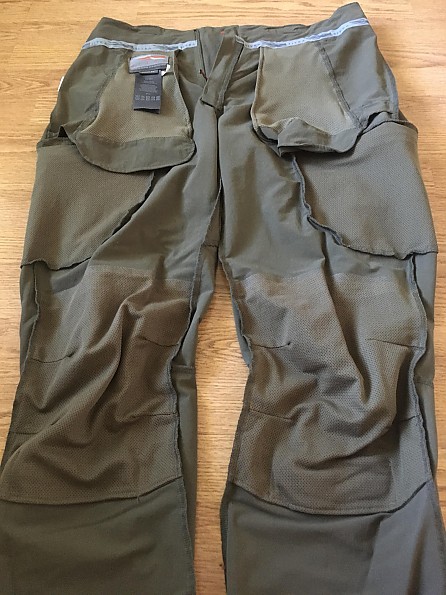 Turned inside-out, here's what the mesh-backed pockets look like. 
Another noticeable feature is the large belt loops which adequately secure a belt with added accessories (e.g. I like to have a knife on my belt, opposed to in my pack, when I'm hunting).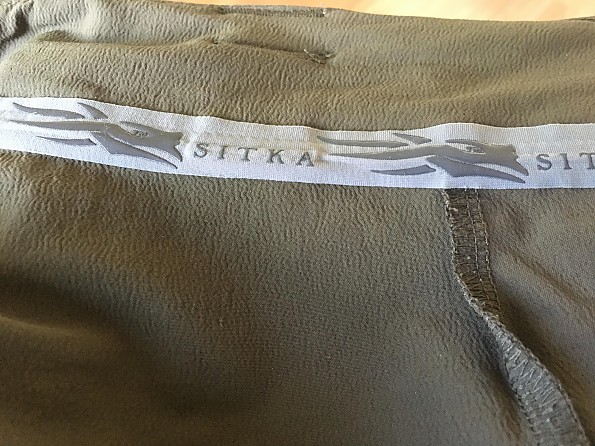 The one other feature that isn't easily noticeable, but certainly appreciated by hunters and hikers (and their tentmates), is the Polygiene odor control technology embedded in the pants which "safely neutralize odors caused by sweat." After a hot and humid two days of hiking in these pants and not washing them, I noticed no smell whatsoever. 
Style: 
The Sitka Ascent Pants are offered in three different styles for men (two camouflage patterns and the solid pattern I tested called Pyrite) and one camouflage pattern for women. The solid pattern makes for a little more versatility, as I'm comfortable wearing these for hunting, hiking, fishing, and even for social interactions (backyard cookouts, running errands, etc.). But since the covid-19 pandemic struck, I haven't had many social interactions. If such things ever exist again, I'll happily wear the Ascent Pants out and about for activities others than hiking or hunting...although I'll primarily stick to them for these purposes. 
Weight:
12.8 oz or 363 grams
Care and Maintenance:
The tags indicate to machine wash cold separately and tumble dry cool. The Polygiene odor technology also allows the user to extend the amount of the wears between washing. Just like all my hunting garments, I wash these in fragrant-free detergent. 
Best For:
Don't be fooled, even though the Sitka Ascent Pants are made by a hunting apparel company, they are a great option for not only hunters, but hikers too, which makes sense given both of these pursuits often require similar activities (e.g. carrying big packs over long distances in harsh conditions). The pants are built well for warmer temperatures and feature great breathability, odor-control, and durable stretch fabric.
Update (Dec 2020): 
I initially posted this review in late June 2020, and now it's December 2020. In that time, I wore the pants through a hot and humid summer and into the fall season. Most notably, I paired some merino wool baselayers under them and effectively extended their usability into the late autumn. On a few fall scouting trips for future hunting forays, I wore them into the 40s F (4-9C) and they held up very well. They are durable for many off-trail adventures, but perhaps not bushwhacking through the thickest and nastiest of briars.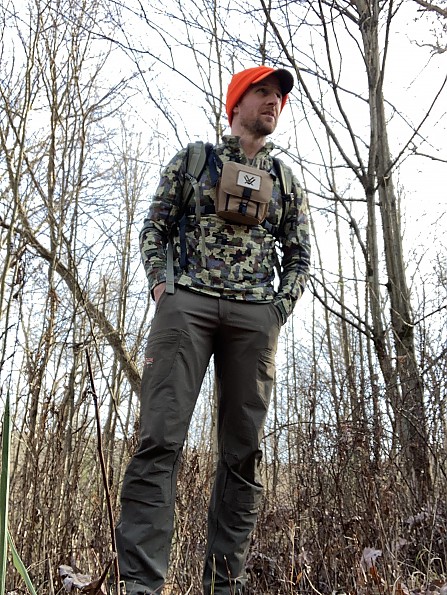 Out on an autumn scouting trip in the Sitka Ascent Pants. 
Background
I am a hiker and hunter in the mountains of Central Pennsylvania (Eastern US), and I particularly seek out and enjoy gear that spans both pursuits. In my initial seven-week test of the Sitka Ascent Pants, I've been limited to hiking, cutting wood, fishing, morel mushroom hunting, and scouting a future hunting area, but no hunting yet. I'll update this review once I have the opportunity to wear them afield during a hunt or two.
Source: received for testing via the Trailspace Review Corps (Sample for testing and review provided by Sitka)

Your Review
Where to Buy
Help support this site by making your next gear purchase through one of the links above. Click a link, buy what you need, and the seller will contribute a portion of the purchase price to support Trailspace's independent gear reviews.
You May Like
Specs
Men's
Price
MSRP: $189.00
Current Retail: $130.00
Historic Range: $130.00-$189.99

Weight
12 oz in size Large

Fit
Performance Fit, designed for minimal layering

Fabric
Stretch CORDURA Nylon Woven Blend (60% CORDURA, 30% Nylon, 10% Spandex) / mesh-backed pockets

Women's
Price
MSRP: $189.00

Weight
9.8 oz in size 25R

Fit
Performance Fit, designed for minimal layering

Fabric
Stretch CORDURA Nylon Woven Blend (60% CORDURA, 30% Nylon, 10% Spandex) / mesh-backed pockets

Recently on Trailspace