SKOOKUMbrand Ivvavik Anorak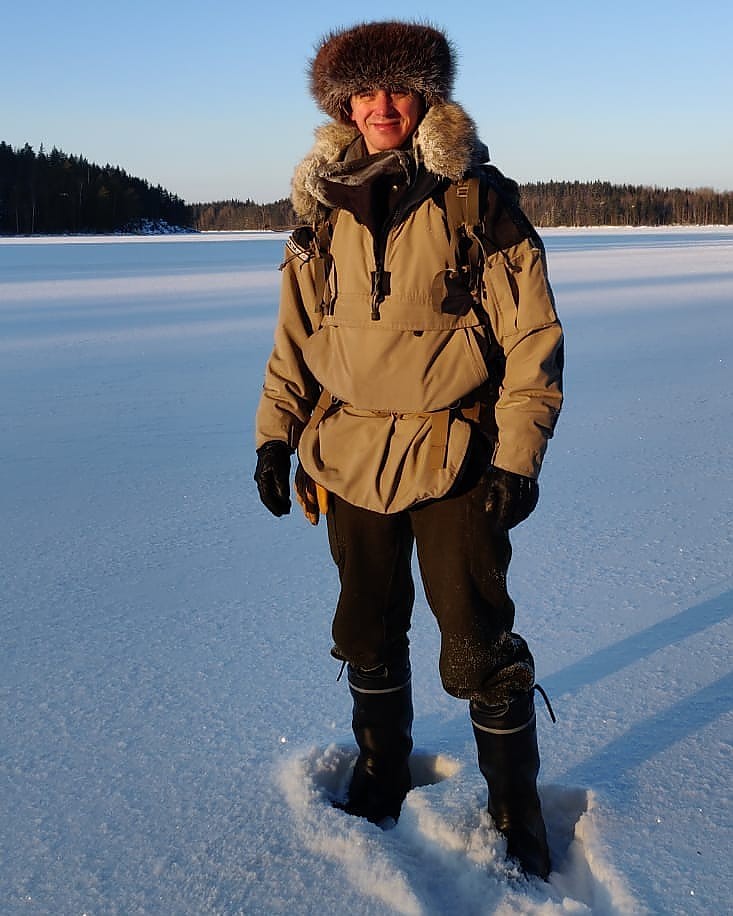 Quite possibly the best cold weather outer layer you can buy.
Pros
Versatile
Well made
Epic ruff
Warm
Water resistant
Excellent features
Attention to detail
Skookumbrand is a little known winter gear company based in Dawson City, Yukon. They specialize in making jackets and parkas for folks who live and work in some of the coldest places out there. 
I work as a Wilderness Guide in Finland during the winter, so I am outside working for about four to six months a year above the Arctic Circle. Usually I am snowmobiling, ice fishing, XC skiing, or snowshoeing. Temperatures are usually around -20°C, but -30°C or -40C° is not unheard of.
So with my professional interests in mind, I felt I could justify a new jacket for work and I was willing to spend around $1000 if I had to. It is an expensive purchase, but one that I only wanted to make once. So with that budget in mind, I started looking for a new jacket.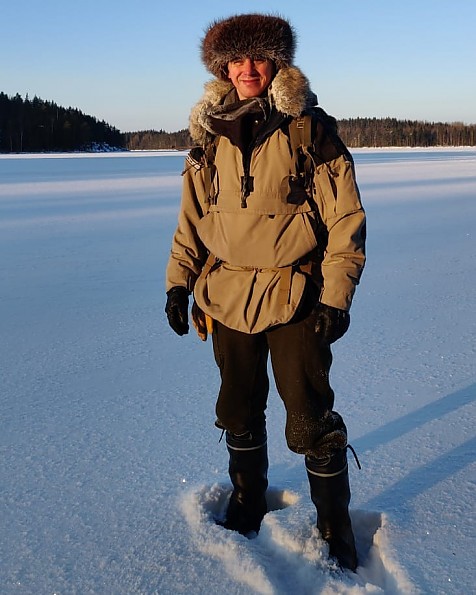 I had a criteria that I was going to follow. If I was going to spend this much money on a jacket it had to be perfect. It needed to be very durable, versatile, and warm. I preferred to purchase a jacket from a smaller company and one that made them in the US, Canada, or Europe. I wanted to be able to speak to a real person on the phone if I had questions. I wanted an awesome warranty and the ability to repair it.
I preferred an anorak over a jacket. I was hoping to get a functional fur ruff, a hand warmer pocket, a utility pocket, be able to vent, be water/wind proof, and look badass. With this in mind I looked at Filson, Fjallraven, Sasta, WeatherWool, Apocalypse Design, Boreal Mountain Anoraks, Canada Goose, Lester River Bushcraft, and finally Skookumbrand.
Filson doesn't really need an introduction. The double cape Mackinaw Jacket definitely looked the part, but I wanted a hood and a few more features that would just be more comfortable working outdoors. Fjallraven had some nice looking parkas, but they didn't seem that durable, they aren't made in Europe anymore, and they were the highest priced at 1800 euros. To me, that is just insane. They were so expensive and couldn't even argue that they were handmade in the EU anymore, so that was out.
Sasta is a great brand from Finland with an awesome lifetime repair service; this is great, but only if you live in Finland. Unfortunately, they didn't really have anything that I was really looking for.
WeatherWool was great looking. Their Everyday Jacket is badass and Ralph from the company actually called me from New Jersey to talk about their product and even mailed me some wool samples to show why his stuff was different. It's an amazing company that makes amazing stuff, but it was almost "too nice" looking and when I spoke to people who used Weatherwool and Skookumbrand, they all said that Skookumbrand was a warmer product...so I passed on that.
Apocalypse Design Anoraks makes awesome anoraks for mushers in Alaska, but they look a little dated and their basic model is $550...when you start adding features like a ruff, that price jumps up pretty fast. Boreal Mountain Anoraks makes some very old school cotton anoraks, with massive ruffs that give you the look of a trapper. However they are completely unlined and you would also have to purchase one of their wool anoraks to wear underneath.
Canada Goose makes some unbelievably warm jackets, though their expedition models start at $1200 and I had read about some people saying that the quality has dipped a bit in recent years. I handled them in the store and they seemed more fashion than function to me. I felt that I could tear it working in the woods and they were just too bulky and warm for me to do physical work in.
Lester River Bushcraft had some awesome wool anoraks that are obviously beloved, but at the end of the day, I felt they were more of a simple wool hoody and I wanted more features for my money.
So after going through all of these other brands, I was left with Skookumbrand. I stumbled upon them in an article about the gear of The Iditarod, which naturally made me feel that they were the real deal. They are made to order in Dawson City, Yukon, so you know that these people know cold. It is a small business that answered all of my questions quickly and tirelessly, although their website is really dated and they didn't really offer much in the way of reviews.
They have three models available. I chose the one I felt was best suited to "work", which was the Ivvavik. In addition, you could essentially customize it completely. I opted to have an anorak in "Musk Ox" color with Coyote Fur and declined the reflective stripes on it.
The Ivvavik. Now, it took me a while to get my hands on it as these are made to order and I live in Europe now. But once I received the jacket, I could tell it was worth the wait.
First off, it was DURABLE.This thing is beefy, reinforced in all the right places, and cut with ample room to be able to layer. I picked the small and as a pretty fit guy I can still layer with a wool sweater and down jacket underneath it if I so require.
Every single part of this jacket that could sustain more damage is reinforced with cordura. The shoulders and elbows all have additional cordura, the whole jacket is made with a teflonized nylon fabric that is truly heavy duty, all of the zippers are big YKK zippers, the hems are all cordura reinforced and any points of attachment have also been reinforced. In addition, there are also seatbelt epaulets on the shoulders, which can be used in the event of a rescue or just to stow a hat or gloves out of the way while you work.
The Ivvavik is also incredibly WARM. The jacket is essentially made with a layer of Polartec Windpro fleece sewed into the lining which blocks all wind. The teflonized nylon is completely waterproof so there is no worry there. The handwarmer pocket is lined with fleece, which makes it super toasty and has an internal drawstring that allows you to tighten the anorak to keep your body heat where you want it, though I usually just wear a belt on the outside with my tools.
The sleeves have powerstretch wrist gaiters, which are super comfy and do a great job of keeping snow out when you are trying to dig out a snowmobile that has been bogged down by some Singaporean tourist. The neck also features a fleece lined flap that when you zip up, conforms to your neck like a scarff.
And the RUFF, my god the RUFF. This is a massive game changer for me, as I had never used one before. The Ivvavik comes with a huge coyote fur ruff that hugs your face and when you flip your hood up, pretty much disperses all wind and snow away from your eyes. It is amazing and probably my favorite feature of this jacket. You can also (for an additional price) upgrade to wolf, fox, or wolverine. However, I felt that at this price a wolverine ruff would have been overly indulgent and I think coyote is a more sustainable option.
A huge reason why I chose this jacket over its competitors was its VERSATILITY. I simply saw more scenarios where this would be the first thing that I grabbed off my rack and raced out the door with. This is a warm jacket, but not TOO WARM, meaning that I could wear it with just a shirt underneath or add more layers if I needed it. This would be fine in freezing temperatures with the right layers and completely immune to the weather.
The addition of a drawstring, wide neck, and side zip-vents meant that I could release a lot of heat if I needed to, which means that I could use this jacket for activities like XC skiing, snowshoeing, or just cutting wood. I have worn this jacket from 0° to -30°C and it has been perfect; hopefully the temperature drops further and I can see how it is in -40°C.
The Ivvavik has impressive pockets, with a handwarmer, kangaroo pocket, and shoulder pocket. I honestly only really use the handwarmer pocket, but the kangaroo is nice to stuff tinder in as I am out and about. I have not found a need for the shoulder pocket, but it is nice to know it is there. The whole jacket is machine washable, which of course wool is not...and the ruff can be zipped off if you need to clean it.
A couple D rings are on the front, which allow you to attach tools, gloves, a knife or just hook up to a snowmobile key. The whole jacket is very utilitarian in design, but I think is still a very cool looking coat.
Lastly, the jacket was 1000 CAD, which at the time of purchase, was about 700 USD or 700 Euros. So this wasn't the cheapest jacket that I was considering, but it also was not the most expensive jacket. For the features it included and the service I received over the course of a year's consideration, I felt it was a very fair price for a handmade jacket made by a small business in the middle of the Yukon.
PROS:
Durable, Versatile, Warm

Epic ruff

Neck flap negates the need for a scarf

Vents release a lot of heat

Weatherproof

Great use of pockets

D Ring attachments

Badass looking

Small business

Made in Canada
CONS:
Honestly, just the price. I still feel that this was fair and definitely worth it for me, but I understand that might not be the case for everyone.

Can feel a little baggy, but that is winter gear for you
10/10 would buy it again.
Background
I have owned this jacket for 3 or 4 years now.
Source: bought it new
Price Paid: 700 euros maybe

Your Review
Where to Buy
Help support this site by making your next gear purchase through one of the links above. Click a link, buy what you need, and the seller will contribute a portion of the purchase price to support Trailspace's independent gear reviews.
You May Like