Specs
Minimum Trail Weight
4 lb 3.9 oz / 1.92 kg

Packaged Weight
4 lb 12.8 oz / 2.18 kg

Floor Area
32 sq ft / 2.97 sq m

Interior Height
41.5 in / 1.05 m

Tent Body Volume
58.6 cu ft / 1.66 cu m

Vestibule Volume
50.0 cu ft / 1.42 cu m

Total Volume
108.6 cu ft / 3.08 cu m

Reviews
The SlingFin CrossBow 2 R/S is the solid bodied, ripstop…
Rating:


Source: received for testing via the Trailspace Review Corps (Samples provided by SlingFin for testing and review)

Summary
The SlingFin CrossBow 2 R/S is the solid bodied, ripstop four-season tent in the CrossBow 2 family. Two backpackers and ALL OF THEIR GEAR can comfortably wait out the storm without being cramped. This tent is ideal for a backpacking duo that does not want to compromise shelter strength in cold weather conditions. Not every new tent builder has more experience than the big dogs…
Pros
Very comfortable for two people
Extremely spacious vestibules
Good strength-to-weight ratio
Excellent quality of materials
Cons
Not dry pitch/dry breakdown
Learning curve
High price point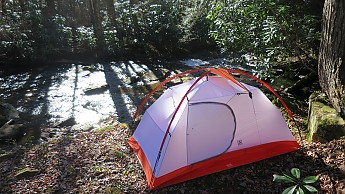 A quiet afternoon in the forest, all to myself.
Although SlingFin may be a relatively new name to the tent world, the crew on board has more collective experience than most well established companies. It is clear that they have paid very close attention to the needs of users who camp in adverse conditions. This being said, this tent could be overkill for many hikers out there. This tent configuration is designed specifically for cold weather environments, which has been quite lacking this autumn in the Mid-Atlantic east coast region.
Specs:
MSRP $580
Capacity: 2 Person
Number of Doors: 2
Number of Vestibules: 2
Interior Area: 32 sq ft
Vestibule Area: 11sq ft (X2)
Interior Height: 41.5" at center
Fabric- 20D Nylon Ripstop PU Coated Floor
            15D Canopy Fabric
            15D Nylon Ripstop Silicone PU Coated Fly
Poles- 2x DAC NSL 9mm (Main Poles)
           1x DAC NSL 9.6mm (Bow Pole)
Min. Trail Weight: 4lbs 4oz (Without Footprint)
Setup
This shelter takes a good bit of time to learn for proper setup. After a couple of uses, the CrossBow 2 R/S became intuitive to setup. After staking the four corners of the shelter, the two main tent poles slide through the WebTruss and are inserted into grommets, much like most tents.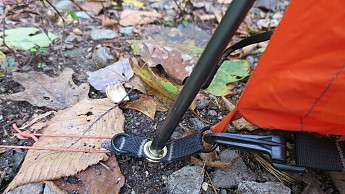 The rainfly can then be installed, which was shown to be problematic when breaking camp in the pouring rain. Removing the tent poles from the gusset can be troublesome, especially when every moment counts during a rainstorm.
I broke the tent down during a rainstorm, working as carefully as possible to keep the tent dry. Unfortunately, the tent poles were being extremely finicky coming out of their sleeves. Unfortunately, there wasn't an opportunity to snap any shots at the time…
The top bow pole is optional, if the user chooses to attach trekking poles as the secondary support system (weight savings= 3.7oz).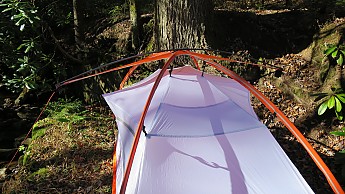 The guylines are all included with clam cleats, which have become a standard in the industry over the last several years. 
Rainfly installation is easy, with special reflective tabs that indicate the correct opening in respect to the doorway to the tent.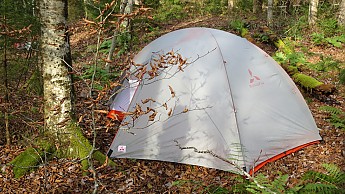 Stability
All configurations of the SlingFin CrossBow 2 have shown to be among the most stable tents I have ever used. The strongest winds encountered during testing were only in the 30+ mph range, and this tent did not budge. This tent will easily handle far higher winds!
Weather Resistance
The R/S performed extremely well in one downpour during testing. The rainfly keeps the entire tent inner dry, as well as the two GIANT vestibules. The bathtub bottom of this shelter successfully prevented any splash back.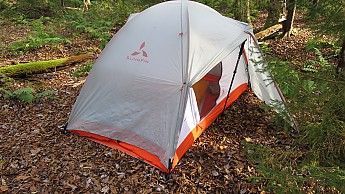 Ventilation
The R/S has shown to ventilate extremely well in cold weather and rain, over a four-day trip to the Cranberry Wilderness in southern Monongahela National Forest in West Virginia in November. Though wind was light, no condensation was noted whatsoever the entire trip, with both vestibules closed.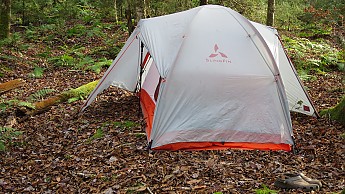 The rainfly is designed for maximum cross-ventilation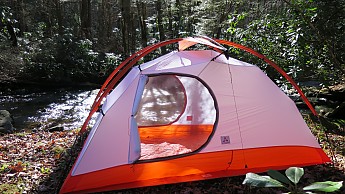 Two doors aid in superb ventilation
Room & Storage
The useable space for the size and weight of this shelter is truly great. Most of my testing was either solo or with my pup, and this tent is palatial! Even with two larger people in this tent, the vestibules will hold packs, boots, trekking poles, water bottles and more!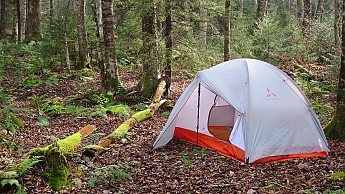 Packability
For the size of this shelter, packability is a plus. The 15D and 20D material really does an admirable job packing down.
Ease Of Use
Once the system is understood, the CrossBow 2 is relatively easy to use. The WebTruss can easily become tangled and twisted when stored, but is not too much of a hassle to correct. The adjustable guylines allow the rainfly to appropriately adjust when the tent is set up on non-level ground.
Features
There are several features that set this shelter apart from most others. All guylines and sleeve openings have awesome reflective strips, making this tent quick to spot, even from 50+ yards! Cam adjustments allow the flysheet to be easily adjusted, ensuring a happy and dry camper!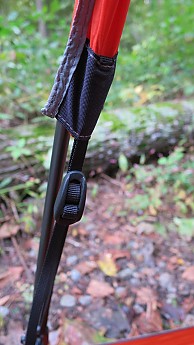 The inner of the flysheet has additional toggles and o-rings so it can be directly attached to the tent poles rather than the tent inner, which greatly increases tent strength.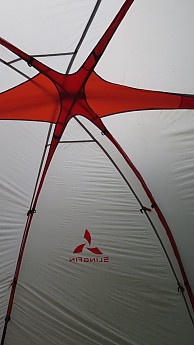 The fly attaches directly to the tent poles with a toggle/ring system (shown separated)
Each end of the tent inner has two large pockets for storage and organization. Thanks, SlingFin, for listening!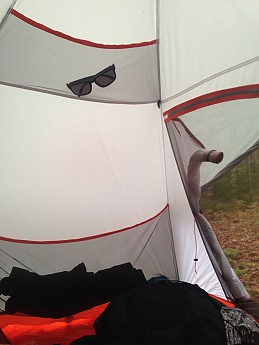 280 weight merino wool sweatshirt and more are swallowed by the pocket.
Construction & Durability
SlingFin did not cut any corners when it comes to quality of craftsmanship they are putting into the hands of their customers.  Every stitch, feature, and clip is top of the range construction. No wear has been noted during the duration of testing. Titanium Dioxide coated fabric prolongs the lifespan of any material that is exposed to UV rays. Eco-friendly DAC tent pegs and tent poles are used.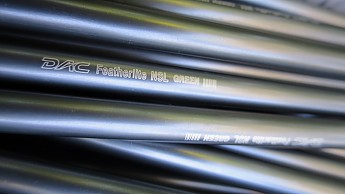 Conditions
This shelter configuration has been tested on approximately four overnight trips on the Appalachian Trail between October and November, 2016.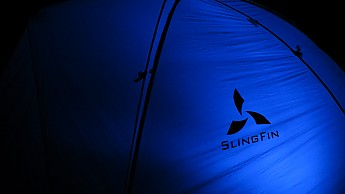 Many thanks to the people out at SlingFin for the opportunity to test this product for the Trailspace Gear Review Corps!
Where to Buy
sponsored links
Help support this site by making your next gear purchase through one of the links above. Click a link, buy what you need, and the seller will contribute a portion of the purchase price to support Trailspace's independent gear reviews.
MSRP:
$580.00

The SlingFin CrossBow 2 R/S is not available from the stores we monitor.
Recently on Trailspace