Slumberjack Odyssey +10°F

The Odyssey +10°F has been discontinued. If you're looking for something new, check out the best 3-season synthetic sleeping bags for 2023.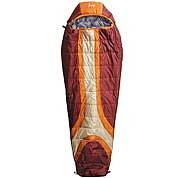 I bought this bag thinking I had found a real bargain. I got what I paid for. 
There are several small issues that wouldn't be that big of a deal:
Half zip is a little annoying.
The zipper snags often.
The bag is very drafty even when the hood is cinched almost completely shut.
The biggest complaint I have is the temperature rating. I am a warm sleeper, and I've used a 40 degree bag in 25 degree weather with no complaints.  I finally decided to get a "warm" bag, thinking the 10F rating would be good. 
I used the bag in the North Carolina mountains recently, at 2900 feet with a low of 38F the first night and 42F the second night, with no wind at all.  Both nights it was all I could do to keep from shivering.  The side of me that was to the ground stayed warm, but the side that was up was freezing.  I got little sleep because I had to rotate myself all night. 
The second night I tried sleeping in just underwear, thinking maybe I had perspired because I was too warm. That worked ok for about 20 minutes, and then I was cold again. 
The size and weight are great for a 10F bag, but the reality is this is not a 10F bag, and would be heavy and a little bulky for bags in the 40F range. 
Price Paid: $68

For the money, and the weight, this is the best bag I have ever used.
I wore fleece tops and bottoms and merino wool socks in 4F temps in the High Country from Table Rock, AZ, to Billings, Montana, in this bag and felt warm and cozy.
The only criticism I have is the zipper. It is too easily tangled in the insulation material.
I biked across the United States (Virginia to Oregon to Arizona) in warm to very cold weather conditions (Sept 1 to Nov 26) using this bag and was thankful for the lightweight superb insulation and tough construction.
I use a Gore-tex outer shell with this bag for -20f temps and plan on hiking/biking this bag to Denali.
Price Paid: $100

I bought this bag because I got a killer deal on ebay. I think it's a decent bag, especially for the price I paid. I have used it in temperatures in the 20's, and stayed warm wearing a base layer, fleece pullover, and wool socks. If I had slept in my undies I'm sure I would have gotten colder, but I don't sleep like that in that type of weather unless I use a cold weather down bag.
What I like about this bag is it's fairly lightweight, packs down really small, and the regular is roomy enough for my 6'2" frame.
What I dislike is the half length wimpy zipper that snags easily and makes the bag hard to get in and out of, and the optimistic 10 degree rating.
An overall decent bag, but if you want a top performance 3-season bag get ready to pay 300+. If you're looking for a bargain, this might be it.
Design: mummy
Fill: thermolite extreme
Temperature Rating: 10 F
Weight: 3 lbs.
Price Paid: $35 on ebay

I have used this bag on several backpacking trips over the last year, with nighttime temperatures falling into the mid-20's at the very lowest. While the bag is rated for +10-degrees, it is ALWAYS COLD and DRAFTY.
In fact, I have been completely dissatisfied with the performance of the bag in temperatures anywhere below +40-degrees, and I truly regret the purchase. I have used the bag with a fleece liner, and it still does not retain enough heat to stay warm. I'm shopping for a new bag now.
The Odyssey is lightweight, economical and packs small, but its temperature rating is complete fiction, and Slumberjack should be ashamed. Peruse the ratings of all the Slumberjack bags here--there is a pattern of inflated manufacturer claims met with very poor "real world" performance. I wish I had read them before I bought this bag. Don't make the same mistake.
Design: mummy
Fill: synthetic
Temperature Rating: +10 F
Weight: 3 lbs.
Price Paid: $69

I have been very disappointed with this bag. I used it on a night in which it never got below 28 and I froze. I would not but it again. The price and weight make it tempting but I do not think it lives up to its expectations. If you do decide to purchase it make sure you test it out before you are in a situation where you have to depend on it.
Design: mummy
Temperature Rating: 10 farenheight
Weight: around 3
Price Paid: around $120? 2 years ago

I was initially drawn to this sleeping bag because it is lightweight and packs small. However, despite these features, I am wholly unsatisfied. This sleeping bag is supposedly rated to 10 degrees, but I have frozen in fall, spring, and even chilly summer nights, and I have probably not experienced anything less than the high 30s. The bag is cut both wide and long which may be the problem since I am small and short.
However, this bag has proved virtually useless to me, and I now must buy another, actual, 3-season bag.
Design: mummy
Fill: Thermolite Extreme
Temperature Rating: 10 degrees F
Weight: 2 lbs 15 oz

Your Review
You May Like
Specs
Price
Historic Range: $51.96-$109.95
Reviewers Paid: $35.00-$120.00

Recently on Trailspace